Abstract
Three- and four-year-old potted, greenhouse-grown cedar seedlings were subjected to two different watering regimes: half received full water supply and the other half was submitted to moderate drought (50% of the full water supply). Height growth was the greatest for C. atlantica and the most-limited for C. brevifolia in the well-watered set. However, in the dry set, height growth was less affected by drought conditions for C. brevifolia than for C. atlantica. Cedrus libani gave intermediate results for both watering regimes. Moderate drought provoked a decrease in osmotic potential at full leaf turgor and a long-lasting osmotic adjustment. When irrigation was withheld completely to induce severe soil drying, gas exchange decreased and then stopped at predawn water potentials of −3.0 MPa for C. brevifolia, between −2.6 and −2.8 MPa for C. libani, and at −2.4 MPa for C. atlantica, irrespective of watering regime. For all species, the dry set showed lower net photosynthesis (A) and stomatal conductance (g s) than the plants in the well-watered set. A and g s responded to variations in atmospheric water-vapour pressure deficit (VPD). As VPD increased, A and g s decreased, and this trend was proportionate to initial values at low VPD, but remained independent of previous watering treatments, plant water status or species. To conclude, C. brevifolia appears to be a species with limited growth potential but strong soil drought tolerance whereas C. atlantica has strong growth potential when an adequate water supply is available but is more sensitive to soil drought. C. libani shows an intermediate behaviour for growth and drought tolerance.
Access options
Buy single article
Instant access to the full article PDF.
USD 39.95
Price excludes VAT (USA)
Tax calculation will be finalised during checkout.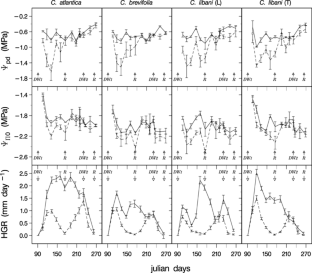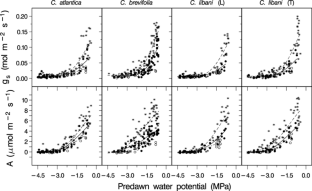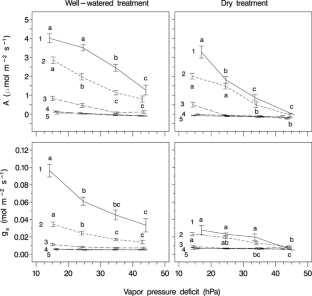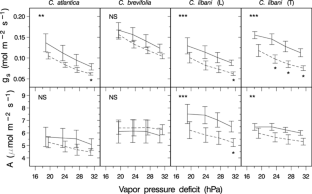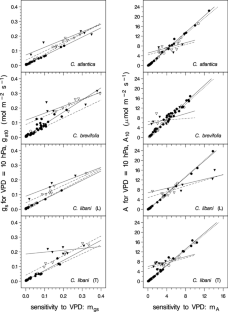 References
Abrams MD (1988) Sources of variation in osmotic potentials with special reference to North American tree species. For Sci 34:1030–1046

Abril M, Hanano R (1998) Ecophysiological responses of three evergreen woody Mediterranean species to water stress. Acta Oecologica 19(4):377–387

Arbez M, Ferrandès P, Uyar N (1978) Contribution à l'étude de la variabilité géographique des cèdres. Ann Sci For 35(4):265–284

Aussenac G (1984) Le Cèdre, essai d'interprétation bioclimatique et écophysiologique. Bull Soc Bot Fr (Actual Bot) 131:385–398

Aussenac G, Finkelstein D (1983) Influence de la sécheresse sur la croissance et la photosynthèse du Cèdre. Ann Sci For 40(1):67–77

Bariteau M, Ferrandès P (1992) Les cèdres. In: Gallais A, Bannerot H (eds) L'amélioration des plantes cultivées. INRA Editions, Paris, pp 732–743

Bonal D, Guehl JM (2001) Contrasting patterns of leaf water potential and gas exchange responses to drought in seedlings of tropical rainforest species. Funct Ecol 15:490–496

Bradford KJ, Hsiao TC (1982) Physiological responses to moderate water stress. In: Lange OL, Nobel PS, Osmond CB, Zeigler H (eds) Physiological plant ecology (II). Springer-Verlag, Berlin, pp 263–323

Calamassi R, Della Rocca G, Falusi M, Paoletti E, Strati S (2001) Resistance to water stress in seedlings of eight European provenances of Pinus halepensis Mill. Ann For Sci 58:663–672

Cellier F, Conéjéro G, Breitler JC, Casse F (1998) Molecular and physiological responses to water deficit in drought-tolerant and drought-sensitive lines of sunflower. Plant Physiol 116:319–328

Cinnirella S, Magnani F, Saracino A, Borghetti M (2002) Response of a mature Pinus laricio plantation to a three-year restriction of water supply: structural and functional acclimation to drought. Tree Physiol 22:21–30

Comstock JP (2002) Hydraulic and chemical signalling in the control of stomatal conductance and transpiration. J Exp Bot 53:195–200

Cunningham SC (2004) Stomatal sensitivity to vapour pressure deficit of temperate and tropical evergreen rainforest trees in Australia. Trees 18:399–407

Damesin C, Rambal S (1995) Field study of leaf photosynthetic performance by a Mediterranean deciduous oak tree (Quercus pubescens) during a severe drought. New Phytol 131:159–167

Day ME (2000) Influence of temperature and leaf-to-air vapor pressure deficit on net photosynthesis and stomatal conductance in red spruce (Picea rubens). Tree Physiol 20:57–63

Doley D, Yates DJ, Unwin GL (1987) Photosynthesis in an Australian rainforest tree, Argyrodendron peraltum, during the rapid development and relief of water deficit in the dry season. Oecologia 74:441–449

Ducrey M (1994) Adaptation du cèdre de l'Atlas (Cedrus atlantica Manetti) au climat méditerranéen: aspects écophysiologiques de sa réaction à la sécheresse. Ann Rech For Maroc 27(1):140–152

Fan S, Grossnickle CG (1998) Comparison of gas exchange parameters and shoot water relations of interior spruce (Picea glauca (Moenh) Voss X Picea engelmannii Parry ex Engelm) clones under repeated soil drought. Can J For Res 28:820–830

Flowers DJ, Ludlow MM (1986) Contribution of osmotic adjustment to the dehydration tolerance of water-stressed pigeonpea (Cajanus cajan L) leaves. Plant Cell Environ 9:33–40

Fort C, Muller F, Label P, Granier A, Dreyer E (1998) Stomatal conductance, growth and root signaling in Betula pendula seedlings subjected to partial soil drying. Tree Physiol 18:769–776

Fotelli MN, Radoglou KM, Constantinidou HIA (2000) Water stress responses of seedlings of four Mediterranean oak species. Tree Physiol 20:1065–1075

Grantz DA, Zeiger E (1986) Stomatal responses to light and leaf-air water vapor pressure difference show similar kinetics in sugarcane and soybean. Plant Physiol 81:865–868

Guehl JM, Aussenac G, Bouachrine J, Zimmerman R, Pennes JM, Ferhi A, Grieu P (1991) Sensitivity of leaf gas exchange to atmospheric drought, soil drought, and water use efficiency in some Mediterranean Abies species. Can J For Res 21:1507–1515

Guehl JM, Fort C, Ferhi A (1995a) Differential response of leaf conductance, carbon isotope discrimination and water-use efficiency to nitrogen deficiency in maritime pine and pedunculate oak plants. New Phytol 131(2):149–157

Guehl JM, Nguyen-Queyrens A, Loustau D, Ferhi A (1995b) Genetic and environmental determinants of water-use efficiency and carbon isotope discrimination in forest trees. In: Sandermann Jr H, Bonnet-Masimbert M (eds) EUROSILVA, contribution to tree physiology. INRA éditions, Paris, France pp 297–321

Guarnaschelli AB, Lemcoff JH, Prystupa P, Basci SO (2003) Responses to drought preconditioning in Eucalyptus globulus Labill. provenances. Trees 17:501–509

Ksontini M, Louguet P, Laffray D, Rejeb MN (1998) Comparaison des effets de la contrainte hydrique sur la croissance, la conductance stomatique et la photosynthèse de jeunes plants de chênes méditerranéens (Quercus suber, Q faginea, Q coccifera) en Tunisie. Ann Sci For 55:477–495

Kubiske ME, Abrams MD (1994) Ecophysiological analysis of woody species in contrasting temperate communities during wet and dry years. Oecologia 98(3/4):303–312

Ladjal M, Epron D, Ducrey M (2000) Effects of drought preconditioning on thermotolerance of photosystem II and susceptibility of photosynthesis to heat stress in cedar seedlings. Tree Physiol 20:1235–1242

Ladjal M, Huc R, Ducrey M (2005) Effects of drought on hydraulic conductivity and xylem vulnerability in diverse species and provenances of Mediterranean cedars. Tree Physiol 25:1109–1117

Lebourgeois F, Lévy G, Aussenac G, Clerc B, Willm F (1998) Influence of soil drying on leaf water potential, photosynthesis, stomatal conductance and growth in two black pine varieties. Ann Sci For 55:287–299

Liu L, McDonald AJS, Stadenberg I, Davies W J (2001) Abscisic acid in leaves and root of willow: significance for stomatal conductance. Tree Physiol 21:759–764

Liu MZ, Jiang GM, Li YG, Niu SL, Gao LM, Ding L, Peng Y (2003) Leaf osmotic potentials of 104 plant species in relation to habitats and plant functional types in Hunshandak Sandland, Inner Mongolia, China. Trees 17:554–560

Maier-Maercker U (1998) Dynamics of change in stomatal response and water status of Picea abies during a persistent drought period: a contribution to the traditional view of plant water relations. Tree Physiol 18:211–222

Mediavilla S, Escudero A (2003) Stomatal responses to drought at a Mediterranean site: a comparative study of co-occurring woody species differing in leaf longevity. Tree Physiol 23:987–996

Nativ R, Ephrath JE, Berliner PR, Saranga Y (1999) Drought resistance and water use efficiency in Acacia saligna. Aust J Bot 47(4):577–586

Ngugi MR, Doley D, Hunt MA, Ryan P, Dart P (2004) Physiological responses to water stress in Eucalyptus cloeziana and E. argophloia seedlings. Trees 18:381–389

N'guyen A (1986) Effets d'une contrainte hydrique racinaire sur de jeunes plants de pin maritime (Pinus pinaster Ait.) Thèse, Université de Bordeaux I, 149 pp

Nguyen-Queyrens A, Bouchet-Lannat F (2003) Osmotic adjustment in three-year-old seedlings of five provenances of maritime pine (Pinus pinaster) in response to drought. Tree Physiol 23:397–404

Oren R, Sperry JS, Katul GG, Pataki DE, Ewers BE, Phillips N, Schafer KVR (1999) Survey and synthesis of intra- and interspecific variation in stomatal sensitivity to vapour pressure deficit. Plant Cell Environ 22(12):1515–1526

Park SY, Furukawa A (1998) Photosynthesis and stomatal responses of two tropical and two temperate trees to atmospheric humidity. Aust J Plant Physiol 25(8):181–186

Parker WC, Pallardy SG (1988) Leaf and root osmotic adjustment in drought-stressed Quercus alba, Q. macrocarpa and Q. stellata seedlings. Can J For Res 18:1–5

Peltier JP, Marigo G (1999) Drought adaptation in Fraxinus excelsior L.: physiological basis of the elastic adjustment. J Plant Physiol 154:529–535

Quézel P (1979) Les écosystèmes forestiers crétois et chypriotes. Essai de comparaison et d'interprétation phyto-écologique. Revue Forestière Française 31(5):440–450

Quézel P (1998) Cèdres et cédraies du pourtour méditerranéen: signification bioclimatique et phytogéographique. Forêt Méditerranéenne XIX:243–259

Ritchie GA, Shula RG (1984) Seasonal changes of tissue-water relations in shoots and root systems of Douglas-fir seedlings. For Sci 30(2):538–548

Sala A, Tenhunen JD (1994) Site-specific water relations and stomatal response of Quercus ilex in a Mediterranean watershed. Tree Physiol 14:601–617

Schulze ED, Küppers M (1979) Short-term and long-term effects of plant water deficits on stomatal response to humidity in Corylus avellana L. Planta 146:319–326

Subbarao GV, Chauhan YS, Johansen C (2000) Patterns of osmotic adjustment in pigeonpea—its importance as a mechanism of drought resistance. Eur J Agric 12:239–249

Thomas DS, Eamus D (1999) The influence of predawn leaf water potential on stomatal responses to atmospheric water content at constant Ci and on stem hydraulic conductance and foliar ABA concentration. J Exp Bot 50:243–251

Thomas FM, Gausling T (2000) Morphological and physiological responses of oak seedlings (Quercus petraea and Q. robur) to moderate drought. Ann For Sci 57:325–333

Thomas DS, Eamus D, Shanahan S (2000) Influence of season, drought and xylem ABA on stomatal responses to leaf-to-air vapour pressure difference of trees of the Australian wet-dry tropics. Aust J Bot 48:143–151

Tschaplinski TJ, Blake TJ (1989) Water stress tolerance and late season organic solute accumulation in hybrid poplar. Can J Bot 67(6):1681–1688

Weber JA, Gates DM (1990) Gas exchange in Quercus rubra (northern red oak) during a drought: analysis of relations among photosynthesis, transpiration and leaf conductance. Tree Physiol 7:215–225

Zavitkovsky J, Ferrell WK (1968) Effect of drought upon rates of photosynthesis, respiration and transpiration of seedlings of two ecotypes of Douglas-fir. Bot Gaz 129(4):346–350
Acknowledgements
This work was carried our under the auspices of an E.C. project, "Adaptation and selection of Mediterranean Pinus and Cedrus for sustainable afforestation of marginal lands" (Contract No. FAIR CT95-0097). Mehdi Ladjal held a doctorate fellowship (Bourse Franco-Algérienne, BSA). The technical assistance of Didier Betored and Arnaud Jouineau is gratefully acknowledged.
Additional information
Communicated by R. Matyssek
About this article
Cite this article
Ladjal, M., Deloche, N., Huc, R. et al. Effects of soil and air drought on growth, plant water status and leaf gas exchange in three Mediterranean cedar species: Cedrus atlantica, C. brevifolia and C. libani . Trees 21, 201–213 (2007). https://doi.org/10.1007/s00468-006-0112-0
Received:

Accepted:

Published:

Issue Date:

DOI: https://doi.org/10.1007/s00468-006-0112-0
Keywords