Abstract
The seasonal variation in δ13C values was measured in leaves from 17 upper canopy, five mid-canopy and in four gap tree species, as well as in five epiphyte and five vine species, in a seasonally dry lowland tropical forest at Parque Natural Metropolitano near Panama City, Republic of Panama. No seasonal variation was detected in the δ13C values of mature exposed leaves from either the upper or mid-canopy. However, canopy position did influence the δ13C value. The mean isotopic composition of leaves from the mid-canopy was more negative than that of the upper canopy throughout the year. The δ13C value was also influenced by leaf development, with juvenile leaves on average 1.5‰ less negative than mature leaves. The five epiphyte species exhibited δ13C values that were typical of crassulacean acid metabolism (CAM). Codonanthe uleana, with isotopic values of −19.9 to −22.1‰, is only the second species in the Gesneriaceae reported to express CAM, whereas values between −14.6 and −22.0‰ indicate that Peperomia macrostachya can exhibit different degrees of CAM. The isotopic composition of exposed mature leaves from the vines showed little interspecific variation and was similar to the upper-canopy leaves of the trees.
Access options
Buy single article
Instant access to the full article PDF.
USD 39.95
Price excludes VAT (USA)
Tax calculation will be finalised during checkout.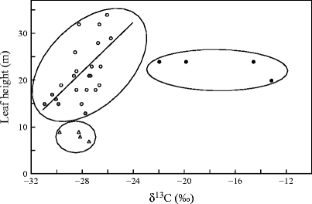 References
Andrade JL, Nobel PS (1997) Microhabitats and water relations of epiphytic cacti and ferns in a lowland neotropical forest. Biotropica 29:261–270

Avalos G, Mulkey SS (1999) Seasonal changes in liana cover in the upper canopy of a neotropical dry forest. Biotropica 31:186–192

Berry SC, Varney GT, Flanagan LB (1997) Leaf δ13C in Pinus resinosa trees and understory plants: variation associated with light and CO2 gradients. Oecologia 109:499–506

Beyschlag W, Pfanz H, Ryel RJ (1992) Stomatal patchiness in mediterranean evergreen sclerophylls – phenomenology and consequences for the interpretation of the midday depression in photosynthesis and transpiration. Planta 187:546–553

Broadmeadow MSJ, Griffiths H, Maxwell C, Borland AM (1992) The carbon isotope ratio of plant organic material reflects temporal and spatial variations in CO2 within tropical forest formations in Trinidad. Oecologia 89:435–441

Buchmann N, Guehl J-M, Barigah TS, Ehleringer JR (1997) Interseasonal comparisons of CO2 concentrations, isotopic composition and carbon dynamics in an Amazonian rainforest (French Guiana). Oecologia 110:120–131

Castellanos AE (1991) Photosynthesis and gas exchange of vines. In: Putz FE, Mooney HA (eds) The biology of vines. Cambridge University Press, Cambridge, pp 181–204

Crayn DM, Smith JAC, Winter K (2001) Carbon-isotope ratios and photosynthetic pathways in the neotropical family Rapateaceae. Plant Biol 3:569–576

Crayn DM, Winter K, Smith JAC (2004) Multiple origins of crassulacean acid metabolism and the epiphytic habit in the Neotropical family Bromeliaceae. Proc Natl Acad Sci USA 101:3703–3708

Farquhar GD, Hubick KT, Condon AG, Richards RA (1988) Carbon isotope fractionation and plant water-use efficiency. In: Rundel PW, Ehleringer JR, Nagy KA (eds) Stable isotopes in ecological research. Springer, Berlin Heidelberg New York, pp 21–40

Farquhar GD, Ehleringer JR, Hubick KT (1989) Carbon isotope discrimination and photosynthesis. Annu Rev Plant Physiol Plant Mol Biol 40:503–537

Guralnick LJ, Ting IP, Lord EM (1986) Crassulacean acid metabolism in the Gesneriaceae. Am J Bot 73:336–345

Hegarty EE (1990) Leaf life-span and leafing phenology of lianas and associated trees during a rainforest succession. J Ecol 78:300–312

Holthe PA, Patel A, Ting IP (1992) The occurrence of CAM in Peperomia. Selbyana 13:77–87

Holtum JAM, Winter K (1999) Degrees of crassulacean acid metabolism in tropical epiphytic and lithophytic ferns. Aust J Plant Physiol 26:749–757

Holtum JAM, Winter K (2001) Are plants growing close to the floors of tropical forests exposed to markedly elevated concentrations of carbon dioxide? Aust J Bot 49:629–636

Holtum JAM, Aranda J, Virgo A, Gehrig HH, Winter K (2004) δ13C values and crassulacean acid metabolism in Clusia species from Panama. Trees 18:658–668

Kitajima K, Mulkey SS, Wright SJ (1997) Seasonal leaf phenotypes in the canopy of a tropical dry forest: photosynthetic characteristics and associated traits. Oecologia 109:490–498

Lowden J, Dyck W (1974) Seasonal variation in the isotope ratios and carbon in maple leaves and other plants. Can J Earth Sci 11:79–88

Medina E, Minchin P (1980) Stratification of δ13C values of leaves in an Amazonian rain forest. Oecologia 45:377–378

Meinzer FC (2003) Functional convergence in plant responses to the environment. Oecologia 134:1–11

Ometto JPHB, Flanagan LB, Martinelli LA, Moroera MZ, Higuchi N, Ehleringer JR (2002) Carbon isotope discrimination in forest and pasture ecosystems of the Amazon basin, Brasil. Global Biogeochem Cycles16:1109. DOI:10.1029/2001GB001462

Parker GG, Smith AP, Hogan KP (1992) Access to the upper forest canopy with a large tower crane. Bioscience 42:664–670

Pierce S, Winter K, Griffiths H (2002) Carbon isotope ratio and the extent of daily CAM use by Bromeliaceae. New Phytol 156:75–84

Silvera K, Santiago LS, Winter K (2005) Distribution of crassulacean acid metabolism in orchids of Panama: evidence of selection for weak and strong modes. Funct Plant Biol 32:397-407

Skillman JB, Winter K (1997) High photosynthetic capacity in a shade-tolerant crassulacean acid metabolism plant. Plant Physiol 113:441–450

Skillman JB, Garcia M, Winter K (1999) Whole-plant consequences of crassulacean acid metabolism for a tropical forest understory plant. Ecology 80:1584–1593

Smith JF (2000) Phylogenetic resolution within the tribe Episcieae (Gesneriaceae): congruence of ITS and NDHF sequences from parsimony and maximum-likelihood analyses. Am J Bot 87:883–897

Sobrado MA, Ehleringer JR (1997) Leaf carbon isotope ratios from a tropical dry forest in Venezuela. Flora 192:121–124

Sternberg LSL, Mulkey SS, Wright SJ (1989) Ecological interpretation of leaf carbon isotope ratios: influence of respired carbon dioxide. Ecology 70:1317–1324

Terwilliger VJ (1997) Changes in the δ13C values of trees during a tropical rainy season: some effects in addition to diffusion and carboxylation by rubisco? Am J Bot 84:1693–1700

Terwilliger VJ, Kitajima K, Le Roux-Swarthout DJ, Mulkey S, Wright SJ (2001) Intrinsic water-use efficiency and heterotrophic investment in tropical leaf growth of two neotropical pioneer tree species as estimated from δ13C values. New Phytol 152:267–281

Ting IP, Bates L, Sternberg LO, DeNiro MJ (1985) Physiological and isotopic aspects of photosynthesis in Peperomia. Plant Physiol 78:246–247

Tyree MT (2003) Hydraulic limits on tree performance, transpiration, carbon gain and growth of trees. Trees 17:85–100

Winter K, Holtum JAM (2002) How closely do the δ13C values of crassulacean acid metabolism plants reflect the proportion of CO2 fixed during day and night? Plant Physiol 129:1843–1851

Winter K, Holtum JAM (2005) The effects of salinity, crassulacean acid metabolism, and plant age on the carbon isotope composition of Mesembryanthemum crystallinum L., a halophytic C3-CAM species. Planta (in press)

Winter K, Aranda J, Garcia M, Virgo A, Paton SR (2001) Effect of elevated CO2 and soil fertilization on whole-plant growth and water use in seedlings of a tropical pioneer tree, Ficus insipida Willd. Flora 196:458–464

Winter K, Aranda J, Holtum JAM (2005) Carbon isotope composition and water-use efficiency in plants with crassulacean acid metabolism. Funct Plant Biol 32:381-388

Zotz G, Harris G, Königer M, Winter K (1995) High rates of photosynthesis in the tropical pioneer tree, Ficus insipida Willd. Flora 190:265–272
Acknowledgements
This study was supported by the Andrew W. Mellon Foundation and the Smithsonian Tropical Research Institute. J.A.M.H. received additional assistance from the JCU Special Studies Programme and from Dr R.G. Dunn
About this article
Cite this article
Holtum, J.A.M., Winter, K. Carbon isotope composition of canopy leaves in a tropical forest in Panama throughout a seasonal cycle. Trees 19, 545–551 (2005). https://doi.org/10.1007/s00468-005-0413-8
Received:

Accepted:

Published:

Issue Date:

DOI: https://doi.org/10.1007/s00468-005-0413-8
Keywords
Canopy

Carbon isotope composition

Crassulacean acid metabolism

Tropical trees

Water-use efficiency