Abstract
Gas exchange and growth of beech seedlings planted in the understory of a recently thinned pinewood were recorded for 2 years. Relative irradiance was assessed by hemispherical photographs taken just after the thinning. Predawn water potential (Ψpd), daily gas exchange and chlorophyll fluorescence were measured several times during the two growing seasons. Maximum values of photosynthesis (A max) and stomatal conductance to water vapour (g wvmax) were established from daily data. Maximum quantum efficiency of PS II was recorded at dawn by taking the variable to maximum chlorophyll fluorescence ratio on dark adapted leaves (F v/F m). In the middle of each summer, leaf nitrogen content and leaf mass per area were evaluated, and height growth and basal area increment were recorded at the end of the season. The thinning treatment removed half the trees and generated around 10% more available relative irradiance (GLF). This was followed by an increase in net photosynthesis at saturating PPFD (A sat) and in maximum stomatal conductance to water vapour (g wvmax). Moreover, specific leaf mass (SLM) and mass based nitrogen content (Nm) showed higher values for seedlings in the thinned stand. In both years, a positive relationship was established between the area based nitrogen content (Na) and maximum net photosynthesis (A max). In 1998, a year with a dry summer, seedlings suffered a significant drop in daily A max irrespective of the thinning regime. This was a response to an increase in stomatal limitation to net photosynthesis, g wvmax reaching the lowest value on dates with the highest drought. A lack of decrease of Fv/Fm confirmed the absence of significant non-stomatal limitation to A as a consequence of photoinhibition after opening the pinewood. A higher maximum quantum efficiency of open PS II centres (Fv/Fm) was registered in seedlings in the thinned stand. The significance of the differences between the treatments was stronger in the second year after thinning. In 1999, a year with frequent summer storms, water availability increased for seedlings growing under the thinned pinewood. Overall, the reduced pine overstory had a positive effect on physiological responses of beech seedlings, which was translated into improved seedling growth.
Access options
Buy single article
Instant access to the full article PDF.
USD 39.95
Price includes VAT (USA)
Tax calculation will be finalised during checkout.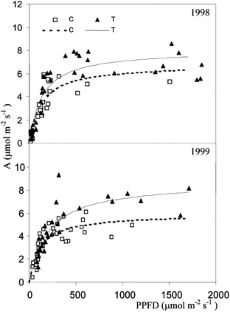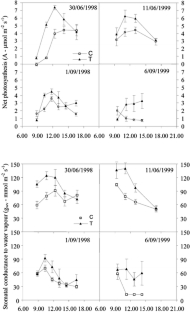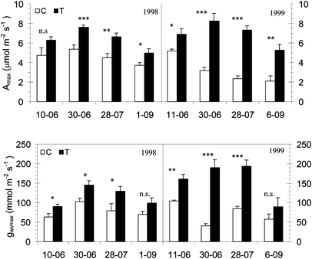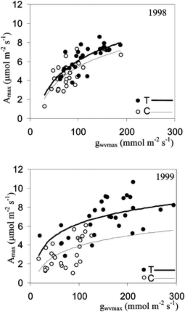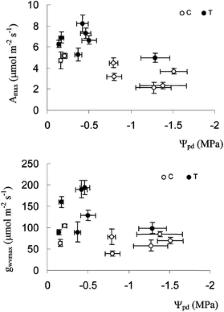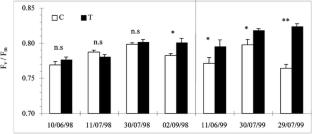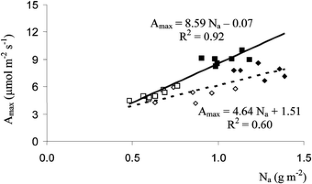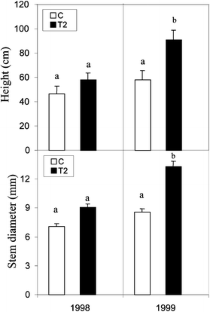 References
Abrams MD (1986) Physiological plasticity in water relations and leaf structure of understory versus open-grown Cercis canadensis L. in northeast Kansas. Can J For Res 16:1170–1174

Abrams MD, Kubiske ME (1990) Leaf structural characteristics of 31 hardwood and conifer tree species in central Wisconsin: influence of light regime and shade-tolerance rank. For Ecol Manage 31:245–253

Abrams MD, Mostoller SA (1995) Gas exchange, leaf structure and nitrogen in contrasting successional tree species growing in open and understory sites during a drought. Tree Physiol 15:361–370

Anderson MC (1964) Studies of the woodland light climate. I. The photographic computation of light conditions. J Ecol 52:27–41

Aranda I (1998) Comportamiento ecofisiológico de Fagus sylvatica L. y Quercus petraea (Matt) Liebl en el "Hayedo de Montejo de la Sierra" (C.A.M.). Ph D thesis, Universidad Politécnica de Madrid, Madrid

Aranda I, Gil L, Pardos JA (2000) Water relations and gas exchange in Fagus sylvatica L. and Quercus petraea (Mattuschka) Liebl. in a mixed stand at their southern limit of distribution in Europe. Trees 14:344–352.

Aranda I, Gil L, Pardos JA (2001a) Effects of thinning in a Pinus sylvestris L. stand on foliar water relations of Fagus sylvatica L. seedlings planted within the pinewood. Trees 15:358–364

Aranda I, Gil L, Pardos JA (2001b) Effects of relative irradiance on the leaf structure of Fagus sylvatica L. seedlings planted in the understory of a Pinus sylvestris L. stand after thinning. Ann For Sci 58:673–680

Aranda I, Gil L, Pardos JA (2002) Physiological responses of Fagus sylvatica L. seedlings under Pinus sylvestris L. and Quercus pyrenaica Willd. overstories. For Ecol Manage 162:153–164

Aussenac G (2000) Interaction between forest stands and microclimate: ecophysiological aspects and consequences for silviculture. Ann For Sci 57:287–301

Bauhus J, Bartsch N (1995) Mechanisms for carbon and nutrient release and retention in beech forest gaps. I. Microclimate, water balance and seepage water chemistry. Plant Soil 168–169:579–584

Bazzaz FA (1979) The physiological ecology of plant succession. Annu Rev Ecol Syst 10:351–371

Bazzaz FA, Carlson RW (1982) Photosynthetic acclimation to variability in the light environment of early and late successional plants. Oecologia 54:313–316

Beaudet M, Messier C, Hilbert DW, Lo E, Wang ZM, Lechowicz MJ (2000) Leaf- and plant-level carbon gain in yellow birch, sugar maple, and beech seedlings from contrasting forest light environments. Can J For Res 30:390–404

Björkman O (1981) Responses to different quantum flux densities. In: Lange OL, Nobel PL, Osmond CB, Ziegler H (eds) Physiological plant ecology. I. Responses to the physical environment. Encyclopedia of plant physiology, NS, vol 12A. Springer, Berlin Heidelberg New York, pp 57–107

Boardman NK (1977) Comparative photosynthesis on sun and shade plants. Annu Rev Plant Physiol 28:355–377

Castell C, Terradas J, Tenhunen JD (1994) Water relations, gas exchange, and growth of resprouts and mature plant shoots of Arbutus unedo L. and Quercus ilex L. Oecologia 98:201–211

Chen HYH (1997) Interspecific responses of planted seedlings to light availability in interior British Columbia: survival, growth, allometric patterns, and specific leaf area. Can J For Res 27:1383–1393

Collet C, Lanter O, Pardos M (2001) Effects of canopy opening on height and diameter growth in naturally regenerated beech seedlings. Ann For Sci 58:127–134

Collet C, Lanter O, Pardos M (2002) Effects of canopy opening on the morphology and anatomy of naturally regenerated beech seedlings. Trees 16:291–298

Ellsworth DS, Reich PB (1992) Water relations and gas exchange of Acer saccharum seedlings in contrasting natural light and water regimes. Tree Physiol 10:1–20

Emborg J (1998) Understory light conditions and regeneration with respect to the structural dynamics of a near-natural temperate deciduous forest in Denmark. For Ecol Manage 106:83–95

Evans JR (1989) Photosynthesis and nitrogen relationships in leaves of C3 plants. Oecologia 78:9–19

Field C, Mooney HA (1986) The photosynthesis-nitrogen relationship in wild plants. In: Givnish TJ (ed) On the economy of plant form and function. Cambridge University Press, Cambridge, pp 25–55

Finzi A, Canham C (2000) Sapling growth in response to light and nitrogen availability in a southern New England forest. For Ecol Manage 131:153–165

Fleck I, Diaz C, Pascual M, Iñiguez FJ (1995) Ecophysiological differences between first-year resprouts after wildfire and unburned vegetation of Arbutus unedo and Coriaria myrtifolia. Acta Oecol 16:55–69

Gemmel P, Nilsson U, Welander T (1996) Development of oak and beech seedlings planted under varying shelterwood densities and with different site preparation methods in southern Sweden. New For 12:141–161

Gil L, Pardo F, Aranda I, Pardos JA (1999) El Hayedo de Montejo: Pasado y Presente. Comunidad Autónoma de Madrid, Madrid

Givnish TJ (1988) Adaptation to sun and shade: a whole-plant perspective. Aust J Plant Physiol 15:63–92

Grassi G, Minotta G (2000) Influence of nutrient supply on shade-sun acclimation of Picea abies seedlings: effects on foliar morphology, photosynthetic performance and growth. Tree Physiol 20:645–652.

Grubb PJ, Lee WG, Kollmann J, Wilson JB (1996) Interaction of irradiance and soil nutrient supply on growth of seedlings of ten European tall-shrub species and Fagus sylvatica. J Ecol 84:827–840

Harley PC, Baldocchi DD (1995) Scaling carbon dioxide and water vapour exchange from leaf to canopy in a deciduous forest. I. Leaf model parametrization. Plant Cell Environ 18:1146–1156

Johnson JD, Tognetti R, Michelozzi M, Pinzauti S, Minota G, Borghetti M (1997) Ecophysiological responses of Fagus sylvatica seedlings to changing light conditions. II. The interaction of light environment and soil fertility on seedling physiology. Physiol Plant 101:124–134

Jurik TW (1986) Temporal and spatial patterns of specific leaf weight in successional northern hardwood tree species. Am J Bot 73:1083–1092

Kimura K, Ishida A, Uemura A, Matsumoto Y, Terashima I (1998) Effects of current-year and previous-year PPFDs on shoot gross morphology and leaf properties in Fagus japonica. Tree Physiol 18:459–466

Kitajima K (1994) Relative importance of photosynthetic traits and allocation patterns as correlates of seedling shade tolerance of 13 tropical trees. Oecologia 98:419–428

Kloeppel BD, Abrams MD, Kubiske ME (1993) Seasonal ecophysiology and leaf morphology of four successional Pennsylvania barrens species in open versus understory environments. Can J For Res 23:181–189

Kobe RK, Pacala SW, Silander JA Jr, Canham CD (1995) Juvenile tree survivorship as a component of shade tolerance. Ecol Appl 5:517–532

Kruger EL, Reich PB (1997) Responses of hardwood regeneration to fire in mesic forest openings. II. Leaf gas exchange, nitrogen concentration, and water status. Can J For Res 27:1832–1840

Kubiske ME, Pregitzer KS (1996) Effects of elevated CO2 and light availability on the photosynthetic light response of trees of contrasting shade tolerance. Tree Physiol 16:351–358

Küppers M (1989) Ecological significance of aboveground architectural patterns in woody plants: a question of cost-benefit relationships. Trends Ecol Evol 4:375–379

Küppers M (1994) Canopy gaps: competitive light interception and economic space filling-a matter of whole-plant allocation. In: Caldwell MM, Pearcy RW (eds) Exploitation of environmental heterogeneity by plants. Academic Press, San Diego, pp 111–144

Küppers M, Schneider H (1993) Leaf gas exchange of beech (Fagus sylvatica L.) seedlings in lightflecks: effects of fleck length and leaf temperature in leaves grown in deep and partial shade. Trees 7:160–168

Landhäusser SM, Lieffers VJ (2001) Photosynthesis and carbon allocation of six boreal tree species grown in understory and open conditions. Tree Physiol 21:243–250

Landsberg JJ (1986) Physiological ecology of forest production. Academic Press, San Diego

Larsen JB, Buch T (1995) The influence of light, lime, and NPK-fertilizer on leaf morphology and early growth of different beech provenances (Fagus sylvatica L.). For Landscape Res 1:227–240

Lei TT, Lechowicz MJ (1997) The photosynthetic response of eight species of Acer to simulated light regimes from the centre and edges of gaps. Funct Ecol 11:16–23

Lieffers VJ, Mugasha AG, MacDonald SE (1993) Ecophysiology of shade needles of Picea glauca saplings in relation to removal of competing hardwoods and degree of prior shading. Tree Physiol 12:271–280

Löf M, Welander NT (2000) Carry-over effects on growth and transpiration in Fagus sylvatica seedlings after drought at various stages of development. Can J For Res 30:468–475

Madsen P (1994) Growth and survival of Fagus sylvatica seedlings in relation to light intensity and soil water content. Scand J For Res 9:316–322

Mailly D, Kimmins JP (1997) Growth of Pseudotsuga menziesii and Tsuga heterophylla seedlings along a light gradient: resource allocation and morphological acclimation. Can J Bot 75:1424–1435

Minotta G, Pinzauti S (1996) Effects of light and soil fertility on growth, leaf chlorophyll content and nutrient use efficiency of beech (Fagus sylvatica L.) seedlings. For Ecol Manage 86:61–71

Naidu SL, DeLucia EH (1997) Acclimation of shade-developed leaves on saplings exposed to late-season canopy gaps. Tree Physiol 17:367–376

Naidu SL, DeLucia EH (1998) Physiological and morphological acclimation of shade-grown tree seedlings to late-season canopy gap formation. Plant Ecol 138:27–40

Niinemets Ü, Kull O (1994) Leaf weight per area and leaf size of 85 Estonian woody species in relation to shade tolerance and light availability. For Ecol Manage 70:1–10

Pacala SW, Canham CD, Silander JA Jr, Kobe R (1994) Sapling growth as a function of resources in a north temperate forest. Can J For Res 24:2172–2183

Pacala SW, Canham CD, Silander JA, Kobe RK, Ribbens E (1996) Forest models defined by field measurements. II. Estimation, error analysis, and dynamics. Ecol Monogr 66:1–44

Reich PB, Kloeppel BD, Ellsworth DS, Walters MB (1995) Different photosynthesis-nitrogen relations in deciduous hardwood and evergreen coniferous tree species. Oecologia 104:24–30

Rich PM, Clark DB, Clark DA, Oberbauer SF (1993) Long-term study of solar radiation regimes in a tropical wet forest using quantum sensors and hemispherical photography. Agric For Meteorol 65:107–127

Singsaas EL, Donald RO, DeLucia EH (2001) Variation in measured values of photosynthetic quantum yield in ecophysiological studies. Oecologia 128:15–23

Stickan W, Zhang X (1992) Seasonal changes in CO2 and H2O gas exchange of young European beech (Fagus sylvatica L.). Trees 6:96–102

Strauss-Debenedetii S, Bazzaz FA (1991) Plasticity and acclimation to light in tropical Moraceae of different successional positions. Oecologia 87:377–387

Sullivan NH, Bolstad PV, Vose JM (1996) Estimates of net photosynthetic parameters for twelve tree species in mature forests of the southern Appalachians. Tree Physiol 16:397–406

Szwagrzyk J, Szewczyk J, Bodziarczyk J (2001) Dynamics of seedling banks in beech forest: results of a 10-year study on germination, growth and survival. For Ecol Manage 141:237–250

Thiébaut B, Comps B, Plancheron F (1990) Anatomie des feuilles dans les pousses polycycliques du Hêtre européen (Fagus sylvatica). Can J Bot 68:2595–2606

Tognetti R, Michelozzi M, Borghetti M (1994) Response to light of shade-grown beech seedlings subjected to different watering regimes. Tree Physiol 14:751–758

Tognetti R, Gianfranco M, Pinzauti S, Michelozzi M, Borghetti M (1998) Acclimation to changing light conditions of long-term shade-grown beech (Fagus sylvatica L.) seedlings of different geographic origins. Trees 12:326–333

Valladares F, Pearcy RW (1998) The functional ecology of shoot architecture in sun and shade plants of Heteromeles arbutifolia M. Roem, a California chaparral shrub. Oecologia 114:1−10

Valladares F, Pearcy RW (2002) Drought can be more critical in the shade than in the sun: a field study of carbon gain and photo-inhibition in a Californian shrub during a dry El Niño year. Plant Cell Environ 25:749–759

Valladares F, Chico JM, Aranda I, Balaguer L, Dizengremel P, Manrique E, Dreyer E (2002) The greater seedling high-light tolerance of Quercus robur over Fagus sylvatica is linked to a greater physiological plasticity. Trees 16:395–403

Van Hees AFM (1997) Growth and morphology of pedunculate oak (Quercus robur L.) and beech (Fagus sylvatica L.) seedlings in relation to shading and drought. Ann Sci For 54:9−18

Walters MB, Reich PB (1996) Are shade tolerance, survival, and growth linked? Low light and nitrogen effects on hardwood seedlings. Ecology 77:841–853

Walters MB, Reich PB (1997) Growth of Acer saccharum seedlings in deeply shaded understories of northern Wisconsin: effects of nitrogen and water availability. Can J For Res 27:237–247

Walters MB, Kruger EL, Reich PB (1993) Growth, biomass distribution and CO2 exchange of northern hardwood seedlings in high and low light: relationships with successional status and shade tolerance. Oecologia 94:7–16

Welander NT, Ottosson B (1997) Influence of photosynthetic photon flux density on growth and transpiration in seedlings of Fagus sylvatica. Tree Physiol 17:133–140

Welander NT, Ottosson B (1998) The influence of shading on growth and morphology in seedlings of Quercus robur L. and Fagus sylvatica L. For Ecol Manage 107:117–126

Ziegenhagen B, Kausch W (1995) Productivity of young shaded oaks (Quercus robur L.) as corresponding to shoot morphology and leaf anatomy. For Ecol Manage 72:97–108
Acknowledgements
Financial support was provided by the Consejería de Medio Ambiente y Desarrollo Regional de la Comunidad Autónoma de Madrid. We wish to thank to Luis Bergasa who helped in data acquisition during the second year of the study. A previous version of the manuscript was improved after critical comments of Dr. Ricardo Alía. In addition, we would like to acknowledge two anonymous reviewers for their helpful comments.
About this article
Cite this article
Aranda, I., Gil, L. & Pardos, J.A. Improvement of growth conditions and gas exchange of Fagus sylvatica L. seedlings planted below a recently thinned Pinus sylvestris L. stand. Trees 18, 211–220 (2004). https://doi.org/10.1007/s00468-003-0296-5
Received:

Accepted:

Published:

Issue Date:
Keywords
Fagus sylvatica

Gas exchange

Beech regeneration

Growth

Light