Abstract
Renovascular hypertension (RVH) is defined as an elevated blood pressure caused by kidney hypoperfusion, generally as a result of anatomic stenosis of the renal artery with consequent activation of the Renin Angiotensin-Aldosterone System. The main causes include genetic and inflammatory disorders, extrinsic compression, and idiopathic alterations. RVH is often asymptomatic and should be suspected in any child with refractory hypertension, especially if other suggestive findings are present, including those with severe hypertension, abdominal bruit, and abrupt fall of glomerular filtration rate after administration of angiotensin-converting enzyme inhibitors or angiotensin-receptor blockers. There is a consensus that digital subtraction angiography is the gold standard method for the diagnosis of RVH. Nevertheless, the role of non-invasive imaging studies such as Doppler ultrasound, magnetic resonance angiography, or computed tomographic angiography remains controversial, especially due to limited pediatric evidence. The therapeutic approach should be individualized, and management options include non-surgical pharmacological therapy and revascularization with percutaneous transluminal renal angioplasty (PTRA) or surgery. The prognosis is related to the procedure performed, and PTRA has a higher restenosis rate compared to surgery, although a decreased risk of complications. This review summarizes the causes, physiopathology, diagnosis, treatment, and prognosis of RVH in pediatric patients. Further studies are required to define the best approach for RVH in children.
Access options
Buy single article
Instant access to the full article PDF.
USD 39.95
Price excludes VAT (USA)
Tax calculation will be finalised during checkout.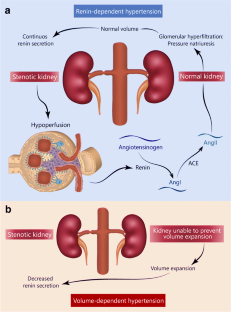 References
Samadian F, Dalili N, Jamalian A (2017) New Insights Into Pathophysiology, Diagnosis, and Treatment of Renovascular Hypertension. Iran J Kidney Dis 11:79–89

Louis R, Levy-Erez D, Cahill AM, Meyers KE (2018) Imaging studies in pediatric fibromuscular dysplasia (FMD): a single-center experience. Pediatr Nephrol 33:1593–1599

Tullus K, Brennan E, Hamilton G, Lord R, McLaren CA, Marks SD, Roebuck DJ (2008) Renovascular hypertension in children. Lancet 371:1453–1463

Chung H, Lee JH, Park E, Hyun H, Ahn YH, Jae HJ, Kim GB, Ha IS, Cheong HI, Kang HG (2017) Long-Term Outcomes of Pediatric Renovascular Hypertension. Kidney Blood Press Res 42:617–627

Criado E, Izquierdo L, Luján S, Puras E, Espino MM (2002) Abdominal aortic coarctation, renovascular, hypertension, and neurofibromatosis. Ann Vasc Surg 16:363–367

Herrmann SM, Textor SC (2019) Renovascular Hypertension. Endocrinol Metab Clin North Am 48:765–778

Lee Y, Lim YS, Lee ST, Cho H (2018) Pediatric renovascular hypertension: treatment outcome according to underlying disease. Pediatr Int 60:264–269

Kanitkar M (2005) Renovascular hypertension. Indian Pediatr 42:47–54

Vo J-N, Hoffer FA, Shaw DWW (2010) Techniques in Vascular and Interventional Radiology: Pediatric Central Venous Access. Tech Vasc Interv Radiol 13:250–257

Pollard SG, Hornick P, Macfarlane R, Calne RY (1989) Renovascular hypertension in neurofibromatosis. Postgrad Med J 65:31–33

Fossali E, Signorini E, Intermite RC, Casalini E, Lovaria A, Maninetti MM, Rossi LN (2000) Renovascular disease and hypertension in children with neurofibromatosis. Pediatr Nephrol 14:806–810

Kopan R (2012) Notch Signaling. Cold Spring Harb Perspect Biol 4:a011213–a011213

Turnpenny PD, Ellard S (2012) Alagille syndrome: pathogenesis, diagnosis and management. Eur J Hum Genet 20:251–257

Bérard E, Sarles J, Triolo V, Gagnadoux MF, Wernet F, Hadchouel M, Niaudet P (1998) Renovascular hypertension and vascular anomalies in Alagille syndrome. Pediatr Nephrol 12:121–124

Salem J-E, Bruguiere E, Iserin L, Giochon-Mantel A, Plouin PF (2012) Hypertension and aortorenal disease in Alagille syndrome. J Hypertens 30:1300–1306

Twite MD, Stenquist S, Ing RJ (2019) Williams syndrome. Pediatr Anesth 29:483–490

Morris CA, Braddock SR (2020) Health Care Supervision for Children With Williams Syndrome. Pediatrics 145:e20193761

Morris CA (1993) Williams Syndrome. In: Adam MP, Ardinger HH, Pagon RA, Wallace SE, Bean LJH, Mirzaa G, Amemiya A (eds) GeneReviews®. University of Washington, Seattle

Tullus K (2013) Renovascular hypertension--is it fibromuscular dysplasia or Takayasu arteritis. Pediatr Nephrol 28:191–196

Sahin S, Hopurcuoglu D, Bektas S, Belhan E, Adrovic A, Barut K, Canpolat N, Caliskan S, Sever L, Kasapcopur O (2019) Childhood-onset Takayasu arteritis: A 15-year experience from a tertiary referral center. Int J Rheum Dis 22:132–139

Clemente G, Silva CA, Sacchetti SB, Ferriani VPL, Oliveira KS, Sztajnbok F, Bica BERG, Cavalcanti A, Robazzi T, Bandeira M, Terreri MT (2018) Takayasu arteritis in childhood: misdiagnoses at disease onset and associated diseases. Rheumatol Int 38:1089–1094

Di Santo M, Stelmaszewski EV, Villa A (2018) Takayasu arteritis in paediatrics. Cardiol Young 28:354–361

Onen F, Akkoc N (2017) Epidemiology of Takayasu arteritis. Presse Médicale 46:e197–e203

Kumar P, Arora P, Kher V, Rai PK, Gulati S, Baijal SS, Kumar S (1996) Malignant hypertension in children in India. Nephrol Dial Transplant 11:1261–1266

McCulloch M, Andronikou S, Goddard E, Sinclair P, Lawrenson J, Mandelstam S, Beningfield SJ, Millar AJJW (2003) Angiographic features of 26 children with Takayasu's arteritis. Pediatr Radiol 33:230–235

Al-Motarreb A, Askar F, Al-Aghbari K (2010) Takayasu′s arteritis associated with tuberculosis in a young Yemeni woman. Heart Views 11:117

van Twist DJL, de Leeuw PW, Kroon AA (2018) Renal artery fibromuscular dysplasia and its effect on the kidney. Hypertens Res 41:639–648

Takahashi K, Unno T (2018) Fibromuscular Dysplasia: Another Paradigm Shift in Renovascular Hypertension? Intern Med 57:2605–2606

Khoury MH, Gornik HL (2017) Fibromuscular dysplasia (FMD). Vasc Med 22:248–252

Green R, Gu X, Kline-Rogers E, Froelich J, Mace P, Gray B, Katzen B, Olin J, Gornik HL, Cahill AM, Meyers KE (2016) Differences between the pediatric and adult presentation of fibromuscular dysplasia: results from the US Registry. Pediatr Nephrol 31:641–650

Acharya R, Ellenwood S, Upadhyay K (2020) Efficacy of Antihypertensive Therapy in a Child with Unilateral Focal Fibromuscular Dysplasia of the Renal Artery: A Case Study and Review of Literature. Medicines (Basel) 7:9

van Twist DJL, de Leeuw PW, Spiering W, Rossi GP, Dominiczak AF, Jennings GLR, Barigou M, Persu A, Kroon AA (2019) Unifocal and Multifocal Fibromuscular Dysplasia. Hypertension 73:7–12

Savard S, Steichen O, Azarine A, Azizi M, Jeunemaitre X, Plouin PF (2012) Association between 2 angiographic subtypes of renal artery fibromuscular dysplasia and clinical characteristics. Circulation 126:3062–3069

Garovic V, Textor SC (2005) Renovascular hypertension: current concepts. Semin Nephrol 25:261–271

Dieter RS, Schmidt WS, Pacanowski JP, Jaff MR (2005) Renovascular hypertension. Expert Rev Cardiovasc Ther 3:413–422

Gornik HL, Persu A, Adlam D, Aparicio LS, Azizi M, Boulanger M, Bruno RM, de Leeuw P, Fendrikova-Mahlay N, Froehlich J, Ganesh SK, Gray BH, Jamison C, Januszewicz A, Jeunemaitre X, Kadian-Dodov D, Kim ES, Kovacic JC, Mace P, Morganti A, Sharma A, Southerland AM, Touzé E, van der Niepen P, Wang J, Weinberg I, Wilson S, Olin JW, Plouin PF (2019) First International Consensus on the diagnosis and management of fibromuscular dysplasia. Vasc Med 24:164–189

Olin JW, Froehlich J, Gu X, Bacharach JM, Eagle K, Gray BH, Jaff MR, Kim ES, Mace P, Matsumoto AH, McBane RD, Kline-Rogers E, White CJ, Gornik HL (2012) The United States Registry for Fibromuscular Dysplasia: results in the first 447 patients. Circulation 125:3182–3190

The Coronary Artery Disease (C4D) Genetics Consortium (2011) A genome-wide association study in Europeans and South Asians identifies five new loci for coronary artery disease. Nat Genet 43:339–344

Beaudoin M, Gupta RM, Won H-H, Lo KS, Do R, Henderson CA, Lavoie-St-Amour C, Langlois S, Rivas D, Lehoux S, Kathiresan S, Tardif J-C, Musunuru K, Lettre G (2015) Myocardial Infarction–Associated SNP at 6p24 Interferes With MEF2 Binding and Associates With PHACTR1 Expression Levels in Human Coronary Arteries. Arterioscler Thromb Vasc Biol 35:1472–1479

Freilinger T, Anttila V, de Vries B, Malik R, Kallela M, Terwindt GM, Pozo-Rosich P, Winsvold B, Nyholt DR, van Oosterhout WP, Artto V, Todt U, Hämäläinen E, Fernández-Morales J, Louter MA, Kaunisto MA, Schoenen J, Raitakari O, Lehtimäki T, Vila-Pueyo M, Göbel H, Wichmann E, Sintas C, Uitterlinden AG, Hofman A, Rivadeneira F, Heinze A, Tronvik E, van Duijn CM, Kaprio J, Cormand B, Wessman M, Frants RR, Meitinger T, Müller-Myhsok B, Zwart JA, Färkkilä M, Macaya A, Ferrari MD, Kubisch C, Palotie A, Dichgans M, van den Maagdenberg AM, International Headache Genetics Consortium (2012) Genome-wide association analysis identifies susceptibility loci for migraine without aura. Nat Genet 44:777–782

Anttila V, Winsvold BS, Gormley P, Kurth T, Bettella F, McMahon G, Kallela M, Malik R, de Vries B, Terwindt G, Medland SE, Todt U, McArdle WL, Quaye L, Koiranen M, Ikram MA, Lehtimäki T, Stam AH, Ligthart L, Wedenoja J, Dunham I, Neale BM, Palta P, Hamalainen E, Schürks M, Rose LM, Buring JE, Ridker PM, Steinberg S, Stefansson H, Jakobsson F, Lawlor DA, Evans DM, Ring SM, Färkkilä M, Artto V, Kaunisto MA, Freilinger T, Schoenen J, Frants RR, Pelzer N, Weller CM, Zielman R, Heath AC, Madden PAF, Montgomery GW, Martin NG, Borck G, Göbel H, Heinze A, Heinze-Kuhn K, Williams FMK, Hartikainen AL, Pouta A, van den Ende J, Uitterlinden AG, Hofman A, Amin N, Hottenga JJ, Vink JM, Heikkilä K, Alexander M, Muller-Myhsok B, Schreiber S, Meitinger T, Wichmann HE, Aromaa A, Eriksson JG, Traynor B, Trabzuni D, Consortium NABE, Brain Expression Consortium UK, Rossin E, Lage K, Jacobs SBR, Gibbs JR, Birney E, Kaprio J, Penninx BW, Boomsma DI, van Duijn C, Raitakari O, Jarvelin MR, Zwart JA, Cherkas L, Strachan DP, Kubisch C, Ferrari MD, van den Maagdenberg AMJM, Dichgans M, Wessman M, Smith GD, Stefansson K, Daly MJ, Nyholt DR, Chasman D, Palotie A (2013) Genome-wide meta-analysis identifies new susceptibility loci for migraine. Nat Genet 45:912–917

Warchol-Celinska E, Berrandou T, Prejbisz A, Georges A, Dupré D, Januszewicz M, Florczak E, Jozwik-Plebanek K, Dobrowolski P, Smigielski W, Drygas W, Kadziela J, Witkowski A, Kabat M, Szczerbo-Trojanowska M, Pappaccogli M, Persu A, Jeunemaitre X, Januszewicz A, Bouatia-Naji N (2020) Genetic Study of PHACTR1 and Fibromuscular Dysplasia, Meta-Analysis and Effects on Clinical Features of Patients: The ARCADIA-POL Study. Hypertens 76:e4–e7

Richer J, Hill HL, Wang Y, Yang ML, Hunker KL, Lane J, Blackburn S, Coleman DM, Eliason J, Sillon G, D'Agostino MD, Jetty P, Mongeon FP, Laberge AM, Ryan SE, Fendrikova-Mahlay N, Coutinho T, Mathis MR, Zawistowski M, Hazen SL, Katz AE, Gornik HL, Brummett CM, Abecasis G, Bergin IL, Stanley JC, Li JZ, Ganesh SK (2020) A Novel Recurrent COL5A1 Genetic Variant Is Associated With a Dysplasia-Associated Arterial Disease Exhibiting Dissections and Fibromuscular Dysplasia. Arterioscler Thromb Vasc Biol 40:2686–2699

Kiando SR, Barlassina C, Cusi D, Galan P, Lathrop M, Plouin P-F, Jeunemaitre X, Bouatia-Naji N (2015) Exome sequencing in seven families and gene-based association studies indicate genetic heterogeneity and suggest possible candidates for fibromuscular dysplasia. J Hypertens 33:1802–1810

Sethna CB, Kaplan BS, Cahill AM, Velazquez OC, Meyers KEC (2008) Idiopathic mid-aortic syndrome in children. Pediatr Nephrol 23:1135–1142

Jha KK, Kumar M, Chaudhary DP, Rijal T (2016) Midaortic syndrome. BMJ Case Rep bcr2016217139

Delis KT (2005) Middle Aortic Syndrome: From Presentation to Contemporary Open Surgical and Endovascular Treatment. Perspect Vasc Surg Endovasc Ther 17:187–203

Colon NC, Chung DH (2011) Neuroblastoma. Adv Pediatr 58:297–311

Poggi GM, Fognani G, Cuzzubbo D, Liguori A, Resti M, Pela I (2011) Neuroblastoma Presenting with Acute Kidney Injury, Hyponatremic-Hypertensive-Like Syndrome and Nephrotic Proteinuria in a 10-Month-Old Child. Case Rep Oncol 4:400–405

Shinohara M, Shitara T, Hatakeyama SI, Suzuki N, Maruyama K, Kobayashi T, Tsuchida Y (2004) An infant with systemic hypertension, renal artery stenosis, and neuroblastoma. J Pediatr Surg 39:103–106

Friedman AD (2013) Wilms Tumor. Pediatr Rev 34:328–330

Burnei G, Burnei A, Hodorogea D, Drăghici I, Georgescu I, Vlad C, Gavriliu S (2009) Diagnosis and complications of renovascular hypertension in children: literature data and clinical observations. J Med Life 2:18–28

Sukarochana K, Tolentino W, Klesewetter WB (1972) Wilms tumor and hypertension. J Pediatr Surg 7:573–578

D'Angelo P, Catania S, Zirilli G, Collini P, Tropia S, Perotti D, Terenziani M, Spreafico F (2010) Severe polyuria and polydipsia in hyponatremic-hypertensive syndrome associated with Wilms tumor. Pediatr Blood Cancer 55:566–569

Khan AB, Carachi R, Leckie BJ, Lindop GB (1991) Hypertension associated with increased renin concentrations in nephroblastoma. Arch Dis Child 66:525–526

Fanaroff JM, Fanaroff AA (2006) Blood pressure disorders in the neonate: hypotension and hypertension. Semin Fetal Neonatal Med 11:174–181

Harer MW, Kent AL (2019) Neonatal hypertension: an educational review. Pediatr Nephrol 34:1009–1018

Flynn JT (2000) Neonatal hypertension: diagnosis and management. Pediatr Nephrol 14:332–341

Hegde S, Wright C, Shenoy M, Moghal NE, Coulthard MG (2007) Renovascular hypertension commencing during fetal life. Arch Dis Child Fetal Neonatal Ed 92:F301–F304

Textor SC (2014) Secondary hypertension: renovascular hypertension. J Am Soc Hypertens 8:943–945

Martinez-Maldonado M (1991) Pathophysiology of renovascular hypertension. Hypertens 17:707–719

Hiner LB, Falkner B (1993) Renovascular hypertension in children. Pediatr Clin North Am 40:123–140

Ding JJ, Lin SH, Lai JY, Wu TW, Huang JL, Chung HT, Tseng MH (2019) Unilateral renal artery stenosis presented with hyponatremic-hypertensive syndrome - case report and literature review. BMC Nephrol 20:64

van Twist DJL, de Heer PWM, Houben AJHM, de Haan MW, de Leeuw PW, Kroon AA (2018) Differences in renal hemodynamics and renin secretion between patients with unifocal and multifocal fibromuscular dysplasia. J Hypertens 36:1729–1735

Dillon MJ (1997) The diagnosis of renovascular disease. Pediatr Nephrol 11:366–372

Welch WJ (2000) The pathophysiology of renin release in renovascular hypertension. Semin Nephrol 20:394–401

Silva ACSE, Diniz JSS, Regueira Filho A, Santos RAS (2004) The renin angiotensin system in childhood hypertension: Selective increase of angiotensin-(1-7) in essential hypertension. J Pediatr 145:93–98

van Twist DJ, Houben AJ, de Haan MW, de Leeuw PW, Kroon AA (2017) Pathophysiological differences between multifocal fibromuscular dysplasia and atherosclerotic renal artery stenosis. J Hypertens 35:845–852

van Twist DJ, Houben AJ, de Haan MW, de Leeuw PW, Kroon AA (2016) Renal hemodynamics and renin-angiotensin system activity in humans with multifocal renal artery fibromuscular dysplasia. J Hypertens 34:1160–1116

Lobeck IN, Alhajjat AM, Dupree P, Racadio JM, Mitsnefes MM, Karns R, Tiao GM, Nathan JD (2018) The management of pediatric renovascular hypertension: a single center experience and review of the literature. J Pediatr Surg 53:18250–11831

Tullus K (2011) Renal artery stenosis: is angiography still the gold standard in 2011? Pediatr Nephrol 26:833–837

Villegas L, Cahill AM, Meyers K (2020) Pediatric Renovascular Hypertension: Manifestations and Management. Indian Pediatr 57:443–451

Parikh P, Duhame D, Monahan L, Woroniecki R (2015) Renal artery stenosis precipitates hyponatremic hypertensive syndrome and posterior reversible leukoencephalopathy. Front Pediatr 3:40

Flynn JT, Kaelber DC, Baker-Smith CM, Blowey D, Carroll AE, Daniels SR, de Ferranti SD, Dionne JM, Falkner B, Flinn SK, Gidding SS, Goodwin C, Leu MG, Powers ME, Rea C, Samuels J, Simasek M, Thaker VV, Urbina EM, Subcommittee on Screening and Management of High Blood Pressure in Children (2017) Clinical Practice Guideline for Screening and Management of High Blood Pressure in Children and Adolescents. Pediatrics 140:e20171904

Humbert J, Roussey-Kesler G, Guerin P, LeFrançois T, Connault J, Chenouard A, Warin-Fresse K, Salomon R, Bruel A, Allain-Launay E (2015) Diagnostic and medical strategy for renovascular hypertension: report from a monocentric pediatric cohort. Eur J Pediatr 174:23–32

Castelli PK, Dillman JR, Kershaw DB, Khalatbari S, Stanley JC, Smith EA (2014) Renal sonography with Doppler for detecting suspected pediatric renin-mediated hypertension - is it adequate? Pediatr Radiol 44:42–49

Coley BD (2004) Pediatric applications of abdominal vascular Doppler: Part II. Pediatr Radiol 34:772–786

Brun P, Kchouk H, Mouchet B, Baudouin V, Raynaud A, Loirat C, Azancot-Benisty A (1997) Value of Doppler ultrasound for the diagnosis of renal artery stenosis in children. Pediatr Nephrol 11:27–30

Chhadia S, Cohn RA, Vural G, Donaldson JS (2013) Renal Doppler evaluation in the child with hypertension: a reasonable screening discriminator? Pediatr Radiol 43:1549–1556

Trautmann A, Roebuck DJ, McLaren CA, Brennan E, Marks SD, Tullus K (2017) Non-invasive imaging cannot replace formal angiography in the diagnosis of renovascular hypertension. Pediatr Nephrol 32:495–502

Marks SD, Tullus K (2012) Update on imaging for suspected renovascular hypertension in children and adolescents. Curr Hypertens Rep 14:591–595

Vade A, Agrawal R, Lim-Dunham J, Hartoin D (2002) Utility of computed tomographic renal angiogram in the management of childhood hypertension. Pediatr Nephrol 17:741–747

Vasbinder GB, Nelemans PJ, Kessels AG, Kroon AA, Maki JH, Leiner T, Beek FJ, Korst MB, Flobbe K, de Haan MW, van Zwam WH, Postma CT, Hunink MG, de Leeuw PW, van Engelshoven JM (2004) Accuracy of computed tomographic angiography and magnetic resonance angiography for diagnosing renal artery stenosis. Ann Intern Med 141:674–682

Eklöf H, Ahlström H, Magnusson A, Andersson LG, Andrén B, Hägg A, Bergqvist D, Nyman R (2006) A prospective comparison of duplex ultrasonography, captopril renography, MRA, and CTA in assessing renal artery stenosis. Acta Radiol 47:764–774

Rountas C, Vlychou M, Vassiou K, Liakopoulos V, Kapsalaki E, Koukoulis G, Fezoulidis IV, Stefanidis I (2007) Imaging modalities for renal artery stenosis in suspected renovascular hypertension: prospective intraindividual comparison of color Doppler US, CT angiography, GD-enhanced MR angiography, and digital substraction angiography. Ren Fail 29:295–302

Minty I, Lythgoe MF, Gordon I (1993) Hypertension in paediatrics: can pre- and post-captopril technetium-99m dimercaptosuccinie acid renal scans exclude renovascular disease? Eur J Nucl Med 20:699–702

Ng CS, de Bruyn R, Gordon I (1997) The investigation of renovascular hypertension in children: the accuracy of radio-isotopes in detecting renovascular disease. Nucl Med Commun 18:1017–1028

Abdulsamea S, Anderson P, Biassoni L, Brennan E, McLaren CA, Marks SD, Roebuck DJ, Selim S, Tullus K (2010) Pre- and postcaptopril renal scintigraphy as a screening test for renovascular hypertension in children. Pediatr Nephrol 25:317–322

Marshalleck F (2010) Pediatric arterial interventions. Tech Vasc Interv Radiol 13:238–243

Rumman RK, Matsuda-Abedini M, Langlois V, Radhakrishnan S, Lorenzo AJ, Amaral J, Mertens L, Parekh RS (2018) Management and Outcomes of Childhood Renal Artery Stenosis and Middle Aortic Syndrome. Am J Hypertens 31:687–695

Meyers KE, Cahill AM, Sethna C (2014) Interventions for pediatric renovascular hypertension. Curr Hypertens Rep 16:422

Brewer ED (2009) Evaluation of Hypertension in Childhood Diseases. In: Avner E, Harmon W, Niaudet P, Yoshikawa N (eds) Pediatric Nephrology. Springer, Berlin, pp 1521–1540

Hricik DE, Browning PJ, Kopelman R, Goorno WE, Madias NE, Dzau VJ (1983) Captopril-induced functional renal insufficiency in patients with bilateral renal-artery stenoses or renal-artery stenosis in a solitary kidney. N Engl J Med 308:373–376

Curtis JJ, Luke RG, Whelchel JD, Diethelm AG, Jones P, Dustan HP (1983) Inhibition of angiotensin-converting enzyme in renal-transplant recipients with hypertension. N Engl J Med 308:377–381

Takabatake T, Ohta H, Yamamoto Y, Ishida Y, Hara H, Ushiogi Y, Nakamura S, Hattori N (1987) Effect of angiotensin blockade and converting enzyme inhibition on renovascular hypertension: comparison between unilateral and bilateral renal artery stenosis. Angiology 38:434–439

Siddiqi N, Shatat IF (2020) Antihypertensive agents: a long way to safe drug prescribing in children. Pediatr Nephrol 35:2049–2065

Parildar Z, Gulter C, Parildar M, Oran I, Erdener D, Memis A (2002) Effect of endovascular treatment on nitric oxide and renal function in Takayasu's arteritis with renovascular hypertension. Kidney Blood Press Res 25:91–96

Raborn J, McCafferty BJ, Gunn AJ, Moawad S, Mahmoud K, Aal AKA, Saddekni S (2020) Endovascular Management of Neurofibromatosis Type I-Associated Vasculopathy: A Case Series and Brief Review of the Literature. Vasc Endovascular Surg 54:182–190

Cakar N, Yalcinkaya F, Duzova A, Caliskan S, Sirin A, Oner A, Baskin E, Bek K, Soylu A, Fitoz S, Bayazit AK, Bircan Z, Ozen S, Uncu N, Ekim M (2008) Takayasu arteritis in children. J Rheumatol 35:913–919

An X, Jiang X, Dong H, Peng M, Zou Y, Song L, Guan T, Zhou X, Yang Y (2013) Fibromuscular dysplasia affecting a two-branched renal artery in a patient with a solitary kidney: case presentation. Clin Cardiol 36:E7–E10

Pang N, Xie C, Yang M, Feng D, Cheng Y (2015) Clinical efficacy of percutaneous transluminal renal artery stenting for the treatment of renovascular hypertension associated with Takayasu arteritis. Ann Vasc Surg 29:816–821

Agrawal H, Moodie D, Qureshi AM, Acosta AA, Hernandez JA, Braun MC, Justino H (2018) Interventions in children with renovascular hypertension: A 27-year retrospective single-center experience. Congenit Heart Dis 13:349–356

Coleman DM, Eliason JL, Beaulieu R, Jackson T, Karmakar M, Kershaw DB, Modi ZJ, Ganesh SK, Khaja MS, Williams D, Stanley JC, University of Michigan Pediatric Renovascular Hypertension Center (2020) Surgical management of pediatric renin-mediated hypertension secondary to renal artery occlusive disease and abdominal aortic coarctation. J Vasc Surg 72:2035–2046.e1

Stanley JC, Criado E, Upchurch GR Jr, Brophy PD, Cho KJ, Rectenwald JE, Michigan Pediatric Renovascular Group, Kershaw DB, Williams DM, Berguer R, Henke PK, Wakefield TW (2006) Pediatric renovascular hypertension: 132 primary and 30 secondary operations in 97 children. J Vasc Surg 44:1219–1229

Kari JA, Roebuck DJ, McLaren CA, Davis M, Dillon MJ, Hamilton G, Shroff R, Marks SD, Tullus K (2015) Angioplasty for renovascular hypertension in 78 children. Arch Dis Child 100:474–478

Sandmann W, Dueppers P, Pourhassan S, Voiculescu A, Klee D, Balzer KM (2014) Early and long-term results after reconstructive surgery in 42 children and two young adults with renovascular hypertension due to fibromuscular dysplasia and middle aortic syndrome. Eur J Vasc Endovasc Surg 47:509–516

Zhu G, He F, Gu Y, Yu H, Chen B, Hu Z, Liang W, Wang Z (2014) Angioplasty for pediatric renovascular hypertension: a 13-year experience. Diagn Interv Radiol 20:285–292

Srinivasan A, Krishnamurthy G, Fontalvo-Herazo L, Nijs E, Keller MS, Meyers K, Kaplan B, Cahill AM (2010) Angioplasty for renal artery stenosis in pediatric patients: an 11-year retrospective experience. J Vasc Interv Radiol 21:1672–1680

Radanović B, Cacić Z, Perkov D, Smiljanić R, Corić SR, Ilakovac K (2009) Endovascular therapy of renovascular hypertension in children: single center analysis. Eur J Pediatr Surg 19:135–140

Bayrak AH, Numan F, Cantaşdemir M, Baş A (2008) Percutaneous balloon angioplasty of renovascular hypertension in pediatric cases. Acta Chir Belg 108:708–714

Shroff R, Roebuck DJ, Gordon I, Davies R, Stephens S, Marks S, Chan M, Barkovics M, McLaren CA, Shah V, Dillon MJ, Tullus K (2006) Angioplasty for renovascular hypertension in children: 20-year experience. Pediatrics 118:268–275

McTaggart SJ, Gulati S, Walker RG, Powell HR, Jones CL (2000) Evaluation and long-term outcome of pediatric renovascular hypertension. Pediatr Nephrol 14:1022–1029

Towbin RB, Pelchovitz DJ, Cahill AM, Baskin KM, Meyers KE, Kaplan BS, McClaren CA, Roebuck DJ (2007) Cutting balloon angioplasty in children with resistant renal artery stenosis. J Vasc Interv Radiol 18:663–669

Coleman DM, Heider A, Gordon D, Ganesh SK, Eliason JL, Stanley JC (2021) Histologic and morphologic character of pediatric renal artery occlusive disease. J Vasc Surg 73:161–171. https://doi.org/10.1016/j.jvs.2020.02.046
Funding
This work was partially supported by Brazilian National Council of Research Development (CNPq - Grant # 302153/2019-5), Coordination of High Education Level Personnel (CAPES) and Foundation of Research of Minas Gerais (FAPEMIG).
Ethics declarations
Conflict of interest
The authors declare no competing interests.
Additional information
Answers
1. d; 2. a; 3. c; 4. b
Publisher's note
Springer Nature remains neutral with regard to jurisdictional claims in published maps and institutional affiliations.
About this article
Cite this article
de Oliveira Campos, J.L., Bitencourt, L., Pedrosa, A.L. et al. Renovascular hypertension in pediatric patients: update on diagnosis and management. Pediatr Nephrol 36, 3853–3868 (2021). https://doi.org/10.1007/s00467-021-05063-2
Received:

Revised:

Accepted:

Published:

Issue Date:

DOI: https://doi.org/10.1007/s00467-021-05063-2
Keywords
Renovascular hypertension

Fibromuscular dysplasia

Renin Angiotensin-Aldosterone System

Digital subtraction angiography

Percutaneous transluminal renal angioplasty