Abstract
Background
Modern immunosuppressive regimens in paediatric kidney transplant recipients have contributed to improved long-term allograft survival, but at the expense of an increased incidence of viral infections. Here, we describe, for the first time, the incidence, risk factors and clinical outcome of CMV, EBV, BKV and JCV viraemia in a cohort of paediatric allograft recipients treated with a corticosteroid-minimisation immunosuppressive regimen (CMR).
Methods
We retrospectively analysed 98 children treated with a CMR (basiliximab induction, corticosteroids until day 4, long-term tacrolimus and mycophenolate mofetil), who received a kidney transplant in our centre between 2009 and 2019.
Results
Over the first 4 years post-transplant, the incidences of viraemia were as follows: CMV, 25.5%; EBV, 52.0%; JCV, 16.3%; BKV, 26.5%. Younger children at time of transplant were more likely to develop EBV and BKV viraemia. EBV viraemia was also associated with a regimen involving corticosteroids, but lacking MMF. Recipient CMV serology predicted the development of EBV, BKV and CMV viraemia. Fifty-six percent of CMV viraemia episodes in high-risk patients occurred whilst the graft recipients were still receiving anti-viral prophylaxis or within 3 months of cessation. There was no difference in graft function at latest follow-up between those with and without viraemia.
Conclusions
Judicious monitoring of viraemia, coupled with timely clinical intervention, can result in similar long-term outcomes for graft recipients compared to controls. The high incidence of CMV viraemia observed within a short period of cessation of anti-viral prophylaxis supports an extension of the length of prophylactic treatment in high-risk allograft recipients.
Graphical abstract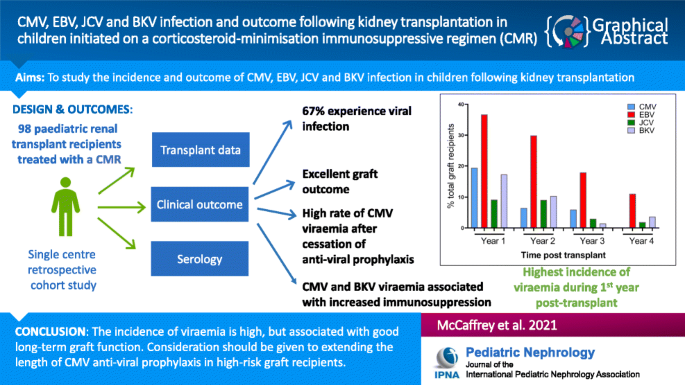 Access options
Buy single article
Instant access to the full article PDF.
US$ 39.95
Tax calculation will be finalised during checkout.
Subscribe to journal
Immediate online access to all issues from 2019. Subscription will auto renew annually.
US$ 119
Tax calculation will be finalised during checkout.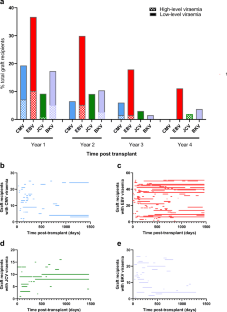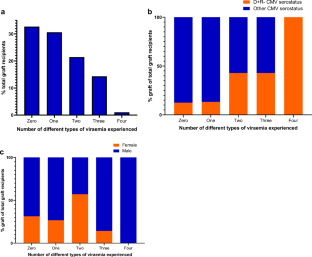 Acknowledgements
We thank Prof. Rachel Lennon and Dr. Nick Plant for their advice during the preparation of this manuscript.
Funding
The study was supported by a Jean Shanks/Pathological Society Clinical Lecturer Grant (Grant reference: JSPS CLG 2019 02) (awarded to JM).
Ethics declarations
Ethics approval
The study was assessed by the RMCH Research and Development Department at the time of study inception. It was confirmed that formal ethical approval was not required for this case note review study. No patient identifiable data was recorded.
Consent to participate
Not applicable
Consent for publication
Not applicable
Conflict of interest
The authors declare no competing interests.
Additional information
Publisher's note
Springer Nature remains neutral with regard to jurisdictional claims in published maps and institutional affiliations.
Supplementary Information
About this article
Cite this article
McCaffrey, J., Bhute, V.J. & Shenoy, M. CMV, EBV, JCV and BKV infection and outcome following kidney transplantation in children initiated on a corticosteroid-minimisation immunosuppressive regimen. Pediatr Nephrol (2021). https://doi.org/10.1007/s00467-021-05047-2
Received:

Revised:

Accepted:

Published:
Keywords
CMV viraemia

JCV viraemia

EBV viraemia

BKV viraemia

Paediatric kidney transplantation

Immunosuppression