Abstract
Background
Nonadherence to immunosuppression is common among pediatric, adolescent, and young adult kidney transplant recipients and a leading cause of graft loss. Assessing barriers to medication adherence in clinical practice may identify patients at risk for rejection and provide therapeutic targets.
Methods
Kidney transplant patients and/or their caregivers were assessed for 14 barriers to medication adherence using the barriers assessment tool. We compared rejection rates between patients with at least one reported adherence barrier to those without reported adherence barriers using a Kaplan-Meier estimator and Cox proportional hazard models to adjust for other mediators of acute rejection at 2 years following barriers assessment.
Results
Ninety-eight patients were assessed for barriers to adherence. Over the 2-year observation period, 22 patients developed biopsy-proven acute rejection (BPAR). Kaplan-Meier estimates show that patients with an identified barrier to adherence were more likely to have BPAR (p = 0.02) than patients without an identified barrier in the 24 months following barriers assessment. The median time to rejection for patients who experienced acute rejection was 175.5 days (IQR 63–276 days) from the time of barriers assessment. An identified barrier to adherence remained the only statistically significant predictor of BPAR with Cox modeling (HR 2.6, p = 0.04), after accounting for age, sex, and race.
Conclusions
Pediatric and adolescent kidney transplant recipients with identified adherence barriers are at increased risk for acute rejection. Barriers to adherence provide a potentially modifiable therapeutic target that can be assessed in clinic to guide targeted interventions.
Access options
Buy single article
Instant access to the full article PDF.
US$ 39.95
Tax calculation will be finalised during checkout.
Subscribe to journal
Immediate online access to all issues from 2019. Subscription will auto renew annually.
US$ 119
Tax calculation will be finalised during checkout.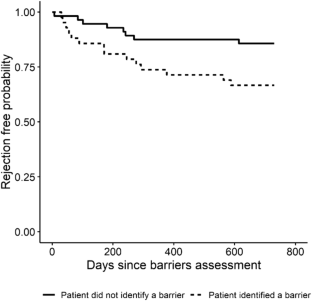 Abbreviations
AMR:

Antibody-mediated rejection

BAT:

Barriers assessment tool

BPAR:

Biopsy-proven acute rejection

CAKUT:

Congenital anomaly of the kidney and urinary tract

DSA:

Donor-specific antibody

CKD 5:

Stage 5 chronic kidney disease

TCMR:

T cell–mediated rejection
References
1.

Tejani A, Ho PL, Emmett L, Stablein DM, North American Pediatric Renal Transplant Cooperative Study (NAPRTCS) (2002) Reduction in acute rejections decreases chronic rejection graft failure in children: a report of the North American Pediatric Renal Transplant Cooperative Study (NAPRTCS). Am J Transplant 2:142–147

2.

Dobbels F, Ruppar T, De Geest S, Decorte A, Van Damme-Lombaerts R, Fine RN (2010) Adherence to the immunosuppressive regimen in pediatric kidney transplant recipients: a systematic review. Pediatr Transplant 14:603–613

3.

2016 USRDS annual data report: Epidemiology of kidney disease in the United States, in USRDS Annual Data Report, N.I.D.D.K. National Institutes of Health, Editor. 2016, United States Renal Data System: Bethesda, MD.

4.

Goldstein SL, Rosburg NM, Warady BA, Seikaly M, McDonald R, Limbers C, Varni JW (2009) Pediatric end stage renal disease health-related quality of life differs by modality: a PedsQL ESRD analysis. Pediatr Nephrol 24:1553–1560

5.

Nevins TE, Nickerson PW, Dew MA (2017) Understanding medication nonadherence after kidney transplant. J Am Soc Nephrol 28:2290–2301

6.

Osterberg L, Blaschke T (2005) Adherence to medication. N Engl J Med 353:487–497

7.

Mehta P, Steinberg EA, Kelly SL, Buchanan C, Rawlinson AR (2017) Medication adherence among adolescent solid-organ transplant recipients: a survey of healthcare providers. Pediatr Transplant 21(7). https://doi.org/10.1111/petr.13018

8.

Skeens MA, Gerhardt CA, Bajwa R, Akard TF (2020) Toward a better understanding: an exploration of provider perceptions in pediatric hematopoietic stem cell transplant adherence. Pediatr Transplant 24:e13786

9.

Smith AW, Mara CA, Modi AC (2018) Adherence to antiepileptic drugs in adolescents with epilepsy. Epilepsy Behav 80:307–311

10.

Gutierrez-Colina AM, Smith AW, Mara CA, Modi AC (2018) Adherence barriers in pediatric epilepsy: From toddlers to young adults. Epilepsy Behav 80:229–234

11.

Smith AW, Mara C, Ollier S, Combs A, Modi AC (2017) Rebellious behaviors in adolescents with epilepsy. J Pediatr Psychol 43:52–60

12.

Varnell CD Jr, Rich KL, Nichols M, Dahale D, Goebel JW, Pai ALH, Hooper DK, Modi AC (2017) Assessing barriers to adherence in routine clinical care for pediatric kidney transplant patients. Pediatr Transplant 21. https://doi.org/10.1111/petr.13027

13.

Foster BJ, Pai ALH, Zelikovsky N, Amaral S, Bell L, Dharnidharka VR, Hebert D, Holly C, Knauper B, Matsell D, Phan V, Rogers R, Smith JM, Zhao H, Furth SL (2018) A randomized trial of a multicomponent intervention to promote medication adherence: the Teen Adherence in Kidney Transplant Effectiveness of Intervention Trial (TAKE-IT). Am J Kidney Dis 72:30–41

14.

Gray WN, Denson LA, Baldassano RN, Hommel KA (2012) Treatment adherence in adolescents with inflammatory bowel disease: the collective impact of barriers to adherence and anxiety/depressive symptoms. J Pediatr Psychol 37:282–291

15.

Modi AC, Quittner AL (2006) Barriers to treatment adherence for children with cystic fibrosis and asthma: what gets in the way? J Pediatr Psychol 31:846–858

16.

Simons LE, McCormick ML, Devine K, Blount RL (2010) Medication barriers predict adolescent transplant recipients' adherence and clinical outcomes at 18-month follow-up. J Pediatr Psychol 35:1038–1048

17.

Simons LE, Blount RL (2007) Identifying barriers to medication adherence in adolescent transplant recipients. J Pediatr Psychol 32:831–844

18.

Modi AC, Monahan S, Daniels D, Glauser TA (2010) Development and validation of the Pediatric Epilepsy Medication Self-Management Questionnaire. Epilepsy Behav 18:94–99

19.

Solez K, Colvin RB, Racusen LC, Haas M, Sis B, Mengel M, Halloran PF, Baldwin W, Banfi G, Collins AB, Cosio F, David DS, Drachenberg C, Einecke G, Fogo AB, Gibson IW, Glotz D, Iskandar SS, Kraus E, Lerut E, Mannon RB, Mihatsch M, Nankivell BJ, Nickeleit V, Papadimitriou JC, Randhawa P, Regele H, Renaudin K, Roberts I, Seron D, Smith RN, Valente M (2008) Banff 07 classification of renal allograft pathology: updates and future directions. Am J Transplant 8:753–760

20.

Haas M, Sis B, Racusen LC, Solez K, Glotz D, Colvin RB, Castro MC, David DS, David-Neto E, Bagnasco SM, Cendales LC, Cornell LD, Demetris AJ, Drachenberg CB, Farver CF, Farris AB 3rd, Gibson IW, Kraus E, Liapis H, Loupy A, Nickeleit V, Randhawa P, Rodriguez ER, Rush D, Smith RN, Tan CD, Wallace WD, Mengel M, Banff meeting report writing committee (2014) Banff 2013 meeting report: inclusion of c4d-negative antibody-mediated rejection and antibody-associated arterial lesions. Am J Transplant 14:272–283

21.

Foster BJ, Dahhou M, Zhang X, Platt RW, Samuel SM, Hanley JA (2011) Association between age and graft failure rates in young kidney transplant recipients. Transplantation 92:1237–1243

22.

Nascimento E, Fabreti de Oliveira RA, Maciel MD, Pereira AB, das Mercêz de Lucas F Jr, Salomão-Filho A, Pereira WA, Moreira JB, Vilaça SS, de Castro Gontijo R, Lasmar MF, Vianna HR, Magalhâes A, Calazans CA, Simão-Filho C, Vilela B (2014) Kidney transplantation: evaluation and clinical outcome of 237 recipients at low, medium, high, or strong immunological risk of rejection. Transplant Proc 46:101-107

23.

Omoloja A, Mitsnefes M, Talley L, Benfield M, Neu A (2007) Racial differences in graft survival: a report from the North American Pediatric Renal Trials and Collaborative Studies (NAPRTCS). Clin J Am Soc Nephrol 2:524–528

24.

Patzer RE, Mohan S, Kutner N, McClellan WM, Amaral S (2015) Racial and ethnic disparities in pediatric renal allograft survival in the United States. Kidney Int 87:584–592

25.

Dunn TB, Noreen H, Gillingham K, Maurer D, Ozturk OG, Pruett TL, Bray RA, Gebel HM, Matas AJ (2011) Revisiting traditional risk factors for rejection and graft loss after kidney transplantation. Am J Transplant 11:2132–2143

26.

Gonzales MM, Bentall A, Kremers WK, Stegall MD, Borrows R (2016) Predicting individual renal allograft outcomes using risk models with 1-year surveillance biopsy and alloantibody data. J Am Soc Nephrol 27:3165–3174

27.

Eid L, Tuchman S, Moudgil A (2014) Late acute rejection: incidence, risk factors, and effect on graft survival and function. Pediatr Transplant 18:155–162

28.

Favier LA, Taylor J, Loiselle Rich K, Jones KB, Vora SS, Harris JG, Gottlieb BS, Robbins L, Lai JT, Lee T, Kohlheim M, Gill J, Bouslaugh L, Young A, Griffin N, Morgan EM, Modi AC (2018) Barriers to adherence in juvenile idiopathic arthritis: a multicenter collaborative experience and preliminary results. J Rheumatol 45:690–696

29.

Pascoe JE, Sawnani H, Hater B, Sketch M, Modi AC (2019) Understanding adherence to noninvasive ventilation in youth with Duchenne muscular dystrophy. Pediatr Pulmonol 54:2035–2043

30.

Badawy SM, Thompson AA, Penedo FJ, Lai JS, Rychlik K, Liem RI (2017) Barriers to hydroxyurea adherence and health-related quality of life in adolescents and young adults with sickle cell disease. Eur J Haematol 98:608–614

31.

Pollock-Barziv SM, Finkelstein Y, Manlhiot C, Dipchand AI, Hebert D, Ng VL, Solomon M, McCrindle BW, Grant D (2010) Variability in tacrolimus blood levels increases the risk of late rejection and graft loss after solid organ transplantation in older children. Pediatr Transplant 14:968–975

32.

Goodall DL, Willicombe M, McLean AG, Taube D (2017) High intrapatient variability of tacrolimus levels and outpatient clinic nonattendance are associated with inferior outcomes in renal transplant patients. Transplant Direct 3:e192

33.

Whitehouse W, Morris B (1997) Paediatric out-patient antiepileptic drug doses recorded in the medical charts are not reliable: implications for the notion of noncompliance. Seizure 6:41–42

34.

Danziger-Isakov L, Frazier TW, Worley S, Williams N, Shellmer D, Dharnidharka VR, Gupta NA, Ikle D, Sweet SC, CTOTC-05 Consortium (2016) Perceived barriers to medication adherence in pediatric and adolescent solid organ transplantation. Pediatr Transplant 20:307–315

35.

Danziger-Isakov L, Frazier TW, Worley S, Williams N, Shellmer D, Dharnidharka VR, Gupta NA, Ikle D, Shemesh E, Sweet SC, CTOTC-05 Consortium (2019) Perceived barriers to medication adherence remain stable following solid organ transplantation. Pediatr Transplant 23:e13361

36.

Tadros HJ, Rawlinson AR, Martin E, Pietra BA, Fricker FJ, Gupta D (2020) Family functioning in pediatric heart transplantation: variables associated with poor outcomes. Pediatr Transplant 24:e13883

37.

Viswanathan M, Golin CE, Jones CD, Ashok M, Blalock S, Wines RC, Coker-Schwimmer EJ, Grodensky CA, Rosen DL, Yuen A, Sista P, Lohr KN (2012) Closing the quality gap: revisiting the state of the science (vol. 4: medication adherence interventions: comparative effectiveness). Evid Rep Technol Assess (Full Rep). (208.4):1–685

38.

Wu YP, Pai ALH (2014) Health care provider-delivered adherence promotion interventions: a meta-analysis. Pediatrics 133:e1698–e1707

39.

Kelly B, Squires JE, Feingold B, Hooper DK, Mazariegos GV (2019) Quality initiatives in pediatric transplantation. Curr Opin Organ Transplant 24:64–72
Funding
CDV received funding from the National Center for Advancing Translational Sciences of the National Institutes of Health, under Award Number 2KL2TR001426-05A1.
Ethics declarations
Conflict of interest
The authors declare that they have no conflict of interest.
Disclaimer
The content is solely the responsibility of the authors and does not necessarily represent the official views of the NIH.
Additional information
Publisher's note
Springer Nature remains neutral with regard to jurisdictional claims in published maps and institutional affiliations.
About this article
Cite this article
Varnell, C.D., Rich, K.L., Zhang, B. et al. Predicting acute rejection in children, adolescents, and young adults with a kidney transplant by assessing barriers to taking medication. Pediatr Nephrol (2021). https://doi.org/10.1007/s00467-021-04946-8
Received:

Revised:

Accepted:

Published:
Keywords
Medication adherence

Immunosuppression adherence

Pediatric transplantation

Acute rejection

Pediatric nephrology