Abstract
Background
The Renal Angina Index (RAI) is a validated screening tool used at 12 h of pediatric intensive care unit (PICU) admission to predict severe acute kidney injury (AKI) on day 3 of PICU stay. A measured or height-imputed baseline serum creatinine (SCr) is required for AKI diagnosis and RAI calculation, yet these are often lacking. We assessed an age-based, height-independent baseline SCr calculation and compared the RAI values employing this method to their historical counterpart.
Methods
An electronic algorithm was implemented to generate RAI score for patients admitted to our PICU. We reviewed 157 consecutive patient records from May 2017, until we cumulated 100 with a valid RAI calculation. We compared RAI scores using the age-based SCr imputation method of Pottel to the historical RAI. Our primary outcome was a difference in the rate of RAI fulfillment (≥ 8) reclassification between methods.
Results
Of the first 100 patients, 27 had measured baseline SCr and 73 used height imputation. Only two patients had RAI reclassified with the Pottel method (one in each direction). Being small for age or older were associated with ≥ 25% overestimation of the baseline SCr in 20 patients with the Pottel method compared with height imputation. 15/157 patients had a falsely positive RAI due to lack of measured baseline SCr and height.
Conclusion
The age-based method to estimate baseline SCr offers a viable height-independent alternative for RAI calculation. While less precise than a height-based approach, this lack of precision rarely leads to reclassification of patient RAI status.
Access options
Buy single article
Instant access to the full article PDF.
USD 39.95
Price excludes VAT (USA)
Tax calculation will be finalised during checkout.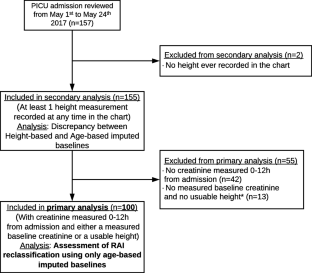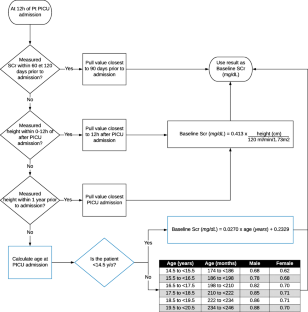 References
Sutherland SM, Goldstein SL, Alexander SR (2013) The Prospective Pediatric Continuous Renal Replacement Therapy (ppCRRT) Registry: a critical appraisal. Pediatr Nephrol 29(11):2069–2076

Kaddourah A, Basu RK, Bagshaw SM, Goldstein SL (2017) Epidemiology of acute kidney injury in critically ill children and young adults. N Engl J Med 376(1):11–20

Menon S, Kirkendall ES, Nguyen H, Goldstein SL (2014) Acute kidney injury associated with high nephrotoxic medication exposure leads to chronic kidney disease after 6 months. J Pediatr 165(3):522–527.e2

Madsen NL, Goldstein SL, Frøslev T, Christiansen CF, Olsen M (2017) Cardiac surgery in patients with congenital heart disease is associated with acute kidney injury and the risk of chronic kidney disease. Kidney Int 92(3):751–756

Mammen C et al (2012) Long-term risk of CKD in children surviving episodes of acute kidney injury in the intensive care unit: a prospective cohort study. Am J Kidney Dis 59(4):523–530

Goldstein SL et al (2016) A sustained quality improvement program reduces nephrotoxic medication-associated acute kidney injury. Kidney Int 90(1):212–221

Goldstein SL (2016) Medication-induced acute kidney injury. Curr Opin Crit Care 22(6):542–545

Zappitelli M, Moffett BS, Hyder A, Goldstein SL (2011) Acute kidney injury in non-critically ill children treated with aminoglycoside antibiotics in a tertiary healthcare centre: a retrospective cohort study. Nephrol Dial Transplant 26(1):144–150

Chawla LS, Goldstein SL, Kellum JA, Ronco C (2015) Renal angina: concept and development of pretest probability assessment in acute kidney injury. Crit Care 19(1):93

Göcze I et al (2018) Biomarker-guided intervention to prevent acute kidney injury after major surgery. Ann Surg 267(6):1013–1020

Meersch M et al (2017) Erratum to: prevention of cardiac surgery-associated AKI by implementing the KDIGO guidelines in high risk patients identified by biomarkers: the PrevAKI randomized controlled trial (Intensive Care Med). Intensive Care Med 43(11):1749. https://doi.org/10.1007/s00134-016-4670-3

Goldstein SL, Chawla LS (2010) Renal angina. Clin J Am Soc Nephrol

Basu RK et al (2017) Assessment of a renal angina index for prediction of severe acute kidney injury in critically ill children: a multicentre, multinational, prospective observational study. Lancet Child Adolesc Heal 4642(17):1–9

Chawla LS et al (2017) Acute kidney disease and renal recovery: consensus report of the Acute Disease Quality Initiative (ADQI) 16 Workgroup. Nat Rev Nephrol 13(4):241–257

Blufpand HN, Westland R, Van Wijk JAE, Roelandse-Koop EA, Kaspers GJL, Bökenkamp A (2013) Height-independent estimation of glomerular filtration rate in children: an alternative to the schwartz equation. J Pediatr 163(6):1722–1727

Zappitelli M, Parikh CR, Akcan-Arikan A, Washburn KK, Moffett BS, Goldstein SL (2008) Ascertainment and epidemiology of acute kidney injury varies with definition interpretation. Clin J Am Soc Nephrol 3(4):948–954

Kellum JA, Mythen MG, Shaw AD (2014) The 12th consensus conference of the Acute Dialysis Quality Initiative (ADQI XII). Br J Anaesth 113(5):729–731

Pottel H, Hoste L, Martens F (2012) A simple height-independent equation for estimating glomerular filtration rate in children. Pediatr Nephrol 27(6):973–979

Pottel H, Vrydags N, Mahieu B, Vandewynckele E, Croes K, Martens F (2008) Establishing age/sex related serum creatinine reference intervals from hospital laboratory data based on different statistical methods. Clin Chim Acta

Basu RK et al (2013) Derivation and validation of the renal angina index to improve the prediction of acute kidney injury in critically ill children. Kidney Int 85:659–667

Cruz DN et al (2014) Utilization of small changes in serum creatinine with clinical risk factors to assess the risk of AKI in critically lll adults. Clin J Am Soc Nephrol 9(4):663–672

Langley GJ (2009) The improvement guide: a practical approach to enhancing organizational performance, 2nd edn. Jossey-Bass

Hoste L et al (2014) A new equation to estimate the glomerular filtration rate in children, adolescents and young adults. Nephrol Dial Transplant 29(5):1082–1091

Pottel H (2017) Measuring and estimating glomerular filtration rate in children. Pediatr Nephrol 32(2):249–263

Kubo A, Shlager L, Marks AR, Lakritz D, Beaumont C, Gabellini K (2014) Annals of Internal Medicine. 130(6):461–470
Funding
This work was supported by the National Institutes of Diabetic, Digestive and Kidney Diseases (P50DK096418-06) and a Cincinnati Children's Hospital Medical Center Innovation Fund Award.
Additional information
Publisher's note
Springer Nature remains neutral with regard to jurisdictional claims in published maps and institutional affiliations.
Electronic supplementary material
About this article
Cite this article
Roy, JP., Johnson, C., Towne, B. et al. Use of height-independent baseline creatinine imputation method with renal angina index. Pediatr Nephrol 34, 1777–1784 (2019). https://doi.org/10.1007/s00467-019-04294-8
Received:

Revised:

Accepted:

Published:

Issue Date:

DOI: https://doi.org/10.1007/s00467-019-04294-8
Keywords