Abstract
Background
Renal damage is a progressive complication of sickle cell disease (SCD). Microalbuminuria is common in children with SCD, while a smaller number of children have more severe renal manifestations necessitating kidney biopsy. There is limited information on renal biopsy findings in children with SCD and subsequent management and outcome.
Methods
This is a multicenter retrospective analysis of renal biopsy findings and clinical outcomes in children and adolescents with SCD. We included children and adolescents (age ≤ 20 years) with SCD who had a kidney biopsy performed at a pediatric nephrology unit. The clinical indication for biopsy, biopsy findings, subsequent treatments, and outcomes were analyzed.
Results
Thirty-six SCD patients (ages 4–19 years) were identified from 14 centers with a median follow-up of 2.6 years (0.4–10.4 years). The indications for biopsy were proteinuria (92%) and elevated creatinine (30%). All biopsies had abnormal findings, including mesangial hypercellularity (75%), focal segmental glomerulosclerosis (30%), membranoproliferative glomerulonephritis (16%), and thrombotic microangiopathy (2%). There was increased use of hydroxyurea, angiotensin-converting-enzyme inhibitors, and angiotensin receptor blockers following renal biopsy. At last follow-up, 3 patients were deceased, 2 developed insulin-dependent diabetes mellitus, 6 initiated chronic hemodialysis, 1 received a bone marrow transplant, and 1 received a kidney transplant.
Conclusions
Renal biopsies, while not commonly performed in children with SCD, were universally abnormal. Outcomes were poor in this cohort of patients despite a variety of post-biopsy interventions. Effective early intervention to prevent chronic kidney disease (CKD) is needed to reduce morbidity and mortality in children with SCD.
Access options
Buy single article
Instant access to the full article PDF.
USD 39.95
Price includes VAT (USA)
Tax calculation will be finalised during checkout.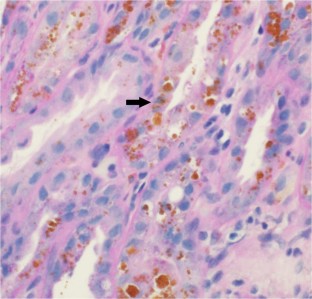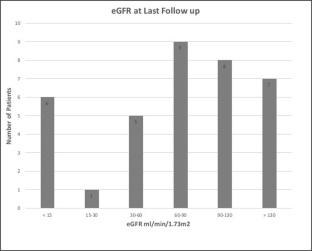 References
1.

Ataga KI, Derebail VK, Archer DR (2014) The glomerulopathy of sickle cell disease. Am J Hematol 89:907–914

2.

Drawz P, Ayyappan S, Nouraie M, Saraf S, Gordeuk V, Hostetter T, Gladwin MT, Little J (2016) Kidney disease among patients with sickle cell disease, hemoglobin SS and SC. Clin J Am Soc Nephrol 11:207–215

3.

Alvarez O, Lopez-Mitnik G, Zilleruelo G (2008) Short-term follow-up of patients with sickle cell disease and albuminuria. Pediatr Blood Cancer 50:1236–1239

4.

McPherson Yee M, Jabbar SF, Osunkwo I, Clement L, Lane PA, Eckman JR, Guasch A (2011) Chronic kidney disease and albuminuria in children with sickle cell disease. Clin J Am Soc Nephrol 6:2628–2633

5.

Guasch A, Navarrete J, Nass K, Zayas CF (2006) Glomerular involvement in adults with sickle cell hemoglobinopathies: prevalence and clinical correlates of progressive renal failure. J Am Soc Nephrol 17:2228–2235

6.

Huang E, Parke C, Mehrnia A, Kamgar M, Pham PT, Danovitch G, Bunnapradist S (2013) Improved survival among sickle cell kidney transplant recipients in the recent era. Nephrol Dial Transplant 28:1039–1046

7.

Platt OS, Brambilla DJ, Rosse WF, Milner PF, Castro O, Steinberg MH, Klug PP (1994) Mortality in sickle cell disease. Life expectancy and risk factors for early death. N Engl J Med 330:1639–1644

8.

Powars DR, Chan LS, Hiti A, Ramicone E, Johnson C (2005) Outcome of sickle cell anemia: a 4-decade observational study of 1056 patients. Medicine (Baltimore) 84:363–376

9.

Tejani A, Phadke K, Adamson O, Nicastri A, Chen CK, Sen D (1985) Renal lesions in sickle cell nephropathy in children. Nephron 39:352–355

10.

Bhathena DB, Sondheimer JH (1991) The glomerulopathy of homozygous sickle hemoglobin (SS) disease: morphology and pathogenesis. J Am Soc Nephrol 1:1241–1252

11.

Elfenbein IB, Patchefsky A, Schwartz W, Weinstein AG (1974) Pathology of the glomerulus in sickle cell anemia with and without nephrotic syndrome. Am J Pathol 77:357–374

12.

Falk RJ, Scheinman J, Phillips G, Orringer E, Johnson A, Jennette JC (1992) Prevalence and pathologic features of sickle cell nephropathy and response to inhibition of angiotensin-converting enzyme. N Engl J Med 326:910–915

13.

Maigne G, Ferlicot S, Galacteros F, Belenfant X, Ulinski T, Niaudet P, Ronco P, Godeau B, Durrbach A, Sahali S, Lang P, Lambotte O, Audard V (2010) Glomerular lesions in patients with sickle cell disease. Medicine (Baltimore) 89:18–27

14.

Yawn BP, Buchanan GR, Afenyi-Annan AN, Ballas SK, Hassell KL, James AH, Jordan L, Lanzkron SM, Lottenberg R, Savage WJ, Tanabe PJ, Ware RE, Murad MH, Goldsmith JC, Ortiz E, Fulwood R, Horton A, John-Sowah J (2014) Management of sickle cell disease: summary of the 2014 evidence-based report by expert panel members. JAMA 312:1033–1048

15.

Quinn CT, Saraf SL, Gordeuk VR, Fitzhugh CD, Creary SE, Bodas P, George A, Raj AB, Nero AC, Terrell CE, McCord L, Lane A, Ackerman HC, Yang Y, Niss O, Taylor MD, Devarajan P, Malik P (2017) Losartan for the nephropathy of sickle cell anemia: a phase-2, multicenter trial. Am J Hematol 92:E520–E528

16.

Yee ME, Lane PA, Archer DR, Joiner CH, Eckman JR, Guasch A (2018) Losartan therapy decreases albuminuria with stable glomerular filtration and permselectivity in sickle cell anemia. Blood Cells Mol Dis 69:65–70

17.

Wang WC, Ware RE, Miller ST, Iyer RV, Casella JF, Minniti CP, Rana S, Thornburg CD, Rogers ZR, Kalpatthi RV, Barredo JC, Brown RC, Sarnaik SA, Howard TH, Wynn LW, Kutlar A, Armstrong FD, Files BA, Goldsmith JC, Waclawiw MA, Huang X, Thompson BW (2011) Hydroxycarbamide in very young children with sickle-cell anaemia: a multicentre, randomised, controlled trial (BABY HUG). Lancet 377:1663–1672

18.

Voskaridou E, Christoulas D, Bilalis A, Plata E, Varvagiannis K, Stamatopoulos G, Sinopoulou K, Balassopoulou A, Loukopoulos D, Terpos E (2010) The effect of prolonged administration of hydroxyurea on morbidity and mortality in adult patients with sickle cell syndromes: results of a 17-year, single-center trial (LaSHS). Blood 115:2354–2363

19.

Steinberg MH, McCarthy WF, Castro O, Ballas SK, Armstrong FD, Smith W, Ataga K, Swerdlow P, Kutlar A, DeCastro L, Waclawiw MA (2010) The risks and benefits of long-term use of hydroxyurea in sickle cell anemia: a 17.5 year follow-up. Am J Hematol 85:403–408

20.

Hankins JS, Helton KJ, McCarville MB, Li CS, Wang WC, Ware RE (2008) Preservation of spleen and brain function in children with sickle cell anemia treated with hydroxyurea. Pediatr Blood Cancer 50:293–297

21.

Bartolucci P, Habibi A, Stehle T, Di Liberto G, Rakotoson MG, Gellen-Dautremer J, Loric S, Moutereau S, Sahali D, Wagner-Ballon O, Remy P, Lang P, Grimbert P, Audureau E, Godeau B, Galacteros F, Audard V (2016) Six months of hydroxyurea reduces albuminuria in patients with sickle cell disease. J Am Soc Nephrol 27:1847–1853

22.

Laurin LP, Nachman PH, Desai PC, Ataga KI, Derebail VK (2014) Hydroxyurea is associated with lower prevalence of albuminuria in adults with sickle cell disease. Nephrol Dial Transplant 29:1211–1218

23.

Tehseen S, Joiner C, Lane PA, Yee ME (2017) Changes in urine albumin to creatinine ratio with the initiation of hydroxyurea therapy among children and adolescents with sickle cell disease. Pediatr Blood Cancer. https://doi.org/10.1002/pbc.26665

24.

Schwartz GJ, Munoz A, Schneider MF, Mak RH, Kaskel F, Warady BA, Furth SL (2009) New equations to estimate GFR in children with CKD. J Am Soc Nephrol 20:629–637

25.

Levey AS, Eckardt KU, Tsukamoto Y, Levin A, Coresh J, Rossert J, De Zeeuw D, Hostetter TH, Lameire N, Eknoyan G (2005) Definition and classification of chronic kidney disease: a position statement from kidney disease: improving global outcomes (KDIGO). Kidney Int 67:2089–2100

26.

Pardo V, Strauss J, Kramer H, Ozawa T, McIntosh RM (1975) Nephropathy associated with sickle cell anemia: an autologous immune complex nephritis. II Clinicopathologic study of seven patients. Am J Med 59:650–659

27.

Bakir AA, Hathiwala SC, Ainis H, Hryhorczuk DO, Rhee HL, Levy PS, Dunea G (1987) Prognosis of the nephrotic syndrome in sickle glomerulopathy. A retrospective study. Am J Nephrol 7:110–115

28.

Wigfall D (2000) Prevalence and clinical correlates of glomerulopathy in children with sickle cell disease. J Pediatr 136:749–753

29.

Balkaran B, Char G, Morris JS, Thomas PW, Serjeant BE, Serjeant GR (1992) Stroke in a cohort of patients with homozygous sickle cell disease. J Pediatr 120:360–366

30.

Ohene-Frempong K, Weiner SJ, Sleeper LA, Miller ST, Embury S, Moohr JW, Wethers DL, Pegelow CH, Gill FM (1998) Cerebrovascular accidents in sickle cell disease: rates and risk factors. Blood 91:288–294

31.

Castro O, Brambilla DJ, Thorington B, Reindorf CA, Scott RB, Gillette P, Vera JC, Levy PS (1994) The acute chest syndrome in sickle cell disease: incidence and risk factors. The cooperative study of sickle cell disease. Blood 84:643–649

32.

Wierenga KJ, Pattison JR, Brink N, Griffiths M, Miller M, Shah DJ, Williams W, Serjeant BE, Serjeant GR (1995) Glomerulonephritis after human parvovirus infection in homozygous sickle-cell disease. Lancet 346:475–476

33.

Moudgil A, Nast CC, Bagga A, Wei L, Nurmamet A, Cohen AH, Jordan SC, Toyoda M (2001) Association of parvovirus B19 infection with idiopathic collapsing glomerulopathy. Kidney Int 59:2126–2133

34.

Serjeant GR, Serjeant BE, Thomas PW, Anderson MJ, Patou G, Pattison JR (1993) Human parvovirus infection in homozygous sickle cell disease. Lancet 341:1237–1240

35.

Besse W, Mansour S, Jatwani K, Nast CC, Brewster UC (2016) Collapsing glomerulopathy in a young woman with APOL1 risk alleles following acute parvovirus B19 infection: a case report investigation. BMC Nephrol 17:125

36.

Ashley-Koch AE, Okocha EC, Garrett ME, Soldano K, De Castro LM, Jonassaint JC, Orringer EP, Eckman JR, Telen MJ (2011) MYH9 and APOL1 are both associated with sickle cell disease nephropathy. Br J Haematol 155:386–394

37.

Frimat M, Tabarin F, Dimitrov JD, Poitou C, Halbwachs-Mecarelli L, Fremeaux-Bacchi V, Roumenina LT (2013) Complement activation by heme as a secondary hit for atypical hemolytic uremic syndrome. Blood 122:282–292

38.

Manci EA, Hillery CA, Bodian CA, Zhang ZG, Lutty GA, Coller BS (2006) Pathology of Berkeley sickle cell mice: similarities and differences with human sickle cell disease. Blood 107:1651–1658

39.

Aygun B, Mortier NA, Smeltzer MP, Hankins JS, Ware RE (2011) Glomerular hyperfiltration and albuminuria in children with sickle cell anemia. Pediatr Nephrol 26:1285–1290

40.

Fitzhugh CD, Wigfall DR, Ware RE (2005) Enalapril and hydroxyurea therapy for children with sickle nephropathy. Pediatr Blood Cancer 45:982–985

41.

Zahr RS, Hankins JS, Kang G, Li C, Wang WC, Lebensburger J, Estepp JH (2018) Hydroxyurea prevents onset and progression of albuminuria in children with sickle cell anemia. Am J Hematol 94:E27–E29

42.

Greenberg JH, Coca S, Parikh CR (2014) Long-term risk of chronic kidney disease and mortality in children after acute kidney injury: a systematic review. BMC Nephrol 15:184

43.

Baddam S, Aban I, Hilliard L, Howard T, Askenazi D, Lebensburger JD (2017) Acute kidney injury during a pediatric sickle cell vaso-occlusive pain crisis. Pediatr Nephrol 32:1451–1456

44.

Lebensburger JD, Palabindela P, Howard TH, Feig DI, Aban I, Askenazi DJ (2016) Prevalence of acute kidney injury during pediatric admissions for acute chest syndrome. Pediatr Nephrol 31:1363–1368

45.

Allon M (1990) Renal abnormalities in sickle cell disease. Arch Intern Med 150:501–504

46.

Selistre L, De Souza V, Cochat P, Antonello IC, Hadj-Aissa A, Ranchin B, Dolomanova O, Varennes A, Beyerle F, Bacchetta J, Dubourg L (2012) GFR estimation in adolescents and young adults. J Am Soc Nephrol 23:989–996

47.

Ng DK, Schwartz GJ, Schneider MF, Furth SL, Warady BA (2018) Combination of pediatric and adult formulas yield valid glomerular filtration rate estimates in young adults with a history of pediatric chronic kidney disease. Kidney Int 94:170–177

48.

Yee MEM, Lane PA, Archer DR, Joiner CH, Eckman JR, Guasch A (2017) Estimation of glomerular filtration rate using serum cystatin C and creatinine in adults with sickle cell anemia. Am J Hematol 92:E598–E599
Ethics declarations
Each of the 14 pediatric nephrology centers received approval from their local Institutional Review Boards for this retrospective study.
Conflict of interest
The authors declare that they have no conflict of interest.
Additional information
Publisher's note
Springer Nature remains neutral with regard to jurisdictional claims in published maps and institutional affiliations.
About this article
Cite this article
Zahr, R.S., Yee, M.E., Weaver, J. et al. Kidney biopsy findings in children with sickle cell disease: a Midwest Pediatric Nephrology Consortium study. Pediatr Nephrol 34, 1435–1445 (2019). https://doi.org/10.1007/s00467-019-04237-3
Received:

Revised:

Accepted:

Published:

Issue Date:
Keywords
Children

Proteinuria

Glomerulopathy

Glomerular hyperfiltration

Chronic kidney disease

Sickle cell disease