Abstract
A challenging phase for adolescents with chronic kidney disease (CKD) is the transition from a pediatric to an adult health service. Failure to adequately prepare adolescents for transfer to adult care can lead to a decline in attendance to the adult clinic and an increase in the rate of non-adherence to medical treatment. The aim of this systematic review was to analyze studies exploring the experiences of adolescents, parents, and health professionals regarding the transition process of adolescents with CKD. Six databases were searched from inception to October 2018 for primary research articles. Eleven articles met the inclusion criteria, with only one exploring the parents' experiences. The results indicated that up to 50% of adolescents did not feel prepared to transfer to adult care at the time of transfer, and the timing was not ideal for some adolescents. Health professionals acknowledged that adolescents and parents felt emotional attachment to the pediatric unit, which led to anxiety about transferring. Once in adult care, adolescents felt out of place among the older patients, overwhelmed by the environment and the lack of attention from health professionals. Initiatives that could support transfer include allowing adolescents to attend pediatric consultation independently and meeting with adult health professionals prior to transfer. This review found that the transition process must be more responsive to adolescents by tailoring the timing of transfer according to their ability to assume self-care responsibility. In addition, there is a need to focus on the parents and their role in the transition process.
This is a preview of subscription content,
to check access.
Access this article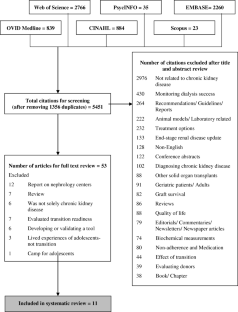 References
Blum RW, Garell D, Hodgman CH, Jorissen TW, Okinow NA, Orr DP, Slap GB (1993) Transition from child-centered to adult health-care systems for adolescents with chronic conditions. J Adolesc Health 14:570–576

Ritchie AG, Clayton PA, Mackie FE, Kennedy SE (2012) Nationwide survey of adolescents and young adults with end-stage kidney disease. Nephrology 17:539–544

Lewis H, Marks SD (2014) Differences between paediatric and adult presentation of ESKD in attainment of adult social goals. Pediatr Nephrol 29:2379–2385

Micklos L (2014) Transition and interprofessional collaboration in moving from pediatric to adult renal care. Nephrol Nurs J 41:311–316

Watson AR (2005) Problems and pitfalls of transition from paediatric to adult renal care. Pediatr Nephrol 20:113–117

Foster BJ, Dahhou M, Zhang X, Platt RW, Samuel SM, Hanley JA (2011) Association between age and graft failure rates in young kidney transplant recipients. Transplantation 92:1237–1243

Dobbels F, Ruppar T, De Geest S, Decorte A, Van Damme-Lombaerts R, Fine RN (2010) Adherence to the immunosuppressive regimen in pediatric kidney transplant recipients: a systematic review. Pediatr Transplant 14:603–613

Tong A, Wong G, Hodson E, Walker RG, Tjaden L, Craig JC (2013) Adolescent views on transition in diabetes and nephrology. Eur J Pediatr 172:293–304

Blum RW (1995) Transition to adult health care: setting the stage. J Adolesc Health 17:3–5

Moher D, Liberati A, Tetzlaff J, Altman DG, PRISMA Group (2009) Preferred reporting items for systematic reviews and meta-analyses: the PRISMA statement. BMJ 339:b2535

Tong A, Sainsbury P, Craig J (2007) Consolidated criteria for reporting qualitative research (COREQ): a 32-item checklist for interviews and focus groups. Int J Qual Health Care 19:349–357

Belair C, Gilleland J, Amaral S (2011) Assessing the satisfaction of teens with kidney transplants who have attended an adolescent transition clinic. Int J Child Adolesc Health 4:257–263

Braj B, Picone G, Children HF, Cross N, Pearlman L (1999) The lived experience of adolescents who transfer from a pediatric to an adult hemodialysis centre. CANNT J 9:41–46

Chaturvedi S, Jones CL, Walker RG, Sawyer SM (2009) The transition of kidney transplant recipients: a work in progress. Pediatr Nephrol 24:1055–1060

Forbes T, Watson A, Zurowska A, Shroff R, Bakkaloglu S, Vondrak K, Fischbach M, Walle J, Ariceta G, Edefonti A, Aufricht C, Jankauskiene A, Holta T, Ekim M, Schmitt C, Stefanidis C (2014) Adherence to transition guidelines in European paediatric nephrology units. Pediatr Nephrol 29:1617–1624

Harden PN, Nadine P (2006) Pediatric to adult transition: a personal experience. Prog Transplant 16:324–328

LoCasale-Crouch J, Johnson B (2005) Transition from pediatric to adult medical care. Adv Chronic Kidney Dis 12:412–417

Nottage C, Tibbles R, Cox S (2014) MyKidneyCare app: using smartphone technology to engage young adults in their kidney care. J Renal Nurs 6:82–85

Pape L, Lammermuhle J, Oldhafer M, Blume C, Weiss R, Ahlenstiel T (2013) Different models of transition to adult care after pediatric kidney transplantation: a comparative study. Pediatr Transplant 17:518–524

Perry EE, Zheng K, Ferris ME, Torres L, Bickford K, Segal JH (2011) Adolescents with chronic kidney disease and their need for online peer mentoring: a qualitative investigation of social support and healthcare transition. Ren Fail 33:663–668

Prüfe J, Dierks M-L, Bethe D, Oldhafer M, Müther S, Thumfart J, Feldkötter M, Büscher A, Sauerstein K, Hansen M, Pohl M, Drube J, Thiel F, Rieger S, John U, Taylan C, Dittrich K, Hollenbach S, Klaus G, Fehrenbach H, Kranz B, Montoya C, Lange-Sperandio B, Ruckenbrod B, Billing H, Staude H, Brunkhorst R, Rusai K, Pape L, Kreuzer M (2017) Transition structures and timing of transfer from paediatric to adult-based care after kidney transplantation in Germany: a qualitative study. BMJ Open 7:e015593. https://doi.org/10.1136/bmjopen-2016-015593

Remorino R, Taylor J (2006) Smoothing things over: the transition from pediatric to adult care for kidney transplant recipients. Prog Transplant 16:303–308

Kreuzer M, Prufe J, Oldhafer M, Bethe D, Dierks ML, Muther S, Thumfart J, Hoppe B, Buscher A, Rascher W, Hansen M, Pohl M, Kemper MJ, Drube J, Rieger S, John U, Taylan C, Dittrich K, Hollenbach S, Klaus G, Fehrenbach H, Kranz B, Montoya C, Lange-Sperandio B, Ruckenbrodt B, Billing H, Staude H, Heindl-Rusai K, Brunkhorst R, Pape L (2015) Transitional care and adherence of adolescents and young adults after kidney transplantation in Germany and Austria a binational observatory census within the TRANSNephro trial. Medicine (Baltimore) 94:e2196. https://doi.org/10.1097/MD.0000000000002196

Bell L (2007) Adolescents with renal disease in an adult world: meeting the challenge of transition of care. Nephrol Dial Transplant 22:988–991

Bell LE, Bartosh SM, Davis CL, Dobbels F, Al-Uzri A, Lotstein D, Reiss J, Dharnidharka VR (2008) Adolescent transition to adult care in solid organ transplantation: a consensus conference report. Am J Transplant 8:2230–2242

Robertson L (2006) When should young people with chronic rheumatic disease move from paediatric to adult-centred care? Best Pract Res Clin Rheumatol 20:387–397

Webb N, Harden P, Lewis C, Tizzard S, Walsh G, Wray J, Watson A (2010) Building consensus on transition of transplant patients from paediatric to adult healthcare. Arch Dis Child 95:606–611

Bell LE, Ferris ME, Fenton N, Hooper SR (2011) Health care transition for adolescents with CKD-the journey from pediatric to adult care. Adv Chronic Kidney Dis 18:384–390

Heath G, Farre A, Shaw K (2017) Parenting a child with chronic illness as they transition into adulthood: a systematic review and thematic synthesis of parents' experiences. Patient Educ Couns 100:76–92

Schwartz LA, Tuchman LK, Hobbie WL, Ginsberg JP (2011) A social-ecological model of readiness for transition to adult-oriented care for adolescents and young adults with chronic health conditions. Child Care Health Dev 37:883–895

White PH, Cooley WC, Transitions Clinical Report Authoring Group; American Academy of Pediatrics; American Academy of Family Physicians; American College of Physicians (2018) Supporting the health care transition from adolescence to adulthood in the medical home. Pediatrics 142(5):e20182587. https://doi.org/10.1542/peds.2018-2587
Funding
This study was funded by Safer Care Victoria (Victorian Renal Clinical Network 2016 grant).
Ethics declarations
Conflict of interest
The authors declare that they have no conflict of interest.
Additional information
Publisher's Note
Springer Nature remains neutral with regard to jurisdictional claims in published maps and institutional affiliations.
About this article
Cite this article
Crawford, K., Wilson, C., Low, J.K. et al. Transitioning adolescents to adult nephrology care: a systematic review of the experiences of adolescents, parents, and health professionals. Pediatr Nephrol 35, 555–567 (2020). https://doi.org/10.1007/s00467-019-04223-9
Received:

Revised:

Accepted:

Published:

Issue Date:

DOI: https://doi.org/10.1007/s00467-019-04223-9
Keywords