Abstract
Background
Medical provider assessment of nonadherence is known to be inaccurate. Researchers have suggested using a multimethod assessment approach; however, no study has demonstrated how to integrate different measures to improve accuracy. This study aimed to determine if using additional measures improves the accurate identification of nonadherence beyond provider assessment alone.
Methods
Eighty-seven adolescents and young adults (AYAs), age 11–19 years, with chronic kidney disease (CKD) [stage 1–5/end-stage renal disease (ESRD)] and prescribed antihypertensive medication, their caregivers, and 17 medical providers participated in the multisite study. Five adherence measures were obtained: provider report, AYA report, caregiver report, electronic medication monitoring (MEMS), and pharmacy refill data [medication possession ratio (MPR)]. Concordance was calculated using kappa statistic. Sensitivity, specificity, positive predictive power, and negative predictive power were calculated using MEMS as the criterion for measuring adherence.
Results
There was poor to fair concordance (kappas = 0.12–0.54), with 35–61% of AYAs classified as nonadherent depending on the measure. While both providers and MEMS classified 35% of the AYAs as nonadherent, sensitivity (0.57) and specificity (0.77) demonstrated poor agreement between the two measures on identifying which AYAs were nonadherent. Combining provider report of nonadherence and MPR < 75% resulted in the highest sensitivity for identifying nonadherence (0.90) and negative predictive power (0.88).
Conclusions
Nonadherence is prevalent in AYAs with CKD. Providers inaccurately identify nonadherence, leading to missed opportunities to intervene. Our study demonstrates the benefit to utilizing a multimethod approach to identify nonadherence in patients with chronic disease, an essential first step to reduce nonadherence.
Access options
Buy single article
Instant access to the full article PDF.
US$ 39.95
Tax calculation will be finalised during checkout.
Subscribe to journal
Immediate online access to all issues from 2019. Subscription will auto renew annually.
US$ 119
Tax calculation will be finalised during checkout.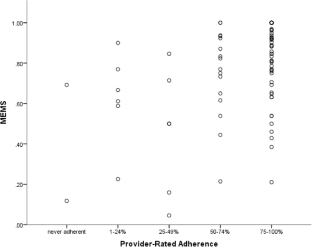 References
1.

IMS Institute for Healthcare Informatics Avoidable costs in US health care (2013) http://www.imshealth.com/deployedfiles/imshealth/Global/Content/Corporate/IMS%20Institute/RUOM-2013/IHII_Responsible_Use_Medicines_2013.pdf

2.

Kymes SM, Pierce RL, Girdish C, Matlin OS, Brennan T, Shrank WH (2016) Association among change in medical costs, level of comorbidity, and change in adherence behavior. Am J Manag Care 22:e295–e301

3.

Iuga AO, McGuire MJ (2014) Adherence and health care costs. Risk Manag Healthc Policy 7:35–44

4.

Sabate E (2003) Adherence to long term therapies: evidence for action. World Health Organization, Geneva http://www.who.int/chp/knowledge/publications/adherence_report/en/

5.

Claxton AJ, Cramer J, Pierce C (2001) A systematic review of the associations between dose regimens and medication compliance. Clin Ther 23:1296–1310

6.

Cramer JA, Roy A, Burrell A, Fairchild CJ, Fuldeore MJ, Ollendorf DA, Wong PK (2008) Medication compliance and persistence: terminology and definitions. Value Health 11:44–47

7.

McGrady ME, Hommel KA (2013) Medication adherence and health care utilization in pediatric chronic illness: a systematic review. Pediatrics 132:730–740

8.

Compas BE, Jaser SS, Dunn MJ, Compas BE, Jaser SS, Dunn MJ (2012) Coping with chronic illness in childhood and adolescence. Annu Rev Clin Psychol 8:455–480

9.

Wong CJ, Moxey-Mims M, Jerry-Fluker J, Warady BA, Furth SL (2012) CKiD (CKD in children) prospective cohort study: a review of current findings. Am J Kidney Dis 60:1002–1011

10.

Schaefer B, Wühl E (2012) Educational paper: progression in chronic kidney disease and prevention strategies. Eur J Pediatr 171:1579–1588

11.

Harambat J, van Stralen KJ, Kim JJ, Tizard EJ (2012) Epidemiology of chronic kidney disease in children. Pediatr Nephrol 27:363–373

12.

Vermeire E, Hearnshaw H, Van Royen P, Denekens J (2001) Patient adherence to treatment: three decades of research. A comprehensive review. J Clin Pharm Ther 26:331–342

13.

Lam WY, Fresco P (2015) Medication adherence measures: an overview. Biomed Res Int 2015:217047. https://doi.org/10.1155/2015/217047

14.

Farmer KC (1999) Methods for measuring and monitoring medication regimen adherence in clinical trials and clinical practice. Clin Ther 21:1074–1090

15.

Riekert KA, Rand CS (2002) Electronic monitoring of medication adherence: when is high-tech best? J Clin Psychol Med Settings 9:25–34

16.

Riekert KA, Eakin MN, Bilderback A, Ridge AK, Marshall BC (2015) Opportunities for cystic fibrosis care teams to support treatment adherence. J Cyst Fibros 14:142–148

17.

Choo PW, Rand CS, Inui TS, Lee ML, Cain E, Cordeiro-Breault M, Canning C, Platt R (1999) Validation of patient reports, automated pharmacy records, and pill counts with electronic monitoring of adherence to antihypertensive therapy. Med Care 37:846–857

18.

Daniels T, Goodacre L, Sutton C, Pollard K, Conway S, Peckham D (2011) Accurate assessment of adherence: self-report and clinician report vs electronic monitoring of nebulizers. Chest 140:425–432

19.

Miller LG, Liu H, Hays RD, Golin CE, Beck CK, Asch SM, Ma Y, Kaplan AH, Wenger NS (2002) How well do clinicians estimate patients' adherence to combination antiretroviral therapy? J Gen Intern Med 17:1–11

20.

Trindade AJ, Ehrlich A, Kornbluth A, Ullman TA (2011) Are your patients taking their medicine? Validation of a new adherence scale in patients with inflammatory bowel disease and comparison with physician perception of adherence. Inflamm Bowel Dis 17(2):599–604

21.

Stephenson JJ, Tunceli O, Gu T, Eisenberg D, Panish J, Crivera C, Dirani R (2012) Adherence to oral second-generation antipsychotic medications in patients with schizophrenia and bipolar disorder: physicians' perceptions of adherence vs. pharmacy claims. Int J Clin Pract 66:565–573

22.

Cassidy CM, Rabinovitch M, Schmitz N, Joober R, Malla A (2010) A comparison study of multiple measures of adherence to antipsychotic medication in first-episode psychosis. J Clin Psychopharmacol 30:64–67

23.

Curtis JR, Cai Q, Wade SW, Stolshek BS, Adams JL, Balasubramanian A, Viswanathan HN, Kallich JD (2013) Osteoporosis medication adherence: physician perceptions vs. patients' utilization. Bone 55:1–6

24.

Copher R, Buzinec P, Zarotsky V, Kazis L, Iqbal SU, Macarios D (2010) Physician perception of patient adherence compared to patient adherence of osteoporosis medications from pharmacy claims. Curr Med Res Opin 26:777–875

25.

Siddiqui A, Siddiqui AS, Jawaid M, Zaman KA (2017) Physician's perception versus patient's actual incidence of drug non-adherence in chronic illnesses. Cureus. https://doi.org/10.7759/cureus.1893

26.

Pabst S, Bertram A, Zimmermann T, Schiffer M, de Zwaan M (2015) Physician reported adherence to immunosuppressants in renal transplant patients: prevalence, agreement, and correlates. J Psychosom Res 79:364–371

27.

Burgess SW, Sly PD, Morawska A, Devadason SG (2008) Assessing adherence and factors associated with adherence in young children with asthma. Respirology 13:559–563

28.

Morisky DE, Ang A, Krousel-Wood M, Ward HJ (2008) Predictive validity of a medication adherence measure in an outpatient setting. J Clin Hypertens 10:348–354

29.

Fleiss JL (1981) Statistical methods for rates and proportions, 2nd edn. Wiley, New York

30.

Modi AC, Lim CS, Yu N, Geller D, Wagner MH, Quittner AL (2006) A mulit-method assessment of treatment adherence for children with cystic fibrosis. J Cyst Fibros 5:177–185

31.

Pai AL, Rausch J, Tackett A, Marsolo K, Drotar D, Goebel J (2012) System for integrated adherence monitoring: real-time non-adherence risk assessment in pediatric kidney transplantation. Pediatr Transplant 16:329–334

32.

Garvie PA, Wilkins ML, Young JC (2010) Medication adherence in adolescents with behaviorally-acquired HIV: evidence for using a multimethod assessment protocol. J Adolesc Health 47:504–511

33.

Varnell CD Jr, Rich KL, Nichols M, Dahale D, Goebel JW, Pai ALH, Hooper DK, Modi AC (2017) Assessing barriers to adherence in routine clinical care for pediatric kidney transplant patients. Pediatr Transplant. https://doi.org/10.1111/petr.13027

34.

De Geest S, Schäfer-Keller P, Denhaerynck K, Schäfer-Keller P, Bock A, Steiger J (2006) Supporting medication adherence in renal transplantation (SMART): a pilot RCT to improve adherence to immunosuppressive regimens. Clin Transpl 20:359–368

35.

Belknap R, Weis S, Brookens A, Au-Yeung KY, Moon G, DiCarlo L, Reves R (2013) Feasibility of an ingestible sensor-based system for monitoring adherence to tuberculosis therapy. PLoS One 8:e53373
Funding
This study was supported by the National Institute of Diabetes and Digestive and Kidney Disease award (R01DK092919 to KAR). The content is solely the responsibility of the authors and does not necessarily represent the official views of the National Institutes of Health.
Ethics declarations
Caregivers and AYAs ≥ 18 years old provided informed consent, and AYAs < 18 years old gave assent to join a 2-year longitudinal study to assess antihypertensive medication adherence.
The Institutional Review Boards at all three institutions approved the study.
Conflict of interest
The authors declare that they have no conflict of interest.
About this article
Cite this article
Pruette, C.S., Coburn, S.S., Eaton, C.K. et al. Does a multimethod approach improve identification of medication nonadherence in adolescents with chronic kidney disease?. Pediatr Nephrol 34, 97–105 (2019). https://doi.org/10.1007/s00467-018-4044-x
Received:

Revised:

Accepted:

Published:

Issue Date:
Keywords
Antihypertensive

Adherence

Measures

Pediatric

Provider perception

Concordance