Abstract
Background
Antimicrobial prophylaxis is recommended for the prevention of urinary tract infections (UTI) in high-risk children. However, there is growing concern about the use of β-lactams as prophylaxis and subsequent development of antibiotic resistance.
Methods
In this prospective, randomized, crossover controlled trial we compared cotrimoxazole (SXT) and second-generation cephalosporins (2GC) as UTI prophylaxis in children ranging in age from 1 to 60 months. Eligible patients were 1:1 randomized to receive either SXT or 2GC for the initial 6-month period (1 course), then switched to the other antimicrobial agent class for the subsequent course, with switching continuing after each course until the end of the study. Urethral orifice cultures (UOCs) were obtained at the time of switching antimicrobial prophylaxis.
Results
Among 97 children (mean age 13.6 months) on prophylaxis, breakthrough UTIs occurred during 13.3 % (10/75) of SXT courses and 10.3 % (8/78) of 2GC courses (p = 0.62). 2GC failed earlier than SXT (mean ± standard error: 0.81 ± 0.1 vs. 2.37 ± 0.36 months, respectively; p = 0.028). Pseudomonas aeruginosa and Enterococcus spp. were more frequently isolated after 2GC courses than after SXT courses [22.6 vs. 4.8 % (p = 0.02) and 20.7 vs. 4.8 % (p = 0.035), respectively]. Prophylaxis with 2GC significantly increased resistance to both 2GC and SXT, while SXT prophylaxis did not affect susceptibility to 2GC.
Conclusions
While SXT and 2GC appear to be equally efficacious as UTI prophylaxis in children, the latter exert a broader effect on patients' flora and development of bacterial resistance, suggesting that SXT may be more appropriate for UTI prophylaxis than 2GC.
Access options
Buy single article
Instant access to the full article PDF.
US$ 39.95
Tax calculation will be finalised during checkout.
Subscribe to journal
Immediate online access to all issues from 2019. Subscription will auto renew annually.
US$ 119
Tax calculation will be finalised during checkout.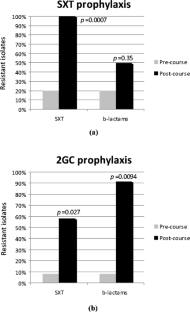 References
1.

Brandstrom P, Esbjorner E, Herthelius M, Swerkersson S, Jodal U, Hansson S (2010) The Swedish reflux trial in children: III. Urinary tract infection pattern. J Urol 184(1):286–291

2.

Craig JC, Simpson JM, Williams GJ, Lowe A, Reynolds GJ, McTaggart SJ, Hodson EM, Carapetis JR, Cranswick NE, Smith G, Irwig LM, Caldwell PH, Hamilton S, Roy LP (2009) Antibiotic prophylaxis and recurrent urinary tract infection in children. N Engl J Med 361(18):1748–1759

3.

Hoberman A, Greenfield SP, Mattoo TK, Keren R, Mathews R, Pohl HG, Kropp BP, Skoog SJ, Nelson CP, Moxey-Mims M, Chesney RW, Carpenter MA (2014) Antimicrobial prophylaxis for children with vesicoureteral reflux. N Engl J Med 370(25):2367–2376

4.

Pennesi M, Travan L, Peratoner L, Bordugo A, Cattaneo A, Ronfani L, Minisini S, Ventura A (2008) Is antibiotic prophylaxis in children with vesicoureteral reflux effective in preventing pyelonephritis and renal scars? A randomized, controlled trial. Pediatrics 121(6):e1489–1494

5.

Roussey-Kesler G, Gadjos V, Idres N, Horen B, Ichay L, Leclair MD, Raymond F, Grellier A, Hazart I, de Parscau L, Salomon R, Champion G, Leroy V, Guigonis V, Siret D, Palcoux JB, Taque S, Lemoigne A, Nguyen JM, Guyot C (2008) Antibiotic prophylaxis for the prevention of recurrent urinary tract infection in children with low grade vesicoureteral reflux: results from a prospective randomized study. J Urol 179(2):674–679, discussion 679

6.

Fisch N, Ashkenazi S, Davidovits M (2009) Prophylactic antibiotics and evaluation scheme following febrile urinary tract infection in children: a nationwide Israeli survey. Isr Med Assoc J 11(11):677–682

7.

Ammenti A, Cataldi L, Chimenz R, Fanos V, La Manna A, Marra G, Materassi M, Pecile P, Pennesi M, Pisanello L, Sica F, Toffolo A, Montini G (2012) Febrile urinary tract infections in young children: recommendations for the diagnosis, treatment and follow-up. Acta Paediatr 101(5):451–457

8.

Saadeh SA, Mattoo TK (2011) Managing urinary tract infections. Pediatr Nephrol 26(11):1967–1976

9.

Liu J, Dairiki Shortliffe L (2012) Urinary tract infections. In: Long S, Pickering L, Prober C (eds) Principles and practice of pediatric infectious diseases. 4th edn. Elsevier Saunders, St. Louis, pp 339-343

10.

Nishizaki N, Someya T, Hirano D, Fujinaga S, Ohtomo Y, Shimizu T, Kaneko K (2009) Can cranberry juice be a substitute for cefaclor prophylaxis in children with vesicoureteral reflux? Pediatr Int 51(3):433–434

11.

Belet N, Islek I, Belet U, Sunter AT, Kucukoduk S (2004) Comparison of trimethoprim-sulfamethoxazole, cephadroxil and cefprozil as prophylaxis for recurrent urinary tract infections in children. J Chemother 16(1):77–81

12.

Kizilca O, Siraneci R, Yilmaz A, Hatipoglu N, Ozturk E, Kiyak A, Ozkok D (2012) Risk factors for community-acquired urinary tract infection caused by ESBL-producing bacteria in children. Pediatr Int 54(6):858–862

13.

Narchi H, Al-Hamdani M (2010) Uropathogen resistance to antibiotic prophylaxis in urinary tract infections. Microb Drug Resist 16(2):151–154

14.

Nateghian AR, Robinson JL, Mohandessi S, Hooman N (2009) Resistance pattern of breakthrough urinary tract infections in children on antibiotic prophylaxis. J Infect Public Health 2(3):147–152

15.

Nathanson S, Deschenes G (2002) Urinary antimicrobial prophylaxis. Arch Pediatr 9(5):511–518

16.

Cheng CH, Tsai MH, Huang YC, Su LH, Tsau YK, Lin CJ, Chiu CH, Lin TY (2008) Antibiotic resistance patterns of community-acquired urinary tract infections in children with vesicoureteral reflux receiving prophylactic antibiotic therapy. Pediatrics 122(6):1212–1217

17.

Iosifidis E, Farmaki E, Antachopoulos C, Tsivitanidou M, Roilides E (2006) Bacterial pathogens causing urinary tract infection in children during 2002-2004: antimicrobial susceptibility. Paediatr N Gr 18(2):148–155

18.

Hui D, Zhukovsky DS, Bruera E (2015) Which treatment is better? Ascertaining patient preferences with crossover randomized controlled trials. J Pain Symptom Manage 49(3):625–631

19.

Cascio S, Colboun E, Puri P (2001) Bacterial colonization of the prepuce in boys with vesicoureteral reflux who receive antibiotic prophylaxis. J Pediatr 139(1):160–162

20.

Bitsori M, Maraki S, Galanakis E (2014) Long-term resistance trends of uropathogens and association with antimicrobial prophylaxis. Pediatr Nephrol 29(6):1053–1058

21.

Kaneko K, Ohtomo Y, Shimizu T, Yamashiro Y, Yamataka A, Miyano T (2003) Antibiotic prophylaxis by low-dose cefaclor in children with vesicoureteral reflux. Pediatr Nephrol 18(5):468–470
Acknowledgments
The investigators wish to thank their colleagues from the Third Department of Pediatrics, Aristotle University of Thessaloniki, for referring potentially eligible patients for this study. They also wish to thank all children and their parents who participated in the study.
Contribution of each co-author
C. Antachopoulos conducted the study and wrote the first draft of the manuscript. M. Ioannidou conducted the study and reviewed the manuscript. A. Tratselas conducted the study and reviewed the manuscript. E. Iosifidis analyzed data and reviewed the manuscript. A. Katragkou conducted the study and reviewed the manuscript. P. Kadiltzoglou conducted the study and reviewed the manuscript. K. Kollios conducted the study and reviewed the manuscript. E. Roilides designed the protocol and reviewed the manuscript
Ethics declarations
Funding
This study was not funded by any source.
Conflict of interest
All of the authors declare that they have no conflict of interest.
Ethical approval
All procedures performed in studies involving human participants were in accordance with the ethical standards of the institutional and/or national research committee and with the 1964 Helsinki declaration and its later amendments or comparable ethical standards.
Informed consent
Informed consent was obtained from all individual participants included in the study.
About this article
Cite this article
Antachopoulos, C., Ioannidou, M., Tratselas, A. et al. Comparison of cotrimoxazole vs. second-generation cephalosporins for prevention of urinary tract infections in children. Pediatr Nephrol 31, 2271–2276 (2016). https://doi.org/10.1007/s00467-016-3476-4
Received:

Revised:

Accepted:

Published:

Issue Date:
Keywords
Urinary tract infection

Children

Antimicrobial prophylaxis

Bacterial resistance

Cephalosporins

Cotrimoxazole