Abstract
Background
Growth restriction and retarded bone age are common findings in children with chronic kidney disease (CKD). We compared the automated BoneXpert™ method with the manual assessment of an X-ray of the non-dominant hand.
Methods
In this retrospective multicenter study, 359 patients with CKD stages 2–5, aged 2–14.5 (girls) or 2.5–17 years (boys) were included. Bone age was determined manually by three experts (according to Greulich and Pyle). Automated determination of bone age was performed using the image analysis software BoneXpert™.
Results
There was a strong correlation between the automatic and the manual method (r = 0.983, p < 0.001). The automatic method tended to generate higher bone age values (0.64 ± 0.73 years) in the younger patients (4–5 years) and to underestimate retardation or acceleration of bone age. The so-called "bone health index" (BHI) was reduced in comparison to the reference population. Bone health index standard deviation score (BHI-SDS) was not related to the stage of CKD, but weakly negatively correlated with plasma PTH concentrations (r = 0.12, p = 0.019).
Conclusions
BoneXpert™ allows an objective, time-saving, and in general valid bone age assessment in children with CKD. Possible underestimation of retarded or accelerated bone age should be taken into account. Validation of the BHI needs further study.
Access options
Buy single article
Instant access to the full article PDF.
US$ 39.95
Tax calculation will be finalised during checkout.
Subscribe to journal
Immediate online access to all issues from 2019. Subscription will auto renew annually.
US$ 119
Tax calculation will be finalised during checkout.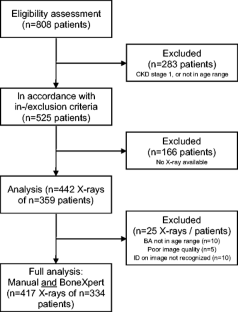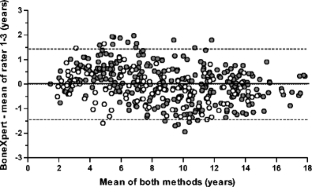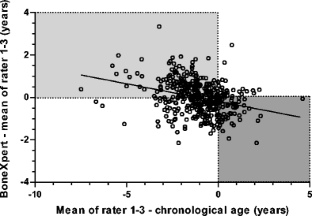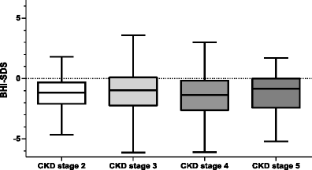 References
1.

Haffner D, Schaefer F, Nissel R, Wühl E, Tönshoff B, Mehls O (2000) Effect of growth hormone treatment on the adult height of children with chronic renal failure. German Study Group for Growth Hormone Treatment in Chronic Renal Failure. N Engl J Med 343:923–930

2.

Wesseling-Perry K, Salusky IB (2013) Chronic kidney disease: mineral and bone disorder in children. Semin Nephrol 33:169–179

3.

Andersen E (1971) Comparison of Tanner-Whitehouse and Greulich-Pyle methods in a large scale Danish Survey. Am J Phys Anthropol 35:373–376

4.

Berst MJ, Dolan L, Bogdanowicz MM, Stevens MA, Chow S, Brandser EA (2001) Effect of knowledge of chronologic age on the variability of pediatric bone age determined using the Greulich and Pyle standards. AJR Am J Roentgenol 176:507–510

5.

Thodberg HH, Kreiborg S, Juul A, Pedersen KD (2009) The BoneXpert method for automated determination of skeletal maturity. IEEE Trans Med Imaging 28:52–66

6.

Martin DD, Deusch D, Schweizer R, Binder G, Thodberg HH, Ranke MB (2009) Clinical application of automated Greulich-Pyle bone age determination in children with short stature. Pediatr Radiol 39:598–607

7.

Martin DD, Meister K, Schweizer R, Ranke MB, Thodberg HH, Binder G (2011) Validation of automatic bone age rating in children with precocious and early puberty. J Pediatr Endocrinol Metab 24:1009–1014

8.

Martin DD, Neuhof J, Jenni OG, Ranke MB, Thodberg HH (2010) Automatic determination of left- and right-hand bone age in the First Zurich Longitudinal Study. Horm Res Paediatr 74:50–55

9.

Martin DD, Sato K, Sato M, Thodberg HH, Tanaka T (2010) Validation of a new method for automated determination of bone age in Japanese children. Horm Res Paediatr 73:398–404

10.

Thodberg HH, van Rijn RR, Tanaka T, Martin DD, Kreiborg S (2010) A paediatric bone index derived by automated radiogrammetry. Osteoporos Int 21:1391–1400

11.

Greulich WW, Pyle SI (1959) Radiographic atlas of skeletal development of the hand and wrist, 2nd edn. Stanford University Press, Stanford

12.

Van Rijn RR, Lequin MH, Thodberg HH (2009) Automatic determination of Greulich and Pyle bone age in healthy Dutch children. Pediatr Radiol 39:591–597

13.

Anink J, Nusman CM, van Suijlekom-Smit LW, van Rijn RR, Maas M, van Rossum M (2014) Automated determination of bone age and bone mineral density in patients with juvenile idiopathic arthritis: a feasibility study. Arthritis Res Ther 16:424

14.

Tsampalieros A, Kalkwarf HJ, Wetzsteon RJ, Shults J, Zemel BS, Foster BJ, Foerster DL, Leonard MB (2013) Changes in bone structure and the muscle-bone unit in children with chronic kidney disease. Kidney Int 83:495–502

15.

Schaefer F, Seidel C, Binding A, Gasser T, Largo RH, Prader A, Schärer K (1990) Pubertal growth in chronic renal failure. Pediatr Res 28:5–10

16.

Bull RK, Edwards PD, Kemp PM, Fry S, Hughes IA (1999) Bone age assessment: a large scale comparison of the Greulich and Pyle, and Tanner and Whitehouse (TW2) methods. Arch Dis Child 81:172–173

17.

Moorthi RN, Moe SM (2013) Recent advances in the noninvasive diagnosis of renal osteodystrophy. Kidney Int 84:886–894

18.

Wagner J, Jhaveri KD, Rosen L, Sunday S, Mathew AT, Fishbane S (2014) Increased bone fractures among elderly United States hemodialysis patients. Nephrol Dial Transplant 29:146–151
Acknowledgements
The authors wish to thank Dr Hans-Henrik Thodberg, Holte, Denmark, for the fruitful discussion of the results, and NovoNordisk for financial support of this study. We would also like to thank the medical staff who assisted with data acquisition and care taking of the study patients.
About this article
Cite this article
Nüsken, E., Imschinetzki, D., Nüsken, KD. et al. Automated Greulich–Pyle bone age determination in children with chronic kidney disease. Pediatr Nephrol 30, 1173–1179 (2015). https://doi.org/10.1007/s00467-015-3042-5
Received:

Revised:

Accepted:

Published:

Issue Date:
Keywords
Bone age

Chronic kidney disease

Renal osteopathy

Greulich and Pyle

BoneXpert™