Abstract
Background
Electrical stimulation has been used as an alternative therapy for adult urinary syndromes and for children with constipation. We have evaluated the safety and efficacy of interferential (IF) electrical stimulation in children with nocturnal enuresis (NE).
Methods
This was a randomized clinical trial in which 54 children (23 girls, 31 boys) aged 6–14 years with primary NE were recruited and randomly divided into two groups. Children in the control group underwent standard urotherapy only (hydration, scheduled voiding, toilet training, diet), whereas children in the IF group (cases) were treated with standard urotherapy + 15 sessions of IF electrical stimulation for 20 min twice per week. An improvement score was calculated to identify relative decrease in wet nights after the treatment for each child. All children were followed for 1 year.
Results
Overall, 15/27 (55.5 %) and 6/27 (22 %) of children in the IF and control groups responded to treatment at the 1-year follow-up (P = 0.01). The mean number of wet nights per week in the control and IF groups decreased from 5.4 ± 2 and 5.7 ± 2 to 3.3 ± 3 and 1.1 ± 2, respectively, at first evaluation (P = 0.003). The mean improvement score in the IF group was significantly higher than that of the control group after 1 year (78 vs. 46 %, respectively; P = 0.004).
Conclusion
Interferential therapy can be applied as a safe, effective and well-tolerable alternative therapy in the treatment of children with NE.
This is a preview of subscription content, log in to check access.
Access options
Buy single article
Instant access to the full article PDF.
US$ 39.95
Price includes VAT for USA
Subscribe to journal
Immediate online access to all issues from 2019. Subscription will auto renew annually.
US$ 199
This is the net price. Taxes to be calculated in checkout.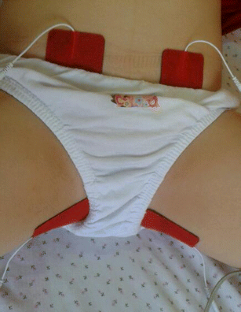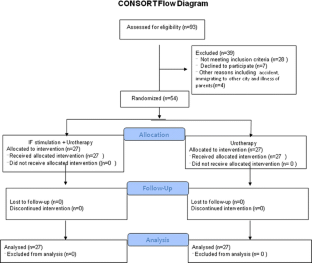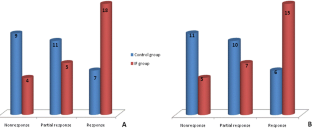 References
1.

Austin PF, Bauer SB, Bower W, Chase J, Franco I, Hoebeke P, Rittig S, Walle JV, von Gontard A, Wright A, Yang SS, Nevéus T (2014) The standardization of terminology of lower urinary tract function in children and adolescents: update report from the Standardization Committee of the International Children's Continence Society. J Urol 191(6):1863–1865.e13

2.

Butler RJ (2004) Childhood nocturnal enuresis: developing a conceptual framework. Clin Psychol Rev 24(8):909–931

3.

Lordelo P, Benevides I, Kerner EG, Teles A, Lordelo M, Barroso U Jr (2010) Treatment of non-monosymptomatic nocturnal enuresis by transcutaneous parasacral electrical nerve stimulation. J Pediatr Urol 6(5):486–489

4.

Vande Walle J, Rittig S, Bauer S, Eggert P, Marschall-Kehrel D, Tekgul S, American Academy of P, European Society for Paediatric U, European Society for Paediatric N, International Children's Continence S (2012) Practical consensus guidelines for the management of enuresis. Eur J Pediatr 171(6):971–983

5.

Schreiner L, dos Santos TG, de Souza AB, Nygaard CC, da Silva Filho IG (2013) Electrical stimulation for urinary incontinence in women: a systematic review. Braz J Urol 39(4):454–464

6.

De Gennaro M, Capitanucci ML, Mosiello G, Zaccara A (2011) Current state of nerve stimulation technique for lower urinary tract dysfunction in children. J Urol 185(5):1571–1577

7.

Fuentes JP, Armijo Olivo S, Magee DJ, Gross DP (2010) Effectiveness of interferential current therapy in the management of musculoskeletal pain: a systematic review and meta-analysis. Phys Ther 90(9):1219–1238

8.

Clarke MC, Chase JW, Gibb S, Robertson VJ, Catto-Smith A, Hutson JM, Southwell BR (2009) Decreased colonic transit time after transcutaneous interferential electrical stimulation in children with slow transit constipation. J Pediatr Surg 44(2):408–412

9.

Kajbafzadeh AM, Sharifi-Rad L, Nejat F, Kajbafzadeh M, Talaei HR (2012) Transcutaneous interferential electrical stimulation for management of neurogenic bowel dysfunction in children with myelomeningocele. Int J Colorectal Dis 27(4):453–458

10.

Oh-Oka H, Fujisawa M (2007) Efficacy on interferential low frequency therapy for elderly overactive bladder patients with urinary incontinence. Nihon Hinyokika Gakkai Zasshi 98(3):547–551

11.

de Oliveira LF, de Oliveira DM, Da Silva de Paula LI, de Figueiredo AA, de Bessa J Jr, de Sa CA, Bastos Netto JM (2013) Transcutaneous parasacral electrical neural stimulation in children with primary monosymptomatic enuresis: a prospective randomized clinical trial. J Urol 190(4):1359–1363

12.

Rasquin A, Di Lorenzo C, Forbes D, Guiraldes E, Hyams JS, Staiano A, Walker LS (2006) Childhood functional gastrointestinal disorders: child/adolescent. Gastroenterology 130(5):1527–1537

13.

Neveus T, von Gontard A, Hoebeke P, Hjalmas K, Bauer S, Bower W, Jorgensen TM, Rittig S, Walle JV, Yeung CK, Djurhuus JC (2006) The standardization of terminology of lower urinary tract function in children and adolescents: report from the standardisation committee of the International Children's Continence Society. J Urol 176(1):314–324

14.

Kajbafzadeh AM, Sharifi-Rad L, Baradaran N, Nejat F (2009) Effect of pelvic floor interferential electrostimulation on urodynamic parameters and incontinency of children with myelomeningocele and detrusor overactivity. Urology 74(2):324–329

15.

Butler RJ, Holland P (2000) The three systems: a conceptual way of understanding nocturnal enuresis. Scand J Urol Nephrol 34(4):270–277

16.

Park SJ, Park JM, Pai KS, Ha TS, Lee SD, Baek M, Korean Children's Continence Enuresis Society (2014) esmopressin alone versus desmopressin and an anticholinergic in the first-line treatment of primary monosymptomatic nocturnal enuresis: a multicenter study. Pediatr Nephrol 29(7):1195–1200

17.

Dasgupta R, Critchley HD, Dolan RJ, Fowler CJ (2005) Changes in brain activity following sacral neuromodulation for urinary retention. J Urol 174(6):2268–2272

18.

Trontelj JV, Janko M, Godec C, Rakovec S, Trontelj M (1974) Proceedings: electrical stimulation for urinary incontinence: a neurophysiological study. Urol Int 29(3):213–220

19.

Gladh G, Mattsson S, Lindstrom S (2001) Anogenital electrical stimulation as treatment of urge incontinence in children. BJU Int 87(4):366–371

20.

Esa A, Kiwamoto H, Sugiyama T, Park YC, Kaneko S, Kurita T (1991) Functional electrical stimulation in the management of incontinence: studies of urodynamics. Int Urol Nephrol 23(2):135–141

21.

Hagstroem S, Mahler B, Madsen B, Djurhuus JC, Rittig S (2009) Transcutaneous electrical nerve stimulation for refractory daytime urinary urge incontinence. J Urol 182[4 Suppl]:2072–2078

22.

Ozcan J, Ward AR, Robertson VJ (2004) A comparison of true and premodulated interferential currents. Arch Phys Med Rehab 85(3):409–415

23.

Raheem AA, Farahat Y, El-Gamal O, Ragab M, Radwan M, El-Bahnasy AH, El-Gamasy AN, Rasheed M (2013) Role of posterior tibial nerve stimulation in the treatment of refractory monosymptomatic nocturnal enuresis: a pilot study. J Urol 189(4):1514–1518

24.

Lordêlo P, Teles A, Veiga ML, Correia LC, Barroso U Jr (2010) Transcutaneous electrical nerve stimulation in children with overactive bladder: a randomized clinical trial. J Urol 184(2):683–689

25.

Sillén U, Arwidsson C, Doroszkiewicz M, Antonsson H, Jansson I, Stålklint M, Abrahamsson K, Sjöström S (2014) Effects of transcutaneous neuromodulation (TENS) on overactive bladder symptoms in children: a randomized controlled trial. J Pediatr Urol 10(6):1100–1105
Conflict of interest
None.
About this article
Cite this article
Kajbafzadeh, A., Sharifi-Rad, L., Mozafarpour, S. et al. Efficacy of transcutaneous interferential electrical stimulation in treatment of children with primary nocturnal enuresis: a randomized clinical trial. Pediatr Nephrol 30, 1139–1145 (2015). https://doi.org/10.1007/s00467-014-3039-5
Received:

Revised:

Accepted:

Published:

Issue Date:
Keywords
Nocturnal enuresis

Interferential electrical stimulation

Urinary incontinence

Children

Bladder