Abstract
Background
Seasonal fluctuations in outdoor temperature have been shown to affect blood pressure in adults. The aim of our study was to determine whether blood pressure measurements in children and adolescents in Central Europe undergo seasonal variation or are influenced by outdoor temperature.
Methods
The blood pressure of 6,714 subjects (3,497 boys, 3,237 girls) aged 3 to 21 (median age 10.6) years was routinely measured. The study cohort comprised both healthy and sick children and adolescents visiting outpatient clinics and during hospitalisation.
Results
Cross-sectional analysis showed a significant seasonal variation in blood pressure measurements. The mean increase of systolic/diastolic blood pressure was 4.45/2.42 mmHg during the winter. A significant correlation between average outdoor temperature and systolic blood pressure was found (ρ = −0.074 p < 0.001). However, the effect was only detectable at an average temperature below 0 °C/32 °F and above 10 °C/50 °F. For each 1 °C increase in average outdoor temperature, the systolic blood pressure fell by 0.12 mmHg.
Conclusions
Blood pressure measurements in children and adolescents, even in a temperate climate, are influenced by temperature and subject to seasonal variation. Considering seasonal variations in blood pressure could be of clinical interest.
Access options
Buy single article
Instant access to the full article PDF.
USD 39.95
Price includes VAT (USA)
Tax calculation will be finalised during checkout.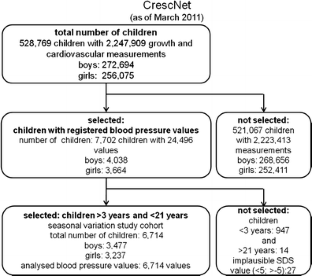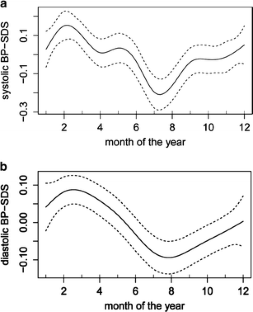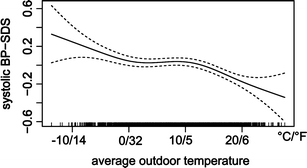 References
1.

Hopstock LA, Barnett AG, Bønaa KH, Mannsverk J, Njølstad I, Wilsgaard T (2012) Seasonal variation in cardiovascular disease risk factors in a subarctic population: the Tromso Study 1979–2008. J Epidemiol Community Health 67:113–118

2.

Sinha P, Kumar TD, Singh NP, Saha R (2010) Seasonal variation of blood pressure in normotensive females aged 18 to 40 years in an urban slum of Delhi, India. Asia Pac J Public Health 22:134–145

3.

Wang Y, Levi CR, Attia JR, D'Este CA, Spratt N, Fisher J (2003) Seasonal variation in stroke in the Hunter Region, Australia: a 5-year hospital-based study, 1995–2000. Stroke 34:1144–1150

4.

Sinha P, Taneja DK, Singh NP, Saha R (2010) Seasonal variation in prevalence of hypertension: Implications for interpretation. Indian J Public Health 54:7–10

5.

Hozawa A, Kuriyama S, Shimazu T, Ohmori-Matsuda K, Tsuji I (2011) Seasonal variation in home blood pressure measurements and relation to outside temperature in Japan. Clin Exp Hypertens 33:153–158

6.

Polat M, Akil I, Yuksel H, Coskun S, Yilmaz D, Erguder I, Onag A (2006) The effect of seasonal changes on blood pressure and urine specific gravity in children living in Mediterranean climate. Med Sci Monit 12:CR186–CR190

7.

Kunutsor SK, Powles JW (2010) The effect of ambient temperature on blood pressure in a rural West African adult population: a cross-sectional study. Cardiovasc J Afr 21:17–20

8.

Sinha P, Singh NP, Taneja DK, Sah R (2010) Does blood pressure variability affect the summer associated symptoms amongst females? J Assoc Physicians India 58:225–228

9.

MacMahon S, Peto R, Cutler J, Collins R, Sorlie P, Neaton J, Abbott R, Godwin J, Dyer A, Stamler J (1990) Blood pressure, stroke, and coronary heart disease. Part 1, prolonged differences in blood pressure: prospective observational studies corrected for the regression dilution bias. Lancet 335:765–774

10.

Strokes J, Kannel WB, Wolf PA, D'Agostino RB, Cupples LA (1989) Blood pressure as a risk factor for cardiovascular disease. The Framingham Study ± 30 years of follow-up. Hypertension 13:I33–I35

11.

Deshmukh A, Pant S, Kumar G, Murugiah K, Mehta J (2012) Seasonal variation in hypertensive emergency hospitalization. J Clin Hypertens (Greenwich) 14:269–270

12.

Sheth T, Nair C, Muller J, Yusuf S (1999) Increased winter mortality from acute myocardial infarction and stroke: the effect of age. J Am Coll Cardiol 3:1916–1919

13.

Spencer FA, Goldberg RJ, Becker RC, Gore JM (1998) Seasonal distribution of acute myocardial infarction in the second National Registry of Myocardial Infarction. J Am Coll Cardiol 31:1226–1233

14.

Keller E, Gausche R, Meigen C, Keller A, Burmeister J, Kiess W (2002) Auxological computer based network for early detection of disorders of growth and weight attainment. J Pediatr Endocrinol Metab 15:149–156

15.

Kiess W, Gausche R, Keller A, Burmeister J, Willgerodt H, Keller E (2001) Computer-guided, population-based screening system for growth disorders (CrescNet) and on-line generation of normative data for growth and development. Horm Res 56[Suppl 1]:59–66

16.

Hoepffner W, Pfäffle R, Gausche R, Meigen C, Keller E (2011) Early detection of growth disorders with the CrescNet system at the Leipzig treatment center. Dtsch Arztebl Int 108:123–128

17.

Blüher S, Meigen C, Gausche R, Keller E, Pfäffle R, Sabin M, Werther G, Odeh R, Kiess W (2011) Age-specific stabilization in obesity prevalence in German children: a cross-sectional study from 1999 to 2008. Int J Pediatr Obes 6:199–206

18.

CrescNet. http://crescnet.org/cgi-bin/uebersicht.pl. Accessed Sept 2011

19.

National High Blood Pressure Education Program Working Group on High Blood Pressure in Children and Adolescents (2004) The fourth report on the diagnosis, evaluation, and treatment of high blood pressure in children and adolescents. Pediatrics 114:555–576

20.

Wolfram Mathematica Weather Data. Some resources. European Centre for Medium–Range Weather Forecasts (ECMWF); University Corporation for Atmospheric Research; World Meteorological Organization. Available at: www.wolframalpha.com. Accessed Mar 2011

21.

R Development Core Team (2011) R: a language and environment for statistical computing. R Foundation for Statistical Computing, Vienna, Austria. Available at: http://www.R-project.org/. Accessed Sept 2011

22.

Reich A, Müller G, Gelbrich G, Deutscher K, Gödicke R, Kiess W (2003) Obesity and blood pressure-results from the examination of 2365 schoolchildren in Germany. Int J Obes Relat Metab Disord 27:1459–1464

23.

Lewington S, Li L, Sherliker P, Guo Y, Millwood I, Bian Z, Whitlock G, Yang L, Collins R, Chen J, Wu X, Wang S, Hu Y, Jiang L, Yang L, Lacey B, Peto R, Chen Z (2012) China Kadoorie Biobank study collaboration. Seasonal variation in blood pressure and its relationship with outdoor temperature in 10 diverse regions of China: the China Kadoorie Biobank. J Hypertens 30:1383–1391

24.

Iwabu A, Konishi K, Tokutake H, Yamane S, Ohnishi H, Tominaga Y, Kusachi S (2010) Inverse correlation between seasonal changes in home blood pressure and atmospheric temperature in treated-hypertensive patients. Clin Exp Hypertens 32:221–226

25.

Woodhouse PR, Khaw KT, Plummer M (1993) Seasonal variation of blood pressure and its relationship to ambient temperature in an elderly population. J Hypertens 11:1267–1274

26.

Argilés A, Lorho R, Servel MF, Chong G, Kerr PG, Mourad G (2004) Seasonal modifications in blood pressure are mainly related to interdialytic body weight gain in dialysis patients. Kidney Int 65:1795–1801

27.

Tamez H, Kalim S, Thadhani RI (2013) Does vitamin D modulate blood pressure? Curr Opin Nephrol Hypertens 22:204–209
Acknowledgements
We wish to express our sincere gratitude to the participating physicians, colleagues, nurses and scientists. We are indebted to the children and their parents for their patience.
Funding sources
The original setup of CrescNet was supported by unrestricted educational grants from Merck Serono, Lilly, Novo Nordisk, Pfizer and Ipsen. This support is gratefully acknowledged. This work was supported by grants from the Medical Faculty of the University of Leipzig, Leipziger Forschungszentrum für Zivilisationserkrankungen (LIFE), the Kompetenznetz Adipositas Leipzig (LARGE) and BMBF, Berlin. Wieland Kiess is also supported by grants from LIFE-Research Centre, Leipzig and Deutsche Forschungsgemeinschaft (DFG).
Conflict of interests
None.
About this article
Cite this article
Miersch, A., Vogel, M., Gausche, R. et al. Influence of seasonal variation on blood pressure measurements in children, adolescents and young adults. Pediatr Nephrol 28, 2343–2349 (2013). https://doi.org/10.1007/s00467-013-2562-0
Received:

Revised:

Accepted:

Published:

Issue Date:
Keywords
High potential

Seasonal variation

Climate

Temperature

Paediatrics

Middle Europe