Abstract
Hematuria is a common presenting feature of glomerular disease and is sometimes associated with kidney failure later in life. Where isolated microscopic hematuria occurs in children and young adults, an underlying monogenic disorder, such as Alport syndrome or thin basement membrane nephropathy, is frequently responsible. In this review, these and other diseases, which often present with isolated microscopic hematuria, including hereditary angiopathy, nephropathy, aneurysms, and muscle cramps (HANAC) syndrome, IgA nephropathy, and CFHR5 nephropathy, are discussed together with the associated molecular pathology, clinical features, and prognosis. Genetic testing for these conditions used in clinical practice can provide important diagnostic and prognostic information that is relevant to the patient and their family, particularly when kidney transplantation is considered.
Access options
Buy single article
Instant access to the full article PDF.
US$ 39.95
Tax calculation will be finalised during checkout.
Subscribe to journal
Immediate online access to all issues from 2019. Subscription will auto renew annually.
US$ 119
Tax calculation will be finalised during checkout.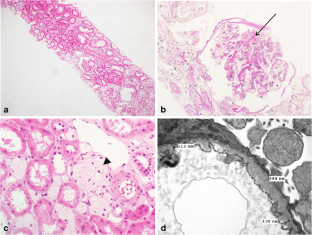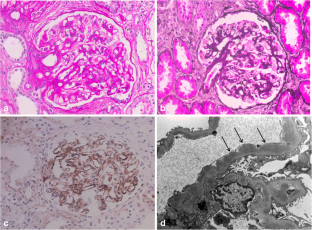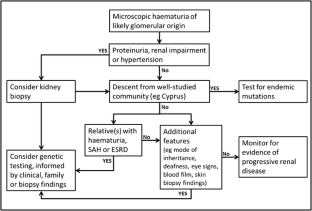 References
1.

Cohen RA, Brown RS (2003) Clinical practice. Microscopic hematuria. N Engl J Med 348:2330–2338

2.

Vivante A, Afek A, Frenkel-Nir Y, Tzur D, Farfel A, Golan E, Chaiter Y, Shohat T, Skorecki K, Calderon-Margalit R (2011) Persistent asymptomatic isolated microscopic hematuria in Israeli adolescents and young adults and risk for end-stage renal disease. JAMA 306:729–736

3.

Deltas C, Pierides A, Voskarides K (2012) The role of molecular genetics in diagnosing familial hematuria(s). Pediatr Nephrol 27:1221–1231

4.

Blumenthal SS, Fritsche C, Lemann J Jr (1988) Establishing the diagnosis of benign familial hematuria. The importance of examining the urine sediment of family members. JAMA 259:2263–2266

5.

Bockenhauer D, Medlar AJ, Ashton E, Kleta R, Lench N (2012) Genetic testing in renal disease. Pediatr Nephrol 27:873–883

6.

Kalluri R, Shield CF, Todd P, Hudson BG, Neilson EG (1997) Isoform switching of type IV collagen is developmentally arrested in X-linked Alport syndrome leading to increased susceptibility of renal basement membranes to endoproteolysis. J Clin Invest 99:2470–2478

7.

Peissel B, Geng L, Kalluri R, Kashtan C, Rennke HG, Gallo GR, Yoshioka K, Sun MJ, Hudson BG, Neilson EG, Zhou J (1995) Comparative distribution of the alpha 1(IV), alpha 5(IV), and alpha 6(IV) collagen chains in normal human adult and fetal tissues and in kidneys from X-linked Alport syndrome patients. J Clin Invest 96:1948–1957

8.

Hwang ES, Brodsky B (2012) Folding delay and structural perturbations caused by type IV collagen natural interruptions and nearby Gly missense mutations. J Biol Chem 287:4368–4375

9.

Bella J, Eaton M, Brodsky B, Berman HM (1994) Crystal and molecular structure of a collagen-like peptide at 1.9 A resolution. Science 266:75–81

10.

Longo I, Scala E, Mari F, Caselli R, Pescucci C, Mencarelli MA, Speciale C, Giani M, Bresin E, Caringella DA, Borochowitz ZU, Siriwardena K, Winship I, Renieri A, Meloni I (2006) Autosomal recessive Alport syndrome: an in-depth clinical and molecular analysis of five families. Nephrol Dial Transplant 21:665–671

11.

Jais JP, Knebelmann B, Giatras I, De Marchi M, Rizzoni G, Renieri A, Weber M, Gross O, Netzer KO, Flinter F, Pirson Y, Verellen C, Wieslander J, Persson U, Tryggvason K, Martin P, Hertz JM, Schroder C, Sanak M, Krejcova S, Carvalho MF, Saus J, Antignac C, Smeets H, Gubler MC (2000) X-linked Alport syndrome: natural history in 195 families and genotype-phenotype correlations in males. J Am Soc Nephrol 11:649–657

12.

Govan JA (1983) Ocular manifestations of Alport's syndrome: a hereditary disorder of basement membranes? Br J Ophthal 67:493–503

13.

Savige J, Colville D (2009) Opinion: ocular features aid the diagnosis of Alport syndrome. Nat Rev Nephrol 5:356–360

14.

Wei G, Zhihong L, Huiping C, Caihong Z, Zhaohong C, Leishi L (2006) Spectrum of clinical features and type IV collagen alpha-chain distribution in Chinese patients with Alport syndrome. Nephrol Dial Transplant 21:3146–3154

15.

Haas M (2009) Alport syndrome and thin glomerular basement membrane nephropathy: a practical approach to diagnosis. Arch Path Lab Med 133:224–232

16.

Mazzucco G, Barsotti P, Muda AO, Fortunato M, Mihatsch M, Torri-Tarelli L, Renieri A, Faraggiana T, De Marchi M, Monga G (1998) Ultrastructural and immunohistochemical findings in Alport's syndrome: a study of 108 patients from 97 Italian families with particular emphasis on COL4A5 gene mutation correlations. J Am Soc Nephrol 9:1023–1031

17.

Jefferson JA, Lemmink HH, Hughes AE, Hill CM, Smeets HJ, Doherty CC, Maxwell AP (1997) Autosomal dominant Alport syndrome linked to the type IV collage alpha 3 and alpha 4 genes (COL4A3 and COL4A4). Nephrol Dial Transplant 12:1595–1599

18.

Ciccarese M, Casu D, Ki Wong F, Faedda R, Arvidsson S, Tonolo G, Luthman H, Satta A (2001) Identification of a new mutation in the alpha4(IV) collagen gene in a family with autosomal dominant Alport syndrome and hypercholesterolaemia. Nephrol Dial Transplant 16:2008–2012

19.

Pescucci C, Mari F, Longo I, Vogiatzi P, Caselli R, Scala E, Abaterusso C, Gusmano R, Seri M, Miglietti N, Bresin E, Renieri A (2004) Autosomal-dominant Alport syndrome: natural history of a disease due to COL4A3 or COL4A4 gene. Kidney Int 65:1598–1603

20.

Barker DF, Denison JC, Atkin CL, Gregory MC (2001) Efficient detection of Alport syndrome COL4A5 mutations with multiplex genomic PCR-SSCP. Am J Med Genet 98:148–160

21.

Kashtan CE, Ding J, Gregory M, Gross O, Heidet L, Knebelmann B, Rheault M, Licht C (2013) Clinical practice recommendations for the treatment of Alport syndrome: a statement of the Alport Syndrome Research Collaborative. Pediatr Nephrol 28:5–11

22.

Bekheirnia MR, Reed B, Gregory MC, McFann K, Shamshirsaz AA, Masoumi A, Schrier RW (2010) Genotype-phenotype correlation in X-linked Alport syndrome. J Am Soc Nephrol 21:876–883

23.

Gross O, Licht C, Anders HJ, Hoppe B, Beck B, Tonshoff B, Hocker B, Wygoda S, Ehrich JH, Pape L, Konrad M, Rascher W, Dotsch J, Muller-Wiefel DE, Hoyer P, Knebelmann B, Pirson Y, Grunfeld JP, Niaudet P, Cochat P, Heidet L, Lebbah S, Torra R, Friede T, Lange K, Muller GA, Weber M (2012) Early angiotensin-converting enzyme inhibition in Alport syndrome delays renal failure and improves life expectancy. Kidney Int 81:494–501

24.

Gross O, Friede T, Hilgers R, Gorlitz A, Gavenis K, Ahmed R, Durr U (2012) Safety and efficacy of the ACE-inhibitor ramipril in Alport syndrome: the double-blind, randomized, placebo-controlled, multicenter phase III EARLY PRO-TECT Alport trial in pediatric patients. ISRN Pediatr 2012:436046

25.

Gobel J, Olbricht CJ, Offner G, Helmchen U, Repp H, Koch KM, Frei U (1992) Kidney transplantation in Alport's syndrome: long-term outcome and allograft anti-GBM nephritis. Clinic Neph 38:299–304

26.

Peten E, Pirson Y, Cosyns JP, Squifflet JP, Alexandre GP, Noel LH, Grunfeld JP, van Ypersele de Strihou C (1991) Outcome of thirty patients with Alport's syndrome after renal transplantation. Transplantation 52:823–826

27.

Kashtan CE (2006) Renal transplantation in patients with Alport syndrome. Pediatr Transplant 10:651–657

28.

Gregory MC (2005) The clinical features of thin basement membrane nephropathy. Semin Nephrol 25:140–145

29.

Haas M (2006) Thin glomerular basement membrane nephropathy: incidence in 3,471 consecutive renal biopsies examined by electron microscopy. Arch Path Lab Med 130:699–706

30.

Badenas C, Praga M, Tazon B, Heidet L, Arrondel C, Armengol A, Andres A, Morales E, Camacho JA, Lens X, Davila S, Mila M, Antignac C, Darnell A, Torra R (2002) Mutations in theCOL4A4 and COL4A3 genes cause familial benign hematuria. J Am Soc Nephrol 13:1248–1254

31.

Buzza M, Wilson D, Savige J (2001) Segregation of hematuria in thin basement membrane disease with haplotypes at the loci for Alport syndrome. Kidney Int 59:1670–1676

32.

Mandache E, Gherghiceanu M (2004) Ultrastructural defects of the glomerular basement membranes associated with primary glomerular nephropathies. Ultrastruct Pathol 28:103–108

33.

Ivanyi B, Pap R, Ondrik Z (2006) Thin basement membrane nephropathy: diffuse and segmental types. Arch Path Lab Med 130:1533–1537

34.

Aarons I, Smith PS, Davies RA, Woodroffe AJ, Clarkson AR (1989) Thin membrane nephropathy: a clinico-pathological study. Clin Nephrol 32:151–158

35.

Pierides A, Voskarides K, Athanasiou Y, Ioannou K, Damianou L, Arsali M, Zavros M, Pierides M, Vargemezis V, Patsias C, Zouvani I, Elia A, Kyriacou K, Deltas C (2009) Clinico-pathological correlations in 127 patients in 11 large pedigrees, segregating one of three heterozygous mutations in the COL4A3/COL4A4 genes associated with familial haematuria and significant late progression to proteinuria and chronic kidney disease from focal segmental glomerulosclerosis. Nephrol Dial Transplant 24:2721–2729

36.

Savige J, Rana K, Tonna S, Buzza M, Dagher H, Wang YY (2003) Thin basement membrane nephropathy. Kidney Int 64:1169–1178

37.

Carasi C, Van't Hoff WG, Rees L, Risdon RA, Trompeter RS, Dillon MJ (2005) Childhood thin GBM disease: review of 22 children with family studies and long-term follow-up. Pediatr Nephrol 20:1098–1105

38.

Voskarides K, Damianou L, Neocleous V, Zouvani I, Christodoulidou S, Hadjiconstantinou V, Ioannou K, Athanasiou Y, Patsias C, Alexopoulos E, Pierides A, Kyriacou K, Deltas C (2007) COL4A3/COL4A4 mutations producing focal segmental glomerulosclerosis and renal failure in thin basement membrane nephropathy. J Am Soc Nephrol 18:3004–3016

39.

Temme J, Peters F, Lange K, Pirson Y, Heidet L, Torra R, Grunfeld JP, Weber M, Licht C, Muller GA, Gross O (2012) Incidence of renal failure and nephroprotection by RAAS inhibition in heterozygous carriers of X-chromosomal and autosomal recessive Alport mutations. Kidney Int 81:779–783

40.

Choi SR, Sun IO, Hong YA, Kim HG, Park HS, Chung BH, Choi BS, Park CW, Kim YS, Yang CW (2012) The role of kidney biopsy to determine donation from prospective kidney donors with asymptomatic urinary abnormalities. Transplant Proc 44:11–13

41.

Sessa A, Pietrucci A, Carozzi S, Torri Tarelli L, Tazzari S, Giordano F, Meroni M, Battini G, Valente U, Renieri A et al (1995) Renal transplantation from living donor parents in two brothers with Alport syndrome. Can asymptomatic female carriers of the Alport gene be accepted as kidney donors? Nephron 70:106–109

42.

Plaisier E, Chen Z, Gekeler F, Benhassine S, Dahan K, Marro B, Alamowitch S, Paques M, Ronco P (2010) Novel COL4A1 mutations associated with HANAC syndrome: a role for the triple helical CB3[IV] domain. Am J Med Genet A 152A:2550–2555

43.

Plaisier E, Gribouval O, Alamowitch S, Mougenot B, Prost C, Verpont MC, Marro B, Desmettre T, Cohen SY, Roullet E, Dracon M, Fardeau M, Van Agtmael T, Kerjaschki D, Antignac C, Ronco P (2007) COL4A1 mutations and hereditary angiopathy, nephropathy, aneurysms, and muscle cramps. N Engl J Med 357:2687–2695

44.

Plaisier E, Ronco P (2011) COL4A1-related disorders. In: Pagon RA, Bird TD, Dolan CR, Stephens K, Adam MP (eds) GeneReviews, Seattle (WA)

45.

Weng YC, Sonni A, Labelle-Dumais C, de Leau M, Kauffman WB, Jeanne M, Biffi A, Greenberg SM, Rosand J, Gould DB (2012) COL4A1 mutations in patients with sporadic late-onset intracerebral hemorrhage. Ann Neurol 71:470–477

46.

Vaicys C, Hunt CD, Heary RF (2000) Ruptured intracranial aneurysm in an adolescent with Alport's syndrome–a new expression of type IV collagenopathy: case report. Surg Neurol 54:68–72

47.

Kashtan CE, Segal Y, Flinter F, Makanjuola D, Gan JS, Watnick T (2010) Aortic abnormalities in males with Alport syndrome. Nephrol Dial Transplant 25:3554–3560

48.

Epstein CJ, Sahud MA, Piel CF, Goodman JR, Bernfield MR, Kushner JH, Ablin AR (1972) Hereditary macrothrombocytopathia, nephritis and deafness. Am J Med 52:299–310

49.

Peterson LC, Rao KV, Crosson JT, White JG (1985) Fechtner syndrome–a variant of Alport's syndrome with leukocyte inclusions and macrothrombocytopenia. Blood 65:397–406

50.

Han KH, Lee H, Kang HG, Moon KC, Lee JH, Park YS, Ha IS, Ahn HS, Choi Y, Cheong HI (2011) Renal manifestations of patients with MYH9-related disorders. Pediatr Nephrol 26:549–555

51.

Kopp JB (2010) Glomerular pathology in autosomal dominant MYH9 spectrum disorders: what are the clues telling us about disease mechanism? Kidney Int 78:130–133

52.

Seri M, Pecci A, Di Bari F, Cusano R, Savino M, Panza E, Nigro A, Noris P, Gangarossa S, Rocca B, Gresele P, Bizzaro N, Malatesta P, Koivisto PA, Longo I, Musso R, Pecoraro C, Iolascon A, Magrini U, Rodriguez Soriano J, Renieri A, Ghiggeri GM, Ravazzolo R, Balduini CL, Savoia A (2003) MYH9-related disease: May-Hegglin anomaly, Sebastian syndrome, Fechtner syndrome, and Epstein syndrome are not distinct entities but represent a variable expression of a single illness. Med (Baltimore) 82:203–215

53.

Kopp JB, Smith MW, Nelson GW, Johnson RC, Freedman BI, Bowden DW, Oleksyk T, McKenzie LM, Kajiyama H, Ahuja TS, Berns JS, Briggs W, Cho ME, Dart RA, Kimmel PL, Korbet SM, Michel DM, Mokrzycki MH, Schelling JR, Simon E, Trachtman H, Vlahov D, Winkler CA (2008) MYH9 is a major-effect risk gene for focal segmental glomerulosclerosis. Nat Genet 40:1175–1184

54.

Kao WH, Klag MJ, Meoni LA, Reich D, Berthier-Schaad Y, Li M, Coresh J, Patterson N, Tandon A, Powe NR, Fink NE, Sadler JH, Weir MR, Abboud HE, Adler SG, Divers J, Iyengar SK, Freedman BI, Kimmel PL, Knowler WC, Kohn OF, Kramp K, Leehey DJ, Nicholas SB, Pahl MV, Schelling JR, Sedor JR, Thornley-Brown D, Winkler CA, Smith MW, Parekh RS (2008) MYH9 is associated with nondiabetic end-stage renal disease in African Americans. Nat Genet 40:1185–1192

55.

Freedman BI, Hicks PJ, Bostrom MA, Cunningham ME, Liu Y, Divers J, Kopp JB, Winkler CA, Nelson GW, Langefeld CD, Bowden DW (2009) Polymorphisms in the non-muscle myosin heavy chain 9 gene (MYH9) are strongly associated with end-stage renal disease historically attributed to hypertension in African Americans. Kidney Int 75:736–745

56.

Freedman BI, Hicks PJ, Bostrom MA, Comeau ME, Divers J, Bleyer AJ, Kopp JB, Winkler CA, Nelson GW, Langefeld CD, Bowden DW (2009) Non-muscle myosin heavy chain 9 gene MYH9 associations in African Americans with clinically diagnosed type 2 diabetes mellitus-associated ESRD. Nephrol Dial Transplant 24:3366–3371

57.

Genovese G, Friedman DJ, Ross MD, Lecordier L, Uzureau P, Freedman BI, Bowden DW, Langefeld CD, Oleksyk TK, Uscinski Knob AL, Bernhardy AJ, Hicks PJ, Nelson GW, Vanhollebeke B, Winkler CA, Kopp JB, Pays E, Pollak MR (2010) Association of trypanolytic ApoL1 variants with kidney disease in African Americans. Science 329:841–845

58.

Gale DP, de Jorge EG, Cook HT, Martinez-Barricarte R, Hadjisavvas A, McLean AG, Pusey CD, Pierides A, Kyriacou K, Athanasiou Y, Voskarides K, Deltas C, Palmer A, Fremeaux-Bacchi V, de Cordoba SR, Maxwell PH, Pickering MC (2010) Identification of a mutation in complement factor H-related protein 5 in patients of Cypriot origin with glomerulonephritis. Lancet 376:794–801

59.

Athanasiou Y, Voskarides K, Gale DP, Damianou L, Patsias C, Zavros M, Maxwell PH, Cook HT, Demosthenous P, Hadjisavvas A, Kyriacou K, Zouvani I, Pierides A, Deltas C (2011) Familial C3 glomerulopathy associated with CFHR5 mutations: clinical characteristics of 91 patients in 16 pedigrees. Clin J Am Soc Nephrol 6:1436–1446

60.

Vernon KA, Gale DP, de Jorge EG, McLean AG, Galliford J, Pierides A, Maxwell PH, Taube D, Pickering MC, Cook HT (2011) Recurrence of complement factor H-related protein 5 nephropathy in a renal transplant. Am J Transplant 11:152–155

61.

Julian BA, Waldo FB, Rifai A, Mestecky J (1988) IgA nephropathy, the most common glomerulonephritis worldwide. A neglected disease in the United States? Am J Med 84:129–132

62.

Hastings MC, Delos Santos NM, Wyatt RJ (2007) Renal survival in pediatric patients with IgA nephropathy. Pediatr Nephrol 22:317–318

63.

Ronkainen J, Ala-Houhala M, Autio-Harmainen H, Jahnukainen T, Koskimies O, Merenmies J, Mustonen J, Ormala T, Turtinen J, Nuutinen M (2006) Long-term outcome 19 years after childhood IgA nephritis: a retrospective cohort study. Pediatr Nephrol 21:1266–1273

64.

Kusumoto Y, Takebayashi S, Taguchi T, Harada T, Naito S (1987) Long-term prognosis and prognostic indices of IgA nephropathy in juvenile and in adult Japanese. Clini Nephrol 28:118–124

65.

Syrjanen J, Mustonen J, Pasternack A (2000) Hypertriglyceridaemia and hyperuricaemia are risk factors for progression of IgA nephropathy. Nephrol Dial Transplant 15:34–42

66.

Gutierrez E, Zamora I, Ballarin JA, Arce Y, Jimenez S, Quereda C, Olea T, Martinez-Ara J, Segarra A, Bernis C, Garcia A, Goicoechea M, Garcia de Vinuesa S, Rojas-Rivera J, Praga M (2012) Long-term outcomes of IgA nephropathy presenting with minimal or no proteinuria. J Am Soc Nephrol 23:1753–1760

67.

Roberts IS, Cook HT, Troyanov S, Alpers CE, Amore A, Barratt J, Berthoux F, Bonsib S, Bruijn JA, Cattran DC, Coppo R, D'Agati V, D'Amico G, Emancipator S, Emma F, Feehally J, Ferrario F, Fervenza FC, Florquin S, Fogo A, Geddes CC, Groene HJ, Haas M, Herzenberg AM, Hill PA, Hogg RJ, Hsu SI, Jennette JC, Joh K, Julian BA, Kawamura T, Lai FM, Li LS, Li PK, Liu ZH, Mackinnon B, Mezzano S, Schena FP, Tomino Y, Walker PD, Wang H, Weening JJ, Yoshikawa N, Zhang H (2009) The Oxford classification of IgA nephropathy: pathology definitions, correlations, and reproducibility. Kidney Int 76:546–556

68.

Scolari F, Amoroso A, Savoldi S, Mazzola G, Prati E, Valzorio B, Viola BF, Nicola B, Movilli E, Sandrini M, Campanini M, Maiorca R (1999) Familial clustering of IgA nephropathy: further evidence in an Italian population. Am J Kidney Dis 33:857–865

69.

Maxwell PH, Wang Y (2006) Genetic studies of IgA nephropathy. Nephron Exp Nephrol 102:e76–e80

70.

Feehally J, Farrall M, Boland A, Gale DP, Gut I, Heath S, Kumar A, Peden JF, Maxwell PH, Morris DL, Padmanabhan S, Vyse TJ, Zawadzka A, Rees AJ, Lathrop M, Ratcliffe PJ (2010) HLA has strongest association with IgA nephropathy in genome-wide analysis. J Am Soc Nephrol 21:1791–1797

71.

Gharavi AG, Kiryluk K, Choi M, Li Y, Hou P, Xie J, Sanna-Cherchi S, Men CJ, Julian BA, Wyatt RJ, Novak J, He JC, Wang H, Lv J, Zhu L, Wang W, Wang Z, Yasuno K, Gunel M, Mane S, Umlauf S, Tikhonova I, Beerman I, Savoldi S, Magistroni R, Ghiggeri GM, Bodria M, Lugani F, Ravani P, Ponticelli C, Allegri L, Boscutti G, Frasca G, Amore A, Peruzzi L, Coppo R, Izzi C, Viola BF, Prati E, Salvadori M, Mignani R, Gesualdo L, Bertinetto F, Mesiano P, Amoroso A, Scolari F, Chen N, Zhang H, Lifton RP (2011) Genome-wide association study identifies susceptibility loci for IgA nephropathy. Nat Genet 43:321–327

72.

Paterson AD, Liu XQ, Wang K, Magistroni R, Song X, Kappel J, Klassen J, Cattran D, St George-Hyslop P, Pei Y (2007) Genome-wide linkage scan of a large family with IgA nephropathy localizes a novel susceptibility locus to chromosome 2q36. J Am Soc Nephrol 18:2408–2415

73.

Karnib HH, Sanna-Cherchi S, Zalloua PA, Medawar W, D'Agati VD, Lifton RP, Badr K, Gharavi AG (2007) Characterization of a large Lebanese family segregating IgA nephropathy. Nephrol Dial Transplant 22:772–777

74.

Gharavi AG, Yan Y, Scolari F, Schena FP, Frasca GM, Ghiggeri GM, Cooper K, Amoroso A, Viola BF, Battini G, Caridi G, Canova C, Farhi A, Subramanian V, Nelson-Williams C, Woodford S, Julian BA, Wyatt RJ, Lifton RP (2000) IgA nephropathy, the most common cause of glomerulonephritis, is linked to 6q22-23. Nat Genet 26:354–357
Acknowledgments
The author would like to thank Dr. Detlef Bockenhauer and Dr. Paul Bass for helpful discussions. DPG is supported by an MRC Clinician Scientist Fellowship and has also received funding from the Rosetrees Trust.
About this article
Cite this article
Gale, D.P. How benign is hematuria? Using genetics to predict prognosis. Pediatr Nephrol 28, 1183–1193 (2013). https://doi.org/10.1007/s00467-012-2399-y
Received:

Revised:

Accepted:

Published:

Issue Date:
Keywords
TBMN

Glomerular basement membrane

Alport

HANAC

CFHR5

MYH9

Glomerulonephritis