Abstract
Vesicoureteral reflux (VUR) is the most common uropathy affecting children. Compared to children without VUR, those with VUR have a higher rate of pyelonephritis and renal scarring following urinary tract infection (UTI). Options for treatment include observation with or without antibiotic prophylaxis and surgical repair. Surgical intervention may be necessary in patients with persistent reflux, renal scarring, and recurrent or breakthrough febrile UTI. Both open and endoscopic approaches to reflux correction are successful and reduce the occurrence of febrile UTI. Estimated success rates of open and endoscopic reflux correction are 98.1% (95% CI 95.1, 99.1) and 83.0% (95% CI 69.1, 91.4), respectively. Factors that affect the success of endoscopic injection include pre-operative reflux grade and presence of functional or anatomic bladder abnormalities including voiding dysfunction and duplicated collecting systems. Few studies have evaluated the long-term outcomes of endoscopic injection, and with variable results. In patients treated endoscopically, recurrent febrile UTI occurred in 0–21%, new renal damage in 9–12%, and recurrent reflux in 17–47.6% of treated ureters with at least 1 year follow-up. These studies highlight the need for standardized outcome reporting and longer follow-up after endoscopic treatment.
Access options
Buy single article
Instant access to the full article PDF.
US$ 39.95
Tax calculation will be finalised during checkout.
Subscribe to journal
Immediate online access to all issues from 2019. Subscription will auto renew annually.
US$ 119
Tax calculation will be finalised during checkout.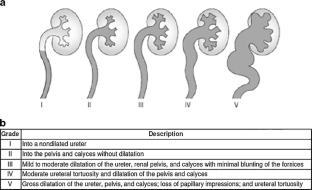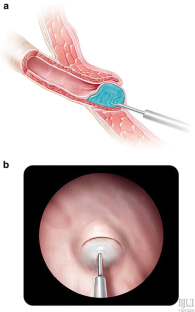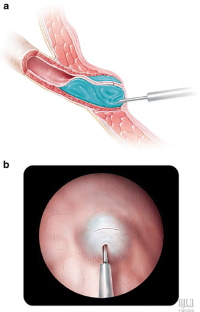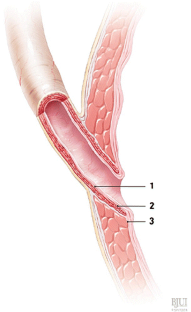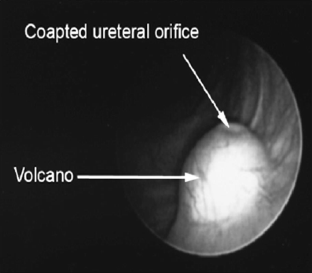 Abbreviations
VUR:

Vesicoureteral reflux

DX/HA = DHA:

Dextranomer/hyaluronic acid

UTI:

Urinary tract infection

UGS:

Urogenital sinus

UVJ:

Ureterovesical junction

VCUG:

Voiding cystourethrography

RNC:

Radionuclide cystogram

PTFE:

Polytetrafluoroethylene

STING:

Subureteric Teflon injection

HIT:

Hydrodistention implantation technique

DMSA:

99mTechnetium-dimercaptosuccinic acid

AUA:

American Urological Association

CAP:

Continuous antibiotic prophylaxis
References
1.

Bailey RR (1979) Vesicoureteral reflux in healthy infants and children. Reflux Nephropathy 59–61

2.

Sargent MA (2000) What is the normal prevalence of vesicoureteral reflux? Pediatr Radiol 30:587–593

3.

Skoog SJ, Peters CA, Arant BS Jr, Copp HL, Elder JS, Hudson RG, Khoury AE, Lorenzo AJ, Pohl HG, Shapiro E, Snodgrass WT, Diaz M (2010) Pediatric vesicoureteral reflux guideline panel summary report: clinical practice guidelines for screening siblings of children with vesicoureteral reflux and neonates/infants with prenatal hydronephrosis. J Urol 184(3):1145–1151

4.

Zerin JM, Ritchey ML, Chang AC (1993) Incidental vesicoureteral reflux in neonates with antenatally detected hydronephrosis and other renal abnormalities. Radiol 187:157–160

5.

Viana R, Batourina E, Huang H, Dressler GR, Kobayashi A, Behringer RR, Shapiro E, Hensle T, Lambert S, Mendelsohn C (2007) The development of the bladder trigone, the center of the anti-reflux mechanism. Development 134(20):3763–3769

6.

Mackie GG, Awang H, Stephens FD (1975) The ureteric orifice: the embryologic key to radiologic status of duplex kidneys. J Pediatr Surg 10:473–481

7.

Mackie GG, Stephens FD (1975) Duplex kidneys: a correlation of renal dysplasia with position of the ureteral orifice. J Urol 114:274–280

8.

Paquin AJ (1959) Ureterovesical anastomosis: the description and evaluation of a technique. J Urol 82:573–583

9.

Peters CA, Skoog SJ, Arant BS, Copp HL, Elder JS, Hudson RG, Khoury AE, Lorenzo AJ, Pohl HG, Shapiro E, Snodgrass WT, Diaz M (2010) Summary of the AUA guideline on management of primary vesicoureteral reflux in children. J Urol 184(3):1134–1144

10.

Duckett JW, Bellinger M (1982) A plea for standardized grading of vesicoureteral reflux. Eur Urol 8:74–77

11.

International Reflux Study Committee (1981) Medical versus surgical treatment of primary vesicoureteral reflux: report of the International Reflux Study Committee. Pediatrics 67:392–400

12.

Knudson MJ, Austin JC, McMillan ZM, Hawtrey CE, Cooper CS (2007) Predictive factors of early spontaneous resolution in children with primary vesicoureteral reflux. J Urol 178:1684–1688

13.

Skoog SJ, Belman AB, Majd M (1987) A nonsurgical approach to the management of primary vesicoureteral reflux. J Urol 138:941–946

14.

Austin JC, Cooper CS (2010) Vesicoureteral reflux: who benefits from correction. Urol Clin N Am 37:243–252

15.

Shaikh N, Ewing AL, Bhatnagar S, Hoberman A (2010) Risk of renal scarring in children with a first urinary tract infection: a systematic review. Pediatrics 126(6):1–8

16.

Elder JS, Peters CA, Arant BS, Ewalt DH, Hawtrey CE, Hurwitz RS, Parrott TS, Snyder HM, Weiss RA, Woolf SH, Hasselblad V (1997) Pediatric vesicoureteral reflux guidelines panel summary report on the management of primary vesicoureteral reflux in children. J Urol 157:1846–1851

17.

Children's Hospital Boston (2011) VUR Resolution Rate Calculator, www.childrenshospital.org/vurcalculator

18.

Jodal U, Smellie JM, Lax H, Hoyer PF (2006) Ten-year results of randomized treatment of children with severe vesicoureteral reflux. Final report of the International Reflux Study in Children. Pediatr Nephrol 21:785–792

19.

Olbing H, Smellie JM, Jodal U, Lax H (2003) New renal scars in children with severe VUR: a 10-year study of randomized treatment. Pediatr Nephrol 18:1128–1131

20.

Birmingham Reflux Study Group (1987) Prospective trial of operative versus non-operative treatment of severe vesicoureteric reflux in children: five years' observation. Birmingham Reflux Study Group. Br Med J 295:237–241

21.

Hutch JA (1952) Vesicoureteral reflux in the paraplegic: cause and correction. J Urol 68:457–469

22.

Lich R Jr (1961) Recurrent urosepsis in children. J Urol 86:554–558

23.

Gregoir W, Van Regemorter G (1964) Le reflux vesico-ureteral congenital. Urol Int 18:122–136

24.

Riedmiller H, Gerharz EW (2008) Antireflux surgery: Lich-Gregoir extravesical ureteric tunneling. BJUI 101:1467–1482

25.

Politano VA, Leadbetter WF (1958) An operative technique for the correction of vesicoureteral reflux. J Urol 79:932–941

26.

Steffens J, Stark E, Haben B, Treiyer A (2006) Politano-Leadbetter ureteric reimplantation. BJUI 98:695–712

27.

Glenn JF, Anderson EE (1967) Distal tunnel ureteral reimplantation. J Urol 97:623–626

28.

Glenn JF, Anderson EE (1978) Technical considerations in distant tunnel ureteral reimplantation. J Urol 119:194–198

29.

Cohen SJ (1975) Uretozystoneostomie: eine neue antireflux Technik. Aktuelle Urol 6:1

30.

Retik AB, Colodny AH, Bauer SB (1984) Genitourinary surgery: pediatric urology, vol 2. Churchill Livingston, NY, p 764

31.

Ehrlich RM, Gershman A, Fuchs G (1994) Laparoscopic vesicoureteroplasty in children: initial case reports. Urol 433:255–261

32.

Janetschek G, Radmayr C, Bartsch G (1995) Laparoscopic ureteral anti-reflux plasty reimplantation. First clinical experience. Ann Urol 29:101–105

33.

Hayn MH, Smaldone MC, Ost MC, Docimo SG (2008) Minimally invasive treatment of vesicoureteral reflux. Urol Clin N Am 35:477–488

34.

Läckgren G, Kirsch AJ (2010) Endoscopic treatment of vesicoureteral reflux. BJUI 9(105):1332–1447

35.

O'Donnell B, Puri P (1984) Treatment of vesicoureteric reflux by endoscopic injection of Teflon. Br Med J 289:7–9

36.

Puri P, Pirker M, Mohanan N, Dawrant M, Dass L, Colhoun E (2006) Subureteral dextranomer/hyaluronic acid injection as first line treatment in the management of high grade vesicoureteral reflux. J Urol 176:1856–1860

37.

Kirsch AJ, Perez-Brayfield M, Smith EA, Scherz HC (2004) The modified STING procedure to correct vesicoureteral reflux: improved results with submucosal implantation within the intramural ureter. J Urol 171:2413–2416

38.

McMann LP, Scherz HC, Kirsch AJ (2007) Long-term preservation of dextranomer/hyaluronic acid copolymer implants after endoscopic treatment of vesicoureteral reflux in children: a sonographic volumetric analysis. J Urol 166:316–320

39.

Routh JC, Reinberg Y, Ashley RA, Inman BA, Wolpert JJ, Vandersteen DR, Husmann DA, Kramer SA (2007) Multivariate comparison of the efficacy of intraureteral versus subtrigonal techniques of dextranomer/hyaluronic acid injection. J Urol 178:1702–1706

40.

Yucel S, Gupta A, Snodgrass W (2007) Multivariate analysis of factors predicting success with dextranomer/hyaluronic acid injection for vesicoureteral reflux. J Urol 177(4):1505–1509

41.

Gupta A, Snodgrass W (2008) Intra-orifice versus hydrodistention implantation technique in dextranomer/hyaluronic acid injection for vesicoureteral reflux. J Urol 180:1589–1593

42.

Lavelle MT, Conlin MJ, Skoog SJ (2004) Subureteral injection of deflux for correction of reflux: analysis of factors predicting success. J Urol 65:564–567

43.

Routh JC, Reinberg Y (2010) Predicting success in the endoscopic management of pediatric vesicoureteral reflux. Urol 76(1):195–198

44.

Elder JS, Diaz M, Caldamone AA, Cendron M, Greenfield S, Hurwitz R, Kirsch A, Koyle MA, Pope J, Shapiro E (2006) Endoscopic therapy for vesicoureteral reflux: a meta-analysis. I. Reflux resolution and urinary tract infection. J Urol 175:716–722

45.

Routh JC, Inman BA, Reinberg Y (2010) Dextranomer/Hyaluronic acid for pediatric vesicoureteral reflux: systematic review. Pediatrics 125(5):1010–1019

46.

Holmdahl G, Brandström P, Läckgren G, Sillén U, Stokland E, Jodal U, Hansson S (2010) The Swedish reflux trial in children: II. Vesicoureteral reflux outcome. J Urol 184:280–285

47.

Läckgren G, Wåhlin N, Sköldenberg E, Stenberg A (2001) Long-term followup of children treated with dextranomer/hyaluronic acid copolymer for vesicoureteral reflux. J Urol 166:1887–1892

48.

Oswald J, Riccabona M, Lusuardi L, Bartsch G, Radmayr C (2002) Prospective comparison and 1-year follow-up of a single endoscopic subureteral polydimethylsiloxane versus dextranomer/hyaluronic acid copolymer injection for treatment of vesicoureteral reflux in children. Urol 60(5):894–897

49.

Lee EK, Gatti JM, Demarco RT, Murphy JP (2009) Long-term followup of dextranomer/hyaluronic acid injection for vesicoureteral reflux: late failure warrants continued followup. J Urol 181:1869–1875

50.

Hsieh MH, Madden-Fuentes RJ, Lindsay NE, Roth DR (2010) Treatment of pediatric vesicoureteral reflux using endoscopic injection of hyaluronic acid/dextranomer gel: intermediate-term experience by a single surgeon. Urol 76(1):199–203

51.

Brandström P, Esbjörner E, Herthelius M, Swerkersson S, Jodal U, Hansson S (2010) The Swedish reflux trial in children: III. Urinary tract infection pattern. J Urol 184:286–291

52.

Weiss R, Duckett J, Spitzer A (1992) Results of a randomized clinical trial of medical versus surgical management of infants and children with grades III and IV primary vesicoureteral reflux (United States). J Urol 148:1667

53.

Brandström P, Nevéus T, Sixt R, Stokland E, Jodal U, Hansson S (2010) The Swedish reflux trial in children: IV. Renal damage. J Urol 184:292–297

54.

Chertin B, Natsheh A, Fridmans A, Shenfeld OZ, Farkas A (2009) Renal scarring and urinary tract infection after successful endoscopic correction of vesicoureteral reflux. J Urol 182:1703–1707

55.

Benoit RM, Peele PB, Docimo SG (2006) The cost-effectiveness of dextranomer/hyaluronic acid copolymer for the management of vesicoureteral reflux: 1: substitution for surgical management. J Urol 176:1588–1592

56.

Kobelt G, Canning DA, Hensle TW, Lackgren G (2003) The cost-effectiveness of endoscopic injection of dextranomer/hyaluronic acid copolymer for vesicoureteral reflux. J Urol 169:1480–1485

57.

Hensle TW, Grogg AL, Eaddy M (2007) Pediatric vesicoureteral reflux: treatment patterns and outcomes. Nat Clin Prac Urol 4(9):462–463

58.

Hsieh MH, Madden-Fuentes RJ, Bayne A, Munch E, Wildenfels P, Alexander SJ, Gonzales ET Jr, Cisek LJ, Jones EA, Roth DR (2010) Cross-sectional evaluation of parental decision making factors for vesicoureteral reflux management in children. J Urol 184:1589–1593

59.

Routh JC, Nelson CP, Graham DA, Lieu TA (2010) Variation in surgical management of vesicoureteral reflux: influence of hospital and patient factors. Pediatrics 125(3):446–451

60.

Kirsch AJ, Perez-Brayfield MR, Scherz HC (2003) Minimally invasive treatment of vesicoureteral reflux with endoscopic injection of dextranomer/hyaluronic acid copolymer: the Children's Hospitals of Atlanta experience. J Urol 170:211–215
Additional information
Answers
1. c
2. c
3. d
4. b
5. c
About this article
Cite this article
Sung, J., Skoog, S. Surgical management of vesicoureteral reflux in children. Pediatr Nephrol 27, 551–561 (2012). https://doi.org/10.1007/s00467-011-1933-7
Received:

Revised:

Accepted:

Published:

Issue Date:
Keywords
Vesicoureteral reflux

Endoscopy

Surgery

Laparoscopy

Uropathy