Abstract
Hyperkalemia is a potentially life-threatening condition in which serum potassium exceeds 5.5 mmol/l. It can be caused by reduced renal excretion, excessive intake or leakage of potassium from the intracellular space. In addition to acute and chronic renal failure, hypoaldosteronism, and massive tissue breakdown as in rhabdomyolysis, are typical conditions leading to hyperkalemia. Symptoms are non-specific and predominantly related to muscular or cardiac dysfunction. Treatment has to be initiated immediately using different therapeutic strategies to increase potassium shift into the intracellular space or to increase elimination, together with reduction of intake. Knowledge of the physiological mechanisms of potassium handling is essential in understanding the causes of hyperkalemia as well as its treatment. This article reviews the pathomechanisms leading to hyperkalemic states, its symptoms, and different treatment options.
This is a preview of subscription content, log in to check access.
Access options
Buy single article
Instant access to the full article PDF.
US$ 39.95
Price includes VAT for USA
Subscribe to journal
Immediate online access to all issues from 2019. Subscription will auto renew annually.
US$ 199
This is the net price. Taxes to be calculated in checkout.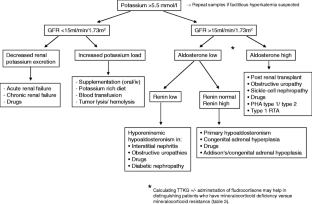 References
1.

Klevay LM, Bogden JD, Aladjem M, Sandstead HH, Kemp FW, Li W, Skurnick J, Aviv A (2007) Renal and gastrointestinal potassium excretion in humans: new insight based on new data and review and analysis of published studies. J Am Coll Nutr 26:103–110

2.

Kemper MJ (2009) Potassium and magnesium physiology. In: Ronco C, Bellomo R, Kellum JA (eds) Critical Care Nephrology, pp 478–482

3.

Smith SM (2010) Thiazide diuretics. N Engl J Med 362:659–660, author reply 660

4.

Liu Z, Wang HR, Huang CL (2009) Regulation of ROMK channel and K+ homeostasis by kidney-specific WNK1 kinase. J Biol Chem 284:12198–12206

5.

Huang C, Miller RT (2007) Regulation of renal ion transport by the calcium-sensing receptor: an update. Curr Opin Nephrol Hypertens 16:437–443

6.

Biner HL, Arpin-Bott MP, Loffing J, Wang X, Knepper M, Hebert SC, Kaissling B (2002) Human cortical distal nephron: distribution of electrolyte and water transport pathways. J Am Soc Nephrol 13:836–847

7.

Palmer LG, Frindt G (2000) Aldosterone and potassium secretion by the cortical collecting duct. Kidney Int 57:1324–1328

8.

Stanton BA, Biemesderfer D, Wade JB, Giebisch G (1981) Structural and functional study of the rat distal nephron: effects of potassium adaptation and depletion. Kidney Int 19:36–48

9.

Stetson DL, Wade JB, Giebisch G (1980) Morphologic alterations in the rat medullary collecting duct following potassium depletion. Kidney Int 17:45–56

10.

Sonnenberg H, Honrath U, Wilson DR (1987) Effect of vasopressin analogue (dDAVP) on potassium transport in medullary collecting duct. Am J Physiol 252:F986–F991

11.

Su M, Stork C, Ravuri S, Lavoie T, Anguish D, Nelson LS, Hoffman RS (2001) Sustained-release potassium chloride overdose. J Toxicol Clin Toxicol 39:641–648

12.

Margassery S, Bastani B (2001) Life-threatening hyperkalemia and acidosis secondary to trimethoprim-sulfamethoxazole treatment. J Nephrol 14:410–414

13.

Weir MR, Rolfe M (2010) Potassium homeostasis and Renin-Angiotensin-aldosterone system inhibitors. Clin J Am Soc Nephrol 5:531–548

14.

Sica DA, Gehr TW, Yancy C (2003) Hyperkalemia, congestive heart failure, and aldosterone receptor antagonism. Congest Heart Fail 9:224–229

15.

Schambelan M, Sebastian A, Biglieri EG (1980) Prevalence, pathogenesis, and functional significance of aldosterone deficiency in hyperkalemic patients with chronic renal insufficiency. Kidney Int 17:89–101

16.

Batlle DC, Arruda JA, Kurtzman NA (1981) Hyperkalemic distal renal tubular acidosis associated with obstructive uropathy. N Engl J Med 304:373–380

17.

Karet FE (2009) Mechanisms in hyperkalemic renal tubular acidosis. J Am Soc Nephrol 20:251–254

18.

Bogdanovic R, Stajic N, Putnik J, Paripovic A (2009) Transient type 1 pseudo-hypoaldosteronism: report on an eight-patient series and literature review. Pediatr Nephrol 24:2167–2175

19.

Wilson FH, Disse-Nicodeme S, Choate KA, Ishikawa K, Nelson-Williams C, Desitter I, Gunel M, Milford DV, Lipkin GW, Achard JM, Feely MP, Dussol B, Berland Y, Unwin RJ, Mayan H, Simon DB, Farfel Z, Jeunemaitre X, Lifton RP (2001) Human hypertension caused by mutations in WNK kinases. Science 293:1107–1112

20.

Klemm SA, Gordon RD, Tunny TJ, Thompson RE (1991) The syndrome of hypertension and hyperkalemia with normal GFR (Gordon's syndrome): is there increased proximal sodium reabsorption? Clin Invest Med 14:551–558

21.

Speiser PW, White PC (2003) Congenital adrenal hyperplasia. N Engl J Med 349:776–788

22.

Poggio R, Grancelli HO, Miriuka SG (2010) Understanding the risk of hyperkalaemia in heart failure: role of aldosterone antagonism. Postgrad Med J 86:136–142

23.

Rodriguez-Soriano J, Vallo A, Ariceta G, Martul P, de la Rica I (1996) Renal tubular handling of potassium in children with insulin-dependent diabetes mellitus. Pediatr Nephrol 10:1–6

24.

Conte G, Dal Canton A, Imperatore P, De Nicola L, Gigliotti G, Pisanti N, Memoli B, Fuiano G, Esposito C, Andreucci VE (1990) Acute increase in plasma osmolality as a cause of hyperkalemia in patients with renal failure. Kidney Int 38:301–307

25.

Perazella MA (2000) Drug-induced hyperkalemia: old culprits and new offenders. Am J Med 109:307–314

26.

Martyn JA, Richtsfeld M (2006) Succinylcholine-induced hyperkalemia in acquired pathologic states: etiologic factors and molecular mechanisms. Anesthesiology 104:158–169

27.

Jurkat-Rott K, Holzherr B, Fauler M, Lehmann-Horn F (2010) Sodium channelopathies of skeletal muscle result from gain or loss of function. Pflugers Arch 460:239–248

28.

Martinez-Vea A, Bardaji A, Garcia C, Oliver JA (1999) Severe hyperkalemia with minimal electrocardiographic manifestations: a report of seven cases. J Electrocardiol 32:45–49

29.

Montague BT, Ouellette JR, Buller GK (2008) Retrospective review of the frequency of ECG changes in hyperkalemia. Clin J Am Soc Nephrol 3:324–330

30.

Owens H, Siparsky G, Bajaj L, Hampers LC (2005) Correction of factitious hyperkalemia in hemolyzed specimens. Am J Emerg Med 23:872–875

31.

Aslam S, Friedman EA, Ifudu O (2002) Electrocardiography is unreliable in detecting potentially lethal hyperkalaemia in haemodialysis patients. Nephrol Dial Transplant 17:1639–1642

32.

Kemper MJ, Harps E, Muller-Wiefel DE (1996) Hyperkalemia: therapeutic options in acute and chronic renal failure. Clin Nephrol 46:67–69

33.

Kemper MJ, Harps E, Hellwege HH, Muller-Wiefel DE (1996) Effective treatment of acute hyperkalaemia in childhood by short-term infusion of salbutamol. Eur J Pediatr 155:495–497

34.

Yaseen H, Khalaf M, Dana A, Yaseen N, Darwich M (2008) Salbutamol versus cation-exchange resin (kayexalate) for the treatment of nonoliguric hyperkalemia in preterm infants. Am J Perinatol 25:193–197

35.

Blumberg A, Weidmann P, Ferrari P (1992) Effect of prolonged bicarbonate administration on plasma potassium in terminal renal failure. Kidney Int 41:369–374

36.

Bragg-Gresham JL, Fissell RB, Mason NA, Bailie GR, Gillespie BW, Wizemann V, Cruz JM, Akiba T, Kurokawa K, Ramirez S, Young EW (2007) Diuretic use, residual renal function, and mortality among hemodialysis patients in the Dialysis Outcomes and Practice Pattern Study (DOPPS). Am J Kidney Dis 49:426–431

37.

Bennett LN, Myers TF, Lambert GH (1996) Cecal perforation associated with sodium polystyrene sulfonate-sorbitol enemas in a 650-gram infant with hyperkalemia. Am J Perinatol 13:167–170

38.

Ricci Z, Bellomo R, Ronco C (2009) Renal replacement techniques: descriptions, mechanisms, choices and controversies. In: Ronco C, Bellomo R, Kellum JA (eds) Critical Care Nephrology. Elsevier, Saunders, pp 1136–1141

39.

Choi MJ, Ziyadeh FN (2008) The utility of the transtubular potassium gradient in the evaluation of hyperkalemia. J Am Soc Nephrol 19:424–426

40.

Webb NJ, Postlethwaite RJ (2003) Clinical Paediatric Nephrology, 3rd edn. Oxford University Press, p 55
Additional information
Answers
1. e
2. a
3. (a) true (b) false (c) true (d) false (e) true
4. (a) false (b) true (c) false (d) true (e) true
5. d
6. b
Multiple-choice questions
Multiple-choice questions
(Answers appear following the reference list)
1)

Which is the most important site of K+ secretion in the kidney?

a)

proximal tubule

b)

thin descending limb of loop of Henle

c)

thick ascending limb of loop of Henle

d)

distal tubule convolute

e)

cortical collecting duct
2)

Which drug does not cause hyperkalemia?

a)

furosemide

b)

amiloride

c)

digoxin

d)

labetalol

e)

trimetoprim
3)

Which of the following clinical conditions typically causes hyperkalemia (answer true or false for (a) through (e))

a)

acute renal failure

b)

acute myocardial infarction

c)

rhabdomyolysis

d)

hyperaldosteronism

e)

Gordon's syndrome
4)

In managing a patient with severe hyperkalemia: (answer true or false for (a) through (e))

a)

first aspect of management is to establish the underlying diagnosis

b)

ECG may show QRS widening

c)

the patient is invariably vomiting

d)

in the short term, calcium gluconate may reduce risk of arrhythmias

e)

ventricular fibrillation and death may occur
5)

The mode of action of salbutamol and glucose/insulin is mediated by

a)

an increase of renal elimination of potassium

b)

a reduction of intestinal potassium intake

c)

stabilization of membrane potential

d)

an increase of potassium shift from extracellular into intracellular compartment

e)

hypoglycemia
6)

In anuric patients, treatment of hyperkalemia

a)

should include diuretics

b)

by increasing elimination of potassium via the gut (e.g., by enemas) may be an important option

c)

is an infrequent problem

d)

is always associated with cardiac symptoms

e)

by shifting potassium into the intracellular department is ineffective
About this article
Cite this article
Lehnhardt, A., Kemper, M.J. Pathogenesis, diagnosis and management of hyperkalemia. Pediatr Nephrol 26, 377–384 (2011). https://doi.org/10.1007/s00467-010-1699-3
Received:

Revised:

Accepted:

Published:

Issue Date:
Keywords
Hyperkalemia

Potassium

Renal failure

Salbutamol