Abstract
Idiopathic renal hypouricemia (IRHU) is a rare hereditary disease, predisposing the individual to exercise-induced acute renal failure (EIARF) and nephrolithiasis, and it is characterized by increased clearance of renal uric acid. Most of the described patients are Japanese, who have loss-of-function mutations in the SLC22A12 gene coding for the human urate transporter 1 (URAT1) gene. An 18-year-old youth, who was admitted for EIARF due to IRHU, and six consanguineous Israeli–Arab family members were included in the study. The family members were tested for fractional excretion of uric acid and molecular analysis of the URAT1 gene. Four family members, including the proband, had very low levels of blood uric acid and high rate of fractional excretion (FE urate> 100%) of uric acid. Genetic analysis of the affected family members did not reveal a mutation in the coding regions and intron–exon boundaries of SCL22A12. Haplotype analysis excluded SCL22A12 involvement in the pathogenesis, suggesting a different gene as a cause of the disease. We herein describe the first Israeli–Arab family with IRHU. A non-URAT1 genetic defect that causes decreased reabsorption or, more probably, increased secretion of uric acid, induces IRHU. Further studies are required in order to elucidate the genetic defect.
Access options
Buy single article
Instant access to the full article PDF.
US$ 39.95
Tax calculation will be finalised during checkout.
Subscribe to journal
Immediate online access to all issues from 2019. Subscription will auto renew annually.
US$ 119
Tax calculation will be finalised during checkout.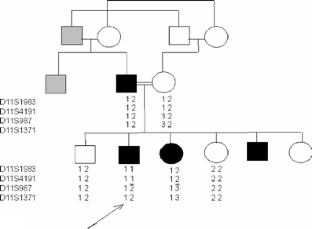 References
1.

Komoda F, Sekine T, Inatomi J, Enomoto A, Endou H, Ota T, Matsuyama T, Ogata T, Ikeda M, Awazu M, Muroya K, Kamimaki I, Igarashi T (2004) The W258X mutation in SLC22A12 is the predominant cause of Japanese renal hypouricemia. Pediatr Nephrol 19:728–733

2.

Anzai N, Kanai Y, Endou H (2007) New insights into renal transport of urate. Curr Opin Rheumatol 19:151–157

3.

Nakamura A, Niimi R, Yanagawa Y (2006) Renal hypouricemia in school-aged children: screening of serum uric acid level before physical training. Pediatr Nephrol 21:1898–1900

4.

Takahashi T, Tsuchida S, Oyamada T, Ohno T, Miyashita M, Saito S, Komatsu K, Takashina K, Takada G (2005) Recurrent URAT1 gene mutations and prevalence of renal hypouricemia in Japanese. Pediatr Nephrol 20:576–578

5.

Tanaka M, Itoh K, Matsushita K, Matsushita K, Wakita N, Adachi M, Nonoguchi H, Kitamura K, Hosoyamada M, Endou H, Tomita K (2003) Two male siblings with hereditary renal hypouricemia and exercise-induced ARF. Am J Kidney Dis 42:1287–1292

6.

Ohta T, Sakano T, Ogawa T, Kato J, Awaya Y, Kihara H, Kinoshita Y (2002) Exercise-induced acute renal failure with renal hypouricemia: a case report and a review of the literature. Clin Nephrol 58:313–316

7.

Ishikawa I (2002) Acute renal failure with severe loin pain and patchy renal ischemia after anaerobic exercise in patients with or without renal hypouricemia. Nephron 91:559–570

8.

Cheong HI, Kang JH, Lee JH, Ha IS, Kim S, Komoda F, Sekine T, Igarashi T, Choi Y (2005) Mutational analysis of idiopathic renal hypouricemia in Korea. Pediatr Nephrol 20:886–890

9.

Wakida N, Tuyen DG, Adachi M, Miyoshi T, Nonoguchi H, Oka T, Ueda O, Tazawa M, Kurihara S, Yoneta Y, Shimada H, Oda T, Kikuchi Y, Matsuo H, Hosoyamada M, Endou H, Otagiri M, Tomita K, Kitamura K (2005) Mutations in human urate transporter 1 gene in presecretory reabsorption defect type of familial renal hypouricemia. J Clin Endocrinol Metab 90:2169–2174

10.

Ohta T, Sakano T, Igarashi T, Itami N, Ogawa T, ARF Associated with Renal Hypouricemia Research Group (2004) Exercise-induced acute renal failure associated with renal hypouricaemia: results of a questionnaire-based survey in Japan. Nephrol Dial Transplant 19:1447–1453

11.

Ames BN, Cathcart R, Schwiers E, Hochstein P (1981) Uric acid provides an antioxidant defense in humans against oxidant and radical caused aging and cancer: a hypothesis. Proc Natl Acad Sci U S A 78:6858–6862

12.

Sperling O (2006) Hereditary renal hypouricemia. Mol Genet Metab 89:14–18

13.

Dinour D, Gafter U, Knecht A, Rachamimov R, Serban I, Holtzman EJ (2004) Novel missense mutations in the Urat1 gene are associated with renal hypouricemia in Iraqui-Jews. J Am Soc Nephrol 15:427A

14.

Enomoto A, Kimura H, Chairoungdua A, Shigeta Y, Jutabha P, Cha SH, Hosoyamada M, Takeda M, Sekine T, Igarashi T, Matsuo H, Kikuchi Y, Oda T, Ichida K, Hosoya T, Shimokata K, Niwa T, Kanai Y, Endou H (2002) Molecular identification of a renal urate anion exchanger that regulates blood urate levels. Nature 417:447–452

15.

Vitart V, Rudan I, Hayward C, Gray NK, Floyd J, Palmer CN, Knott SA, Kolcic I, Polasek O, Graessler J, Wilson JF, Marinaki A, Riches PL, Shu X, Janicijevic B, Smolej-Narancic N, Gorgoni B, Morgan J, Campbell S, Biloglav Z, Barac-Lauc L, Pericic M, Klaric IM, Zgaga L, Skaric-Juric T, Wild SH, Richardson WA, Hohenstein P, Kimber CH, Tenesa A, Donnelly LA, Fairbanks LD, Aringer M, McKeigue PM, Ralston SH, Morris AD, Rudan P, Hastie ND, Campbell H, Wright AF (2008) SLC2A9 is a newly identified urate transporter influencing serum urate concentration, urate excretion and gout. Nat Genet 40:437–442
Acknowledgments
The authors declare that they had no support and have no financial disclosure.
Additional information
Hilla Bahat and Dganit Dinour contributed equally to the work.
About this article
Cite this article
Bahat, H., Dinour, D., Ganon, L. et al. Non-urate transporter 1-related renal hypouricemia and acute renal failure in an Israeli–Arab family. Pediatr Nephrol 24, 999–1003 (2009). https://doi.org/10.1007/s00467-008-1093-6
Received:

Revised:

Accepted:

Published:

Issue Date:
Keywords
Idiopathic renal hypouricemia

Exercise-induced acute renal failure

Gene analysis

SLC22A12

Human urate transporter 1