Abstract
The aim of this trial was to compare the safety and efficacy of homotoxicological remedies versus placebo and versus desmopressin (dDAVP) in the treatment of monosymptomatic nocturnal enuresis (MNE). We conducted a randomised, double-blind, double-dummy, controlled trial in which 151 children with MNE were randomly assigned to receive oral homotoxicological remedies (n = 50), dDAVP (n = 50) or placebo (n = 51). The primary outcomes were: the reduction of wet nights per week after 3 months of therapy; the evaluation of the numbers and percentages of non-responders and responders; the number of children relapsing after initial response and the number of children attaining 14 consecutive dry nights during the treatment. The secondary outcome was the detection of adverse effects. Baseline clinical characteristics were similar in the three groups of patients. After the 3 months of therapy there was a significant difference between the three groups (P < 0.001) in the mean number of wet nights per week. The daily dose of dDAVP produced a statistically significant decrease (62.9%) in wet nights compared to placebo (2.4%) (P < 0.001) and compared to homotoxicological remedies (30.0%) (P < 0.001). There was a significant decrease in wet nights among the group treated with homotoxicological medications if compared with placebo (P < 0.001). The full response achieved with homotoxicological remedies (20%) was superior if compared with placebo (0%) (P < 0.001). Homotoxicology was superior to placebo (P < 0.001) with regard to the number of children attaining 14 consecutive dry nights during treatment. Our study demonstrates that homotoxicology is safe and effective when compared with placebo, even if it is significantly less effective than dDAVP in this clinical condition.
Access options
Buy single article
Instant access to the full article PDF.
USD 39.95
Price excludes VAT (USA)
Tax calculation will be finalised during checkout.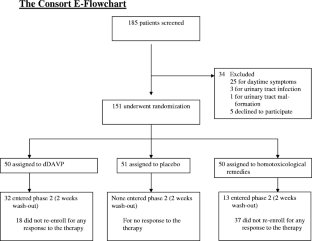 References
American Psychiatric Association (1995). Diagnostic and statistical manual of mental disorders; DSM IV, 4th edn, Washington DC, American Psychiatry Press

Neveus T, von Gontard A, Hoebeke P, Hjalmas K, Bauer S, Bower W, Jorgensen TM, Ritting S, Vande Walle J, Yeung CK, Djurhuus JC (2006) The standardization of terminology of lower urinary tract function in children and adolescence: report from the Standardisation Committee of ICCS. J Urol 176 (1):314–324

Neveus T, Lackgren G, Tuvemo T, Hetta J, Hjalmas K, Stenberg A (2000) Enuresis—background and treatment. Scand J Urol Nephrol 202 (S206):1–44

Glazener CMA, Evans JHC (2005) Desmopressin for nocturnal enuresis in children (Cochrane Review). The Cochrane Library, issue 2:CD002112

Schober JM, Lipman R, Haltigan JD, Kuhn PJ (2004). The impact of monosymptomatic nocturnal enuresis on attachment parameters. Scand J Urol Nephrol 38:47–52

Butler RJ, Golding J, Northstone K, Alspac study team (2005) Nocturnal enuresis at 7.5 years old: prevalence and analysis of clinical signs. BJU Int 96:404–410

Chiozza ML, Bernardinelli L, Caione P, Del Gado R, Ferrara P, Giorgi PL, Montomoli C, Rottoli A, Vertucci P (1998) An Italian epidemiological multicentre study of nocturnal enuresis. Br J Urol 81(Suppl 3):86–89

Hjalmas K, Arnold T, Bower T, Caione P, Chiozza ML, von Gontard A, Han SW, Husman DA, Kawauchi A, Lackgren G, Lottman H, Mark S, Ritting S, Robson L, Vande Walle J, Yeung CK (2004) Nocturnal enuresis: an international evidence based management strategy. J Urol 171:2545–2461

Yeung CK (2003) Nocturnal enuresis (bedwetting). Curr Opin Urol 13:337–343

White A, Slade P, Hunt C, Hart A, Ernst E (2003) Individualised homeopathy as an adjunct in the treatment of childhood asthma: a randomized placebo controlled trial. Thorax 58:317–321

Jacobs J, Sprinter DA, Crothers D (2001) Homeopathic treatment of acute otitis media in children: a preliminary randomized placebo-controlled trial. Pediatr Infect Dis 20(2):177–183

Linde K, Clausius N, Ramirez G, Melchart D, Etel F, Hedges LV, Jonas WB (1997) Are the clinical effects of homeopathy placebo effects? A meta-analysis of placebo-controlled trials. Lancet 350:834–843

Jacobs J, Jonas WB, Jiménez-Pérez M, Crothers D (2003) Homeopathy for childhood diarrhea: combined results and metaanalysis from three randomized, controlled clinical trials. Pediatr Infect Dis J 22:229–234

Ernst E, Schmidt K (2004) Homotoxicology—a review of randomised clinical trials. Eur J Clin Pharmacol 60:299–306

Glazener CM, Evans JHC, Cheuk DKL (2005) Complementary and miscellaneous interventions for nocturnal enuresis in children. Cochrane Database Syst Rev 18(2):CD005230

Eisenberg DM, Davis RB, Ettner S, Appel S, Wilkey S, Van Rompay M, Kessler RC (1998) Trends in alternative medicine use in United States 1990–1997: results of a follow-up national survey. JAMA 280:1569–1575

Jonas WB, Anderson RL, Crawford CC, Lyons JS (2001) A systematic review of the quality of homeopathic clinical trials. BMC Complement Altern Med 1:12

Cucherat M, Haugh MC, Gooch M, Boissel JP (2000) Evidence of clinical efficacy of homeopathy. Eur J Clin Pharmacol 56:27–33

Mc Carthy M (2005) Critics slam draft WHO report on homeopathy. Lancet 366:705–706
About this article
Cite this article
Ferrara, P., Marrone, G., Emmanuele, V. et al. Homotoxicological remedies versus desmopressin versus placebo in the treatment of enuresis: a randomised, double-blind, controlled trial. Pediatr Nephrol 23, 269–274 (2008). https://doi.org/10.1007/s00467-007-0440-3
Received:

Revised:

Accepted:

Published:

Issue Date:

DOI: https://doi.org/10.1007/s00467-007-0440-3
Keywords