Abstract
The renal manifestations of tuberous sclerosis complex (TSC) are remarkably diverse, including polycystic kidney disease, oncocytomas, renal cell carcinomas, and both benign and malignant angiomyolipomas. All of these occur in children as well as adults with TSC. Benign angiomyolipomas, which can cause spontaneous life-threatening hemorrhage, are by far the most prevalent and the greatest source of morbidity. What is particularly unusual about TSC, setting it apart from virtually all other inherited forms of renal disease, is the abnormalities of both mesenchymal cells (angiomyolipomas) and epithelial cells (cysts, oncocytomas, and carcinomas). Recently, the TSC1/TSC2 protein complex was shown to inhibit the kinase mTOR (mammalian target of rapamycin). This places TSC1/TSC2 at center stage in signaling pathways that regulate cell growth. Furthermore, recent advances in TSC1/TSC2 signaling open the door for targeted therapy for TSC patients. Here, we will address the genetic, cellular and biochemical mechanisms that may contribute to the unusually broad spectrum of renal disease in cells with TSC1 or TSC2 mutations, and consider how the TSC signaling pathways may be linked to other renal diseases such as polycystic kidney disease and renal cell carcinoma.
Access options
Buy single article
Instant access to the full article PDF.
US$ 39.95
Tax calculation will be finalised during checkout.
Subscribe to journal
Immediate online access to all issues from 2019. Subscription will auto renew annually.
US$ 119
Tax calculation will be finalised during checkout.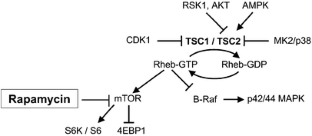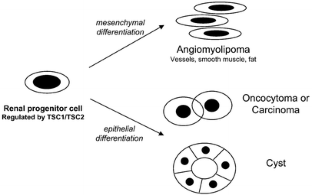 References
1.

Shepherd CW, Gomez MR, Lie JT, Crowson CS (1991) Causes of death in patients with tuberous sclerosis. Mayo Clin Proc 66:792–796

2.

O'Callaghan FJK, Shiell AW, Osborne JP, Martyn CN (1998) Prevalence of tuberous sclerosis estimated by capture-recapture analysis. Lancet 351:1490

3.

Jones AC, Shyamsundar MM, Thomas MW, Maynard J, Idziaszczyk S, Tomkins S, Sampson JR, Cheadle JP (1999) Comprehensive mutation analysis of TSC1 and TSC2-and phenotypic correlations in 150 families with tuberous sclerosis. Am J Hum Genet 64:1305–1315

4.

van Slegtenhorst M, de Hoogt R, Hermans C, Nellist M, Janssen B, Verhoef S, Lindhout D, van den Ouweland A, Halley D, Young J, Burley M, Jeremiah S, Woodward K, Nahmias J, Fox M, Ekong R, Osborne J, Wolfe J, Povey S, Snell R, Cheadle J, Jones A, Tachataki M, Ravine D, Sampson J, Reeve M, Richardson P, Wilmer R, Munro C, Hawkins T, Sepp T, Ali J, Ward S, Green A, Yates J, Kwiatkowska J, Henske E, Short M, Haines J, Jozwiak S, Kwiatkowski D (1997) Identification of the tuberous sclerosis gene TSC1 on chromosome 9q34. Science 277:805–808

5.

European Chromosome 16 Tuberous Sclerosis Consortium (1993) Identification and characterization of the tuberous sclerosis gene on chromosome 16. Cell 75:1305–1315

6.

Dabora SL, Jozwiak S, Franz DN, Roberts PS, Nieto A, Chung J, Choy YS, Reeve MP, Thiele E, Egelhoff JC, Kasprzyk-Obara J, Domanska-Pakiela D, Kwiatkowski DJ (2001) Mutational analysis in a cohort of 224 tuberous sclerosis patients indicates increased severity of TSC2, compared with TSC1, disease in multiple organs. Am J Hum Genet 68:64–80

7.

Bjornsson J, Short MP, Kwiatkowski DJ, Henske EP (1996) Tuberous sclerosis-associated renal cell carcinoma. Clinical, pathological, and genetic features. Am J Pathol 149:1201–1208

8.

Carbonara C, Longa L, Grosso E, Borrone C, Garre M, Brisigotti M, Migone N (1994) 9q34 loss of heterozygosity in a tuberous sclerosis astrocytoma suggests a growth suppressor-like activity also for the TSC1 gene. Hum Mol Genet 3:1829–1832

9.

Green A, Johnson P, Yates J (1994) The tuberous sclerosis gene on chromosome 9q34 acts as a growth suppressor. Hum Mol Genet 3:1833–1834

10.

Green AJ, Smith M, Yates JR (1994) Loss of heterozygosity on chromosome 16p13.3 in hamartomas from tuberous sclerosis patients. Nat Genet 6:193–196

11.

Henske EP, Scheithauer BW, Short MP, Wollmann R, Nahmias J, Hornigold N, van Slegtenhorst M, Welsh CT, Kwiatkowski DJ (1996) Allelic loss is frequent in tuberous sclerosis kidney lesions but rare in brain lesions. Am J Hum Genet 59:400–406

12.

Ewalt DH, Sheffield E, Sparagana SP, Delgado MR, Roach ES (1998) Renal lesion growth in children with tuberous sclerosis complex. J Urol 160:141–145

13.

Brook-Carter PT, Peral B, Ward CJ, Thompson P, Hughes J, Maheshwar MM, Nellist M, Gamble V, Harris PC, Sampson JR (1994) Deletion of the TSC2 and PKD1 genes associated with severe infantile polycystic kidney disease—a contiguous gene syndrome. Nat Genet 8:328–332

14.

Cai S, Everitt JI, Kugo H, Cook J, Kleymenova E, Walker CL (2003) Polycystic kidney disease as a result of loss of the tuberous sclerosis 2 tumor suppressor gene during development. Am J Pathol 162:457–468

15.

Brasier JL, Henske EP (1997) Loss of the polycystic kidney disease (PKD1) region of chromosome 16p13 in renal cyst cells supports a loss-of-function model for cyst pathogenesis. J Clin Invest 99:194–199

16.

Kleymenova E, Ibraghimov-Beskrovnaya O, Kugoh H, Everitt J, Xu H, Kiguchi K, Landes G, Harris P, Walker C (2001) Tuberin-dependent membrane localization of polycystin-1: a functional link between polycystic kidney disease and the TSC2 tumor suppressor gene. Mol Cell 7:823–832

17.

Al-Saleem T, Wessner LL, Scheithauer BW, Patterson K, Roach ES, Dreyer SJ, Fujikawa K, Bjornsson J, Bernstein J, Henske EP (1998) Malignant tumors of the kidney, brain, and soft tissues in children and young adults with the tuberous sclerosis complex. Cancer 83:2208–2216

18.

Washecka R, Hanna M (1991) Malignant renal tumors in tuberous sclerosis. Urology 37:340–343

19.

Robertson FM, Cendron M, Klauber GT, Harris BH (1996) Renal cell carcinoma in association with tuberous sclerosis in children. J Pediatr Surg 31:729–730

20.

Breysem L, Nijs E, Proesmans W, Smet MH (2002) Tuberous sclerosis with cystic renal disease and multifocal renal cell carcinoma in a baby girl. Pediatr Radiol 32:677–680

21.

Tello R, Blickman JG, Buonomo C, Herrin J (1998) Meta analysis of the relationship between tuberous sclerosis complex and renal cell carcinoma. Eur J Radiol 27:131–138

22.

Bissler JJ, Kingswood JC (2004) Renal angiomyolipomata. Kidney Int 66:924–934

23.

Martignoni G, Pea M, Bonetti F, Zamboni G, Carbonara C, Longa L, Zancanaro C, Maran M, Brisigotti M, Mariuzzi GM (1998) Carcinomalike monotypic epithelioid angiomyolipoma in patients without evidence of tuberous sclerosis: a clinicopathologic and genetic study. Am J Surg Pathol 22:663–672

24.

Al-Saleem T, Kizilbash N, Bjornsson J, Patchefsky A, Eisenberg B, Hanks G, Greenberg R, Henske EP (2001) Renal angiomyolipoma mimicking malignancy. A challenging problem in uro-oncology. Urol Oncol 1:277–283

25.

Pea M, Bonetti F, Martignoni G, Henske EP, Manfrin E, Colato C, Bernstein J (1998) Apparent renal cell carcinomas in tuberous sclerosis are heterogeneous: the identification of malignant epithelioid angiomyolipoma. Am J Surg Pathol 22:180–187

26.

Martignoni G, Pea M, Rigaud G, Manfrin E, Colato C, Zamboni G, Scarpa A, Tardanico R, Roncalli M, Bonetti F (2000) Renal angiomyolipoma with epithelioid sarcomatous transformation and metastases: demonstration of the same genetic defects in the primary and metastatic lesions. Am J Surg Pathol 24:889–894

27.

Plank TL, Yeung RS, Henske EP (1998) Hamartin, the product of the tuberous sclerosis 1 (TSC1) gene, interacts with tuberin and appears to be localized to cytoplasmic vesicles. Cancer Res 58:4766–4770

28.

van Slegtenhorst M, Nellist M, Nagelkerken B, Cheadle J, Snell R, van den Ouweland A, Reuser A, Sampson J, Halley D, van der Sluijs P (1998) Interaction between hamartin and tuberin, the TSC1 and TSC2 gene products. Hum Mol Genet 7:1053–1057

29.

Fingar DC, Blenis J (2004) Target of rapamycin (TOR): an integrator of nutrient and growth factor signals and coordinator of cell growth and cell cycle progression. Oncogene 23:3151–3171

30.

Karbowniczek M, Yu J, Henske EP (2003) Renal angiomyolipomas from patients with sporadic lymphangiomyomatosis contain both neoplastic and non-neoplastic vascular structures. Am J Pathol 162:491–500

31.

El-Hashemite N, Zhang H, Henske EP, Kwiatkowski DJ (2003) Mutation in TSC2 and activation of mammalian target of rapamycin signalling pathway in renal angiomyolipoma. Lancet 361:1348–1349

32.

Yu J, Astrinidis A, Howard S, Henske EP (2003) Estradiol and tamoxifen stimulate lymphangiomyomatosis-associated angiomyolipoma cell growth and activate both genomic and non-genomic signaling pathways. Am J Physiol Lung Cell Mol Physiol

33.

Im E, von Lintig FC, Chen J, Zhuang S, Qui W, Chowdhury S, Worley PF, Boss GR, Pilz RB (2002) Rheb is in a high activation state and inhibits B-Raf kinase in mammalian cells. Oncogene 21:6356–6365

34.

Karbowniczek M, Cash T, Cheung M, Robertson GP, Astrinidis A, Henske EP (2004) Regulation of B-Raf kinase activity by tuberin and Rheb is mTOR independent. J Biol Chem

35.

Astrinidis A, Senapedis W, Coleman TR, Henske EP (2003) Cell cycle-regulated phosphorylation of hamartin, the product of the tuberous sclerosis complex 1 gene, by cyclin-dependent kinase 1/cyclin B. J Biol Chem 278:51372–51379

36.

Inoki K, Zhu T, Guan KL (2003) TSC2 mediates cellular energy response to control cell growth and survival. Cell 115:577–590

37.

Niida Y, Stemmer-Rachamimov AO, Logrip M, Tapon D, Perez R, Kwiatkowski DJ, Sims K, MacCollin M, Louis DN, Ramesh V (2001) Survey of somatic mutations in tuberous sclerosis complex (TSC) hamartomas suggests different genetic mechanisms for pathogenesis of TSC lesions. Am J Hum Genet 69:493–503

38.

Lamb RF, Roy C, Diefenbach TJ, Vinters HV, Johnson MW, Jay DG, Hall A (2000) The TSC1 tumour suppressor hamartin regulates cell adhesion through ERM proteins and the GTPase Rho. Nat Cell Biol 2:281–287

39.

Astrinidis A, Cash TP, Hunter DS, Walker CL, Chernoff J, Henske EP (2002) Tuberin, the tuberous sclerosis complex 2 tumor suppressor gene product, regulates Rho activation, cell adhesion, and migration. Oncogene 21:8470–8476

40.

Brugarolas JB, Vazquez F, Reddy A, Sellers WR, Kaelin WG Jr (2003) TSC2 regulates VEGF through mTOR-dependent and -independent pathways. Cancer Cell 4:147–158

41.

Liu MY, Poellinger L, Walker CL (2003) Up-regulation of hypoxia-inducible factor 2alpha in renal cell carcinoma associated with loss of Tsc-2 tumor suppressor gene. Cancer Res 63:2675–2680

42.

Linehan WM, Walther MM, Zbar B (2003) The genetic basis of cancer of the kidney. J Urol 170:2163–2172

43.

Duffy K, Al-Saleem T, Karbowniczek M, Ewalt D, Prowse AH, Henske EP (2002) Mutational analysis of the von Hippel-Lindau gene in clear cell renal carcinomas from tuberous sclerosis complex patients. Mod Pathol 15:205–210
Acknowledgements
Supported by grants from the NIH (DK 51052) and the Tuberous Sclerosis Association (Gaithersburg, MD, USA). I am grateful to Victoria Robb for her review of the manuscript.
About this article
Cite this article
Henske, E.P. Tuberous sclerosis and the kidney: from mesenchyme to epithelium, and beyond. Pediatr Nephrol 20, 854–857 (2005). https://doi.org/10.1007/s00467-004-1795-3
Received:

Accepted:

Published:

Issue Date:
Keywords
Angiomyolipoma,

Hamartin

Polycystic kidney disease

Renal cell carcinoma

Tuberin

Tuberous sclerosis