Abstract
To compare the difference between primary proximal renal tubular acidosis (PRTA) and Fanconi syndrome (FS), and to find out possible risk factors for growth retardation, we studied the long-term growth, clinical, laboratory, and radiological findings associated with the treatment of six children with primary FS and 15 children with PRTA. The ages of the children with FS were much older than those with PRTA at initial diagnosis (7.03±3.82 vs. 1.63±1.56 years). The height standard deviation score (SDS) at the start of treatment was significantly lower in FS than in PRTA. Catch-up growth was noted in PRTA at the end of follow-up (initial height SDS −2.13±1.10 vs. last height SDS −1.33±1.43, P=0.023 by paired t-test), whereas apparent linear growth impairment was found in FS in terms of overall growth velocity index (82.70±8.37%) and height SDS (initial −3.25±0.95 vs. last −3.15±0.31, P=0.791). There was also a higher rate of rickets occurrence in FS (3/6 vs. 0/15 in PRTA). Hypophosphatemia during the follow-up period was more frequent for FS than PRTA (69.2±26.1% vs. 7.0±25.8%, P<0.001), whereas metabolic acidosis (blood HCO3<20 mmol/l) was less efficiently corrected in PRTA (49.1±20.5% vs. 25.2±21.6% in FS, P=0.028). Moreover, the height ΔSDS correlated well with the mean serum P level during the treatment period in these patients (R=0.528, P=0.014 for all children; R=0.917, P=0.01 for FS patients). Our data suggest that metabolic acidosis may not be the sole factor causing growth impairment in FS. Correction of metabolic acidosis may indeed improve growth in PRTA but not in FS. This study indicates that factors other than metabolic acidosis, such as phosphate depletion and delayed diagnosis/treatment, should be considered to be important causes of growth retardation in FS.
Access options
Buy single article
Instant access to the full article PDF.
US$ 39.95
Tax calculation will be finalised during checkout.
Subscribe to journal
Immediate online access to all issues from 2019. Subscription will auto renew annually.
US$ 119
Tax calculation will be finalised during checkout.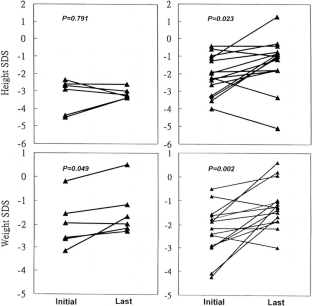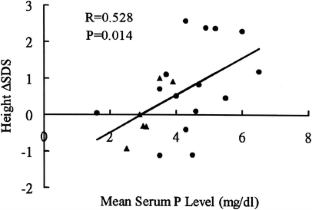 References
1.

Nash MA, Torrado AD, Greifer I, Spitzer A, Edelmann CM Jr (1972) Renal tubular acidosis in infants and children: clinical course, response to treatment, and prognosis. J Pediatr 80:738–748

2.

McSherry E, Morris RC Jr (1978) Attainment and maintenance of normal stature with alkali therapy in infants and children with classic renal tubular acidosis. J Clin Invest 61:509–527

3.

Caldas A, Broyer M, Dechaux M, Kleinknecht C (1992) Primary distal tubular acidosis in childhood: clinical study and long-term follow-up of 28 patients. J Pediatr 121:233–241

4.

Portale AA, Booth BE, Morris RC Jr (1987) Renal tubular acidosis. In: Holliday MA, Barrett TM, Vemier RL (eds) Pediatric nephrology, 2nd edn. Williams & Wilkins, Baltimore, MD, pp 606–622

5.

Bloomer HA, Canary JJ, Kyle LH, Auld RM (1962) The Fanconi syndrome with renal hyperchloremic acidosis. Am J Med 33:141–149

6.

Morgan HG, Stewart WK, Lowe KG, Stowers JM, Johnstone JH (1962) Wilson's disease and the Fanconi syndrome. Q J Med 31:361–384

7.

Chisholm JJ Jr, Harrison HC, Eberlein WR, Harrison HE (1955) Aminoaciduria, hypophosphatemia and rickets in lead poisoning: study of a case. Am J Dis Child 89:159–168

8.

Russo JC, Adelman RD (1980) Gentamicin-induced Fanconi syndrome. J Pediatr 96:151–153

9.

Hunt DD, Stearns G, McKinley JB, Froning E, Hicks P, Bonfiglio M (1966) Long-term study of family with Fanconi syndrome without cystinosis (de Toni-Debré-Fanconi syndrome). Am J Med 40:492–510

10.

Tolaymat A, Sakarcan A, Neiberger R (1992) Idiopathic Fanconi syndrome in a family. I. Clinical aspects. J Am Soc Nephrol 2:1310–1317

11.

Haffner D, Weinfurth A, Seidel C, Manz F, Schmidt H, Waldherr R, Bremer HJ, Mehls O, Schärer K (1997) Body growth in primary de Toni-Debré-Fanconi syndrome. Pediatr Nephrol 11:40–45

12.

Edelmann CM Jr, Rodriguez-Soriano J, Boichis H, Gruskin AB, Acosta MI (1967) Renal bicarbonate reabsorption and hydrogen ion excretion in normal infants. J Clin Invest 46:1309–1317

13.

Brodehl J, Gellisson K, Weber HP (1982) Postnatal development of tubular phosphate reabsorption. Clin Nephrol 17:163–171

14.

Barrett TM, Broyer M, Chantler C, Gilli G, Guest G, Marti-henneberg C, Preece MA, Rigden SPA (1986) Assessment of growth. Am J Kidney Dis 7:340–346

15.

Santos F, Chan JCM (1986) Renal tubular acidosis in children. Am J Nephrol 6: 289–295

16.

Greco M, Sesto A, Rizzoni G (1998) Body growth in primary de Toni-Debré-Fanconi syndrome. Pediatr Nephrol 12:83–85

17.

Rasmussen H, Pechet M, Anast C, Mazur A, Gertner J, Broadus AE (1981) Long-term treatment of familial hypophosphatemic rickets with oral phosphate and 1α-hydroxyvitamin D3. J Pediatr 99:16–25

18.

Balsan S, Tieder M (1990) Linear growth in patients with hypophosphatemic vitamin D-resistant rickets: influence of treatment regimen and parental height. J Pediatr 116:365–371

19.

Steendijk R, Hauspie RC (1992) The pattern of growth and growth retardation of patients with hypophosphatemic vitamin D-resistant rickets: a longitudinal study. Eur J Pediatr 151:422–427
About this article
Cite this article
Hsu, SY., Tsai, IJ. & Tsau, YK. Comparison of growth in primary Fanconi syndrome and proximal renal tubular acidosis. Pediatr Nephrol 20, 460–464 (2005). https://doi.org/10.1007/s00467-004-1771-y
Received:

Revised:

Accepted:

Published:

Issue Date:
Keywords
Fanconi syndrome

Proximal renal tubular acidosis

Growth

Growth retardation

Metabolic acidosis

Hypophosphatemia