Abstract
Primary hyperoxaluria (PH) is a heterogeneous disease with a variable age of onset and a variable progression into kidney failure. Early diagnosis is mandatory to avoid the damaging effects of systemic calcium oxalate deposition. In 1997, we initiated a nationwide survey of American nephrologists to ascertain epidemiological data and current practices. PH was reported in only 102 patients, with PH I in 79 and PH II in 9; 14 patients were not classified. Most patients were Caucasian (84%). Main symptoms at diagnosis were urolithiasis (54.4%) and nephrocalcinosis (30%). A significant delay of diagnosis was seen in 42% of patients and 30% of patients were diagnosed only at end-stage renal disease (ESRD). Diagnosis was usually based on history and urinary oxalate excretion. Glycolate and l-glyceric acid excretion were rarely determined. To determine the enzyme defect, a liver biopsy was performed in 40%. Even at ESRD, only 56% of patients received an adequate diagnostic work-up. Half of the patients showed 'good' or 'fair' pyridoxine sensitivity. In addition to B6, most patients received either citrate or orthophosphate. Kidney transplantation (KTx) failed in 19 of 32 transplants (n=27 patients) and was due to recurrent oxalosis in 8 transplants. Liver Tx was performed after KTx in 5 patients (1 patient died). Combined liver-kidney Tx in 21 patients (in 9 patients after failure of KTx) achieved good organ function in 13 patients; 7 patients, however, died shortly after transplantation. In conclusion, the time between first symptom and diagnosis of PH must be minimized, and the diagnostic procedures have to be improved. The cases of unclassified hyperoxaluria suggest the possibility of additional type(s) of PH. As isolated KTx failed in 59% of patients, combined liver-kidney Tx seems to be the better choice in place of isolated KTx as the primary transplant procedure.
This is a preview of subscription content,
to check access.
Access this article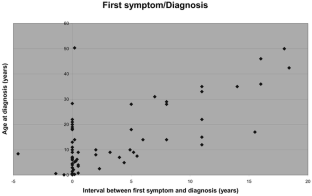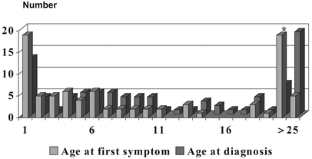 Similar content being viewed by others
References
Danpure CJ, Jennings PR (1986) Peroxisomal alanine:glyoxylate aminotransferase deficiency in primary hyperoxaluria type I. FEBS Lett 201:20–24

Cramer SD, Ferree PM, Lin K, Milliner DS, Holmes RP (1999) The gene encoding hydroxypyruvate reductase (GRHPR) is mutated in patients with primary hyperoxaluria type II. Hum Mol Genet 8:2063–2069

Cregeen DP, Rumsby G (1999) Recent developments in our understanding of primary hyperoxaluria type 2. J Am Soc Nephrol 10:348–350

Monico CG, Milliner DS (1999) Hyperoxaluria and urolithiasis in young children: an atypical presentation. J Endourol 13:633–636

Neuhaus TJ, Belzer T, Blau N, Hoppe B, Sidhu H, Leumann E (2000) Urinary oxalate excretion in urolithiasis and nephrocalcinosis. Arch Dis Child 82:322–326

Cochat P (1999) Primary hyperoxaluria. Kidney Int 55:2533–2547

Danpure CJ, Purdue PE (1995) Primary hyperoxaluria. In: Scriver CR, Beaudet Al, Sly WS, Valle D (eds) The metabolic and molecular basis of inherited disease, vol 7. McGraw-Hill New York, pp 2385–2424

Leumann E, Hoppe B (2001) The primary hyperoxalurias. J Am Soc Nephrol 12:1986–1993

Leumann E, Hoppe B, Neuhaus T, Blau N (1995) Efficacy of oral citrate administration in primary hyperoxaluria. Nephrol Dial Transplant 10 [Suppl 8]:14–16

Hoppe B, Kemper MJ, Bökenkamp A, Portale AA, Cohn RA, Langman CB (1999) Plasma calcium-oxalate supersaturation in children with primary hyperoxaluria and end stage renal disease. Kidney Int 56:268–274

Marangella M, Cosseddu D, Petrarulo M, Vitale C, Linari F (1993) Threshold of serum calcium oxalate saturation in relation to renal function in patients with or without primary hyperoxaluria. Nephrol Dial Transplant 8:1333–1337

Hoppe B, Danpure CJ, Rumsby G, Fryer P, Jennings PR, Blau N, Schubiger G, Neuhaus T, Leumann E (1997) A vertical (pseudodominant) pattern of inheritance in the autosomal recessive disease primary hyperoxaluria type I. Lack of relationship between genotype, enzymic phenotype and disease severity. Am J Kidney Dis 29:36–44

Cochat P, Deloraine A, Rotily M, Olive F, Liponski I, Deries N (1995) Epidemiology of primary hyperoxaluria type 1. Nephrol Dial Transplant 10 [Suppl 8]:3–7

Kopp N, Leumann E (1995) Changing pattern of primary hyperoxaluria in Switzerland. Nephrol Dial Transplant 10:2224–2227

Nolkemper D, Kemper MJ, Burdelski M, Vaismann I, Rogiers X, Broelsch CE, Ganschow R, Muller-Wiefel DE (2000) Long-term results of pre-emptive liver transplantation in primary hyperoxaluria type 1. Pediatr Transplant 4:177–181

Yendt ER, Cohanim M (1985) Response to physiologic dose of pyridoxine in type I primary hyperoxaluria. N Engl J Med 312:953–957

Saborio P, Scheinman JI (1999) Transplantation for primary hyperoxaluria in the United States. Kidney Int 56:1094–100

Milliner DS, Eickholt JT, Bergstralh EJ, Wilson DM, Smith LH (1994) Results of long term treatment with orthophosphate and pyridoxine in patients with primary hyperoxaluria. N Engl J Med 331:1553–1558

Hoppe B, Graf D, Offner G, Latta K, Byrd DJ, Michalk D, Brodehl J (1996) Oxalic acid elimination in children with chronic renal failure: comparison between hemodialysis and peritoneal dialysis. Pediatr Nephrol 10:488–492

Jamieson NV on behalf of the European PH I Transplantation Study Group (1995) The European primary hyperoxaluria type 1 transplant registry report on the results of combined liver/kidney transplantation for primary hyperoxaluria 1984–1994. Nephrol Dial Transplant 10 [Suppl 8]:33–37

Leumann E, Hoppe B (2000) Pre-emptive liver transplantation in primary hyperoxaluria type 1: a controversial issue. Pediatr Transplant 4:161–164

Sidhu H, Hoppe B, Hesse A, Tenbrock K, Brömme S, Rietschel E, Peck AB (1998) Antibiotic induced loss of the gut associated bacterium Oxalobacter formigenes: a risk factor for hyperoxaluria in cystic fibrosis patients. Lancet 352:1026–1030

Von Unruh G, Langer M, Paar D, Hesse A (1998) Mass spectrometric-selected ion monitoring assay for an oxalate absorption test applying [13C2]oxalate. J Chromatogr B 716:343–349

Van Acker KJ, Eyskens FJ, Espeel MF, Wanders RJA, Dekker C, Kerckhaert IO, Roels F (1996) Hyperoxaluria with hyperglycoluria not due to alanine:glyoxylate aminotransferase defect: a novel type of primary hyperoxaluria. Kidney Int 50:1747–1752
Acknowledgements
We thank all participating physicians for providing data on patients with PH. We also thank the Oxalosis and Hyperoxaluria Foundation for the financial support to initiate the survey.
About this article
Cite this article
Hoppe, B., Langman, C.B. A United States survey on diagnosis, treatment, and outcome of primary hyperoxaluria. Pediatr Nephrol 18, 986–991 (2003). https://doi.org/10.1007/s00467-003-1234-x
Received:

Revised:

Accepted:

Published:

Issue Date:

DOI: https://doi.org/10.1007/s00467-003-1234-x
Keywords