Abstract
Background
The American Board of Surgery made the Fundamentals of Laparoscopic Surgery (FLS) exam a prerequisite for board certification in 2009. Some residency programs have questioned the need for a continued FLS testing mandate given limited evidence that supports the impact of FLS on intraoperative skills. The Society for Improving Medical Professional Learning (SIMPL) app is a tool to evaluate resident intraoperative performance. We hypothesized that general surgery resident operative performance would improve immediately after preparing for the FLS exam.
Methods
The national public FLS data registry was matched with SIMPL resident evaluations from 2015 to 2021 and de-identified. SIMPL evaluations are scored in three categories: supervision required (Zwisch scale 1–4, 1 = show and tell and 4 = supervision only), performance (scale 1–5, 1 = exceptional and 5 = unprepared), and case complexity (scale 1–3, 1 = easiest and 3 = hardest). Statistical analyses compared pre and post-FLS exam resident average operative evaluation scores.
Results
There were a total of 76 general surgery residents, and 573 resident SIMPL evaluations included in this study. Residents required more supervision in laparoscopic cases performed before compared to after the FLS exam (2.84 vs. 3.03, respectively, p = 0.007). Residents performance scores improved from cases before compared to after the FLS exam (2.70 vs. 2.43, respectively, p = 0.001). Case complexity did not differ before versus after the FLS exam (2.13 vs. 2.18, respectively, p = 0.202). PGY level significantly predicted evaluation scores with a moderate correlation. A sub analysis grouped by PGY level revealed a significant improvement after the FLS exam in supervision among PGY-2 residents (2.33 vs. 2.58, respectively, p = 0.04) and performance among PGY-4 residents (2.67 vs 2.04, respectively, p < 0.001).
Conclusions
Preparation for, and passing, the FLS exam improves resident intraoperative laparoscopic performance and independence. We recommend taking the exam in the first two years of residency to enhance the laparoscopic experience for the remainder of training.
Access options
Buy single article
Instant access to the full article PDF.
USD 39.95
Price excludes VAT (USA)
Tax calculation will be finalised during checkout.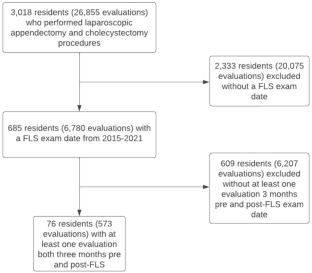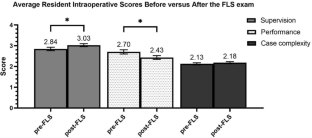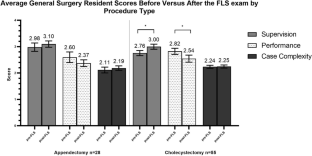 References
Buia A, Stockhausen F, Hanisch E (2015) Laparoscopic surgery: a qualified systematic review. World J Methodol 5(4):238–254. https://doi.org/10.5662/wjm.v5.i4.238

St John A, Caturegli I, Kubicki NS, Kavic SM (2020) The rise of minimally invasive surgery: 16 year analysis of the progressive replacement of open surgery with laparoscopy. JSLS 24(4):e2020.00076. https://doi.org/10.4293/JSLS.2020.00076

Zendejas B, Ruparel RK, Cook DA (2016) Validity evidence for the fundamentals of laparoscopic surgery (FLS) program as an assessment tool: a systematic review. Surg Endosc 30(2):512–520. https://doi.org/10.1007/s00464-015-4233-7

Lerner V, DeStephano C, Ulrich A, Han ES, LeClaire E, Chen CCG (2021) A systematic review of validity evidence for the fundamentals of laparoscopic surgery examination in gynecology. J Minim Invasive Gynecol 28(7):1313–1324. https://doi.org/10.1016/j.jmig.2021.04.010

McCluney AL, Vassiliou MC, Kaneva PA et al (2007) FLS simulator performance predicts intraoperative laparoscopic skill. Surg Endosc 21(11):1991–1995. https://doi.org/10.1007/s00464-007-9451-1

Sroka G, Feldman LS, Vassiliou MC, Kaneva PA, Fayez R, Fried GM (2010) Fundamentals of laparoscopic surgery simulator training to proficiency improves laparoscopic performance in the operating room-a randomized controlled trial. Am J Surg 199(1):115–120. https://doi.org/10.1016/j.amjsurg.2009.07.035

Antosh DD, Auguste T, George EA et al (2013) Blinded assessment of operative performance after fundamentals of laparoscopic surgery in gynecology training. J Minim Invasive Gynecol 20(3):353–359. https://doi.org/10.1016/j.jmig.2012.12.004

Quillin RC 3rd, Cortez AR, Garcia MA et al (2019) Gas off, room lights on: shedding light on the surgical resident's experience in open and laparoscopic surgery. Surgery 166(4):460–468. https://doi.org/10.1016/j.surg.2019.04.042

Dubina ED, Pham XD, de Virgilio C (2019) Debunking myths about the purpose and intentions of fundamentals of laparoscopic surgery testing-reply. JAMA Surg 154(5):468–469. https://doi.org/10.1001/jamasurg.2018.5590

George BC, Teitelbaum EN, Meyerson SL et al (2014) Reliability, validity, and feasibility of the Zwisch scale for the assessment of intraoperative performance. J Surg Educ 71(6):e90–e96. https://doi.org/10.1016/j.jsurg.2014.06.018

Bergquist CS, Pienta MJ, Sood V et al (2021) Smartphone-based app for evaluating cardiothoracic residents: feasibility and engagement. J Card Surg 36(12):4684–4687. https://doi.org/10.1111/jocs.16016

Bohnen JD, George BC, Williams RG et al (2016) The feasibility of real-time intraoperative performance assessment with SIMPL (System for improving and measuring procedural learning): early experience from a multi-institutional trial. J Surg Educ 73(6):e118–e130. https://doi.org/10.1016/j.jsurg.2016.08.010

Shekar R, George BC, Bohnen JD, Villa A (2018) A SIMPL application to assess oral medicine residents' performance and level of autonomy. Oral Surg Oral Med Oral Pathol Oral Radiol 126(3):246–251. https://doi.org/10.1016/j.oooo.2018.05.017

Wang RS, Daignault-Newton S, Ambani SN, Hafez K, George BC, Kraft KH (2021) Simplifying urology residency operative assessments: a pilot study in urology training. J Urol 206(4):1009–1019. https://doi.org/10.1097/JU.0000000000001874

Zendejas B, Lillehei CW, George BC, Modi BP (2020) Assessment of operative autonomy and readiness for independent practice among pediatric surgery fellows. J Pediatr Surg 55(1):117–121. https://doi.org/10.1016/j.jpedsurg.2019.09.061

Miles S, Donnellan N (2021) Learning fundamentals of laparoscopic surgery manual skills: an institutional experience with remote coaching and assessment. Mil Med. https://doi.org/10.1093/milmed/usab170

Karim AS, Sternbach JM, Bender EM, Zwischenberger JB, Meyerson SL (2017) Quality of operative performance feedback given to thoracic surgery residents using an app-based system. J Surg Educ 74(6):e81–e87

Alevi D, Baiocco PJ, Chokhavatia S et al (2010) Teaching the competencies: using observed structured clinical examinations for faculty development. Am J Gastroenterol 105(5):973–977

Naples R, French JC, Thomas JD, Khandelwal C, Rosen MJ, Lipman JM (2021) Utilization of a quality reporting system to increase faculty participation in resident operative assessment. Surgery 169(3):483–487

Abdou H, Kidd-Romero S, Brown RF, Kavic SM, Kubicki NS (2022) Keep it SIMPL: improved feedback after implementation of an app-based feedback tool. Am Surg 88(7):1475–1478. https://doi.org/10.1177/00031348221082279

Cullinan DR, Schill MR, DeClue A, Salles A, Wise PE, Awad MM (2017) Fundamentals of laparoscopic surgery: not only for senior residents. J Surg Educ 74(6):e51–e54. https://doi.org/10.1016/j.jsurg.2017.07.017

Schmiederer IS, Kearse LE, Jensen RM et al (2022) The fundamentals of laparoscopic surgery in general surgery residency: fundamental for junior residents' self-efficacy. Surg Endosc. https://doi.org/10.1007/s00464-022-09443-z
Funding
The author(s) received no financial support for the research, authorship, and/or publication of this article.
Ethics declarations
Disclosures
Dr. Rana Higgins is a speaker for WL Gore and Intuitive Surgical. Mia Turbati has no conflicts of interest or financial ties to disclose. Dr. Matthew Goldblatt has the following disclosures: speaker, consultant, and researcher for W.L. Gore; speaker, consultant, and researcher for Medtronic; and proctor for Intuitive.
Additional information
Publisher's Note
Springer Nature remains neutral with regard to jurisdictional claims in published maps and institutional affiliations.
Rights and permissions
Springer Nature or its licensor (e.g. a society or other partner) holds exclusive rights to this article under a publishing agreement with the author(s) or other rightsholder(s); author self-archiving of the accepted manuscript version of this article is solely governed by the terms of such publishing agreement and applicable law.
About this article
Cite this article
Higgins, R.M., Turbati, M.S. & Goldblatt, M.I. Preparing for and passing the fundamentals of laparoscopic surgery (FLS) exam improves general surgery resident operative performance and autonomy. Surg Endosc 37, 6438–6444 (2023). https://doi.org/10.1007/s00464-023-10124-8
Received:

Accepted:

Published:

Issue Date:

DOI: https://doi.org/10.1007/s00464-023-10124-8
Keywords