Abstract
Background
Studies comparing hand-assisted laparoscopic (HALS)/Hybrid and pure laparoscopic (PLS) resection for colorectal cancer liver metastasis have focused on short-term results, while long-term oncological outcomes remain understudied.
Methods
We established a multi-institutional retrospective cohort study from four centers with experience in minimally invasive surgery between 2004 and 2020. Primary endpoints were overall survival (OS) and disease-free survival (DFS). Other endpoints analyzed were intraoperative and postoperative outcomes. Propensity score matching (PSM) was used to minimize baseline differences.
Results
A total of 219 HALS/Hybrid (57.8%) and 160 PLS (42.2%) patients were included. After PSM, 155 patients remained in each group. Operative time (182 vs. 248 min, p = 0.012), use of intraoperative ablation (12.3 vs. 4.5%, p = 0.024), positive resection margin (4.5 vs 13.2%, p = 0.012), and pringle time (21 vs. 37 min, p = 0.001) were higher in PLS group. DFS at 1, 3, 5, and 7 years in HALS/Hybrid and PLS groups were 65.4%, 39.3%, 37.5%, and 36.3% vs. 64.9%, 38.0%, 33.1%, and 33.1%, respectively (p = 0.84). OS at 1, 3, 5, and 7 years in HALS/Hybrid and PLS groups were 94.5%, 71.4%, 54.3%, and 46.0% vs. 96.0%, 68.5%, 51.2%, and 41.2%, respectively (p = 0.73).
Conclusion
Our study suggests no differences in long-term oncologic outcomes between the two techniques. We discovered that longer total operative, pringle time, higher rates of intraoperative ablation, and positive resection margins were associated with PLS. These differences in favor of HALS/Hybrid could be due to a shorter learning curve and a greater ability to control hemorrhage.
Access options
Buy single article
Instant access to the full article PDF.
USD 39.95
Price excludes VAT (USA)
Tax calculation will be finalised during checkout.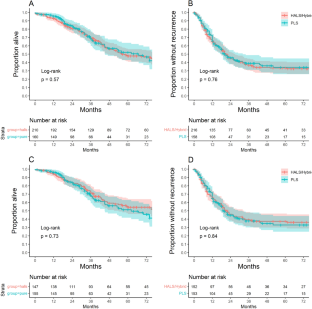 References
Kabir T, Syn N, Goh BKP (2020) Current status of laparoscopic liver resection for the management of colorectal liver metastases. J Gastrointest Oncol 11:526–539

Guilbaud T, Marchese U, Gayet B, Fuks D (2019) Highlights, limitations and future challenges of laparoscopic resection for colorectal liver metastases. J Visc Surg 156:329–337

Barkhatov L, Aghayan DL, Scuderi V, Cipriani F, Fretland ÅA, Kazaryan AM, Ratti F et al (2022) Long-term oncological outcomes after laparoscopic parenchyma-sparing redo liver resections for patients with metastatic colorectal cancer: a European multi-center study. Surg Endosc 36:3374–3381

Abu Hilal M, Underwood T, Zuccaro M, Primrose J, Pearce N (2010) Short- and medium-term results of totally laparoscopic resection for colorectal liver metastases. Br J Surg 97:927–933

Abu Hilal M, Aldrighetti L, Dagher I, Edwin B, Troisi RI, Alikhanov R, Aroori S et al (2018) The Southampton consensus guidelines for laparoscopic liver surgery: from indication to implementation. Ann Surg 268:11–18

Buell JF, Cherqui D, Geller DA, O'Rourke N, Iannitti D, Dagher I, Koffron AJ et al (2009) The international position on laparoscopic liver surgery: the Louisville statement, 2008. Ann Surg 250:825–830

Wakabayashi G, Cherqui D, Geller DA, Buell JF, Kaneko H, Han HS, Asbun H et al (2015) Recommendations for laparoscopic liver resection: a report from the second international consensus conference held in Morioka. Ann Surg 261:619–629

Giglio MC, Troisi RI (2021) Laparoscopic surgery for colorectal liver metastases: moving forward while keeping feet on the ground. Hepatobiliary Surg Nutr 10:107–109

Akahoshi S, Beppu T, Mori Y, Kinoshita K, Sato N, Kikuchi K (2020) Does laparoscopic liver resection for colorectal liver metastases provide a true survival benefit compared with open liver resection? Hepatobiliary Surg Nutr 9:657–660

Antonetti MC, Killelea B, Orlando R 3rd (2002) Hand-assisted laparoscopic liver surgery. Arch Surg 137:407–411 

Rodgers MS, Windsor JA, Koea JB, McCall JL (2003) Laparoscopic staging of upper gastrointestinal malignancy. ANZ J Surg 73:806–810

Thaler K, Kanneganti S, Khajanchee Y, Wilson C, Swanstrom L, Hansen PD (2005) The evolving role of staging laparoscopy in the treatment of colorectal hepatic metastasis. Arch Surg 140:727–734

Huang MT, Wei PL, Wang W, Li CJ, Lee YC, Wu CH (2009) A series of laparoscopic liver resections with or without HALS in patients with hepatic tumors. J Gastrointest Surg 13:896–906

Robles R, Marín C, Abellán B, López A, Pastor P, Parrilla P (2008) A new approach to hand-assisted laparoscopic liver surgery. Surg Endosc 22:2357–2364

Herman P, Krüger JA, Perini MV, Coelho FF, Lupinacci RM (2013) Laparoscopic hepatic posterior sectionectomy: a hand-assisted approach. Ann Surg Oncol 20:1266

Lopez-Lopez V, López-Conesa A, Brusadin R, Perez-Flores D, Navarro-Barrios Á, Gomez-Valles P, Cayuela V et al (2022) Pure laparoscopic vs. hand-assisted liver surgery for segments 7 and 8: propensity score matching analysis. Surg Endosc 36:4470–4478

Makdissi FF, Jeismann VB, Kruger JAP, Coelho FF, Ribeiro-Junior U, Cecconello I, Herman P (2017) Hand-assisted Approach as a Model to Teach Complex Laparoscopic Hepatectomies: Preliminary Results. Surg Laparosc Endosc Percutan Tech 27:285–289

Abu-Zaydeh O, Sawaied M, Berger Y, Mahamid A, Goldberg N, Sadot E, Haddad R (2021) Hand-assisted laparoscopic surgery is superior to open liver resection for colorectal liver metastases in the posterosuperior segments. Front Surg 8:746427

Wabitsch S, Schöning W, Kästner A, Haber PK, Benzing C, Krenzien F, Lenz K et al (2021) A propensity-matched study of full laparoscopic versus hand-assisted minimal-invasive liver surgery. Surg Endosc 35:2021–2028

Yoh T, Seo S, Ogiso S, Morino K, Nishio T, Koyama Y, Fukumitsu K et al (2022) Learning process of laparoscopic liver resection and postoperative outcomes: chronological analysis of single-center 15-years' experience. Surg Endosc 36:3398–3406

Koffron AJ, Auffenberg G, Kung R, Abecassis M (2007) Evaluation of 300 minimally invasive liver resections at a single institution: less is more. Ann Surg 246:385–392 (discussion 392-384)

Ciria R, Berardi G, Nishino H, Chan ACY, Chanwat R, Chen KH, Chen Y et al (2022) A snapshot of the 2020 conception of anatomic liver resections and their applicability on minimally invasive liver surgery. A preparatory survey for the Expert Consensus Meeting on Precision Anatomy for Minimally Invasive HBP Surgery. J Hepato-Biliary Pancreat Sci 29:41–50

Cuschieri A (2000) Laparoscopic hand-assisted surgery for hepatic and pancreatic disease. Surg Endosc 14:991–996

Hasegawa Y, Koffron AJ, Buell JF, Wakabayashi G (2015) Approaches to laparoscopic liver resection: a meta-analysis of the role of hand-assisted laparoscopic surgery and the hybrid technique. J Hepato-Biliary Pancreat Sci 22:335–341

Fiorentini G, Swaid F, Cipriani F, Ratti F, Heres C, Tsung A, Aldrighetti L et al (2019) Propensity score-matched analysis of pure laparoscopic versus hand-assisted/hybrid major hepatectomy at two western centers. World J Surg 43:2025–2037

Cardinal JS, Reddy SK, Tsung A, Marsh JW, Geller DA (2013) Laparoscopic major hepatectomy: pure laparoscopic approach versus hand-assisted technique. J Hepato-Biliary Pancreat Sci 20:114–119

Dagher I, Gayet B, Tzanis D, Tranchart H, Fuks D, Soubrane O, Han HS et al (2014) International experience for laparoscopic major liver resection. J Hepato-Biliary Pancreat Sci 21:732–736

Barabino M, Piccolo G, Opocher E (2022) Laparoscopic thermal ablation for colorectal liver metastases: technical tips and pitfalls. Laparosc Surg 6:19

Hariharan D, Constantinides V, Kocher HM, Tekkis PP (2012) The role of laparoscopy and laparoscopic ultrasound in the preoperative staging of patients with resectable colorectal liver metastases: a meta-analysis. Am J Surg 204:84–92

Laurent C, Adam JP, Denost Q, Smith D, Saric J, Chiche L (2016) Significance of R1 resection for advanced colorectal liver metastases in the era of modern effective chemotherapy. World J Surg 40:1191–1199

Pencovich N, Houli R, Lubezky N, Goykhman Y, Nakache R, Klausner JM, Nachmany I (2019) R1 resection of colorectal liver metastasis—What is the cost of marginal resection? J Surg Oncol 119:347–354

Andreou A, Knitter S, Schmelzle M, Kradolfer D, Maurer MH, Auer TA, Fehrenbach U et al (2021) Recurrence at surgical margin following hepatectomy for colorectal liver metastases is not associated with R1 resection and does not impact survival. Surgery 169:1061–1068

Martínez-Cecilia D, Wicherts DA, Cipriani F, Berardi G, Barkhatov L, Lainas P, D'Hondt M et al (2021) Impact of resection margins for colorectal liver metastases in laparoscopic and open liver resection: a propensity score analysis. Surg Endosc 35:809–818

Aghayan DL, Kazaryan AM, Dagenborg VJ, Røsok BI, Fagerland MW, Waaler Bjørnelv GM, Kristiansen R et al (2021) Long-term oncologic outcomes after laparoscopic versus open resection for colorectal liver metastases : a randomized trial. Ann Intern Med 174:175–182

Robles-Campos R, Lopez-Lopez V, Brusadin R, Lopez-Conesa A, Gil-Vazquez PJ, Navarro-Barrios Á, Parrilla P (2019) Open versus minimally invasive liver surgery for colorectal liver metastases (LapOpHuva): a prospective randomized controlled trial. Surg Endosc 33:3926–3936

Beppu T, Wakabayashi G, Hasegawa K, Gotohda N, Mizuguchi T, Takahashi Y, Hirokawa F et al (2015) Long-term and perioperative outcomes of laparoscopic versus open liver resection for colorectal liver metastases with propensity score matching: a multi-institutional Japanese study. J Hepato-Biliary Pancreat Sci 22:711–720
Ethics declarations
Disclosures
Victor Lopez-Lopez, Jaime Arthur Pirola Kruge, Christopher Kuemmerli, Samer Tohme, Concepción Gómez-Gavara, Maria Iniesta, Asuncion López-Conesa, Epameinondas Dogeas, Mar Dalmau, Roberto Brusadin, Ignacio Sánchez-Esquer, David A Geller, Paulo Herman and Ricardo Robles-Campos have no conflicts of interest or financial ties to disclose.
Additional information
Publisher's Note
Springer Nature remains neutral with regard to jurisdictional claims in published maps and institutional affiliations.
Rights and permissions
Springer Nature or its licensor (e.g. a society or other partner) holds exclusive rights to this article under a publishing agreement with the author(s) or other rightsholder(s); author self-archiving of the accepted manuscript version of this article is solely governed by the terms of such publishing agreement and applicable law.
About this article
Cite this article
Lopez-Lopez, V., Krürger, J.A.P., Kuemmerli, C. et al. Long-term oncological outcomes for HALS/Hybrid vs pure laparoscopic approach in colorectal liver metastases: a propensity score matched analysis. Surg Endosc (2023). https://doi.org/10.1007/s00464-023-09873-3
Received:

Accepted:

Published:

DOI: https://doi.org/10.1007/s00464-023-09873-3
Keywords
Colorectal liver mestastases

Pure laparoscopy

Hand-assisted

Short-term outcomes

Oncological outcomes