Abstract
Introduction
Compliance is the ability of a hollow organ to dilate and increase volume with an increase in pressure, an accurate representation of food bolus transit through the gastroesophageal junction (GEJ). Impedance planimetry system can calculate compliance (change in volume over pressure) and distensibility (cross-sectional area over pressure) of the GEJ. We aim to describe the changes in compliance during anti-reflux surgery and hypothesize that compliance is a better predictor of patient outcomes than distensibility (DI).
Methods and procedures
A review of a prospectively maintained quality database was performed. Patients with FLIP measurements during laparoscopic fundoplication between August 2018 and June 2021 were included. GEJ compliance and DI were measured after hernia reduction, cruroplasty, and fundoplication. Patient-reported outcomes were collected through standardized surveys up to 2 years after surgery. A scatter plot was used to identify a correlation between compliance and DI. Comparisons of measurements between time points were made using paired t-tests. Spearman's correlation coefficients (ρ), Wilcoxon rank-sum, and chi-square tests were used to evaluate associations between measurements and outcomes.
Results
One hundred and forty-four patients underwent laparoscopic fundoplication. Compliance is strongly associated with DI (r = 0.96), and a comparison of measurements showed similar trends at specific time points during the operation. After hernia reduction, compliance at the GEJ was 168 ± 74 mm3/mmHg, cruroplasty 79 ± 39 mm3/mmHg, and fundoplication 90 ± 33 mm3/mmHg (all comparisons p < 0.05). GEJ compliance of 80–92 mm3/mmHg after fundoplication was associated with the best patient-reported outcome scores. A compliance of ≤ 79 mm3/mmHg had the highest percentage of patients who reported dysphagia.
Conclusions
Compliance and DI are strongly associated displaying the same directional change during anti-reflux surgery. GEJ compliance of 80–92 mm3/mmHg revealed the best patient-reported outcome scores, and avoiding a compliance ≤ 79 mm3/mmHg may prevent postoperative dysphagia. Therefore, GEJ compliance is an underutilized FLIP measurement warranting further investigation.
Access options
Buy single article
Instant access to the full article PDF.
USD 39.95
Price excludes VAT (USA)
Tax calculation will be finalised during checkout.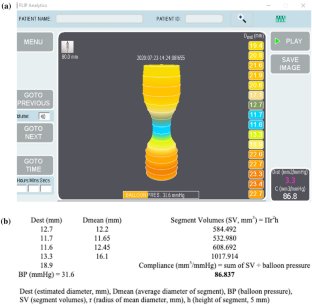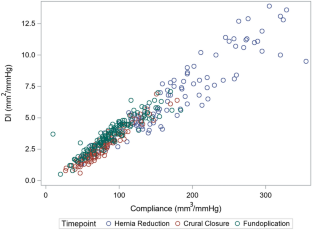 Ethics declarations
Disclosures
Drs Wu, Denham, Wong, Campbell, and Kristine Kuchta have no conflicts of interest or financial ties to disclose. Dr Attaar receives grant funding from The Intuitive Foundation [EH20-298]. Dr Ujiki receives grant funding from Medtronic [ERP-2020 1228]. Drs Linn and Ujiki receive payment for lectures from Gore. Dr Ujiki is a board member for Boston Scientific, is a paid consultant for Olympus and Cook, and receives payment for lectures from Medtronic and Erbe.
Additional information
Publisher's Note
Springer Nature remains neutral with regard to jurisdictional claims in published maps and institutional affiliations.
ORAL PRESENTATION—SAGES 2021 Meeting, August 31st–September 3rd, 2021, Las Vegas, Nevada.
About this article
Cite this article
Wu, H., Attaar, M., Wong, H.J. et al. Impedance planimetry (EndoFLIP™) reveals changes in gastroesophageal junction compliance during fundoplication. Surg Endosc 36, 6801–6808 (2022). https://doi.org/10.1007/s00464-021-08966-1
Received:

Accepted:

Published:

Issue Date:

DOI: https://doi.org/10.1007/s00464-021-08966-1
Keywords
EndoFLIP

Impedance planimetry

Fundoplication

GERD

Outcomes