Abstract
Background
Informed consent is of paramount importance in surgery. Digital media can be used to enhance patient's comprehension of the proposed operation. The objective of this study was to examine the effects of adding a digital educational platform (DEP) to a standard verbal consent (SVC) for a laparoscopic Roux-en-Y gastric bypass (LRYGB) on patient's knowledge of the procedure, satisfaction with the clinical encounter and duration of the consent appointment.
Methods
This prospective non-blinded randomized controlled trial allocated 51 patients, who were candidates for a LRYGB, into DEP+SVC (intervention, n = 26) or SVC (control, n = 25) groups. Data were collected at one Bariatric Centre of Excellence (Ontario, Canada) between December 2018 and December 2019. DEP consisted of a 29-slide video-supplemented module detailing the risks, benefits, expectations and outcomes for the LRYGB. Primary outcome was knowledge about the LRYGB operation following the consent discussion. Secondary outcomes were knowledge retention, patient satisfaction, and duration of time required to obtain an informed consent.
Results
Baseline demographic data were equivalent between groups except for a greater proportion of male patients in the DEP+SVC group (7/19 vs 0/25; p < 0.01). Baseline procedure-specific knowledge was equivalent between the groups (72.3 ± 11.3% vs 74.7 ± 9.6%; p = 0.41). Post-consent knowledge was significantly higher in the DEP + SVC vs SVC group (85.0 ± 8.8% vs 78.7 ± 8.7%; p = 0.01; ES = 0.72). The duration of time to obtain informed consent was significantly shorter for the DEP + SVC vs SVC group (358 ± 198 sec vs 751 ± 212 sec; p < 0.01; ES = 1.92). There was no difference in knowledge retention at 4–6 weeks (84.4 ± 10.2% vs 82.9 ± 6.8%; p = 0.55) and in patient satisfaction (31.5 ± 1.1 vs 31 ± 2.7; p = 0.10).
Conclusion
The addition of a DEP online module to a standard verbal consent for LRYGB resulted in improved patient's understanding of the procedure-specific risks and benefits, high patient satisfaction, and over 50% time savings for the bariatric surgeon conducting the consent discussion.
Access options
Buy single article
Instant access to the full article PDF.
US$ 39.95
Tax calculation will be finalised during checkout.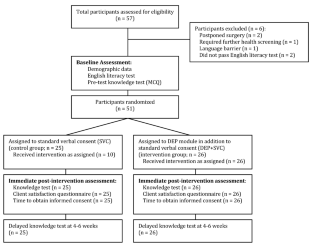 References
1.

(1980) Reibl v. Hughes. Dominion law reports, Supreme Court of Canada, pp 1–35

2.

Murphy G (2004) Law Reform Agencies, Department of Justice Canada.

3.

Evans KG (2006) Consent: A guide for Canadian physicians.

4.

Murphy WJ (1976) Canterbury v. Spence–the case and a few comments. Forum 11:716–726

5.

Armstrong AW, Alikhan A, Cheng LS, Schupp C, Kurlinkus C, Eisen DB (2010) Portable video media for presenting informed consent and wound care instructions for skin biopsies: a randomized controlled trial. Br J Dermatol 163:1014–1019

6.

Hanson M, Pitt D (2017) Informed consent for surgery: risk discussion and documentation. Can J Surg 60:69–70

7.

Winter M, Kam J, Nalavenkata S, Hardy E, Handmer M, Ainsworth H, Lee WG, Louie-Johnsun M (2016) The use of portable video media vs standard verbal communication in the urological consent process: a multicentre, randomised controlled, crossover trial. BJU Int 118:823–828

8.

Kinman CL, Meriwether KV, Powell CM, Hobson DTG, Gaskins JT, Francis SL (2018) Use of an iPad application in preoperative counseling for pelvic reconstructive surgery: a randomized trial. Int Urogynecol J 29:1289–1295

9.

Larsen DL, Attkisson CC, Hargreaves WA, Nguyen TD (1979) Assessment of client/patient satisfaction: development of a general scale. Eval Program Plann 2:197–207
Acknowledgements
The authors would like to thank patients from Kingston Bariatric Centre of Excellence for participating in this study. They would also like to thank Jennifer Bunn for help in data collection and patients recruitment.
Funding
Department of Surgery Research Fund, Queen's University.
Ethics declarations
Disclosures
Boris Zevin received an educational grant from Ethicon and research funding from Medtronic. Mancini, Almakky and Robertson do not have conflicts of interest to declare.
Additional information
Publisher's Note
Springer Nature remains neutral with regard to jurisdictional claims in published maps and institutional affiliations.
Supplementary information
Below is the link to the electronic supplementary material.
About this article
Cite this article
Zevin, B., Almakky, M., Mancini, U. et al. Digital approach to informed consent in bariatric surgery: a randomized controlled trial. Surg Endosc (2021). https://doi.org/10.1007/s00464-020-08277-x
Received:

Accepted:

Published:
Keywords
Informed consent

Digital education platform

Roux-en-Y gastric bypass

Technology