Abstract
Background
Burn injury and operating room fires are significant risks for both surgical patients and staff. The purpose of this study was to examine the fire and burn risks associated with two types of fiberoptic light cables and evaluate the efficacy of a novel device in reducing the risk of these fire and burn injuries.
Methods
A 300-W light source was connected sequentially to two standard fiberoptic cables (Storz and Olympus). The distal ends were buried in, or rested on, standard operating room materials including a cotton green towel and a blue propylene drape to assess the risk of fire formation or burn injury. The Gloshield device was then attached to the ends of the cables and the experiment was repeated. Trials simulating improper use of the device were then conducted with the Gloshield device placed either too deep or too shallow on the end of the light cable. All trials were conducted for a maximum of 10 min or until a positive result (burn or fire) was achieved. Trials were conducted in room air or with supplemental 100% oxygen and repeated for accuracy.
Results
Both the Storz and Olympus fiber optic cables were capable of producing burns in standard operating room towels and drapes in control trials. The Gloshield device prevented thermal injury when properly attached in all conditions. Improper use trials demonstrated that the device may be ineffective when not applied properly.
Conclusions
The Gloshield device is effective in reducing the risk of thermal burn injury by protecting the distal ends of endoscopic light cables from operating room materials. However, the device needs to be attached appropriately in order to provide protective benefits.
Access options
Buy single article
Instant access to the full article PDF.
USD 39.95
Price includes VAT (USA)
Tax calculation will be finalised during checkout.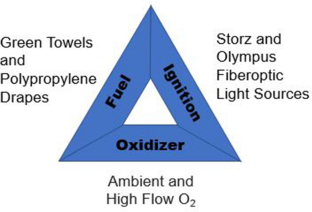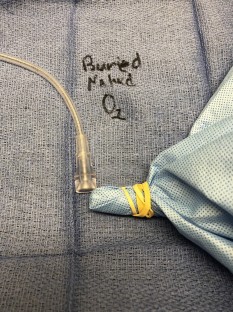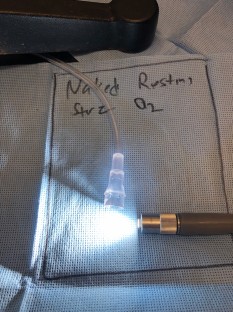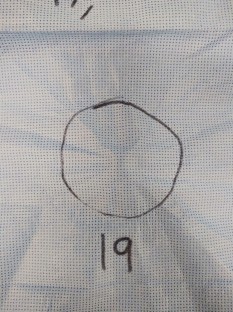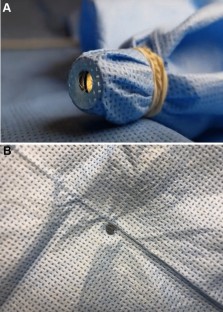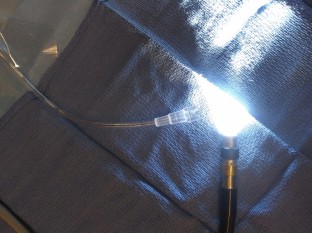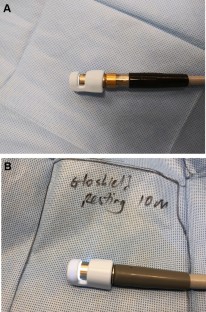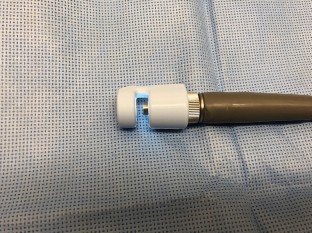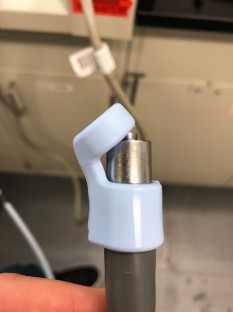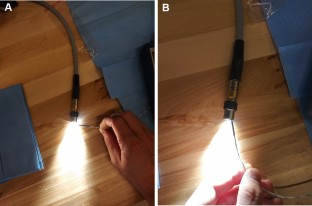 References
1.

Hart SR, Yajnik A, Ashford J, Springer R, Harvey S (2011) Operating room fire safety. Ochsner J 11:37–42

2.

Administration: Emergency Care Research Institute. Available at: https://www.ecri.org/solutions/accident-investigation-services/surgical-fire-prevention. Accessed 12 July 2020

3.

Administration: USF and D (2011) Preventing surgical fires. Available at: https://www.fda.gov/consumers/consumer-updates/fda-and-partners-working-prevent-surgical-fires. Accessed 12 July 2020

4.

Administration: Emergency Care Research Institute. Available at: http://www.ecri.org/components/HRC/Pages/SafSec13_1.aspx. Accessed 2 Nov 2020

5.

Clarke JR, Bruley ME (2012) Surgical fires: trends associated with prevention efforts. Pa Patient Saf Advis 9(4):130–135

6.

Bruley ME, Arnold TV, Findley E (2018) Surgical fires: decreasing incidence relies on continued prevention efforts. PA-PSRS Pa Patient Saf Advis 15:1–2

7.

Society of American Gastrointestinal and Endoscopic Surgeons. Fundamental Use of Surgical Energy. Available at: https://www.fuseprogram.org/. Accessed 2 Nov 2020.

8.

Smith LP, Roy S (2011) Operating room fires in otolaryngology: risk factors and prevention. Am J Otolaryngol 32:109–114

9.

Connor MA, Menke AM, Vrcek I, Shore JW (2018) Operating room fires in periocular surgery. Int Ophthalmol 38:1085–1093. https://doi.org/10.1007/s10792-017-0564-9

10.

Aly A, McIlwain M, Duncavage JA (1991) Electrosurgery-induced endo-tracheal tube ignition during tracheotomy. Ann Otol Rhinol Laryngol 100:31–33

11.

Niskanen M, Purhonen S, Koljonen V, Ronkainen A, Hirvonen E (2007) Fatal inhalation injury caused by airway fire during tracheostomy. Acta Anaesthesiol Scand 51:509–513

12.

Jones TS, Black IH, Robinson TN, Jones EL (2019) Operating room fires. Anesthesiology 130:492–501

13.

Hart SR, Yajnik A, Ashford J, Springer R, Harvey S (2011) Operating room fire safety. Ochsner J 11(1):37–42

14.

Smith LP, Roy S (2008) Fire/burn risk with electrosurgical devices and endoscopy fiberoptic cables. Am J Otolaryngol 29:171–176

15.

Ito T, Kubota T, Takagi A, Watanabe T, Futai K, Furukawa T, Kakehata S (2016) Safety of heat generated by endoscope light sources in simulated transcanal endoscopic ear surgery. Auris Nasus Larynx 43:501–506

16.

Curlin J, Herman CK (2020) Current state of surgical lighting. Surg J (NY) 6(02):e87–e97

17.

Hindle AK, Brody F, Hopkins V, Rosales G, Gonzalez F, Schwartz A (2009) Thermal injury secondary to laparoscopic fiber-optic cables. Surg Endosc 23:1720–1723

18.

Yavuz Y, Skogås JG, Güllüoglu MG, Langø T, Mårvik R (2006) Are cold light sources really cold? Surg Laparosc Endosc Percutan Tech 16:370–376

19.

Lau YJ, Dao Q (2008) Cutaneous burns from a fiberoptic cable tip during arthroscopy of the knee. Knee 15:333–335

20.

Kwon D, Kim BG, Yang C, Won J, Kim Y (2018) Inadvertent thermal injury following knee arthroscopic surgery in a pediatric patient. Korean J Anesthesiol 71:157
Ethics declarations
Disclosures
Jackson Medical provided the Gloshield devices and laboratory space for the testing involved in this paper. They had no input into the research design, testing, data analysis, writing or editing of this manuscript. They have not seen this submitted article. Soham Roy, Katherine Yu, Mark Knackstedt, Nathaniel Webb, and Lee Smith have no conflicts of interest or financial ties to disclose.
Additional information
Publisher's Note
Springer Nature remains neutral with regard to jurisdictional claims in published maps and institutional affiliations.
This article was updated to correct the organization name "ERCI" to "ECRI" in two instances.
About this article
Cite this article
Roy, S., Yu, K.M., Knackstedt, M.I. et al. Reducing fire and burn risk in the operating room—testing of a novel device. Surg Endosc 35, 6969–6976 (2021). https://doi.org/10.1007/s00464-020-08209-9
Received:

Accepted:

Published:

Issue Date:
Keywords
Fire safety

Fire hazard

Fiberoptic cable

Endoscopic surgery

Operating room fire

Burn injury