Abstract
Background
Laparoscopic surgery has become standard of care in high-income countries but is rarely accessible in low- and middle-income countries (LMICs). This study assessed experience with laparoscopy and attitudes toward a low-cost laparoscopic system among surgeons in sub-Saharan Africa.
Methods
A survey assessing current laparoscopic practice and feedback on a low-cost laparoscopic system was administered to attendees of the College of Surgeons of East, Central, and Southern Africa (COSECSA) Scientific Conference between December 4 and December 6, 2019 in Kampala, Uganda.
Results
Fifty-six surgeons from 14 countries participated. A majority were male (n = 46, 82%) general surgeons (n = 37, 66%) from tertiary/teaching hospitals (n = 36, 64%). For those with training in laparoscopy (n = 33, 59%), 22 (67%) reported less than 1 year of training and over half (n = 17, 52%) reported 1 month or less. Overall, a minority (n = 21, 38%) used laparoscopy in current practice, with 57% (n = 12) of those performing laparoscopy less than once per week. The most common laparoscopic surgeries performed were cholecystectomy (n = 15), diagnostic laparoscopy (n = 14), and appendectomy (n = 12). Few surgeons were performing more complex cases (n = 5). Barriers to laparoscopy included poor access to training equipment (n = 34, 61%), mentors (n = 33, 59%), laparoscopic equipment (n = 31, 55%), equipment maintenance (n = 25, 45%), access to consumable supplies (n = 21, 38%), and cost (n = 31, 55%). Fifty-two participants (93%) were interested in increasing their use of laparoscopy; the majority felt that a low-cost laparoscope (n = 52, 93%) and lift retractor for gasless laparoscopy (n = 46, 82%) would serve an unmet need in their practice.
Conclusions
While the use of laparoscopy is currently limited in COSECSA countries, there is a significant interest among surgeons to increase implementation. A low-cost, durable laparoscopic system was viewed as a potential solution to the current barriers and could improve implementation in LMICs.
Access options
Buy single article
Instant access to the full article PDF.
US$ 39.95
Tax calculation will be finalised during checkout.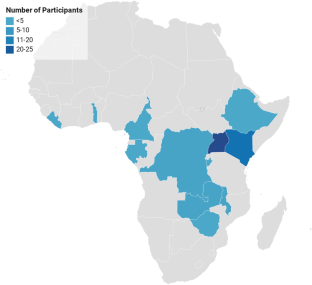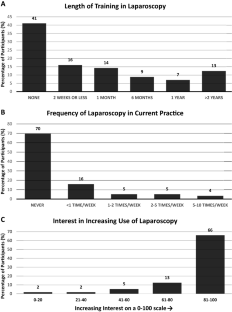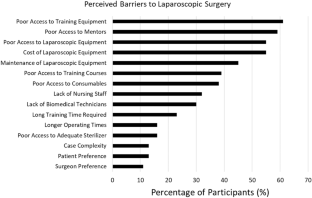 References
1.

Frazee RC, Abernathy SW, Davis M et al (2014) Outpatient laparoscopic appendectomy should be the standard of care for uncomplicated appendicitis. Journal Trauma Acute Care Surg 76(1):79–82

2.

Pappas TN (1991) Laparoscopic cholecystectomy: the standard of care for chronic and acute cholecystitis. Ann Med 23(3):231

3.

Jaschinski T, Mosch CG, Eikermann M, Neugebauer EA, Sauerland S (2018) Laparoscopic versus open surgery for suspected appendicitis. Cochrane Database Syst Rev 11(11):001546

4.

Veldkamp R, Kuhry E, Hop WC et al (2005) Laparoscopic surgery versus open surgery for colon cancer: short-term outcomes of a randomised trial. Lancet Oncol 6(7):477–484

5.

Tsai AY, Selzer DJ (2010) Single-port laparoscopic surgery. Adv Surg 44:1–27

6.

Chao TE, Mandigo M, Opoku-Anane J, Maine R (2016) Systematic review of laparoscopic surgery in low- and middle-income countries: benefits, challenges, and strategies. Surg Endosc 30(1):1–10

7.

Ogbonna BC, Obekpa PO, Momoh JT, Obafunwa JO, Nwana EJ (1992) Laparoscopy in developing countries in the management of patients with an acute abdomen. Br J Surg 79(9):964–966

8.

Anderson GA, Ilcisin L, Kayima P et al (2017) Out-of-pocket payment for surgery in Uganda: the rate of impoverishing and catastrophic expenditure at a government hospital. PLoS ONE 12(10):e0187293

9.

Groen RS, Sriram VM, Kamara TB, Kushner AL, Blok L (2014) Individual and community perceptions of surgical care in sierra leone. Trop Med Int Health 19(1):107–116

10.

Muzira A, Kakembo N, Kisa P et al (2018) The socioeconomic impact of a pediatric ostomy in Uganda: a pilot study. Pediatr Surg Int 34(4):457–466

11.

Choy I, Kitto S, Adu-Aryee N, Okrainec A (2013) Barriers to the uptake of laparoscopic surgery in a lower-middle-income country. Surg Endosc 27(11):4009–4015

12.

Schwartz M, Jeng CJ, Chuang LT (2017) Laparoscopic surgery for gynecologic cancer in low- and middle-income countries (LMICs): an area of need. Gynecol Oncol Rep 20:100–102

13.

Dünser M, Baelani I, Ganbold L (2006) The specialty of anesthesia outside Western medicine with special consideration of personal experience in the democratic republic of the congo and mongolia. Der Anaesthesist 55(2):118–132

14.

Oosting RM, Wauben L, Madete JK, Groen RS, Dankelman J (2020) Availability, procurement, training, usage, maintenance and complications of electrosurgical units and laparoscopic equipment in 12 African countries. BJS Open 4(2):326–331

15.

Apenteng BA, Opoku ST, Ansong D, Akowuah EA, Afriyie-Gyawu E (2018) The effect of power outages on in-facility mortality in healthcare facilities: evidence from ghana. Global Public Health 13(5):545–555

16.

Gheza F, Oginni FO, Crivellaro S, Masrur MA, Adisa AO (2018) Affordable laparoscopic camera system (ALCS) designed for low- and middle-income countries: a feasibility study. World J Surg 42(11):3501–3507

17.

Ren H, Tong Y, Ding XB et al (2014) Abdominal wall-lifting versus CO2 pneumoperitoneum in laparoscopy: A review and meta-analysis. Int J Clin Exp Med 7(6):1558–1568

18.

COSECSA. College of Surgeons of East, Central and Southern Africa. www.cosecsa.org. Accessed 15 Mar 2020

19.

Adisa AO, Lawal OO, Arowolo OA, Alatise OI (2013) Local adaptations aid establishment of laparoscopic surgery in a semiurban Nigerian hospital. Surg Endosc 27(2):390–393

20.

Harris PA, Taylor R, Thielke R, Payne J, Gonzalez N, Conde JG (2009) Research electronic data capture (REDCap)–a metadata-driven methodology and workflow process for providing translational research informatics support. J Biomed Inform 42(2):377–381

21.

Foley G, Timonen V (2015) Using grounded theory method to capture and analyze health care experiences. Health Serv Res 50(4):1195–1210

22.

Surgical site infection after gastrointestinal surgery in high-income (2018) Middle-income, and low-income countries: a prospective, international, multicentre cohort study. Lancet Infect Dis 18(5):516–525

23.

Noordman BJ, de Bekker-Grob EW, Coene P et al (2018) Patients' preferences for treatment after neoadjuvant chemoradiotherapy for oesophageal cancer. Br J Surg 105(12):1630–1638

24.

Ha GW, Lee MR, Kim JH (2016) Adhesive small bowel obstruction after laparoscopic and open colorectal surgery: a systematic review and meta-analysis. Am J Surg 212(3):527–536

25.

Stewart B, Khanduri P, McCord C et al (2014) Global disease burden of conditions requiring emergency surgery. British J Surg 101(1):e9-22

26.

Tripathi L, Datta SS, Agrawal SK, Chatterjee S, Ahmed R (2017) Stigma perceived by women following surgery for breast cancer. Indian J Med Paediatr Oncol 38(2):146–152

27.

Garcia-Roig ML, Travers C, McCracken C, Cerwinka W, Kirsch JM, Kirsch AJ (2017) Surgical scar location preference for pediatric kidney and pelvic surgery: a crowdsourced survey. J Urol 197(3 Pt 2):911–919

28.

Yeung PP Jr, Bolden CR, Westreich D, Sobolewski C (2013) Patient preferences of cosmesis for abdominal incisions in gynecologic surgery. J Minim Invasive Gynecol 20(1):79–84

29.

Lombardo S, Rosenberg JS, Kim J et al (2018) Cost and outcomes of open versus laparoscopic cholecystectomy in Mongolia. J Surg Res 229:186–191

30.

Rickard JL, Ngarambe C, Ndayizeye L, Smart B, Majyambere JP, Riviello R (2018) Risk of catastrophic health expenditure in rwandan surgical patients with peritonitis. World J Surg 42(6):1603–1609

31.

Yap A, Cheung M, Kakembo N et al (2018) From procedure to poverty: out-of-pocket and catastrophic expenditure for pediatric surgery in Uganda. J Surg Res 232:484–491

32.

Liao CH, Kuo IM, Fu CY et al (2014) Gasless laparoscopic assisted surgery for abdominal trauma. Injury 45(5):850–854

33.

McPherson D, Neuhaus V, Dhar R, Edu S, Nicol AJ, Navsaria PH (2018) The effect of human-immunodeficiency virus status on outcomes in penetrating abdominal Trauma: an interim analysis. World J Surg 42(8):2412–2420

34.

Higgins RM, Frelich MJ, Bosler ME, Gould JC (2017) Cost analysis of robotic versus laparoscopic general surgery procedures. Surg Endosc 31(1):185–192

35.

Xenocor. Xenoscope. Available at: https://xenocor.com/. Accessed July 2, 2020.

36.

Watkins C, Fransson BA, Ragle CA, Mattoon J, Gay JM (2013) Comparison of thoracic and abdominal cavity volumes during abdominal CO2 insufflation and abdominal wall lift. Veterinary Surg 42(5):607–612

37.

Kobayashi K, Sasaki K, Iijima T, Yoshimi F, Nagai H (2016) Excision of the urachal remnant using the abdominal wall-lift laparoscopy: a case report. Int J Surg Case Rep 22:90–93

38.

Xia PT, Yusofu M, Han HF et al (2018) Low-pressure pneumoperitoneum with abdominal wall lift in laparoscopic total mesorectal excision for rectal cancer: Initial experience. World J Gastroenterol 24(11):1278–1284

39.

Oppedijk V, van der Gaast A, van Lanschot JJ et al (2014) Patterns of recurrence after surgery alone versus preoperative chemoradiotherapy and surgery in the CROSS trials. J Clin Oncol 32(5):385–391

40.

Endogyn. Lift Laparoscopy. https://www.endogyn.com/endogyn/what-makes-the-difference/gasless-lift-laparoscopy/2020. Accessed 01 Apr 2020

41.

MDCurrent. MD Current India. Global Medicine, Local Focus. Available at: https://mdcurrent.in/courses/lift-laparoscopy/2020. Accessed Dec 15, 2019.

42.

Cullinan DR, Schill MR, DeClue A, Salles A, Wise PE, Awad MM (2017) Fundamentals of laparoscopic surgery: not only for senior residents. J Surg Educ 74(6):e51–e54

43.

Weis JJ, Goldblatt M, Pryor A et al (2018) SAGES's advanced GI/MIS fellowship curriculum pilot project. Surg Endosc 32(6):2613–2619

44.

Meara JG, Leather AJ, Hagander L et al (2015) Global Surgery 2030: evidence and solutions for achieving health, welfare, and economic development. Lancet 386(9993):569–624

45.

Reed CR, Commander SJ, Sekabira J et al (2020) Comparison of ugandan and north American pediatric surgery fellows' operative experience: opportunities for global training exchange. J Surg Educ 77(3):606–614

46.

Nesbitt RC, Gabrysch S, Laub A et al (2014) Methods to measure potential spatial access to delivery care in low- and middle-income countries: a case study in rural Ghana. Int J Health Geographics 26(13):25

47.

Ahmad JI, Mishra RK (2015) Minimal access surgery educational needs of trainees from Africa: perspectives from an Asian training institution. West Afr J Med 34(1):44–49

48.

Beard JH, Akoko L, Mwanga A, Mkony C, O'Sullivan P (2014) Manual laparoscopic skills development using a low-cost trainer box in Tanzania. J Surg Educ 71(1):85–90

49.

Bedada AG, Hsiao M, Bakanisi B, Motsumi M, Azzie G (2015) Establishing a contextually appropriate laparoscopic program in resource-restricted environments: experience in Botswana. Ann Surg 261(4):807–811

50.

Long KL, Spears C, Kenady DE, Roth JS (2014) Implementation of a low-cost laparoscopic skills curriculum in a third-world setting. J Surg Educ 71(6):860–864

51.

Morrow E, Bekele A, Tegegne A et al (2016) Laparoscopic simulation for surgical residents in Ethiopia: course development and results. Am J Surg 212(4):645–648
Acknowledgements
This work was supported by the Bass Connections Program at Duke University and by a Duke/Duke-NUS Pilot Project Grant.
Ethics declarations
Disclosures
Dr. Mueller is an employee of Calla Health Foundation. Dr. Mueller, Mr. Gupta, and Dr. Fitzgerald have patents pending for laparoscopic technology designed for low- and middle-income countries. Dr. Farrow, Dr. Commander, Dr. Reed, Dr. Loh, and Dr. Sekabira have no conflicts of interst of financial ties to disclose.
Additional information
Publisher's Note
Springer Nature remains neutral with regard to jurisdictional claims in published maps and institutional affiliations.
Appendix: Survey questions
Appendix: Survey questions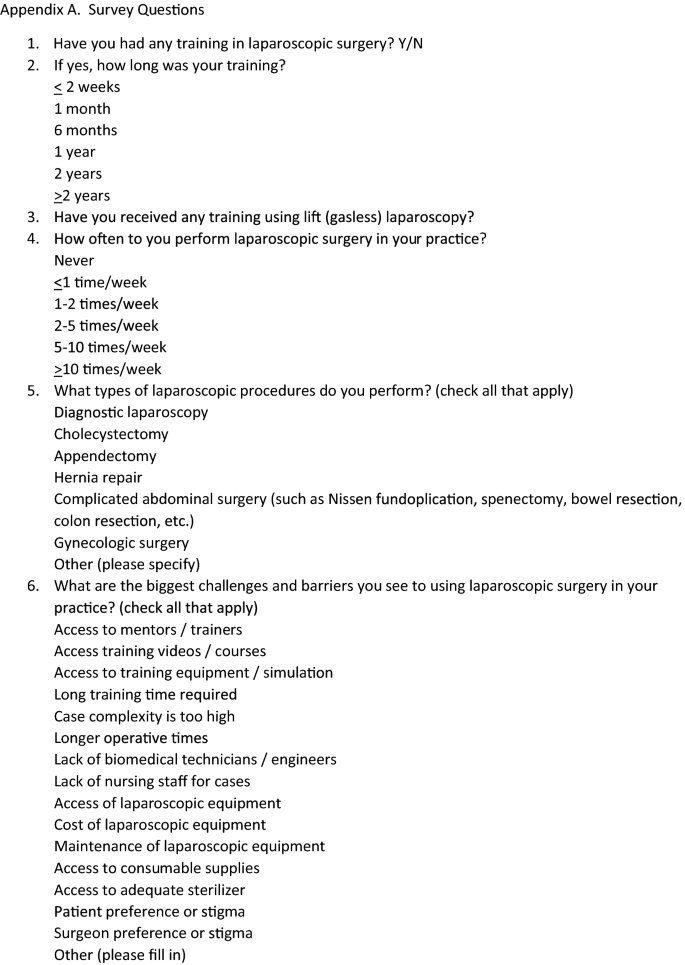 About this article
Cite this article
Farrow, N.E., Commander, S.J., Reed, C.R. et al. Laparoscopic experience and attitudes toward a low-cost laparoscopic system among surgeons in East, Central, and Southern Africa: a survey study. Surg Endosc (2020). https://doi.org/10.1007/s00464-020-08151-w
Received:

Accepted:

Published:
Keywords
Low-cost laparoscopy

Global surgery

Gasless laparoscopy

Surgery in Africa