Abstract
Background
Quality improvement (QI) initiatives commonly originate 'top-down' from senior leadership, as staff engagement is often sporadic. We describe our experience with a technology-enabled open innovation contest to encourage participation from multiple stakeholders in a Department of Surgery (DoS) to solicit ideas for QI. We aimed to stimulate engagement and to assist DoS leadership in prioritizing QI initiatives.
Methods
Observational study of a process improvement. The process had five phases: anonymous online submission of ideas by frontline staff; anonymous online crowd-voting to rank ideas on a scale whether the DoS should implement each idea (1 = No, 3 = Maybe, 5 = Yes); ideas with scores ≥ 95th percentile were invited to submit implementation plans; plans were reviewed by a multi-disciplinary panel to select a winning idea; an award ceremony celebrated the completion of the contest.
Results
152 ideas were submitted from 95 staff (n = 850, 11.2%). All Divisions (n = 12) and all staff roles (n = 12) submitted ideas. The greatest number of ideas were submitted by faculty (27.6%), patient service coordinators (18.4%), and residents (17.8%). The most common QI category was access to care (20%). 195 staff (22.9%) cast 3559 votes. The mean score was 3.5 ± 0.5. 10 Ideas were objectively invited to submit implementation plans. One idea was awarded a grand prize of funding, project management, and leadership buy-in.
Conclusion
A web-enabled open innovation contest was successful in engaging faculty, residents, and other critical role groups in QI. It also enabled the leadership to re-affirm a positive culture of inclusivity, maintain an open-door policy, and also democratically vet and prioritize solutions for quality improvement.
Access options
Buy single article
Instant access to the full article PDF.
USD 39.95
Price excludes VAT (USA)
Tax calculation will be finalised during checkout.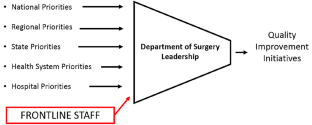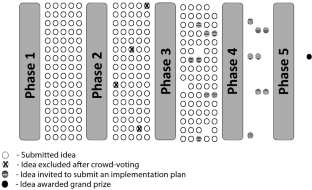 Abbreviations
DoS:

Department of Surgery

IC:

Innovation Committee

IL:

Innovation lab

OIC:

Open innovation challenge

QI:

Quality improvement
References
Khuri SF, Daley J, Henderson W, Hur K, Demakis J, Aust JB, Chong V, Fabri PJ, Gibbs JO, Grover F, Hammermeister K, Irvin G III, McDonald G, Passaro E Jr, Phillips L, Scamman F, Spencer J, Stremple JF (1998) The Department of Veterans Affairs' NSQIP: the first, national, validated, outcome-based, risk-adjusted, and peer-controlled program for the measurement and enhancement of the quality of surgical care. Ann Surg 228:491–507

Straube B (2005) The CMS Quality Roadmap: quality plus efficiency. Health Aff (Millwood). https://doi.org/10.1377/hlthaff.w5.555

Stulberg JJ, Delaney CP, Neuhauser DV, Aron DC, Fu P, Koroukian SM (2010) Adherence to surgical care improvement project measures and the association with postoperative infections. JAMA 303:2479–2485

Kaye DR, Norton EC, Ellimoottil C, Ye Z, Dupree JM, Herrel LA, Miller DC (2017) Understanding the relationship between the Centers for Medicare and Medicaid Services' Hospital Compare star rating, surgical case volume, and short term-outcomes after major cancer surgery. Cancer 123:4259–4267

Foster GL, Kenward K, Hines S, Joshi MS (2017) The relationship of engagement in improvement practices to outcome measures in large-scale quality improvement initiatives. Am J Med Qual 32:361–368

Tsai TC, Orav EJ, Jha AK (2015) Patient satisfaction and quality of surgical care in US hospitals. Ann Surg 261:2–8

Osborne NH, Nicholas LH, Ryan AM, Thumma JR, Dimick JB (2015) Association of hospital participation in a quality reporting program with surgical outcomes and expenditures for Medicare beneficiaries. JAMA 313:496–504

Chesbrough HW, Garman AR (2009) How open innovation can help you cope in lean times. Harvard Business Review, December. https://hbr.org/2009/12/how-open-innovation-can-help-you-cope-in-lean-times. Accessed 14 Oct 2019

Kafouros MI, Forsans N (2012) The role of open innovation in emerging economies: do companies profit from the scientific knowledge of others? J World Bus 47:362–370

Chesbrough HW (2003) The era of open innovation. MIT Sloan Manag Rev 44(3):35–41. https://sloanreview.mit.edu/article/the-era-of-open-innovation/. Accessed 14 Oct 2019

Rathi A (2014) To encourage innovation, make it a competition. 19 November. https://hbr.org/2014/11/to-encourage-innovation-make-it-a-competition. Accessed 14 Oct 2019

Terwiesch C, Mehta SJ, Volpp KG (2013) Innovation in health delivery: the Penn Medicine Innovation Tournament. Healthcare 1:37–41

Eliott VS, Dekhytyar M, Pouwels MV, Skochelak SE (2019) The American Medical Association Medical Education Innovation Challenge: incorporating the student voice into medical education transformation. Acad Med 94:1343–1346

Fitzpatrick NE, Maier J, Yasko L, Mathias D, Qua K, Wagner E, Miller E, Reis SE (2017) The Pitt Innovation Challenge (PInCh): Driving innovation in translational research through an incentive-based, problem-focused competition. Acad Med 92:671–675

Singer S, Lin S, Falwell A, Gaba D, Baker L (2009) Relationship of safety climate and safety performance in hospitals. Health Serv Res 44:399–421

Tucker AL, Edmondson AC (2003) Why hospitals don't learn from failures: organizational and psychological dynamics that inhibit system change. Calif Manag Rev 45:55–72

Bartek MA, Truitt AR, Widmer-Rodriguez S, Tuia J, Bauer ZA, Comstock BA, Edwards TC, Lawrence SO, Monsell SE, Patrick DL, Jarvik JG, Lavallee DC (2017) The promise and pitfalls of using crowdsourcing in research for back pain: cross-sectional surveys. J Med Internet Res 19:e341
Acknowledgements
The authors are thankful for the executive leadership of Ann L. Prestipino, MPH and Elizabeth A. Lancaster, MBA. We appreciate the clinical operations and administrative support of Annette Levitt, RN and Katie A. Williams of the Department of Surgery. Moreover, we would like to recognize the technical assistance with data management and analysis provided by Ya-Ching Hung, MD, MPH and Yu-Tien Hsu, MD, MPH of the Codman Center for Clinical Effectiveness in Surgery. In addition, the authors are grateful to have received assistance with project management, technical support with the web-enabled innovation challenge, and general guidance from Maulik Majmudar, MD, Julia Jackson, MBA, Nora Metzger, MSW, and Victoria Vacaro of the Healthcare Transformation Lab.
Funding
Dr. Hashimoto was supported by the National Institutes of Health (Grant #: T32 DK007754-17).
Ethics declarations
Disclosures
Dr. Daniel Hashimoto reports Grants from Olympus Corporation, personal fees from Johnson and Johnson Institute, personal fees from Worrell, Inc., personal fees from Verily Life Sciences, personal fees from Mosaic Research Management, personal fees from Gerson Lehrman Group, other from Proximie, outside the submitted work. Dr. Elan Witkowski reports personal fees from Medtronic, out the submitted work. Drs. Yanik Bababekov, Sahael Stapleton, Alexander Haynes, Allan Goldstein, John Mullen, Eric Isselbacher, Keith Lillemoe, and David Chang have no conflicts of interest or financial ties to disclose.
Additional information
Publisher's Note
Springer Nature remains neutral with regard to jurisdictional claims in published maps and institutional affiliations.
About this article
Cite this article
Bababekov, Y.J., Stapleton, S.M., Hashimoto, D.A. et al. Open innovation facilitates department-wide engagement in quality improvement: experience from the Massachusetts General Hospital. Surg Endosc 35, 5441–5449 (2021). https://doi.org/10.1007/s00464-020-08028-y
Received:

Accepted:

Published:

Issue Date:

DOI: https://doi.org/10.1007/s00464-020-08028-y
Keywords
Innovation

Quality

Safety

Leadership

Crowd-source

Technology