Abstract
Background
Though biliary obstruction is a common clinical situation, it is rarely caused by transjugular intrahepatic portosystemic shunt (TIPS) placement. When TIPS-induced intractable biliary obstruction happens, liver transplantation seems to be the only resort to cure this condition.
Methods
Herein, we describe a patient who suffered from intractable biliary obstruction following TIPS placement.
Results
The patient was finally cured by magnet-assisted endoscopic biliary-duodenal anastomosis, without further requirement of liver transplantation. After more than 6 months of follow-up, this patient recovered well, and recurrence of biliary obstruction was not observed.
Conclusion
We showed that magnet-assisted endoscopic biliary-duodenal anastomosis is a safe method, which is easy to perform and worthy of popularizing.
Access options
Buy single article
Instant access to the full article PDF.
US$ 39.95
Tax calculation will be finalised during checkout.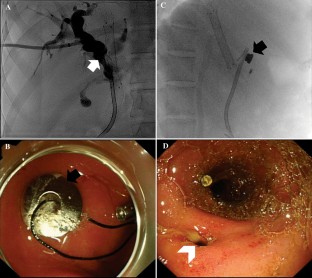 Abbreviations
CT:

Computed tomography;

CTPV:

Cavernous transformation of portal vein;

PTCD:

Percutaneous transhepatic cholangial drainage

TIPS:

Transjugular intrahepatic portosystemic shunt
References
1.

Li Y, Zhou Y, Gu W, Nie Y (2017) Obstructive jaundice caused by heterotopic pancreas. Am J Gastroenterol 112:1777

2.

Ikeuchi N, Itoi T, Tonozuka R, Mukai S, Koyama Y, Tsuchiya T, Matsumoto T, Mizuno Y, Nakamura I, Hino A, Moriyasu F (2016) Strongyloides stercoralis Infection Causing Obstructive Jaundice and Refractory Pancreatitis: A Lesson Learned from a Case Study. Intern Med 55:2081–2086

3.

Zhang LH, Tai Y, Tong H, Lei XJ, Tang CW (2018) Hepatobiliary and pancreatic: rare cause of obstructive jaundice by Trichosporon asahii. J Gastroenterol Hepatol 33:338

4.

Korrapati P, Bidari K, Komanduri S (2015) Biliary obstruction after transjugular intrahepatic portosystemic shunt placement in a patient with Budd-Chiari syndrome. ACG Case Rep J 2:101–103

5.

Meng J, Yang S, Ding W, He C, Wu X (2016) Biliary obstruction following transjugular intrahepatic portosystemic shunt creation in patients with variceal bleeding. J Vasc Interv Radiol 27:558–561

6.

Duller D, Kniepeiss D, Lackner C, Portugaller RH, Jakoby E, Schaffellner S, Stiegler P, Kahn J, Mueller H, Roller R, Tscheliessnigg KH, Iberer F (2009) Biliary obstruction as a complication of transjugular intrahepatic portosystemic shunt. Liver Transpl 15:556–557

7.

Paterno F, Khan A, Cavaness K, Asolati M, Campsen J, McKenna GJ, Onaca N, Ruiz R, Trotter J, Klintmalm GB (2011) Malpositioned transjugular intrahepatic portosystemic shunt in the common hepatic duct leading to biliary obstruction and liver transplantation. Liver Transpl 17:344–346

8.

Peynircioglu B, Cho KJ, Cwikiel W (2007) Portal hypertension and obstructive jaundice after hepatic interventions: report of two unusual complications. J Vasc Interv Radiol 18:567–571

9.

Karlas T, Hoffmeister A, Fuchs J, Troltzsch M, Keim V (2013) Bile duct obstruction after transjugular intrahepatic portosystemic shunt implantation. Endoscopy 45(2):E47–E48

10.

Hyun D, Park KB, Lim SJ, Hwang JH, Sinn DH (2016) Portal vein stenting for portal biliopathy with jaundice. Cardiovasc Intervent Radiol 39:620–623

11.

Kubo M, Wada H, Eguchi H, Gotoh K, Iwagami Y, Yamada D, Akita H, Asaoka T, Noda T, Kobayashi S, Nakamura M, Ono Y, Osuga K, Yamanouchi E, Doki Y, Mori M (2018) Magnetic compression anastomosis for the complete dehiscence of hepaticojejunostomy in a patient after living-donor liver transplantation. Surg Case Rep 4:95

12.

Saito R, Tahara H, Shimizu S, Ohira M, Ide K, Ishiyama K, Kobayashi T, Ohdan H (2017) Biliary-duodenal anastomosis using magnetic compression following massive resection of small intestine due to strangulated ileus after living donor liver transplantation: a case report. Surg Case Rep 3:73

13.

Muraoka N, Uematsu H, Yamanouchi E, Kinoshita K, Takeda T, Ihara N, Matsunami H, Itoh H (2005) Yamanouchi magnetic compression anastomosis for bilioenteric anastomotic stricture after living-donor liver transplantation. J Vasc Interv Radiol 16:1263–1267
Acknowledgements
This study was supported by 1·3·5 project for disciplines of excellence—Clinical Research Incubation Project, West China Hospital, Sichuan University (Grant No. 2019HXFH024); Science and Technology Department of Sichuan Province (2020YJ0083); China Postdoctoral Science Foundation Grant (Grant No. 2019M653436); Post-Doctor Research Project, West China Hospital, Sichuan University (Grant No. 2019HXBH013). The authors thank Dr. Liansong Ye (Department of Gastroenterology, West China Hospital, Sichuan University) for his kind help.
Ethics declarations
Disclosures
Drs. Linhao Zhang, Bo Wei, Hao Wu, and Bing Hu have no conflict of interest or financial ties to disclose.
Ethical approval
This study conformed to the principles of Declaration of Helsinki for medical research and ethical approval was not needed for this case report from institutional review board of West China Hospital according to its policy.
Informed consent
Written informed consent for patient information and images to be published was provided by the patient.
Additional information
Publisher's Note
Springer Nature remains neutral with regard to jurisdictional claims in published maps and institutional affiliations.
Electronic supplementary material
Below is the link to the electronic supplementary material.
Choledochoscope was introduced via PTCD fistula after removal of 20fr tube to advance an 8 mm magnet into biliary duct. After identification of the narrowing of bile duct and a site of duodenal wall, where was closest to the narrowing, a 10 mm string-attached magnet was placed to the site by endoscope. Finally, the magnets were allowed to align together during endoscopy. Supplementary file1 (AVI 78454 kb)
About this article
Cite this article
Zhang, L., Wei, B., Wu, H. et al. Intractable biliary obstruction after TIPS creation treated by magnet-assisted endoscopic biliary-duodenal anastomosis. Surg Endosc 35, 467–470 (2021). https://doi.org/10.1007/s00464-020-07963-0
Received:

Accepted:

Published:

Issue Date:
Keywords
Biliary-duodenal anastomosis

Biliary obstruction

Magnet

Endoscopy

Transjugular intrahepatic portosystemic shunt