Abstract
Background
Robot-assisted radical prostatectomy (RARP) has gained prominence since the da Vinci surgical system was introduced in 2000. RARP has now become a standard procedure for treating cases with localized prostate cancer. However, no study has examined its surgical time by accurately measuring the pelvic visceral fat (PVF) volume. This study aimed to investigate the factors associated with prolonged console time and surgical difficulty by RARP surgeons.
Methods
This study included 405 patients who underwent RARP between 2014 and 2019 at our institution. Given that the anatomical characteristics were considered to affect RARP, PVF and working space (WS) were estimated preoperatively by computed tomography using a 3D image analysis system. Univariate and multivariate logistic regression analyses were performed to identify the factors prolonging console time, such as body mass index (BMI), prostate volume, previous abdominal surgery, nerve-sparing procedure, PVF, and WS. We also investigated whether post-operative complications were associated with any of these factors.
Results
Larger PVF (p = 0.028, odds ratio (OR) 1.43), smaller WS (p < 0.001, OR 2.48), and the nerve-sparing procedure (p = 0.037, OR 1.61) were statistically significant factors associated with prolonged console time. Furthermore, higher BMI (p = 0.013, OR 1.49) and smaller pelvic width (p < 0.001, OR 2.63) were the alternative and more practical factors associated with prolonged console time. The post-operative anastomotic leakage occurrence rate increased with the number of risk factors, while post-operative complications did not change even in high-risk cases.
Conclusion
PVF and WS are significant factors associated with prolonged console time in RARP cases. However, BMI can be as useful as PVF, since BMI significantly correlated with PVF. Additionally, pelvic width (PW) can be an alternative to WS, since PW correlated with WS. This study demonstrated that preoperative BMI and PW might predict the surgical risk and identify suitable RARP cases for novice surgeons.
Access options
Buy single article
Instant access to the full article PDF.
USD 39.95
Price includes VAT (USA)
Tax calculation will be finalised during checkout.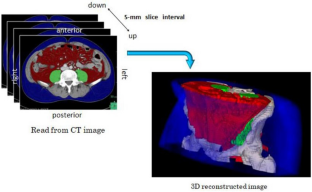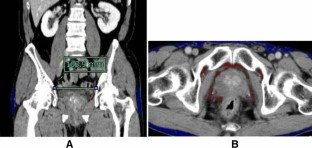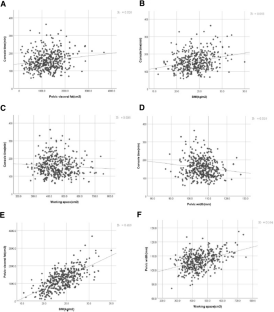 References
1.

Zhou CK, Check DP, Lortet-Tieulent J, Laversanne M, Jemal A, Ferlay J, Bray F, Cook MB, Devesa SS (2016) Prostate cancer incidence in 43 populations worldwide: an analysis of time trends overall and by age group. Int J Cancer 138:1388–1400

2.

Alemozaffar M, Sanda M, Yecies D, Mucci LA, Stampfer MJ, Kenfield SA (2015) Benchmarks for operative outcomes of robotic and open radical prostatectomy: results from the health professionals follow-up study. Eur Urol 67:432–438

3.

Ku TS, Kane CJ, Sen S, Henderson WG, Dudley RA, Cason BA (2008) Effects of hospital procedure volume and resident training on clinical outcomes and resource use in radical retropubic prostatectomy surgery in the Department of Veterans Affairs. J Urol 179:272–278 discussion 278-279

4.

Sugihara T, Yasunaga H, Horiguchi H, Matsui H, Fujimura T, Nishimatsu H, Fukuhara H, Kume H, Changhong Y, Kattan MW, Fushimi K, Homma Y (2014) Robot-assisted versus other types of radical prostatectomy: population-based safety and cost comparison in Japan, 2012–2013. Cancer Sci 105:1421–1426

5.

Carter SC, Lipsitz S, Shih YC, Nguyen PL, Trinh QD, Hu JC (2014) Population-based determinants of radical prostatectomy operative time. BJU Int 113:E112–118

6.

Eijkemans MJ, van Houdenhoven M, Nguyen T, Boersma E, Steyerberg EW, Kazemier G (2010) Predicting the unpredictable: a new prediction model for operating room times using individual characteristics and the surgeon's estimate. Anesthesiology 112:41–49

7.

Stepaniak PS, Heij C, Mannaerts GH, de Quelerij M, de Vries G (2009) Modeling procedure and surgical times for current procedural terminology-anesthesia-surgeon combinations and evaluation in terms of case-duration prediction and operating room efficiency: a multicenter study. Anesth Analg 109:1232–1245

8.

Martinez CH, Chalasani V, Lim D, Nott L, Al-Bareeq RJ, Wignall GR, Stitt L, Pautler SE (2010) Effect of prostate gland size on the learning curve for robot-assisted laparoscopic radical prostatectomy: does size matter initially? J Endourol 24:261–266

9.

Link BA, Nelson R, Josephson DY, Yoshida JS, Crocitto LE, Kawachi MH, Wilson TG (2008) The impact of prostate gland weight in robot assisted laparoscopic radical prostatectomy. J Urol 180:928–932

10.

Boczko J, Erturk E, Golijanin D, Madeb R, Patel H, Joseph JV (2007) Impact of prostate size in robot-assisted radical prostatectomy. J Endourol 21:184–188

11.

Labanaris AP, Zugor V, Witt JH (2013) Robot-assisted radical prostatectomy in patients with a pathologic prostate specimen weight =100 grams versus =50 grams: surgical, oncologic and short-term functional outcomes. Urol Int 90:24–30

12.

Simon RM, Howard LE, Moreira DM, Terris MK, Kane CJ, Aronson WJ, Amling CL, Cooperberg MR, Freedland SJ (2017) Predictors of operative time during radical retropubic prostatectomy and robot-assisted laparoscopic prostatectomy. Int J Urol 24:618–623

13.

Alenizi AM, Valdivieso R, Rajih E, Meskawi M, Toarta C, Bienz M, Azizi M, Hueber PA, Lavigueur-Blouin H, Trudeau V, Trinh QD, El-Hakim A, Zorn KC (2015) Factors predicting prolonged operative time for individual surgical steps of robot-assisted radical prostatectomy (RARP): a single surgeon's experience. Can Urol Assoc J 9:E417–422

14.

Kadono Y, Ueno S, Makino T, Ofude M, Izumi K, Gabata T, Namiki M (2014) Intrapelvic fat makes robot-assisted radical prostatectomy difficult. Anticancer Res 34:5523–5528

15.

Patel VR, Tully AS, Holmes R, Lindsay J (2005) Robotic radical prostatectomy in the community setting–the learning curve and beyond: initial 200 cases. J Urol 174:269–272

16.

Hirasawa Y, Ohno Y, Nakashima J, Shimodaira K, Hashimoto T, Gondo T, Ohori M, Tachibana M, Yoshioka K (2016) Impact of a preoperatively estimated prostate volume using transrectal ultrasonography on surgical and oncological outcomes in a single surgeon's experience with robot-assisted radical prostatectomy. Surg Endosc 30:3702–3708

17.

El-Feel A, Davis JW, Deger S, Roigas J, Wille AH, Schnorr D, Loening S, Hakiem AA, Tuerk IA (2003) Laparoscopic radical prostatectomy–an analysis of factors affecting operating time. Urology 62:314–318

18.

Singh A, Fagin R, Shah G, Shekarriz B (2005) Impact of prostate size and body mass index on perioperative morbidity after laparoscopic radical prostatectomy. J Urol 173:552–554

19.

Brown JA, Rodin DM, Lee B, Dahl DM (2005) Laparoscopic radical prostatectomy and body mass index: an assessment of 151 sequential cases. J Urol 173:442–445

20.

Eden CG, Chang CM, Gianduzzo T, Moon DA (2006) The impact of obesity on laparoscopic radical prostatectomy. BJU Int 98:1279–1282

21.

Liatsikos E, Muhlstadt S, Kallidonis P, Rabenalt R, Do M, Burchardt M, Herrmann TR, Stolzenburg JU (2008) Performance and functional outcome of endoscopic extraperitoneal radical prostatectomy in relation to obesity: an assessment of 500 patients. BJU Int 102:718–722

22.

Kaneko G, Miyajima A, Yazawa S, Yuge K, Kikuchi E, Asanuma H, Nakagawa K, Oya M (2013) What is the predictor of prolonged operative time during laparoscopic radical prostatectomy? Int J Urol 20:330–336

23.

Campeggi A, Xylinas E, Ploussard G, Ouzaid I, Fabre A, Allory Y, Vordos D, Abbou CC, Salomon L, de la Taille A (2012) Impact of body mass index on perioperative morbidity, oncological, and functional outcomes after extraperitoneal laparoscopic radical prostatectomy. Urology 80:576–584

24.

Huben NB, Hussein AA, May PR, Whittum M, Krasowski C, Ahmed YE, Jing Z, Khan H, Kim HL, Schwaab T, Underwood W, Kauffman EC, Mohler JL, Guru KA (2018) Development of a patient-based model for estimating operative times for robot-assisted radical prostatectomy. J Endourol 32:730–736

25.

Boorjian SA, Crispen PL, Carlson RE, Rangel LJ, Karnes RJ, Frank I, Gettman MT (2008) Impact of obesity on clinicopathologic outcomes after robot-assisted laparoscopic prostatectomy. J Endourol 22:1471–1476

26.

Wiltz AL, Shikanov S, Eggener SE, Katz MH, Thong AE, Steinberg GD, Shalhav AL, Zagaja GP, Zorn KC (2009) Robotic radical prostatectomy in overweight and obese patients: oncological and validated-functional outcomes. Urology 73:316–322

27.

Zilberman DE, Tsivian M, Yong D, Albala DM (2011) Surgical steps that elongate operative time in robot-assisted radical prostatectomy among the obese population. J Endourol 25:793–796

28.

Kaneko G, Miyajima A, Yuge K, Hasegawa M, Takeda T, Jinzaki M, Kikuchi E, Nakagawa K, Oya M (2013) Periprostatic fat area is an independent factor that prolonged operative time in laparoscopic radical prostatectomy. Urology 82:1304–1309

29.

Ahrend MD, Noser H, Shanmugam R, Burr F, Kamer L, Kamarul T, Hugli H, Nagy A, Richards RG, Gueorguiev-Ruegg B (2020) Development of generic Asian pelvic bone models using CT-based 3D statistical modelling. J Orthop Translat 20:100–106
Funding
There are no financial conflicts of interest to disclose.
Ethics declarations
Disclosures
Takato Uchida, Taro Higure, Masayoshi Kawakami, Mayura Nakano, Nobuyuki Nakajima, Hakushi Kim, Masahiro Nitta, Masanori Hasegawa, Yoshiaki Kawamura, Sunao Shoji, and Akira Miyajima have no conflicts of interest or financial ties to disclose.
Additional information
Publisher's Note
Springer Nature remains neutral with regard to jurisdictional claims in published maps and institutional affiliations.
About this article
Cite this article
Uchida, T., Higure, T., Kawakami, M. et al. What factors affect the operative time of robot-assisted laparoscopic radical prostatectomy?. Surg Endosc 35, 4436–4443 (2021). https://doi.org/10.1007/s00464-020-07946-1
Received:

Accepted:

Published:

Issue Date:
Keywords
Robot

Radical prostatectomy

Operative time

Body mass index

Complications

Three-dimensional volumetry