Abstract
Background
Given the complexity of the operating room (OR), it is unsurprising that surgeons frequently feel distracted while performing operative tasks. However, this relationship is not well studied in live surgeries. The objective of this study is to investigate the relationship between intraoperative distractions and technical events using surgical data.
Methods
Roux-en-Y gastric bypass operation data from three tertiary care hospitals in Toronto, Canada were collected prospectively between 2017 and 2019 by a comprehensive operative capture platform (OR Black Box) and analyzed retrospectively. Time-synchronized audiovisual recordings of the OR and laparoscopic videos of the operation were collected, along with clinical data from the electronic health record. Video data was labeled for technical data, non-technical data, and distractions by trained coders. Procedural steps were categorized based on criticality. The relationship between severe technical events (case having 0 or 1 events vs. 2 or more) and the rate of distractions (machine alarms, external communications, people entering/exiting) in critical procedural steps was assessed through logistic regression, adjusting for team factors (surgeons' technical skills, nurse changeovers).
Results
60 Roux-en-Y cases were analyzed. Average case duration was 83.2 min (SD = 21.97). Distractions occurred 47.6 times/h (SD = 20.3), with most frequent distraction being machine alarms (4.45/10 min, SD = 2.88). For unadjusted analysis, alarms (OR = 1.29, 95% CI 1.05–1.66) and surgeon's technical skills (OR = 0.65, 95% CI 0.43–0.93) were found to be correlated with severe technical events. After adjusting for team factors, alarms were found to be positively related with the presence of severe technical events (OR = 1.58, 95% CI 1.18–2.33) during high-criticality procedural steps.
Conclusions
This study showed a significant association between intraoperative distractions, in particular machine alarms, and severe technical events during high-criticality procedural steps. Further investigation will assess the temporal relationship between distractions and technical events and assess mitigation strategies to create a safer surgical environment.
Access options
Buy single article
Instant access to the full article PDF.
USD 39.95
Price excludes VAT (USA)
Tax calculation will be finalised during checkout.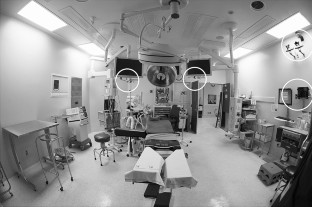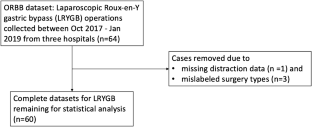 References
Jung JJ, Elfassy J, Grantcharov T (2019) Factors associated with surgeon's perception of distraction in the operating room. Surg Endosc. https://doi.org/10.1007/s00464-019-07088-z

Mentis HM, Chellali A, Manser K, Cao CGL, Schwaitzberg SD (2016) A systematic review of the effect of distraction on surgeon performance: directions for operating room policy and surgical training. Surg Endosc 30:1713–1724. https://doi.org/10.1007/s00464-015-4443-z

Sevdalis N, Undre S, Mcdermott J, Giddie J, Diner L, Smith G (2014) Impact of intraoperative distractions on patient safety: a prospective descriptive study using validated instruments. World J Surg. https://doi.org/10.1007/s00268-013-2315-z

Persoon MC, Broos HJHP, Witjes JA, Hendrikx AJM, Scherpbier AJJM (2011) The effect of distractions in the operating room during endourological procedures. Surg Endosc. https://doi.org/10.1007/s00464-010-1186-8

Vincent C, Moorthy K, Sarker SK, Chang A, Darzi AW (2004) Systems approaches to surgical quality and safety: from concept to measurement. Ann Surg 239:475–482. https://doi.org/10.1097/01.sla.0000118753.22830

Wiegmann DA, Elbardissi AW, Dearani JA, Daly RC, Sundt TM III (2007) Disruptions in surgical flow and their relationship to surgical errors: an exploratory investigation. Surgery 142:658–665. https://doi.org/10.1016/j.surg.2007.07.034

Langerman A, Grantcharov TP (2017) Are we ready for our close-up? Ann Surg 266:934–936. https://doi.org/10.1097/SLA.0000000000002232

Jung JJ, Jüni P, Lebovic G, Grantcharov T (2018) First-year analysis of the Operating Room Black Box Study. Ann Surg. https://doi.org/10.1097/sla.0000000000002863

Sevdalis N, Forrest D, Undre S, Darzi A, Vincent C (2008) Annoyances, disruptions, and interruptions in surgery: The Disruptions in Surgery Index (DiSI). World J Surg 32:1643–1650. https://doi.org/10.1007/s00268-008-9624-7

Jung JJ, Jüni P, Gee DW, Zak Y, Cheverie J, Yoo JS, Morton JM, Grantcharov T (2020) Development and evaluation of a novel instrument to measure severity of intraoperative events using video data. Ann Surg. https://doi.org/10.1097/sla.0000000000003897

Bonrath EM, Zevin B, Dedy NJ, Grantcharov TP (2013) Error rating tool to identify and analyse technical errors and events in laparoscopic surgery. Br J Surg 100:1080–1088. https://doi.org/10.1002/bjs.9168

Martin JA, Regehr G, Reznick R, Macrae H, Murnaghan J, Hutchison C, Brown M (1997) Objective structured assessment of technical skill (OSATS) for surgical residents. Br J Surg 84:273–278. https://doi.org/10.1002/bjs.1800840237

Healey AN, Sevdalis N, Vincent CA (2006) Measuring intra-operative interference from distraction and interruption observed in the operating theatre. Ergonomics 49:589–604. https://doi.org/10.1080/00140130600568899

Landis JR, Koch GG (1977) The measurement of observer agreement for categorical data. Biometrics 33:159–174

Hatala R, Cook DA, Brydges R, Hawkins R (2015) Constructing a validity argument for the Objective Structured Assessment of Technical Skills (OSATS): a systematic review of validity evidence. Adv Health Sci Educ 20:1149–1175. https://doi.org/10.1007/s10459-015-9593-1

Siegel S, Castellan NJ (1988) The case of k related samples Nonparametric statistics for behavioral sciences. McGraw-Hill, New York, pp 170–174

R Core Team (2015) R: a language and environment for statistical computing

Wadhera RK, Parker SH, Burkhart HM, Greason KL, Neal JR, Levenick KM, Wiegmann DA, Sundt TM (2010) Is the "sterile cockpit" concept applicable to cardiovascular surgery critical intervals or critical events? The impact of protocol-driven communication during cardiopulmonary bypass. J Thorac Cardiovasc Surg 139:312–319. https://doi.org/10.1016/j.jtcvs.2009.10.048

Friedrich MG, Boos M, Pagel M, Thormann T, Berakdar A, Russo S, Tirilomis T (2017) New technical solution to minimise noise exposure for surgical staff: the silent operating theatre optimisation system. BMJ Innov 3:196–205. https://doi.org/10.1136/bmjinnov-2016-000188

Ng R, Chahine S, Lanting B, Howard J (2019) Unpacking the literature on stress and resiliency: a narrative review focused on learners in the operating room. J Surg Educ 76:343–353. https://doi.org/10.1016/j.jsurg.2018.07.025

Kyrillos R, Caissie M (2017) Effect of music on surgical skill during simulated intraocular surgery. Can J Ophthalmol 52:538–542. https://doi.org/10.1016/j.jcjo.2017.04.008

Sasangohar F, Donmez B, Easty AC, Trbovich PL (2015) The relationship between interruption content and interrupted task severity in intensive care nursing: an observational study. Int J Nurs Stud 52:1573–1581. https://doi.org/10.1016/j.ijnurstu.2015.06.002

Sasangohar F, Donmez B, Easty A, Storey H, Trbovich P (2014) Interruptions experienced by cardiovascular intensive care unit nurses: an observational study. J Crit Care 29:848–853. https://doi.org/10.1016/j.jcrc.2014.05.007

Yang C, Heinze J, Helmert J, Weitz J, Reissfelder C, Mees ST (2017) Impaired laparoscopic performance of novice surgeons due to phone call distraction: a single-centre, prospective study. Surg Endosc 31:5312–5317. https://doi.org/10.1007/s00464-017-5609-7

Avidan A, Yacobi G, Weissman C, Levin PD (2017) Cell phone calls in the operating theater and staff distractions: an observational study. J Patient Saf. https://doi.org/10.1097/PTS.0000000000000351

Teter J, Guajardo I, Al-Rammah T, Rosson G, Perl TM, Manahan M (2017) Assessment of operating room airflow using air particle counts and direct observation of door openings. Am J Infect Control 45:477–482. https://doi.org/10.1016/j.ajic.2016.12.018

Andersson AE, Bergh I, Karlsson J, Eriksson BI, Nilsson K (2012) Traffic flow in the operating room: an explorative and descriptive study on air quality during orthopedic trauma implant surgery. Am J Infect Control 40:750–755. https://doi.org/10.1016/j.ajic.2011.09.015

Perez P, Holloway J, Ehrenfeld L, Cohen S, Cunningham L, Miley GB, Hollenbeck BL (2018) Door openings in the operating room are associated with increased environmental contamination. Am J Infect Control 46:954–956. https://doi.org/10.1016/j.ajic.2018.03.005

Lynch RJ, Englesbe MJ, Sturm L, Bitar A, Budhiraj K, Kolla S, Polyachenko Y, Duck MG, Campbell DA (2009) Measurement of foot traffic in the operating room: implications for infection control. Am J Med Qual 24:45–52. https://doi.org/10.1177/1062860608326419

Panahi P, Stroh M, Casper DS, Parvizi J, Austin MS (2012) Operating room traffic is a major concern during total joint arthroplasty. Clin Orthop. https://doi.org/10.1007/s11999-012-2252-4

Wahr JA, Prager RL, Abernathy JH, Martinez EA, Salas E, Seifert PC, Groom RC, Spiess BD, Searles BE, Sundt TM, Sanchez JA, Shappell SA, Culig MH, Lazzara EH, Fitzgerald DC, Thourani VH, Eghtesady P, Ikonomidis JS, England MR, Sellke FW, Nussmeier NA (2013) Patient safety in the cardiac operating room: human factors and teamwork: a scientific statement from the American Heart Association. Circulation 128:1139–1169. https://doi.org/10.1161/CIR.0b013e3182a38efa

Birkmeyer JD, Finks JF, O'Reilly A, Oerline M, Carlin AM, Nunn AR, Dimick J, Banerjee M, Birkmeyer NJO (2013) Surgical skill and complication rates after bariatric surgery. N Engl J Med 369:1434–1442. https://doi.org/10.1056/NEJMsa1300625

Hsu KE, Man FY, Gizicki RA, Feldman LS, Fried GM (2008) Experienced surgeons can do more than one thing at a time: effect of distraction on performance of a simple laparoscopic and cognitive task by experienced and novice surgeons. Surg Endosc 22:196–201. https://doi.org/10.1007/s00464-007-9452-0

Cook RI, Render M, Woods DD (2000) Gaps in the continuity of care and progress on patient safety. BMJ 320:791–794. https://doi.org/10.1136/bmj.320.7237.791
Acknowledgements
The authors would like to thank Karthik Raj, Amar Chaudhry, Alex Ahn, Stephen Townsend for their technical help, and Dr. Bijan Dastgheib, Dr. Qurrat Tahir, and Dr. Sara Elkabany for their participation in clinical discussions.
Funding
The funding for this work was provided by several sources: the Stipend of Suzan Ayas was provided by a Natural Sciences and Engineering Research Council of Canada (NSERC) Discovery Grant (RGPIN-2016-05580) and the University of Toronto Centre for Healthcare Engineering. The Stipend of Dr. Lauren Gordon was provided by a Canadian Institutes of Health Research (CIHR) Frederick Banting and Charles Best Canada Graduate Scholarship Doctoral Award (CGD-D), the John L Provan Fellowship in Surgical Education administered by the University of Toronto, and the University of Toronto Department of Surgery.
Ethics declarations
Disclosures
Dr. Teodor Grantcharov holds Intellectual Property Ownership of Surgical Safety Technologies, Inc. and is supported by Research Grants from Medtronic Canada, Ethicon Canada, Baxter Canada, Olympus Canada, Takeda Canada, and Intuitive Surgical. Suzan Ayas, Dr. Lauren Gordon, and Dr. Birsen Donmez have no conflicts of interest to disclose.
Additional information
Publisher's Note
Springer Nature remains neutral with regard to jurisdictional claims in published maps and institutional affiliations.
About this article
Cite this article
Ayas, S., Gordon, L., Donmez, B. et al. The effect of intraoperative distractions on severe technical events in laparoscopic bariatric surgery. Surg Endosc 35, 4569–4580 (2021). https://doi.org/10.1007/s00464-020-07878-w
Received:

Accepted:

Published:

Issue Date:

DOI: https://doi.org/10.1007/s00464-020-07878-w
Keywords
Interruptions

Operating room

Patient care team

Laparoscopy

Intraoperative complications

General surgery