Abstract
Background
Although single-incision laparoscopic cholecystectomy (SILC) is a common procedure, the change in its surgical indications and perioperative outcomes has not been analyzed.
Methods
We collected the clinical data of patients who underwent pure SILC in 9 centers between 2009 and 2018 and compared the perioperative outcomes.
Results
In this period, 6497 patients underwent SILC. Of these, 2583 were for gallbladder (GB) stone (39.7%), 774 were for GB polyp (11.9%), 994 were for chronic cholecystitis (15.3%), and 1492 were for acute cholecystitis (AC) (23%). 162 patients (2.5%) experienced complication, including 20 patients (0.2%) suffering from biliary leakage. The number of patients who underwent SILC for AC increased over time (p = 0.028), leading to an accumulation of experience (27.4 vs 23.7%, p = 0.002). The patients in late period were more likely to have undergone a previous laparotomy (29.5 vs 20.2%, p = 0.006), and to have a shorter operation time (47.0 vs 58.8 min, p < 0.001). Male (odds ratio [OR]; 1.673, 95% confidence interval [CI] 1.090–2.569, p = 0.019) and moderate or severe acute cholecystitis (OR; 2.602, 95% CI 1.677–4.037, p < 0.001) were independent predictive factors for gallbladder perforation during surgery, and open conversion (OR; 5.793, 95% CI 3.130–10.721, p < 0.001) and pathologically proven acute cholecystitis or empyema (OR; 4.107, 95% CI 2.461–6.854, p < 0.001) were related with intraoperative gallbladder perforation
Conclusion
SILC has expanded indication in late period. In this period, the patients had shorter operation times and a similar rate of severe complications, despite there being more numerous patients with AC.
This is a preview of subscription content, log in to check access.
Access options
Buy single article
Instant access to the full article PDF.
US$ 39.95
Tax calculation will be finalised during checkout.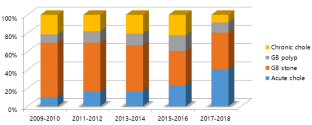 References
1.

Asbun HJ, Moekotte AL, Vissers FL, Kunzler F, Cipriani F, Alseidi A et al (2020) The Miami international evidence-based guidelines on minimally invasive pancreas resection. Ann Surg 271(1):1–14

2.

Abu Hilal M, Aldrighetti L, Dagher I, Edwin B, Troisi RI, Alikhanov R et al (2018) The southampton consensus guidelines for laparoscopic liver surgery: from indication to implementation. Ann Surg 268(1):11–18

3.

Muhe E (1991) Laparoscopic cholecystectomy. Z Gastroenterol Verh 26:204–206

4.

Navarra G, Pozza E, Occhionorelli S, Carcoforo P, Donini I (1997) One-wound laparoscopic cholecystectomy. Br J Surg 84(5):695

5.

Arezzo A, Passera R, Bullano A, Mintz Y, Kedar A, Boni L et al (2017) Multi-port versus single-port cholecystectomy: results of a multi-centre, randomised controlled trial (MUSIC trial). Surg Endosc 31(7):2872–2880

6.

Arezzo A, Passera R, Forcignano E, Rapetti L, Cirocchi R, Morino M (2018) Single-incision laparoscopic cholecystectomy is responsible for increased adverse events: results of a meta-analysis of randomized controlled trials. Surg Endosc 32:3739–3753

7.

Hoyuela C, Juvany M, Guillaumes S, Ardid J, Trias M, Bachero I et al (2019) Long-term incisional hernia rate after single-incision laparoscopic cholecystectomy is significantly higher than that after standard three-port laparoscopy: a cohort study. Hernia 23:1205–1213

8.

Pisanu A, Reccia I, Porceddu G, Uccheddu A (2012) Meta-analysis of prospective randomized studies comparing single-incision laparoscopic cholecystectomy (SILC) and conventional multiport laparoscopic cholecystectomy (CMLC). J Gastrointest Surg 16(9):1790–1801

9.

Qiu Z, Sun J, Pu Y, Jiang T, Cao J, Wu W (2011) Learning curve of transumbilical single incision laparoscopic cholecystectomy (SILS): a preliminary study of 80 selected patients with benign gallbladder diseases. World J Surg 35(9):2092–2101

10.

Cinar H, Topgul K, Malazgirt Z, Yuruker S, Buyukakincak S, Kesicioglu T et al (2018) Early results of single-incision laparoscopic cholecystectomy in comparison with the conventional: does it have any impact on quality of life? Ann Med Surg 32:1–5

11.

Lee W-J (2010) Single port laparoscopic surgery. J Korean Med Assoc 53(9):793–806

12.

Li T, Kim G, Chang S (2016) Tips and tricks to avoid bile duct injury in SILC: an experience of 500 cases. Surg Endosc 30(11):4750–4755

13.

Byun GY, Lee SR, Koo BH (2017) Safety of single-incision laparoscopic cholecystectomy for acute cholecystitis. ANZ J Surg 88:755–759

14.

Ikumoto T, Yamagishi H, Iwatate M, Sano Y, Kotaka M, Imai Y (2015) Feasibility of single-incision laparoscopic cholecystectomy for acute cholecystitis. World J Gastrointest Endosc 7(19):1327–1333

15.

Lee Y, Roh Y, Kim M, Kim Y, Kim K, Kang S et al (2018) Analysis of post-operative complication in single-port laparoscopic cholecystectomy: a retrospective analysis in 817 cases from a surgeon. J Minim Access Surg 14(4):311–315

16.

Kim MK, Choi IS, Moon JI, Lee SE, Yoon DS, Kwon SU et al (2018) Evolution of the Konyang Standard Method for single incision laparoscopic cholecystectomy: the result from a thousand case of a single center experience. Ann Surg Treat Res 95(2):80–86

17.

Lee W, Jang JY, Cho JK, Hong SC, Jeong CY (2018) Does surgical difficulty relate to severity of acute cholecystitis? Validation of the parkland grading scale based on intraoperative findings. Am J Surg 219:637–641

18.

Takada T (2018) Tokyo Guidelines 2018: updated Tokyo guidelines for the management of acute cholangitis/acute cholecystitis. J Hepatobiliary Pancreat Sci 25(1):1–2

19.

Conrad C, Wakabayashi G, Asbun HJ, Dallemagne B, Demartines N, Diana M et al (2017) IRCAD recommendation on safe laparoscopic cholecystectomy. J Hepatobiliary Pancreat Sci 24(11):603–615

20.

Peponis T, Eskesen TG, Mesar T, Saillant N, Kaafarani HMA, Yeh DD et al (2018) Bile spillage as a risk factor for surgical site infection after laparoscopic cholecystectomy: a prospective study of 1,001 patients. J Am Coll Surg 226(6):1030–1035

21.

Evers L, Bouvy N, Branje D, Peeters A (2017) Single-incision laparoscopic cholecystectomy versus conventional four-port laparoscopic cholecystectomy: a systematic review and meta-analysis. Surg Endosc 31(9):3437–3448

22.

Haueter R, Schutz T, Raptis DA, Clavien PA, Zuber M (2017) Meta-analysis of single-port versus conventional laparoscopic cholecystectomy comparing body image and cosmesis. Br J Surg 104(9):1141–1159

23.

Brockmann JG, Kocher T, Senninger NJ, Schurmann GM (2002) Complications due to gallstones lost during laparoscopic cholecystectomy. Surg Endosc 16(8):1226–1232

24.

Mohiuddin K, Nizami S, Fitzgibbons RJ Jr, Watson P, Memon B, Memon MA (2006) Predicting iatrogenic gall bladder perforation during laparoscopic cholecystectomy: a multivariate logistic regression analysis of risk factors. ANZ J Surg 76(3):130–132

25.

Jain N, Neogi S, Bali RS, Harsh N (2015) Relationship of gallbladder perforation and bacteriobilia with occurrence of surgical site infections following laparoscopic cholecystectomy. Minim Invasive Surg 2015:204508

26.

Oruc MT, Ugurlu MU (2013) Extraumbilical single-incision laparoscopic cholecystectomy with standard laparoscopic instruments. Scand J Surg 102(3):209–214

27.

Chuang SH, Lin CS (2016) Single-incision laparoscopic surgery for biliary tract disease. World J Gastroenterol 22(2):736–747

28.

Chuang SH, Chen PH, Chang CM, Lin CS (2013) Single-incision vs three-incision laparoscopic cholecystectomy for complicated and uncomplicated acute cholecystitis. World J Gastroenterol 19(43):7743–7750
Ethics declarations
Disclosures
Woohyung Lee, Young Hoon Roh, Sung Hwa Kang, Chung Yun Kim, YoungRok Choi, Ho-Seong Han, Hyung Joon Han, Tae-Jin Song, Chang Moo Kang, Woo Jung Lee, Sung Hoon Choi, Sung Yub Jeong, Tae Ho Hong, Young Kyoung You, Jae Hoon Lee, Ju Ik Moon, and In Seok Choi have nothing to disclose.
Additional information
Publisher's Note
Springer Nature remains neutral with regard to jurisdictional claims in published maps and institutional affiliations.
Electronic supplementary material
Below is the link to the electronic supplementary material.
About this article
Cite this article
Lee, W., Roh, Y.H., Kang, S.H. et al. The chronological change of indications and outcomes for single-incision laparoscopic cholecystectomy: a Korean multicenter study. Surg Endosc (2020). https://doi.org/10.1007/s00464-020-07748-5
Received:

Accepted:

Published:
Keywords
Single-incision laparoscopic cholecystectomy

Surgical indication

Acute cholecystitis

Postoperative complication