Abstract
Introduction
Surgical procedures in patients with cirrhosis and associated ascites carry significant morbidity and mortality. However, these patients often undergo non-emergent but necessary procedures such as laparoscopic cholecystectomy. The purpose of this study is to determine the impact of cirrhosis with ascites on non-emergent laparoscopic cholecystectomy.
Methods
The ACS-NSQIP database was queried from 2005 to 2017 for patients undergoing non-emergent laparoscopic cholecystectomy with or without intra-operative cholangiogram. Groups were propensity score matched for age, sex, BMI, smoking, inpatient status, ASA Class, presence of pre-operative SIRS/sepsis, and the individual components of the 5-item modified frailty index.
Results
346,105 patients were identified, 591 of which who had liver-related ascites. Patients without ascites were matched at a 5:1 ratio, producing 2955 controls. Patients with ascites had significantly higher rates of overall morbidity (15.6% vs. 11.3%, p = 0.0039), mortality (3.6% vs. 1.5%, p = 0.0020), and longer hospitalizations (7.4 vs. 4.4 days, p < 0.0001). Patients with ascites and a MELD score less than or equal to 9 had no difference in morbidity (p = 0.1124) or mortality (p = 0.6021) when compared to patients without ascites. Patients with ascites and a MELD score greater than 9 had significantly higher rates of both morbidity (25.8%, p = 0.0056) and mortality (7.1%, p = 0.0333).
Conclusion
Patients with cirrhosis and ascites have many comorbidities in addition to their liver disease. These patients are at significant risk for both morbidity and mortality related to non-emergent laparoscopic cholecystectomy. Surgeons should proceed with caution for patients with ascites and MELD scores greater than 9. These cases should only be performed by surgeons comfortable with difficult gallbladders at facilities equipped to take care of cirrhotic patients.
Access options
Buy single article
Instant access to the full article PDF.
US$ 39.95
Tax calculation will be finalised during checkout.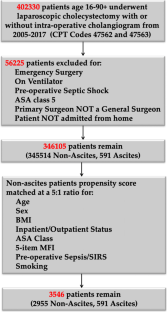 References
1.

QuickStats: Death Rates for Chronic Liver Diesase and Cirrhosis, 2000–2015. 2019 9/28/2017 6/1/2019]. https://www.cdc.gov/mmwr/volumes/66/wr/mm6638a9.htm.

2.

Kabbany MN et al (2017) Prevalence of nonalcoholic steatohepatitis-associated cirrhosis in the United States: an analysis of national health and nutrition examination survey data. Am J Gastroenterol 112(4):581–587

3.

Transplant Trends. 2019 6/20/2019]. https://www.unos.org/data/transplant-trends.

4.

Bouchier IA (1969) Postmortem study of the frequency of gallstones in patients with cirrhosis of the liver. Gut 10(9):705–710

5.

Nicholas P, Rinaudo PA, Conn HO (1972) Increased incidence of cholelithiasis in Laennec's cirrhosis. A postmortem evaluation of pathogenesis. Gastroenterology 63(1):112–121

6.

Pavlidis TE et al (2009) Laparoscopic cholecystectomy in patients with cirrhosis of the liver and symptomatic cholelithiasis. JSLS 13(3):342–345

7.

Curro G et al (2005) Laparoscopic cholecystectomy in Child-Pugh class C cirrhotic patients. JSLS 9(3):311–315

8.

Csikesz NG et al (2009) Nationwide volume and mortality after elective surgery in cirrhotic patients. J Am Coll Surg 208(1):96–103

9.

Austin PC (2010) Statistical criteria for selecting the optimal number of untreated subjects matched to each treated subject when using many-to-one matching on the propensity score. Am J Epidemiol 172(9):1092–1097

10.

Randolph JJ et al (2014) A step-by-step guide to propensity score matching in R. Pract Assess Res Eval 19(18):1–6

11.

Wiesner R et al (2003) Model for end-stage liver disease (MELD) and allocation of donor livers. Gastroenterology 124(1):91–96

12.

Roth JA et al (2017) MELD score as a predictor of mortality, length of hospital stay, and disease burden: a single-center retrospective study in 39,323 inpatients. Medicine (Baltimore) 96(24):e7155

13.

Kim HY (2017) Statistical notes for clinical researchers: Chi-squared test and Fisher's exact test. Restor Dent Endod 42(2):152–155

14.

Clavien PA et al (2009) The Clavien-Dindo classification of surgical complications: five-year experience. Ann Surg 250(2):187–196

15.

Parikh ND et al (2019) Projected increase in obesity and non-alcoholic-steatohepatitis-related liver transplantation waitlist additions in the United States. Hepatology 70:487–495

16.

El Awadi S et al (2009) Laparoscopic versus open cholecystectomy in cirrhotic patients: a prospective randomized study. Int J Surg 7(1):66–69

17.

Ji W et al (2005) A randomized controlled trial of laparoscopic versus open cholecystectomy in patients with cirrhotic portal hypertension. World J Gastroenterol 11(16):2513–2517

18.

da Silveira EB (2006) Outcome of cirrhotic patients undergoing cholecystectomy: applying Bayesian analysis in gastroenterology. J Gastroenterol Hepatol 21(6):958–962

19.

Friel CM et al (1999) Laparoscopic cholecystectomy in patients with hepatic cirrhosis: a five-year experience. J Gastrointest Surg 3(3):286–291

20.

Archer SB et al (2001) Bile duct injury during laparoscopic cholecystectomy: results of a national survey. Ann Surg 234(4):549–558; (discussion 558–9)

21.

Alluri RK, Leland H, Heckmann N (2016) Surgical research using national databases. Annals of translational medicine 4(20):393
Funding
The authors received no funding or other support for the creation of this manuscript to include the following organizations: National Institutes of Health (NIH); Wellcome Trust; Howard Hughes Medical Institute (HHMI); and other(s).
Ethics declarations
Disclosures
Drs. Vreeland, Balla, Lin, Davis, and Yheulon have no conflicts of interest or any relevant financial ties to disclose.
Additional information
Publisher's Note
Springer Nature remains neutral with regard to jurisdictional claims in published maps and institutional affiliations.
About this article
Cite this article
Vreeland, T.J., Balla, F.M., Lin, E. et al. Post-operative outcomes for patients with liver-related ascites undergoing non-emergent laparoscopic cholecystectomy. Surg Endosc 35, 884–890 (2021). https://doi.org/10.1007/s00464-020-07461-3
Received:

Accepted:

Published:

Issue Date:
Keywords
Laparoscopic

Cholecystectomy

Cirrhosis

Ascites

Mortality