Abstract
Background
It remains unclear whether type of antiplatelet (AP) therapy, AP combination therapy, and AP continuing or switching strategy affect the risk of post-polypectomy bleeding (PPB). In this study, we sought to elucidate this risk.
Methods
We analyzed 1050 patients who underwent colonoscopic polypectomy: 525 AP users and 525 controls matched for age, sex, comorbidities, concomitant non-steroidal anti-inflammatory drugs use, and polyp characteristics who did not receive antithrombotics. PPB risk was evaluated by AP number, type, and continuing or switching strategies during the peri-endoscopic period.
Results
In multivariate analysis, bleeding risk increased significantly as the number of AP agents used increased (monotherapy, adjusted odds ratio [aOR], 3.7; dual antiplatelet therapy (DAPT), 4.6; triple antiplatelet therapy (TAPT), 11.1) compared with controls. With monotherapy, significantly increased PPB risk was found for aspirin (aOR 4.3), thienopyridine (aOR 6.3), and cilostazol (aOR 5.9), but not for eicosapentaenoic acid or other APs (beraprost, limaprost, sarpogrelate, dilazep, or dipyridamole). With DAPT, significantly increased PPB risk was found for combination aspirin plus cilostazol, but not aspirin plus other APs. Bleeding rates for continuing monotherapy were 4.3% for aspirin and 0% for thienopyridine, cilostazol, and other APs, respectively.
Conclusions
Analysis of this large polypectomy dataset showed that the use of low-dose aspirin, thienopyridine, or cilostazol and a combination of these is associated with increased PPB risk. Although PPB risk was high with DAPT or TAPT, PPB rate in any antiplatelet monotherapy even with a continuing strategy was low at < 5%.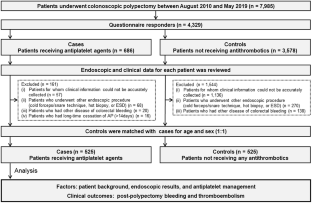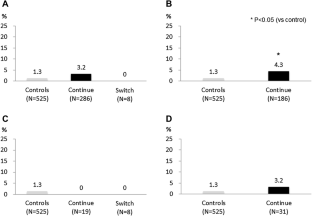 References
1.

Sieg A, Hachmoeller-Eisenbach U, Eisenbach T (2001) Prospective evaluation of complications in outpatient GI endoscopy: a survey among German gastroenterologists. Gastrointest Endosc 53:620–627

2.

Gimeno-Garcia AZ, de Ganzo ZA, Sosa AJ, Perez DN, Quintero E (2012) Incidence and predictors of postpolypectomy bleeding in colorectal polyps larger than 10 mm. Eur J Gastroenterol Hepatol 24:520–526

3.

Choung BS, Kim SH, Ahn DS, Kwon DH, Koh KH, Sohn JY, Park WS, Kim IH, Lee SO, Lee ST, Kim SW (2014) Incidence and risk factors of delayed postpolypectomy bleeding: a retrospective cohort study. J Clin Gastroenterol 48:784–789

4.

Rutter MD, Nickerson C, Rees CJ, Patnick J, Blanks RG (2014) Risk factors for adverse events related to polypectomy in the English Bowel Cancer Screening Programme. Endoscopy 46:90–97

5.

Zhang Q, An S, Chen Z, Fu FH, Jiang B, Zhi F, Bai Y, Gong W (2014) Assessment of risk factors for delayed colonic post-polypectomy hemorrhage: a study of 15553 polypectomies from 2005 to 2013. PLoS ONE 9:e108290. https://doi.org/10.1371/journal.pone.0108290

6.

Guo Y, Wang H, Tian Y, Wang Y, Lip GYH (2015) Time trends of aspirin and warfarin use on stroke and bleeding events in Chinese patients with new-onset atrial fibrillation. Chest 148:62–72

7.

Berger PB, Bhatt DL, Fuster V, Steg PG, Fox KA, Shao M, Brennan DM, Hacke W, Montalescot G, Steinhubl SR, Topol EJ, Investigators CHARISMA (2010) Bleeding complications with dual antiplatelet therapy among patients with stable vascular disease or risk factors for vascular disease: results from the Clopidogrel for High Atherothrombotic Risk and Ischemic Stabilization, Management, and Avoidance (CHARISMA) trial. Circulation 121:2575–2583

8.

Columbo JA, Lambour AJ, Sundling RA, Chauhan NB, Bessen SY, Linshaw DL, Kang R, Riblet NBV, Goodney PP, Stone DH (2017) A Meta-analysis of the impact of aspirin, clopidogrel, and dual antiplatelet therapy on bleeding complications in noncardiac surgery. Ann Surg 267:1–10

9.

Shiffman ML, Farrel MT, Yee YS (1994) Risk of bleeding after endoscopic biopsy or polypectomy in patients taking aspirin or other NSAIDS. Gastrointest Endosc 40:458–462

10.

Hui AJ, Wong RM, Ching JY, Hung LC, Chung SC, Sung JJ (2004) Risk of colonoscopic polypectomy bleeding with anticoagulants and antiplatelet agents: analysis of 1657 cases. Gastrointest Endosc 59:44–48

11.

Yousfi M, Gostout CJ, Baron TH, Hernandez JL, Keate R, Fleischer DE, Sorbi D (2004) Postpolypectomy lower gastrointestinal bleeding: potential role of aspirin. Am J Gastroenterol 99:1785–1789

12.

Manocha D, Singh M, Mehta N, Murthy UK (2012) Bleeding risk after invasive procedures in aspirin/NSAID users: polypectomy study in veterans. Am J Med 125:1222–1227

13.

Singh M, Mehta N, Murthy UK, Kaul V, Arif A, Newman N (2010) Postpolypectomy bleeding in patients undergoing colonoscopy on uninterrupted clopidogrel therapy. Gastrointest Endosc 71:998–1005

14.

Feagins LA, Uddin FS, Davila RE, Harford WV, Spechler SJ (2011) The rate of post-polypectomy bleeding for patients on uninterrupted clopidogrel therapy during elective colonoscopy is acceptably low. Dig Dis Sci 56:2631–2638

15.

Feagins LA, Iqbal R, Harford WV, Halai A, Cryer BL, Dunbar KB, Davila RE, Spechler SJ (2013) Low rate of postpolypectomy bleeding among patients who continue thienopyridine therapy during colonoscopy. Clin Gastroenterol Hepatol 11:1325–1332

16.

Park SJ, Park DW, Kim YH, Kang SJ, Lee SW, Lee CW, Han KH, Park SW, Yun SC, Lee SG, Rha SW, Seong IW, Jeong MH, Hur SH, Lee NH, Yoon J, Yang JY, Lee BK, Choi YJ, Chung WS, Lim DS, Cheong SS, Kim KS, Chae JK, Nah DY, Jeon DS, Seung KB, Jang JS, Park HS, Lee K (2010) Duration of dual antiplatelet therapy after implantation of drug-eluting stents. N Engl J Med 362:1374–1382

17.

Chen KY, Rha SW, Li YJ, Poddar KL, Jin Z, Minami Y, Wang L, Kim EJ, Park CG, Seo HS, Oh DJ, Jeong MH, Ahn YK, Hong TJ, Kim YJ, Hur SH, Seong IW, Chae JK, Cho MC, Bae JH, Choi DH, Jang YS, Chae IH, Kim CJ, Yoon JH, Chung WS, Seung KB, Park SJ, Investigators KAMIR (2009) Triple versus dual antiplatelet therapy in patients with acute ST-segment elevation myocardial infarction undergoing primary percutaneous coronary intervention. Circulation 119:3207–3214

18.

Fujimoto K, Fujishiro M, Kato M, Higuchi K, Iwakiri R, Sakamoto C, Uchiyama S, Kashiwagi A, Ogawa H, Murakami K, Mine T, Yoshino J, Kinoshita Y, Ichinose M, Matsui T, Japan Gastroenterological Endoscopy Society (2014) Guidelines for gastroenterological endoscopy in patients undergoing antithrombotic treatment. Dig Endosc 26:1–14

19.

ASGE Standards of Practice Committee, Acosta RD, Abraham NS, Chandrasekhara V, Chathadi KV, Early DS, Eloubeidi MA, Evans JA, Faulx AL, Fisher DA, Fonkalsrud L, Hwang JH, Khashab MA, Lightdale JR, Muthusamy VR, Pasha SF, Saltzman JR, Shaukat A, Shergill AK, Wang A, Cash BD, DeWitt JM (2016) The management of antithrombotic agents for patients undergoing GI endoscopy. Gastrointest Endosc 83:3–16

20.

Veitch AM, Vanbiervliet G, Gershlick AH, Boustiere C, Baglin TP, Smith LA, Radaelli F, Knight E, Gralnek IM, Hassan C, Dumonceau JM (2016) Endoscopy in patients on antiplatelet or anticoagulant therapy, including direct oral anticoagulants: British Society of Gastroenterology (BSG) and European Society of Gastrointestinal Endoscopy (ESGE) guidelines. Endoscopy 48:385–402. https://doi.org/10.1055/s-0042-122686

21.

Yanagisawa N, Nagata N, Watanabe K, Iida T, Hamada M, Kobayashi S, Shimbo T, Akiyama J, Uemura N (2018) Post-polypectomy bleeding and thromboembolism risks associated with warfarin vs direct oral anticoagulants. World J Gastroenterol 24:1540–1549

22.

Nagata N, Niikura R, Aoki T, Shimbo T, Kishida Y, Sekine K, Tanaka S, Okubo H, Watanabe K, Sakurai T, Yokoi C, Akiyama J, Yanase M, Mizokami M, Uemura N (2014) Lower GI bleeding risk of nonsteroidal anti-inflammatory drugs and antiplatelet drug use alone and the effect of combined therapy. Gastrointest Endosc 80:1124–1131

23.

Chan FKL, Kyaw MH, Hsiang JC, Suen BY, Kee KM, Tse YK, Ching JYL, Cheong PK, Ng D, Lam K, Lo A, Lee V, Ng SC (2019) Risk of postpolypectomy bleeding with uninterrupted clopidogrel therapy in an industry-independent, double-blind, randomized trial. Gastroenterology 156:918–925

24.

Nagata N, Sakurai T, Shimbo T, Moriyasu S, Okubo H, Watanabe K, Yokoi C, Yanase M, Akiyama J, Uemura N (2017) Acute severe gastrointestinal tract bleeding is associated with an increased risk of thromboembolism and death. Clin Gastroenterol Hepatol 15:1882–1889

25.

Sawhney MS, Salfiti N, Nelson DB, Lederle FA, Bond JH (2008) Risk factors for severe delayed postpolypectomy bleeding. Endoscopy 40:115–119

26.

Pan A, Schlup M, Lubcke R, Chou A, Schultz M (2012) The role of aspirin in post-polypectomy bleeding—a retrospective survey. BMC Gastroenterol 12:138

27.

Shalman D, Gerson LB (2015) Systematic review with meta-analysis: the risk of gastrointestinal haemorrhage post-polypectomy in patients receiving anti-platelet, anti-coagulant and/or thienopyridine medications. Aliment Pharmacol Ther 42:949–956

28.

Grines CL, Bonow RO, Casey DE Jr, Gardner TJ, Lockhart PB, Moliterno DJ, O'Gara P, Whitlow P, American Heart Association, American College of Cardiology, Society for Cardiovascular Angiography and Interventions, American College of Surgeons, American Dental Association, American College of Physicians (2007) Prevention of premature discontinuation of dual antiplatelet therapy in patients with coronary artery stents: a science advisory from the American Heart Association, American College of Cardiology, Society for Cardiovascular Angiography and Interventions, American College of Surgeons, and American Dental Association, with representation from the American College of Physicians. Circulation 115:813–818

29.

Shioji K, Suzuki Y, Kobayashi M, Nakamura A, Azumaya M, Takeuchi M, Baba Y, Honma T, Narisawa R (2003) Prophylactic clip application does not decrease delayed bleeding after colonoscopic polypectomy. Gastrointest Endosc 57:691–694

30.

Matsumoto M, Kato M, Oba K, Abiko S, Tsuda M, Miyamoto S, Mizushima T, Ono M, Omori S, Takahashi M, Ono S, Mabe K, Nakagawa M, Nakagawa S, Kudo T, Shimizu Y, Sakamoto N (2016) Multicenter randomized controlled study to assess the effect of prophylactic clipping on post-polypectomy delayed bleeding. Dig Endosc 28:570–576
Acknowledgements
The authors thank clinical research coordinators Kuniko Miki, Kenko Yoshida, Eiko Izawa, and Hisae Kawashiro for their assistance with data collection.
Funding
This work was supported in part by a Grant-in-Aid for Research from the National Center for Global Health and Medicine (29-2001), and International Medical Research and Development Expenses from the National Center for Global Health and Medicine (30-1020). The funding agency played no role in the study design, data collection and analysis, decision to publish, or preparation of the manuscript.
Ethics declarations
Disclosures
Drs. Kazuhiro Watanabe, Naoyoshi Nagata, Naohiro Yanagisawa, Takuro Shimbo, Hidetaka Okubo, Koh Imbe, Chizu Yokoi, Mikio Yanase, Akio Kimura, Junichi Akiyama and Naomi Uemura, MD have no conflicts of interest or financial ties to disclose.
Additional information
Publisher's Note
Springer Nature remains neutral with regard to jurisdictional claims in published maps and institutional affiliations.
Electronic supplementary material
Below is the link to the electronic supplementary material.
About this article
Cite this article
Watanabe, K., Nagata, N., Yanagisawa, N. et al. Effect of antiplatelet agent number, types, and pre-endoscopic management on post-polypectomy bleeding: validation of endoscopy guidelines. Surg Endosc 35, 317–325 (2021). https://doi.org/10.1007/s00464-020-07402-0
Received:

Accepted:

Published:

Issue Date:
Keywords
Dual antiplatelet therapy (DAPT)

acetylsalicylic acid

Delayed bleeding

ASGE guidelines

ESGE guidelines

JGES guidelines