Abstract
Background
To evaluate the outcomes of endoscopic retrograde cholangiopancreatography (ERCP) for malignant biliary obstruction (MBO) using short-type double-balloon enteroscope (sDBE) in patients with surgically altered anatomy.
Methods
A total of 45 patients with surgically altered anatomy underwent ERCP using sDBE for the treatment of MBO between April 2011 and March 2019. We retrospectively evaluated the clinical and technical success (insertion and biliary intervention success), adverse events, and risk factors for clinical failure.
Results
The scope was successfully inserted in the target site in 82.2% of patients (37/45), and among them, biliary intervention success was achieved in 86.4% (32/37). The overall technical success rate was 71.1% (32/45) and clinical success rate was 68.9% (31/45), with an adverse event rate of 11.1%. In multivariate analysis, the presence of peritoneal dissemination (odds ratio, 7.3; 95% confidence interval, 1.5–43.5, p = 0.02) was as an independent risk factor for clinical failure. The clinical success rate was 38.5% in patients with peritoneal dissemination and 81.3% in those without peritoneal dissemination.
Conclusion
Endoscopic treatment using sDBE in patients without peritoneal dissemination provided favorable outcomes, and it can be an initial treatment for MBO in patients with surgically altered anatomy.
Access options
Buy single article
Instant access to the full article PDF.
US$ 39.95
Tax calculation will be finalised during checkout.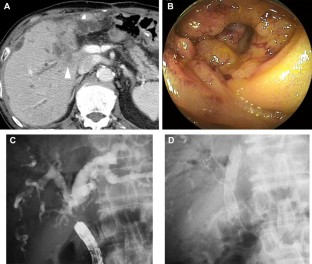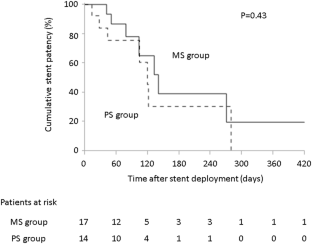 References
1.

Speer AG, Cotton PB, Russell RC et al (1987) Randomised trial of endoscopic versus percutaneous stent insertion in malignant obstructive jaundice. Lancet 2:57–62

2.

Andersen JR, Sorensen SM, Kruse A, Rokkjaer M, Matzen P (1989) Randomised trial of endoscopic endoprosthesis versus operative bypass in malignant obstructive jaundice. Gut 30:1132–1135

3.

Smith AC, Dowsett JF, Russell RC, Hatfield AR, Cotton PB (1994) Randomised trial of endoscopic stenting versus surgical bypass in malignant low bileduct obstruction. Lancet 344:1655–1660

4.

Liu K, Joshi V, Saxena P, Kaffes AJ (2017) Predictors of success for double balloon-assisted endoscopic retrograde cholangiopancreatography in patients with Roux-en-Y anastomosis. Dig. Endosc. 29:190–197

5.

Shimatani M, Hatanaka H, Kogure H et al (2016) Diagnostic and therapeutic endoscopic retrograde cholangiography using a short-type double-balloon endoscope in patients with altered gastrointestinal anatomy: a multicenter prospective study in Japan. Am. J. Gastroenterol. 111:1750–1758

6.

Tomoda T, Kato H, Miyamoto K et al (2019) Comparison between endoscopic biliary stenting combined with balloon dilation and balloon dilation alone for the treatment of benign hepaticojejunostomy anastomotic stricture. J Gastrointest Surg. https://doi.org/10.1007/s11605-019-04297-8

7.

Lenze F, Meister T, Matern P et al (2014) Single-balloon enteroscopy assisted endoscopic retrogradecholangiopancreaticography in patients with surgically altered anatomy: higherfailure rate in malignant biliary obstruction -a prospective single center cohort analysis. Scand J Gastroenterol. 49:766–771

8.

Tanisaka Y, Ryozawa S, Mizuide M et al (2019) Analysis of the factors involved in procedural failure: endoscopic retrograde cholangiopancreatography using a short-type single-balloon enteroscope for patients with surgically altered gastrointestinal anatomy. Dig Endosc. https://doi.org/10.1111/den.13414

9.

Cotton PB, Eisen GM, Aabakken L et al (2010) A lexicon for endoscopic adverse events: report of an ASGE workshop. Gastrointest Endosc 71:446–454

10.

Hara K, Yamao K, Niwa Y et al (2011) Prospective clinical study of EUS-guided choledochoduodenostomy for malignant lower biliary tract obstruction. Am. J. Gastroenterol. 106:1239–1245

11.

Khan MA, Akbar A, Baron TH et al (2016) Endoscopic ultrasoundguided biliary drainage: a systematic review and meta-analysis. Dig. Dis. Sci. 61:684–703

12.

Wang K, Zhu J, Xing L, Wang Y, Jin Z, Li Z (2016) Assessment of efficacy and safety of EUS-guided biliary drainage: a systematic review. Gastrointest. Endosc. 83:1218–1227

13.

Moole H, Bechtold ML, Forcione D, Puli SR (2017) A metaanalysis and systematic review: success of endoscopic ultrasound guided biliary stenting in patients with inoperable malignant biliary strictures and a failed ERCP. Medicine 96:e5154

14.

Minaga K, Kitano M (2018) Recent advances in endoscopic ultrasound-guided biliary drainage. Dig. Endosc. 30:38–47
Ethics declarations
Disclosures
Takeshi Tomoda, Hironari Kato, Kazuya Miyamoto, Akihiro Matsumi, Eijiro Ueta, Yuuki Fujii, Yousuke Saragai, Tatsuhiro Yamazaki, Daisuke Uchida, Kazuyuki Matsumoto, Shigeru Horiguchi, Koichiro Tsutsumi, and Hiroyuki Okada have no conflicts of interest or financial ties to disclose.
Additional information
Publisher's Note
Springer Nature remains neutral with regard to jurisdictional claims in published maps and institutional affiliations.
About this article
Cite this article
Tomoda, T., Kato, H., Miyamoto, K. et al. Outcomes of endoscopic treatment for malignant biliary obstruction in patients with surgically altered anatomy: analysis of risk factors for clinical failure. Surg Endosc 35, 232–238 (2021). https://doi.org/10.1007/s00464-020-07385-y
Received:

Accepted:

Published:

Issue Date:
Keywords
Malignant biliary obstruction

Double-balloon enteroscope

Endoscopic retrograde cholangiopancreatography

Surgically altered anatomy