Abstract
Introduction
Acute cholangitis (AC) can be associated with significant mortality and high risk of readmissions, if not managed promptly. We used national readmission database (NRD) to identify trends and risk factors associated with 30-day readmissions in patients with AC.
Methods
We conducted a retrospective cohort study of adult patients admitted with AC from 2010–2014 and Q1-Q3 of 2015 by extracting data from NRD. Initial admission with a primary diagnosis of acute cholangitis (ICD-9 code: 576.1) was considered as the index admission and any admission after index admission was considered a readmission regardless of the primary diagnosis. Multivariable regression analyses were performed to assess the association.
Results
From 52,906 AC index admissions, overall 30-day readmission rate was 21.48% without significant differences in the readmission rates across the study period. There was significant increase in the overall hospital charges for readmissions, while a significant reduction in the death rate was observed during the first readmission. Recurrent cholangitis (14%), septicemia (6.4%), and mechanical complication of bile duct prosthesis (3%) were the most common reasons for readmissions. The risk of readmission was significantly higher in patients with pancreatic neoplasm (OR 1.6, 95% CI 1.4–1.8), those who underwent percutaneous biliary procedures (OR 1.4, 95% CI 1.2–1.6), and who had an acute respiratory failure (OR 1.2, 95% CI 1.0–1.15). Other factors contributing to increased risk of readmissions included patients with Charleston comorbidity index > 3, diabetes, and length of stay > 3 days. Readmission risk was significantly lower in patients who underwent ERCP (OR 0.80, 95% CI 0.73–0.88) or cholecystectomy (OR 0.54, 95% CI 0.43–0.69).
Conclusions
AC is associated with a high 30-day readmission rate of over 21%. Patients with malignant biliary obstruction, increased comorbidities, and those who undergo percutaneous drainage rather than ERCP seem to be at the highest risk.
We're sorry, something doesn't seem to be working properly.
Please try refreshing the page. If that doesn't work, please contact support so we can address the problem.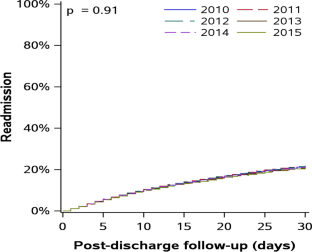 References
1.

Salek J, Livote E, Sideridis K, Bank S (2009) Analysis of risk factors predictive of early mortality and urgent ERCP in acute cholangitis. J Clin Gastroenterol 43:171–175

2.

Khashab MA, Tariq A, Tariq U et al (2012) Delayed and unsuccessful endoscopic retrograde cholangiopancreatography are associated with worse outcomes in patients with acute cholangitis. Clin Gastroenterol Hepatol 10:1157–1161

3.

Navaneethan U, Gutierrez NG, Jegadeesan R et al (2013) Delay in performing ERCP and adverse events increase the 30-day readmission risk in patients with acute cholangitis. Gastrointest Endosc 78:81–90

4.

Miura F, Okamoto K, Takada T et al (2018) Tokyo Guidelines 2018: initial management of acute biliary infection and flowchart for acute cholangitis. J Hepatobiliary Pancreat Sci 25:31–40

5.

US Department of Health & Human Services; Centers for Medicare & Medicaid Services (2008) Medicare fact sheet: quality measures for reporting in fiscal year 2009 for 2010 update. US Department of Health & Human Services, Baltimore

6.

Epstein AM (2006) Paying for performance in the United States and abroad. N Engl J Med 355:406–408

7.

U.S. Bureau of Economic Analysis (2018) National income and product account tables, Table 1.1.4 price indexes for gross domestic product. https://www.bea.gov/iTable/iTable.cfm?reqid=19&step=2reqid=19&step=3&isuri=1&1910=x&0=-99&1921=survey&1903=4&1904=2010&1905=2015&1906=a&1911=0. Accessed 7 June 2018.

8.

Quan H, Sundararajan V, Halfon P et al (2005) Coding algorithms for defining comorbidities in ICD-9-CM and ICD-10 administrative data. Med Care 43:1130–1139

9.

Tan M, Schaffalitzky de Muckadell OB, Laursen SB (2019) Unchanged mortality in patients with acute cholangitis despite an increase in malignant etiologies—a 25-year epidemiological study. Scand J Gastroenterol 54:335–341

10.

Committee ATA, Pfau PR, Pleskow DK et al (2013) Pancreatic and biliary stents. Gastrointest Endosc 77:319–327

11.

Lee CC, Chang IJ, Lai YC, Chen SY, Chen SC (2007) Epidemiology and prognostic determinants of patients with bacteremic cholecystitis or cholangitis. Am J Gastroenterol 102:563–569

12.

McNabb-Baltar J, Trinh QD, Barkun AN (2013) Disparities in outcomes following admission for cholangitis. PLoS ONE 8:e59487

13.

Sawas T, Al Halabi S, Parsi MA, Vargo JJ (2015) Self-expandable metal stents versus plastic stents for malignant biliary obstruction: a meta-analysis. Gastrointest Endosc 82:256–267e7

14.

Boender J, Nix GA, de Ridder MA et al (1995) Endoscopic sphincterotomy and biliary drainage in patients with cholangitis due to common bile duct stones. Am J Gastroenterol 90:233–238

15.

Mulki R, Shah R, Qayed E (2019) Early vs late endoscopic retrograde cholangiopancreatography in patients with acute cholangitis: a nationwide analysis. World J Gastrointest Endosc 11:41–53

16.

Hou LA, Laine L, Motamedi N, Sahakian A, Lane C, Buxbaum J (2017) Optimal timing of endoscopic retrograde cholangiopancreatography in acute cholangitis. J Clin Gastroenterol 51:534–538

17.

Parikh MP, Wadhwa V, Thota PN, Lopez R, Sanaka MR (2018) Outcomes associated with timing of ERCP in acute cholangitis secondary to choledocholithiasis. J Clin Gastroenterol 52:e97–e102

18.

Parikh MP, Gupta NM, Thota PN, Lopez R, Sanaka MR (2018) Temporal trends in utilization and outcomes of endoscopic retrograde cholangiopancreatography in acute cholangitis due to choledocholithiasis from 1998 to 2012. Surg Endosc 32:1740–1748

19.

Mukai S, Itoi T, Baron TH et al (2017) Indications and techniques of biliary drainage for acute cholangitis in updated Tokyo Guidelines 2018. J Hepatobiliary Pancreat Sci 24:537–549

20.

Huang RJ, Barakat MT, Girotra M, Banerjee S (2017) Practice patterns for cholecystectomy after endoscopic retrograde cholangiopancreatography for patients with choledocholithiasis. Gastroenterology 153(762–71):e2

21.

Barba R, Marco J, Ruiz J et al (2015) The obesity paradox in stroke: impact on mortality and short-term readmission. J Stroke Cerebrovasc Dis 24:766–770

22.

Hanly RJ, Marvi SK, Whitehouse SL, Crawford RW (2017) Morbid Obesity in total knee arthroplasty: joint-specific variance in outcomes for operative time, length of stay, and readmission. J Arthroplasty 32:2712–2716

23.

Enomoto LM, Shrestha DP, Rosenthal MB, Hollenbeak CS, Gabbay RA (2017) Risk factors associated with 30-day readmission and length of stay in patients with type 2 diabetes. J Diabetes Complicat 31:122–127

24.

Minana G, Bosch MJ, Nunez E et al (2017) Length of stay and risk of very early readmission in acute heart failure. Eur J Intern Med 42:61–66

25.

Rinne ST, Graves MC, Bastian LA et al (2017) Association between length of stay and readmission for COPD. Am J Manag Care 23:e253–e258

26.

Sukanya C (2017) Validity of principal diagnoses in discharge summaries and ICD-10 coding assessments based on National Health Data of Thailand. Healthc Inform Res 23:293–303
Ethics declarations
Disclosures
Dr. Parikh, Dr. Garg, Dr. Chiitajallu, Dr. Gupta, Dr. Sarvepalli, Ms. Lopez, Dr. Thota, Dr. Siddiki, Dr. Bhatt, Dr. Chahal, Dr. Jang, Dr. Stevens, Dr. Vargo, Dr. McCullough, and Dr. Sanaka have no conflicts of interest and nothing to disclose.
Additional information
Publisher's Note
Springer Nature remains neutral with regard to jurisdictional claims in published maps and institutional affiliations.
Electronic supplementary material
Below is the link to the electronic supplementary material.
About this article
Cite this article
Parikh, M.P., Garg, R., Chittajallu, V. et al. Trends and risk factors for 30-day readmissions in patients with acute cholangitis: analysis from the national readmission database. Surg Endosc 35, 223–231 (2021). https://doi.org/10.1007/s00464-020-07384-z
Received:

Accepted:

Published:

Issue Date: