Abstract
Background
Transoral endoscopic thyroidectomy using the vestibular approach (TOETVA) is a novel technique for thyroid cancer surgery. We aimed to review our initial experiences with TOETVA for the management of thyroid carcinoma, using retrospective analyses of a larger single-center case series.
Methods
From September 2016 to April 2018, 132 patients with thyroid cancer underwent TOETVA. A three-port technique through the oral vestibule was used to perform endoscopic thyroidectomy with ipsilateral central compartment dissection using conventional laparoscopic instruments, and an endoscopic retractor that we developed.
Results
All patients had papillary thyroid carcinoma. Less-than total or total thyroidectomy with ipsilateral central compartment node dissection was performed (124 vs. 8). The mean operation time was 87.6 min (range 56–213 min). The average number of lymph nodes resected was 2.6 (range 1—12). Six patients experienced transient hoarseness, which was resolved within 3 months. Most of the patients were discharged within 3 days after surgery.
Conclusions
In this large series from a single center, we found that TOETVA with the endoscopic retractor can be performed safely and radically in selected patients with thyroid cancer.
Access options
Buy single article
Instant access to the full article PDF.
US$ 39.95
Tax calculation will be finalised during checkout.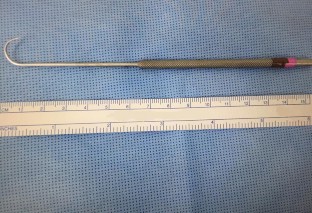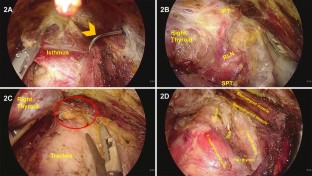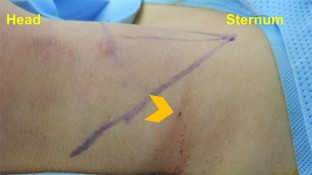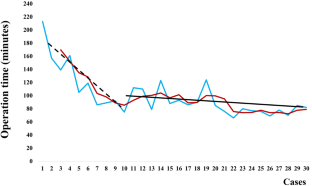 References
1.

Gagner M (1996) Endoscopic subtotal parathyroidectomy in patients with primary hyperparathyroidism. Br J Surg 83:875

2.

Sasaki A, Nakajima J, Ikeda K, Otsuka K, Koeda K, Wakabayashi G (2008) Endoscopic thyroidectomy by the breast approach: a single institution's 9-year experience. World J Surg 32:381–385

3.

Miccoli P, Berti P, Bendinelli C, Conte M, Fasolini F, Martino E (2000) Minimally invasive video-assisted surgery of the thyroid: a preliminary report. Langenbeck's Arch Surg 385:261–264

4.

Kang SW, Lee SC, Lee SH, Lee KY, Jeong JJ, Lee YS, Nam KH, Chang HS, Chung WY, Park CS (2009) Robotic thyroid surgery using a gasless, transaxillary approach and the da Vinci S system: the operative outcomes of 338 consecutive patients. Surgery 146:1048–1055

5.

Byrd JK, Duvvuri U (2013) Current trends in robotic surgery for otolaryngology. Curr Otorhinolaryngol Rep 1:153–157

6.

Witzel K, von Rahden BH, Kaminski C, Stein HJ (2008) Transoral access for endoscopic thyroid resection. Surg Endosc 22:1871–1875

7.

Benhidjeb T, Wilhelm T, Harlaar J, Kleinrensink GJ, Schneider TA, Stark M (2009) Natural orifice surgery on thyroid gland: totally transoral video-assisted thyroidectomy (TOVAT): report of first experimental results of a new surgical method. Surg Endosc 23:1119–1120

8.

Karakas E, Steinfeldt T, Gockel A, Schlosshauer T, Dietz C, Jager J, Westermann R, Sommer F, Richard HR, Exner C, Sesterhenn AM, Bartsch DK (2011) Transoral thyroid and parathyroid surgery: development of a new transoral technique. Surgery 150:108–115

9.

Liu S, Zheng XM, Jiang DZ, Zhang W, Shan CX, Qiu M (2011) New technique for retraction of the strap muscles in endoscopic thyroidectomy. Surg Innov 18:141–144

10.

Zhang W, Dang CP, Shan CX, Liu S, Jiang ZG, Wang B, Qiu M (2014) Use of a mini-instrument in endoscopic thyroidectomy via a breast approach to improve cosmetic outcomes. Biosci Trends 8:280–285

11.

Anuwong A (2016) Transoral Endoscopic Thyroidectomy Vestibular Approach: A Series of the First 60 Human Cases. World J Surg 40:491–497

12.

Sasanakietkul T, Jitpratoom P, Anuwong A (2016) Transoral endoscopic parathyroidectomy vestibular approach: a novel scarless parathyroid surgery. Surg Endosc 31(9):3755–3763

13.

Udelsman R, Anuwong A, Oprea AD, Rhodes A, Prasad M, Sansone M, Brooks C, Donovan PI, Jannitto C, Carling T (2016) Trans-oral vestibular endocrine surgery: a new technique in the United States. Ann Surg 264:e13–e16

14.

Wang Y, Yu X, Wang P, Miao C, Xie Q, Yan H, Zhao Q, Zhang M, Xiang C (2016) Implementation of Intraoperative Neuromonitoring for Transoral Endoscopic Thyroid Surgery: A Preliminary Report. J Laparoendosc Adv Surg Tech Part A 26:965–971

15.

Park JO, Kim MR, Kim DH, Lee DK (2016) Transoral endoscopic thyroidectomy via the trivestibular route. Ann Surg Treat Re 91:269–272

16.

Angwong A, Ketwong K, Jitpratoom P, Sasanakietkul T, Duh QY (2017) Safety and outcomes of the transoral endoscopic thyroidectomy vestibular approach. JAMA Surg 153:21–27

17.

Brierley JD (2017) TNM classification of malignant tumours. Wiley, New York

18.

Camenzuli C, Schembri Wismayer P, Calleja Agius J (2018) Transoral endoscopic thyroidectomy: a systematic review of the practice so far. JSLS 22(3):e2018.00026

19.

Kim SY, Kim BW, Pyo JY, Hong SW, Chang HS, Park CS (2018) Macrometastasis in papillary thyroid cancer patients is associated with higher recurrence in lateral neck nodes. World J Surg 42:123–129

20.

Razavi CR, Vasiliou E, Tufano RP, Russell JO (2018) Learning curve for transoral endoscopic thyroid lobectomy. Otolaryngol Head Neck Surg 159:625–629

21.

Kim SY, Kim S-M, Chang H, Kim B-W, Lee YS, Chang H-S, Park CS (2017) Transoral endoscopic thyroidectomy by a vestibular approach with endoscopic retractor. VideoEndocrinology. https://doi.org/10.1089/ve.2017.0100

22.

Chai YJ, Chung JK, Anuwong A, Dionigi G, Kim HY, Hwang KT, Heo SC, Yi KH, Lee KE (2017) Transoral endoscopic thyroidectomy for papillary thyroid microcarcinoma: initial experience of a single surgeon. Ann Surg Treat Res 93:70–75

23.

Inabnet WB 3rd, Suh H, Fernandez-Ranvier G (2017) Transoral endoscopic thyroidectomy vestibular approach with intraoperative nerve monitoring. Surg Endosc 31:3030

24.

Lee YS, Nam KH, Chung WY, Chang HS, Park CS (2010) Postoperative complications of thyroid cancer in a single center experience. J Korean Med Sci 25:541–545

25.

Kim SM, Kim HK, Kim KJ, Chang HJ, Kim BW, Lee YS, Chang HS, Park CS (2015) Recovery from permanent hypoparathyroidism after total thyroidectomy. Thyroid 25:830–833

26.

Witzel K, Messenbaeck F, Weitzendorfer M, Benhidjeb T (2017) Transoral thyroidectomy: limitations, patients' safety, and own experiences. Updates Surg 69:193–198

27.

Campbell RL, Shamaskin RG, Harkins SW (1987) Assessment of recovery from injury to inferior alveolar and mental nerves. Oral Surg Oral Med Oral Pathol 64:519–526
Ethics declarations
Disclosure
Drs. Soo Young Kim, Seok-Mo Kim, Özer Makay, Hojin Chang, Bup-Woo Kim, Yong Sang Lee, Cheong Soo Park, and Hang-Seok Chang have no conflicts of interest or financial ties to disclose.
Additional information
Publisher's Note
Springer Nature remains neutral with regard to jurisdictional claims in published maps and institutional affiliations.
About this article
Cite this article
Kim, S.Y., Kim, SM., Makay, Ö. et al. Transoral endoscopic thyroidectomy using the vestibular approach with an endoscopic retractor in thyroid cancer: experience with the first 132 patients. Surg Endosc 34, 5414–5420 (2020). https://doi.org/10.1007/s00464-019-07336-2
Received:

Accepted:

Published:

Issue Date:
Keywords
Transoral

Thyroid cancer

Endoscopic

Thyroidectomy