Abstract
Background
Robotic colonoscopy (RC) is a pneumatically-driven self-propelling platform (Endotics System®) able to investigate the colon, in order to reduce pain and discomfort. Aims: (1) to describe the progress in gaining experience and skills of a trainee in RC; (2) to show the clinical outcomes of RC.
Methods
Pilot study. An experienced endoscopist started a training on RC whose progress was assessed comparing the results of 2 consecutive blocks of 27 (Group A) and 28 (Group B) procedures. CIR (Cecal Intubation Rate), CIT (Cecal Intubation Time) and Withdrawal Time (WT) were measured. Polyp Detection Rate (PDR), Adenoma Detection Rate (ADR) and Advanced Neoplasia Detection Rate (ANDR) were calculated. Possible adverse events were recorded. At the end of the procedure all patients completed a visual analog scale (VAS) to measure their perceived pain during RC and reported their willingness to repeat RC.
Results
General CIR was 92.7%, reaching 100% in Group B. Comparing the two groups, CIT significantly decreased from 55 to 22 min (p value 0.0007), whereas procedures with CIT ≤ 20 min increased (p value 0.037). WT significatively reduced from 21 to 16 min (p value 0.0186). PDR was 40% (males 62.5%, females 14.3%). ADR was 26.7% (males 27.5%, females 14.3%). Most of patients judged the procedure as mild or no distress, with high willingness-to-repeat the RC (92.7%).
Conclusions
Our results about RC are encouraging as preliminary experience, with clear individual learning progress, accurate diagnosis in a painless or comfortable procedure and with possibility to remove polypoid lesions. Studies with larger populations are needed to confirm obtained results.
This is a preview of subscription content, log in to check access.
Access options
Buy single article
Instant access to the full article PDF.
US$ 39.95
Tax calculation will be finalised during checkout.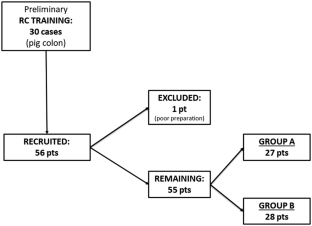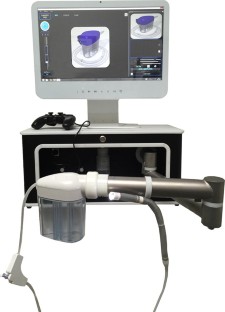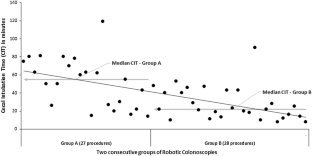 Abbreviations
ADNR:

Advanced neoplasia detection rate

ADR:

Adenoma detection rate

BBPS:

Boston bowel preparation scale

CC:

Conventional colonoscopy

CIR:

Cecal intubation rate

CIT:

Cecal intubation time

EMR:

Endoscopic mucosal resection

IQR:

Interquartile range

PDR:

Polyp detection rate

RC:

Robotic colonoscopy

SAEs:

Serious adverse events

SE:

Standard error

WT:

Withdrawal time
References
1.

Centers for Disease Control and Prevention (CDC) (2013) Vital signs: colorectal cancer screening test use–United States, 2012 MMWR. Morb Mortal Wkly Rep 62:881–888

2.

Winawer SJ, Zauber AG, Ho MN, O'Brien MJ, Gottlieb LS, Sternberg SS, Waye JD, Schapiro M, Bond JH, Panish JF et al (1993) Prevention of colorectal cancer by colonoscopic polypectomy. The National Polyp Study Workgroup. N Engl J Med 329:1977–1981

3.

Rex DK, Schoenfeld PS, Cohen J, Pike IM, Adler DG, Fennerty MB, Lieb JG 2nd, Park WG, Rizk MK, Sawhney MS, Shaheen NJ, Wani S, Weinberg DS (2015) Quality indicators for colonoscopy. Gastrointest Endosc 81:31–53

4.

Strum WB (2016) Colorectal adenomas. N Engl J Med 375:389–390

5.

Asfaha S, Alqahtani S, Hilsden RJ, MacLean AR, Beck PL (2008) Assessment of endoscopic training of general surgery residents in a North American health region. Gastrointest Endosc 68:1056–1062

6.

Anderson JC, Butterly LF (2015) Colonoscopy: quality indicators. Clin Transl Gastroenterol 26(6):e77

7.

No authors listed (1998) Guidelines for credentialing and granting privileges for gastrointestinal endoscopy. American Society for Gastrointestinal Endoscopy. Gastrointest Endosc 48:679–682

8.

Lieberman DA, Faigel DO, Logan JR, Mattek N, Holub J, Eisen G, Morris C, Smith R, Nadel M (2009) Assessment of the quality of colonoscopy reports: results from a multicenter consortium. Gastrointest Endosc 69:645–653

9.

Bianchi F, Ciuti G, Koulaouzidis A, Arezzo A, Stoyanov D, Schostek S, Oddo CM, Menciassi A, Dario P (2017) An innovative robotic platform for magnetically-driven painless colonoscopy. Ann Transl Med 5:421

10.

Tumino E, Sacco R, Bertini M, Bertoni M, Parisi G, Capria A (2010) Endotics system vs colonoscopy for the detection of polyps. World J Gastroenterol 16:5452–5456

11.

Tumino E, Parisi G, Bertoni M, Bertini M, Metrangolo S, Ierardi E, Cervelli R, Bresci G, Sacco R (2017) Use of robotic colonoscopy in patients with previous incomplete colonoscopy. Eur Rev Med Pharmacol Sci 21:819–826

12.

World Medical Association (2013) World Medical Association Declaration of Helsinki: ethical principles for medical research involving human subjects. JAMA 310:2191–2194

13.

Lin OS (2017) Sedation for routine gastrointestinal endoscopic procedures: a review on efficacy, safety, efficiency, cost and satisfaction. Intest Res 15:456–466

14.

ASGE Standards of Practice Committee, Early DS, Lightdale JR, Vargo JJ 2nd, Acosta RD, Chandrasekhara V, Chathadi KV, Evans JA, Fisher DA, Fonkalsrud L, Hwang JH, Khashab MA, Muthusamy VR, Pasha SF, Saltzman JR, Shergill AK, Cash BD, DeWitt JM (2018) Guidelines for sedation and anesthesia in GI endoscopy. Gastrointest Endosc 87:327–337

15.

No authors listed (2003) The Paris endoscopic classification of superficial neoplastic lesions: esophagus, stomach, and colon. Gastrointest Endosc 58:S3–S43

16.

Dixon MF (2002) Gastrointestinal epithelial neoplasia: Vienna revisited. Gut 51:130–131

17.

Coe SG, Crook JE, Diehl NN, Wallace MB (2013) An endoscopic quality improvement program improves detection of colorectal adenomas. Am J Gastroenterol 108:219–26 (quiz 227)

18.

ASGE Standards of Practice Committee, Fisher DA, Maple JT, Ben-Menachem T, Cash BD, Decker GA, Early DS, Evans JA, Fanelli RD, Fukami N, Hwang JH, Jain R, Jue TL, Khan KM, Malpas PM, Sharaf RN, Shergill AK, Dominitz JA (2011) Complications of colonoscopy. Gastrointest Endosc 74:745–752

19.

Cosentino F, Tumino E, Passoni GR, Morandi E, Capria A (2009) Functional evaluation of the endotics system, a new disposable self-propelled robotic colonoscope: in vitro tests and clinical trial. Int J Artif Organs 32:517–527

20.

Hoff G, Holme Ø, Bretthauer M, Sandvei P, Darre-Næss O, Stallemo A, Wiig H, Høie O, Noraberg G, Moritz V, de Lange T (2017) Cecum intubation rate as quality indicator in clinical versus screening colonoscopy. Endosc Int Open 5:E489–E495

21.

ASGE Quality Assurance in Endoscopy Committee, Calderwood AH, Day LW, Muthusamy VR, Collins J, Hambrick RD III, Brock AS, Guda NM, Buscaglia JM, Petersen BT, Buttar NS, Khanna LG, Kushnir VM, Repaka A, Villa NA, Eisen GM (2018) ASGE guideline for infection control during GI endoscopy. Gastrointest Endosc 87:1167–1179

22.

Kenters N, Tartari E, Hopman J, El-Sokkary RH, Nagao M, Marimuthu K, Vos MC, ISAC working group, Huijskens EGW, Voss A (2018) Worldwide practices on flexible endoscope reprocessing. Antimicrob Resist Infect Control 7:153

23.

Groth S, Krause H, Behrendt R, Hill H, Börner M, Bastürk M, Plathner N, Schütte F, Gauger U, Riemann JF, Altenhofen L, Rösch T (2012) Capsule colonoscopy increases uptake of colorectal cancer screening. BMC Gastroenterol 12:80

24.

Obaro AE, Burling DN, Plumb AA (2018) Colon cancer screening with CT colonography: logistics, cost-effectiveness, efficiency and progress. Br J Radiol 91:20180307

25.

Mohankumar D, Garner H, Ruff K, Ramirez FC, Fleischer D, Wu Q, Santello M (2014) Characterization of right wrist posture during simulated colonoscopy: an application of kinematic analysis to the study of endoscopic maneuvers. Gastrointest Endosc 79:480–489

26.

Yung DE, Banfi T, Ciuti G, Arezzo A, Dario P, Koulaouzidis A (2017) Musculoskeletal injuries in gastrointestinal endoscopists: a systematic review. Expert Rev Gastroenterol Hepatol 11:939–947

27.

Gluck N, Melhem A, Halpern Z, Mergener K, Santo E (2016) A novel self-propelled disposable colonoscope is effective for colonoscopy in humans (with video). Gastrointest Endosc 83:998–1004.e1

28.

Kim HG (2016) Painless colonoscopy: available techniques and instruments. Clin Endosc 49:444–448

29.

Yang YL, Li SS, Wang XB, Li JN (2018) Painless colonoscopy: a pilot study of a 5.9-mm endoscope for routine colonoscopy. Chin Med J (Engl) 131:857–858
Funding
No institutional, private or corporate financial support for the work was received.
Ethics declarations
Disclosures
Antonello Trecca, Filippo Catalano, Antonino Bella and Raffaele Borghini have no conflicts of interest or financial ties to disclose.
Additional information
Publisher's Note
Springer Nature remains neutral with regard to jurisdictional claims in published maps and institutional affiliations.
Electronic supplementary material
Below is the link to the electronic supplementary material.
Supplementary file1 (MP4 192114 kb)
About this article
Cite this article
Trecca, A., Catalano, F., Bella, A. et al. Robotic colonoscopy: efficacy, tolerability and safety. Preliminary clinical results from a pilot study. Surg Endosc 34, 1442–1450 (2020). https://doi.org/10.1007/s00464-019-07332-6
Received:

Accepted:

Published:

Issue Date:
Keywords
Robotic colonoscopy

Adenoma detection rate

Colonoscopy

Colorectal cancer

Screening

Painless colonoscopy