Abstract
Background
Readmission status is an important clinical component of healthcare outcomes. 90-day readmission following complex open ventral hernia repair has not been well studied with national level data. This study aims to compare readmission rates for patients undergoing standard vs. complex (myocutaneous flap-based) ventral hernia repair. We hypothesize that complexity of reconstruction will be an independent predictor of readmission after ventral hernia repair.
Methods
A retrospective cohort study was performed with 1:1 matching of hernia repair type using the National Readmissions Database. Patients were selected using ICD-9 codes corresponding to ventral hernia repair with or without myocutaneous flap. 90-day readmissions were determined on patients within the first through third quarters of each year. After matching, a multivariable logistic regression analysis was performed using confounding variables including hospital setting, comorbidities, type of repair, urgency of repair, sociodemographic status, and payer. Likelihood of 90-day readmission was calculated from odds ratios.
Results
Readmission rates were 19.1% (38,313 out of 200,266) and 22.5% (692 out of 3075) at 90-day for standard ventral hernia repair and complex ventral hernia repair, respectively. 3116 standard ventral hernia repair patients were matched with 3074 complex ventral hernia repair patients. After matching there was a significantly increased readmission rate for repairs involving myocutaneous flaps, with odds ratio (OR) 1.30 (95% CI 1.22–1.60). Payer status (OR 1.82; 95% CI 1.21–2.74), teaching hospital status (OR 1.42; 95% CI 1.23–1.64) and income quartile (OR 1.35; CI 1.10–1.65) were independent predictors of readmission.
Conclusions
Patients undergoing myocutaneous flap-based reconstruction have higher readmission rates than those undergoing less complex ventral hernia repair. Socioeconomic disparity as reflected in payer status is a particularly strong predictor of readmission. The data support the concept that focused efforts are needed to optimize patient outcomes for patients requiring more complex repair, including socioeconomically disadvantaged patient populations.
Graphic abstract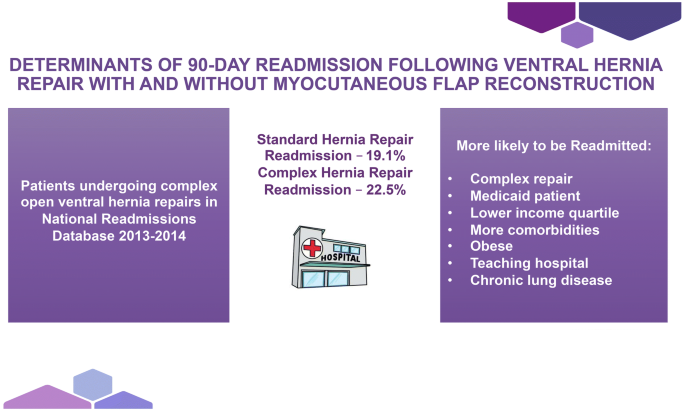 Access options
Buy single article
Instant access to the full article PDF.
US$ 39.95
Tax calculation will be finalised during checkout.
References
1.

Poulose B, Shelton J, Phillips S, Moore D, Nealon W, Penson D, Beck W, Holzman MD (2012) Epidemiology and cost of ventral hernia repair: making the case for hernia research. Hernia 16:179–183

2.

Novitsky Y, Elliott H, Orenstein SB, Rosen MJ (2012) Transversus abdominis muscle release, a novel approach to posterior component separation during complex abdominal wall reconstruction. Am J Surg 204:709–716

3.

Krpata D, Haskins I, Rosenblatt S, Grundfest S, Prabhu A, Rosen M (2018) Development of a disease-based hernia program and the impact on cost for a hospital system. Ann Surg 267:370–374

4.

Yahchouchy-Chouillard E, Aura T, Picone O, Etienne JC, Fingerhut A (2003) Incisional hernia related risk factors. Dig Surg 20:3–9

5.

Forbes SS, Eskicioglu C, McLeod RS, Okrainec A (2009) Meta-analysis of randomized controlled trials comparing open and laparoscopic ventral and incisional hernia repair with mesh. Br J Surg 96:851–858

6.

Burger JW, Luijendijk RW, Hop WC, Halm JA, Verdaasdonk EG, Jeekel J (2004) Long-term follow-up of a randomized controlled trial of suture versus mesh repair of incisional hernia. Ann Surg 240:578–585

7.

Majumder A, Fayezizadeh M, Neupane R, Elliott H, Novitsky Y (2016) Benefits of multimodal enhanced recovery pathway in patients undergoing open ventral hernia repair. J Am Coll Surg 222:1106–1115

8.

Kim Y, Gani F, Lucas DJ, Ejaz A, Spolverato G, Canner JK, Schneider EB, Pawlik TM (2015) Early versus late readmission after surgery among patients with employer-provided health insurance. Ann Surg 262:502–511

9.

Helgstrand F, Rosenberg J, Kehlet H, Jorgensen L, Bisgaard T (2013) Nationwide prospective study of outcomes after elective incisional hernia repair. J Am Coll Surg 216:217–228

10.

Helgstrand F, Rosenberg J, Kehlet H, Bisgaard T (2013) Outcomes after emergency versus elective ventral hernia repair: a prospective nationwide study. World J Surg 37:2273–2279

11.

Liang M, Bernardi K, Holihan J, Cherla D, Escamilla R, Lew D, Berger D, Ko T, Kao L (2018) Modifying risks in ventral hernia patients with prehabilitation: a randomized controlled trial. Ann Surg 268:674–680

12.

Poulose B, Harris D, Phillips S, Janczyk R, Yunis J, Voeller G, Carbonell A, Warren J, Stoikes N, Webb D, Hope W, Rosen M (2018) Reducing early readmissions after ventral hernia repair with the americas hernia society quality collaborative. J Am Coll Surg 226(5):814–824

13.

Charlson M, Szatrowski TP, Peterson J, Gold J (1994) Validation of a combined comorbidity index. J Clin Epidemiol 47:1245–1251

14.

Rios-Diaz A, Zheng R, Thibault D, Crispo JA, Willis A, Willis A (2019) Understanding nationwide readmission after thyroid surgery. Surgery 165:423–430

15.

Lopez M, Buicko J, Parreco J (2017) Nationwide comparison of readmission rates and associated risk factors after laparoscopic and open ventral hernia repairs. J Am Coll Surg 225:e90

16.

Bowman K, Telem D, Hernandez-Rosa J, Stein N, Williams R, Divino C (2010) Impact of race and socioeconomic status on presentation and management of ventral hernias. Arch Surg 145(8):776–780

17.

Pradarelli JC, Scally CP, Nathan H, Thumma JR, Dimick JB (2017) Hospital teaching status and medicare expenditures for complex surgery. Ann Surg 265:502–513

18.

Celio C, Kasten K, Pofahl W, Pories WJ, Spaniolas K (2016) Causes of readmission after laparoscopic and open ventral hernia repair: identifying failed discharges and opportunities for action. Surgery 160:413–417

19.

Belyansky I, Daes J, Radu VG, Balasubramanian R, Reza Zahiri H, Weltz AS, Sibia US, Park A, Novitsky Y (2018) A novel approach using the enhanced-view totally extraperitoneal (eTEP) technique for laparoscopic retromuscular hernia repair. Surg Endosc 32:1525–1532
Ethics declarations
Disclosures
Feimster, Ganai, Scaife and Mellinger have no conflicts of interest or financial ties to disclose.
Additional information
Publisher's Note
Springer Nature remains neutral with regard to jurisdictional claims in published maps and institutional affiliations.
About this article
Cite this article
Feimster, J.W., Ganai, S., Scaife, S. et al. Determinants of 90-day readmission following ventral hernia repair with and without myocutaneous flap reconstruction: a National Readmissions Database analysis. Surg Endosc 34, 4662–4668 (2020). https://doi.org/10.1007/s00464-019-07250-7
Received:

Accepted:

Published:

Issue Date:
Keywords
Hernia readmission

Complex ventral hernias

National Readmissions Database