Abstract
Background
As a key landmark during laparoscopic right colectomy, the classification and variation of the gastrocolic trunk of Henle (GTH) remains to be clarified. The aim of this nationwide multicenter study was to describe the characteristics of the GTH intra-operatively during laparoscopic right colectomies.
Methods
Three hundred seventy-one patients who underwent laparoscopic right colectomies from January 2018 to March 2019 in 25 hospitals across China were enrolled in the study. The length of the GTH, the classification with a precise description of confluent tributaries, and other variations were analyzed.
Results
Of the 371 patients, 363 had a GTH. The proportion of type-0, type-I, type-II, and type-III was 15.2% (n = 55), 54.8% (n = 199), 25.3% (n = 92), and 4.7% (n = 17), respectively. The average length of the GTH was 8.5 mm, ranging from 2 to 30 mm.
Conclusions
This is the first multicenter study with a large sample by which the GTH was classified based on laparoscopic intraoperative observation. Variations in the GTH were classified into four types based on the number of colic drainage veins (right colic, superior right colic, middle colic, accessory middle colic, and ileocolic veins), among which the right colic vein was the most common. The length of the GTH was relatively short, and thus might carry a risk of bleeding. Further clinical data should be correlated with the characteristics of the GTH.
Access options
Buy single article
Instant access to the full article PDF.
US$ 39.95
Tax calculation will be finalised during checkout.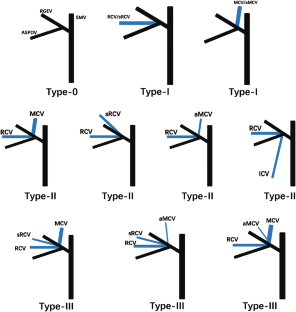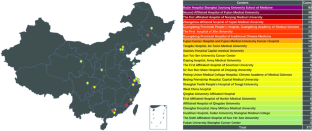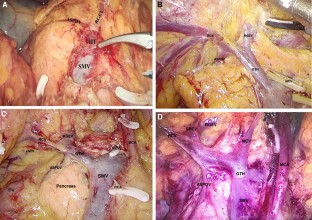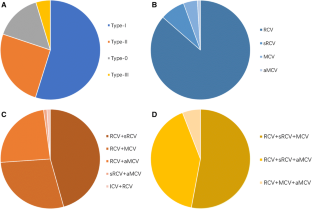 References
1.

Schlinkert RT (1991) Laparoscopic-assisted right hemicolectomy. Dis Colon Rectum 34:1030–1031. https://doi.org/10.1007/bf02049971

2.

Hazebroek EJ (2002) Color. Surg Endosc 16:949–953. https://doi.org/10.1007/s00464-001-8165-z

3.

Kim JW, Kim JY, Kang BM, Lee BH, Kim BC, Park JH (2016) Short- and long-term outcomes of laparoscopic surgery vs open surgery for transverse colon cancer: a retrospective multicenter study. Onco Targets Ther 9:2203–2209. https://doi.org/10.2147/OTT.S103763

4.

Veldkamp R (2005) Laparoscopic surgery versus open surgery for colon cancer: short-term outcomes of a randomised trial. Lancet Oncol 6:477–484. https://doi.org/10.1016/s1470-2045(05)70221-7

5.

Hohenberger W, Weber K, Matzel K, Papadopoulos T, Merkel S (2009) Standardized surgery for colonic cancer: complete mesocolic excision and central ligation—technical notes and outcome. Colorectal Dis 11:354–364. https://doi.org/10.1111/j.1463-1318.2008.01735.x

6.

He Z, Zhang S, Xue P, Yan X, Zhou L, Li J, Wang M, Lu A, Ma J, Zang L, Hong H, Dong F, Su H, Sun J, Zhang L, Zheng M, Feng B (2018) Completely medial access by page-turning approach for laparoscopic right hemi-colectomy: 6-year-experience in single center. Surg Endosc 33:959–965. https://doi.org/10.1007/s00464-018-6525-1

7.

West NP, Hohenberger W, Weber K, Perrakis A, Finan PJ, Quirke P (2010) Complete mesocolic excision with central vascular ligation produces an oncologically superior specimen compared with standard surgery for carcinoma of the colon. J Clin Oncol 28:272–278. https://doi.org/10.1200/JCO.2009.24.1448

8.

Açar HI, Cömert A, Avsar A, Çelik S, Kuzu MA (2014) Dynamic article: surgical anatomical planes for complete mesocolic excision and applied vascular anatomy of the right colon. Dis Colon Rectum 57:1169–1175

9.

Mike M, Kano N (2014) Laparoscopic surgery for colon cancer: a review of the fascial composition of the abdominal cavity. Surg Today 45:129–139. https://doi.org/10.1007/s00595-014-0857-9

10.

Henle J (1876) Handbuch der systematischen Anatomie des Menschen. v. 3, Vieweg

11.

Descomps P (1912) Les veines mésentériques. J de l'Anat et physiol norm et path de l'homme et des animaux 48:337–376

12.

Yamaguchi S, Kuroyanagi H, Milsom JW, Sim R, Shimada H (2002) Venous anatomy of the right colon: precise structure of the major veins and gastrocolic trunk in 58 cadavers. Dis Colon Rectum 45:1337–1340

13.

Miyazawa M, Kawai M, Hirono S, Okada K, Shimizu A, Kitahata Y, Yamaue H (2015) Preoperative evaluation of the confluent drainage veins to the gastrocolic trunk of Henle: understanding the surgical vascular anatomy during pancreaticoduodenectomy. J Hepato-Biliary-Pancreat Sci 22:386–391

14.

Ogino T, Takemasa I, Horitsugi G, Furuyashiki M, Ohta K, Uemura M, Nishimura J, Hata T, Mizushima T, Yamamoto H (2014) Preoperative evaluation of venous anatomy in laparoscopic complete mesocolic excision for right colon cancer. Ann Surg Oncol 21:429–435

15.

Lange JF, Koppert S, van Eyck CH, Kazemier G, Kleinrensink GJ, Godschalk M (2000) The gastrocolic trunk of Henle in pancreatic surgery: an anatomo-clinical study. J Hepato-biliary-pancreat Surg 7:401–403

16.

Alsabilah JF, Razvi SA, Albandar MH, Kim NK (2017) Intraoperative archive of right colonic vascular variability aids central vascular ligation and redefines gastrocolic trunk of henle variants. Dis Colon Rectum 60:22–29

17.

Lee SJ, Park SC, Kim MJ, Sohn DK, Oh JH (2016) Vascular anatomy in laparoscopic colectomy for right colon cancer. Dis Colon Rectum 59:718–724

18.

Gao Y, Lu Y (2018) Variations of gastrocolic trunk of henle and its significance in gastrocolic surgery. Gastroenterol Res Pract 2018:3573680. https://doi.org/10.1155/2018/3573680

19.

Gillot C, Hureau J, Aaron C, Martini R, Thaler G, Michels N (1964) The superior mesenteric vein, an anatomic and surgical study of eighty-one subjects. J Int Coll Surg 41:339

20.

Jin G, Tuo H, Sugiyama M, Oki A, Abe N, Mori T, Masaki T, Atomi Y (2006) Anatomic study of the superior right colic vein: its relevance to pancreatic and colonic surgery. Am J Surg 191:100–103. https://doi.org/10.1016/j.amjsurg.2005.10.009

21.

Kimura W (2000) Surgical anatomy of the pancreas for limited resection. J Hepato-Biliary-Pancreat Surg 7:473–479. https://doi.org/10.1007/s005340070017

22.

Sakaguchi T, Suzuki S, Morita Y, Oishi K, Suzuki A, Fukumoto K, Inaba K, Kamiya K, Ota M, Setoguchi T, Takehara Y, Nasu H, Nakamura S, Konno H (2010) Analysis of anatomic variants of mesenteric veins by 3-dimensional portography using multidetector-row computed tomography. Am J Surg 200:15–22. https://doi.org/10.1016/j.amjsurg.2009.05.017

23.

Ignjatovic D, Spasojevic M, Stimec B (2010) Can the gastrocolic trunk of Henle serve as an anatomical landmark in laparoscopic right colectomy? A postmortem anatomical study. Am J Surg 199:249–254. https://doi.org/10.1016/j.amjsurg.2009.03.010

24.

Ignjatovic D, Sund S, Stimec B, Bergamaschi R (2007) Vascular relationships in right colectomy for cancer: clinical implications. Tech Coloproctol 11:247

25.

Nesgaard JM, Stimec BV, Bakka AO, Edwin B, Ignjatovic D (2015) Navigating the mesentery: a comparative pre- and per-operative visualization of the vascular anatomy. Colorectal Dis 17:810–818. https://doi.org/10.1111/codi.13003

26.

García-Ruiz A, Milsom JW, Ludwig KA, Marchesa P (1996) Right colonic arterial anatomy. Dis Colon Rectum 39:906–911. https://doi.org/10.1007/bf02053990

27.

Ignjatovic D, Stimec B, Finjord T, Bergamaschi R (2004) Venous anatomy of the right colon: three-dimensional topographic mapping of the gastrocolic trunk of Henle. Tech Coloproctol 8:19–22

28.

Freund MR, Edden Y, Reissman P, Dagan A (2016) Iatrogenic superior mesenteric vein injury: the perils of high ligation. Int J Colorectal Dis 31:1649–1651. https://doi.org/10.1007/s00384-016-2624-4
Acknowledgements
Special thanks to the supports of the Chinese Society of Laparoscopic and Endoscopic Surgeons and the Chinese Society of Colorectal Surgeons to this study.
Funding
This work was supported by Shanghai Shen-kang Hospital Development Centre (16CR1011A), Shanghai Municipal Commission of Health and Family Planning Program (201640030), Shanghai Translational Medicine Collaborative Innovation Center Program (TM201701) and Natural Science Fund of Shanghai(18ZR1424100).
Ethics declarations
Disclosures
Drs. Zirui He, Hao Su, Kai Ye, Yueming Sun, Yincong Guo, Quan Wang, Yong Li, Dechang Diao, Chunkang Yang, Nan Wang, Ang Li, WeiDong Tong, Peirong Ding, Yi Xiao, Xiaojun Zhou, Zhangfa Song, Su Yan, Hongwei Yao, Wenjian Meng, Donglei Zhou, Anlong Zhu, Yuan Gao, Hao Wang, Yiming Zhou, Xinxiang Li, Liang Kang, Minhua Zheng and Bo Feng have no conflict of interest or financial ties to disclose.
Additional information
Publisher's Note
Springer Nature remains neutral with regard to jurisdictional claims in published maps and institutional affiliations.
About this article
Cite this article
He, Z., Su, H., Ye, K. et al. Anatomical characteristics and classifications of gastrocolic trunk of Henle in laparoscopic right colectomy: preliminary results of multicenter observational study. Surg Endosc 34, 4655–4661 (2020). https://doi.org/10.1007/s00464-019-07247-2
Received:

Accepted:

Published:

Issue Date:
Keywords
Gastrocolic trunk of Henle

Laparoscopic right colectomy

Classification

Anatomic variation