Abstract
Background
In difficult gallbladders, partial or subtotal cholecystectomy (SC) has been described as a reasonable procedure with safe outcomes. Our aim was to look at our data on SC with respect to safety, morbidity and long-term outcome.
Methods
A retrospective analysis was performed for 3560 patients undergoing cholecystectomy from January 2010 to June 2016. For patients who underwent SC, demographics, intra-operative and follow-up details were analysed.
Results
A total of 168 SC patients were included. 102 (60.7%) were male while 66 (39.3%) were female. The median age was 63 years (31-87). These patients were on follow-up for a median of 29 months (1.7-80). 153 were attempted laparoscopically and there were 25 (16.3%) patients which had open conversion. The rest of the 15 patients had open SC. Mean operative time 150 min (70–315) and average blood loss was 170 ml (50–1500). Median length of stay for these patients was 4 days (1–68). There were no common bile duct (CBD) injuries. We had 12 (7.1%) post-operative collections, 4 (2.4%) wound infections, 1 (0.6%) bile leak and 7 (4.2%) retained stones. Post-operative endoscopic retrograde cholangiopancreatography (ERCP) was performed on 4 (2.4%) patients with successful retrieval of CBD stones. One patient has spontaneous passage of CBD stone. The rest of the two patients with very small retained stones in remnant gallbladder were successfully managed conservatively. There was no 30-day or operation-related mortality. No patient required a second operation.
Conclusions
SC is safe and feasible when encountering a difficult gallbladder.
This is a preview of subscription content, log in to check access.
Access options
Buy single article
Instant access to the full article PDF.
US$ 39.95
Tax calculation will be finalised during checkout.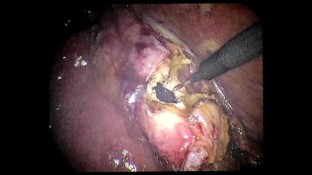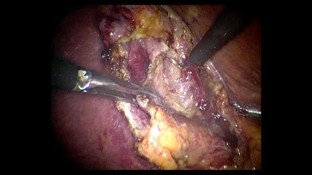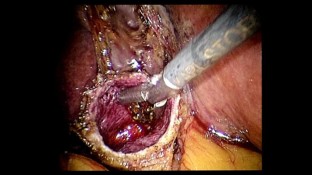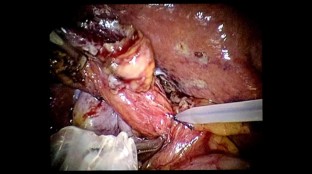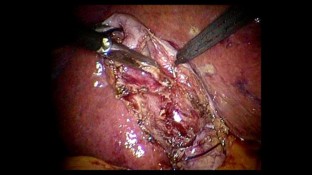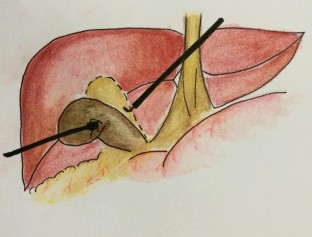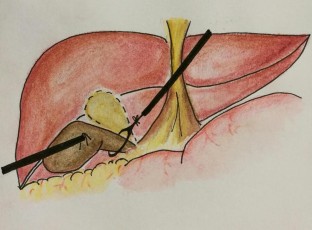 References
1.

Gode D, Palanivelu C, Zahiruddin QS. New variants of laparoscopic subtotal cholecystectomy in management of acute cholecystitis. Int J Med Sci Public Health. https://doi.org/10.5455/ijmsph.2014.300120141

2.

http://www.sages.org/safe-cholecystectomy-program/. Accessed 25 Apr 2019

3.

Palanivelu C, Rajan PS, Jani K et al (2006) Laparoscopic cholecystectomy in cirrhotic patients: the role of subtotal cholecystectomy and its variants. J Am Coll Surg 203:145–151

4.

Harilingam MR, Shrestha AK, Basu S (2016) Laparoscopic modified subtotal cholecystectomy for difficult gall bladders: a single-centre experience. J Minim Access Surg 12:325–329

5.

Shingu Y, Komatsu S (2016) Laparoscopic subtotal cholecystectomy for severe cholecystitis. Surg Endosc 30(2):526–531

6.

Henneman D, da Costa DW, Vrouenraets BC, van Wagensveld BA, Lagarde SM (2013) Laparoscopic partial cholecystectomy for the difficult gallbladder: a systematic review. Surg Endosc 27:315–358

7.

Elshaer M, Gravante G, Thomas K, Sorge R, Al-Hamali S, Ebdewi H (2015) Subtotal cholecystectomy for "Difficult Gallbladders" systematic review and meta-analysis. JAMA Surg 150(2):159–168

8.

Madding GF (1955) Subtotal cholecystectomy in acute cholecystitis. Am J Surg 89(3):604–607

9.

Bornman PC, Terblanche J (1985) Subtotal cholecystectomy; for the difficult gallbladder in portal hypertension and cholecystitis. Surgery 98:l–6

10.

EASL (2016) EASL Clinical Practice Guidelines on prevention, diagnosis and treatment of gallstones. J Hepatol 65:146–181

11.

Strasberg SM et al (2016) Subtotal cholecystectomy—"Fenestrating" vs "Reconstituting" subtypes and prevention of bile duct injuries: definition of the optimal procedure in difficult operative conditions. J Am Coll Surg 222(1):89–96

12.

Amirthalingam V, Low JK, Woon W, Shelat V (2017) Tokyo guidelines 2013 may be too restrictive and patients with moderate and severe acute cholecystitis can be managed by early cholecystectomy too. Surg Endosc 31(7):2892–2900

13.

Davis B et al (2012) Subtotal cholecystectomy versus total cholecystectomy in complicated cholecystitis. Am Surg 78(7):814–817
Ethics declarations
Disclosures
Drs. Tay, Toh, Shelat, Huey, Junnarkar, Woon and Low have no conflicts of interest or financial ties to disclose.
Additional information
Publisher's Note
Springer Nature remains neutral with regard to jurisdictional claims in published maps and institutional affiliations.
About this article
Cite this article
Tay, W.M., Toh, Y.J., Shelat, V.G. et al. Subtotal cholecystectomy: early and long-term outcomes. Surg Endosc 34, 4536–4542 (2020). https://doi.org/10.1007/s00464-019-07242-7
Received:

Accepted:

Published:

Issue Date:
Keywords
Subtotal

Cholecystitis

Difficult gallbladder