Abstract
Background
Well-designed retrospective studies (RSs) and small-sample prospective studies (PSs) evaluating the efficacy of interventions have received much attention. This study was designed to evaluate the differences between well-designed RSs and small-sample randomized controlled trials based on the efficacy of laparoscopic distal gastrectomy (LDG) and open distal gastrectomy (ODG) for advanced gastric cancer (GC).
Methods
The clinicopathological data of 1360 patients with GC who underwent DG were analysed. After propensity score matching (1:1), 380 cases (ODG = 190, LDG = 190) were finally selected in a RS. Meanwhile, data from 120 patients (ODG = 60, LDG = 60) who enrolled in a PS were analysed.
Results
In the PS, the LDG group had less intraoperative blood loss, shorter time to first flatus, and shorter time to fluid diet than the ODG group. In the RS, the LDG group had less intraoperative blood loss, and a shorter postoperative hospital stay than the ODG group. In the PS, the 3-year overall survival (OS) rate was 83.3% in the LDG group and 83.2% in the ODG group (p = 0.877). In the RS, the 3-year OS rate was 68.7% in the LDG group and 66.6% in the ODG group (p = 0.752). No significant interactions were observed between the two groups and any of the variables examined, either in the PS or RS. The recurrence patterns were similar in the two groups. Furthermore, Cox regression analysis showed that surgical method (LDG/ODG) was not a prognostic factor affecting OS or DFS, either prospectively or retrospectively.
Conclusions
The oncologic efficacy of laparoscopic and open distal gastrectomy for advanced GC is comparable. Well-designed RSs can be similar to small sample of PSs in assessing long-term oncologic outcomes of surgical interventions, but the short-term outcomes obtained should be treated with caution.
Access options
Buy single article
Instant access to the full article PDF.
US$ 39.95
Tax calculation will be finalised during checkout.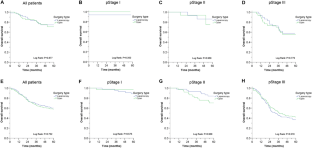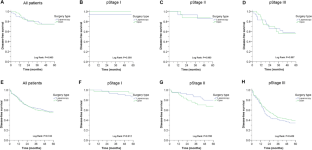 References
1.

Bray F, Ferlay J, Soerjomataram I, Siegel RL, Torre LA, Jemal A (2018) Global cancer statistics 2018: GLOBOCAN estimates of incidence and mortality worldwide for 36 cancers in 185 countries. CA Cancer J Clin. https://doi.org/10.3322/caac.21492

2.

Kim HH, Hyung WJ, Cho GS, Kim MC, Han SU, Kim W et al (2010) Morbidity and mortality of laparoscopic gastrectomy versus open gastrectomy for gastric cancer: an interim report—a phase III multicenter, prospective, randomized Trial (KLASS Trial). Ann Surg 251:417–420

3.

Kim HH, Han SU, Kim MC, Hyung WJ, Kim W, Lee HJ et al (2014) Long-term results of laparoscopic gastrectomy for gastric cancer: a large-scale case-control and case-matched Korean multicenter study. J Clin Oncol 32:627

4.

Honda M, Hiki N, Kinoshita T, Yabusaki H, Abe T, Nunobe S et al (2016) Long-term outcomes of laparoscopic versus open surgery for clinical stage I gastric cancer: the LOC-1 study. Ann Surg 264:214–222

5.

Kim W, Kim HH, Han SU, Kim MC, Hyung WJ, Ryu SW et al (2016) Decreased morbidity of laparoscopic distal gastrectomy compared with open distal gastrectomy for stage I gastric cancer: short-term outcomes from a multicenter randomized controlled trial (KLASS-01). Ann Surg 263:28

6.

Katai H, Mizusawa J, Katayama H, Takagi M, Yoshikawa T, Fukagawa T et al (2017) Short-term surgical outcomes from a phase III study of laparoscopy-assisted versus open distal gastrectomy with nodal dissection for clinical stage IA/IB gastric cancer: Japan Clinical Oncology Group Study JCOG0912. Gastric Cancer 20:1–10

7.

Association JGC (2017) Japanese gastric cancer treatment guidelines 2014 (ver. 4). Gastric Cancer 20:1–19

8.

Li Z, Gao X (2019) Looking back 2018—focused on gastric cancer. Zhonghua wei chang wai ke za zhi = Chin J Gastrointest Surg 22:1–8

9.

Kitano S, Iso Y, Moriyama M, Sugimachi K (1994) Laparoscopy-assisted Billroth I gastrectomy. Surg Laparosc Endosc 4:146–148

10.

Hu Y, Huang C, Sun Y, Su X, Cao H, Hu J et al (2016) Morbidity and mortality of laparoscopic versus open D2 distal gastrectomy for advanced gastric cancer: a randomized controlled trial. J Clin Oncol 34:1350

11.

Yu J, Huang C, Sun Y, Su X, Cao H, Hu J et al (2019) Effect of laparoscopic vs open distal gastrectomy on 3-year disease-free survival in patients with locally advanced gastric cancer: the CLASS-01 randomized clinical trial. JAMA 321:1983–1992

12.

Si H, Ho K, Ch Y, Jh S, Bh S (2009) Laparoscopic-assisted distal gastrectomy versus open distal gastrectomy for advanced gastric cancer. Surg Endosc 23:1252–1258

13.

Hur H, Jeon HM, Kim W (2010) Laparoscopy-assisted distal gastrectomy with D2 lymphadenectomy for T2b advanced gastric cancers: three years' experience. J Surg Oncol 98:515–519

14.

Hiki N, Honda M, Etoh T, Yoshida K, Kodera Y, Kakeji Y et al (2017) Higher incidence of pancreatic fistula in laparoscopic gastrectomy. Real-world evidence from a nationwide prospective cohort study. Gastric Cancer 21:1–9

15.

Austin PC (2011) An introduction to propensity score methods for reducing the effects of confounding in observational studies. Multivar Behav Res 46:399–424

16.

Bandoh T, Shiraishi N, Yamashita Y, Terachi T, Hashizume M, Akira S et al (2017) Endoscopic surgery in Japan: the 12th national survey (2012–2013) by the Japan Society for Endoscopic Surgery. Asian J Endosc Surg 10:345–353

17.

Rulin Miao ZL, Wu A (2018) Chinese gastrointestinal oncology surgery alliance data report (2014–2016). Chin J Pract Surg 38:90–93 (in Chinese)

18.

Diana M, Marescaux J (2015) Robotic surgery. Br J Surg 102:e15

19.

Obama K, Hyung WJ (2014) Robotic gastrectomy for gastric cancer. Springer, Tokyo

20.

Ioannidis JP, Haidich AB, Pappa M, Pantazis N, Kokori SI, Tektonidou MG et al (2001) Comparison of evidence of treatment effects in randomized and nonrandomized studies. JAMA 286:821–830

21.

Concato J, Lawler EV, Lew RA, Gaziano JM, Aslan M, Huang GD (2010) Observational methods in comparative effectiveness research. Am J Med 123:e16–e23

22.

Benson K, Hartz AJ (2000) A comparison of observational studies and randomized, controlled trials. N Engl J Med 342:1878–1886

23.

Lonjon G, Boutron I, Trinquart L, Ahmad N, Aim F, Nizard R et al (2014) Comparison of treatment effect estimates from prospective nonrandomized studies with propensity score analysis and randomized controlled trials of surgical procedures. Ann Surg 259:18–25

24.

Shikata S, Nakayama T, Noguchi Y, Taji Y, Yamagishi H (2006) Comparison of effects in randomized controlled trials with observational studies in digestive surgery. Ann Surg 244:668–676

25.

Hemmila MR, Birkmeyer NJ, Arbabi S, Osborne NH, Wahl WL, Dimick JB (2010) Introduction to propensity scores: a case study on the comparative effectiveness of laparoscopic vs open appendectomy. Arch Surg (Chicago, Ill: 1960) 145:939–945

26.

D'Agostino RB, Jr. (1998) Propensity score methods for bias reduction in the comparison of a treatment to a non-randomized control group. Stat Med 17:2265–2281

27.

Cepeda MS, Boston R, Farrar JT, Strom BL (2003) Comparison of logistic regression versus propensity score when the number of events is low and there are multiple confounders. Am J Epidemiol 158:280–287

28.

Kinoshita T, Uyama I, Terashima M, Noshiro H, Nagai E, Obama K et al (2018) Long-term outcomes of laparoscopic versus open surgery for clinical stage II/III gastric cancer: a multicenter cohort study in Japan (LOC-A Study). Ann Surg. https://doi.org/10.1097/SLA.0000000000002768

29.

Chen QY, Zheng CH, Li P, Xie JW, Wang JB, Lin JX et al (2018) Safety and prognostic impact of prophylactic laparoscopic superior mesenteric vein (No. 14v) lymph node dissection for lower-third gastric cancer: a propensity score-matched case-control study. Surg Endosc 32:1495–1505

30.

Peter MC, Irving T, Mitsuru S, Bryony L, Damian G (2002) Randomised trials in surgery: problems and possible solutions. BMJ 324:1448–1451

31.

Patsopoulos NA (2011) A pragmatic view on pragmatic trials. Dialogues Clin Neurosci 13:217

32.

Kunz LM, Yeh RW, Normand SLT (2012) Comparative effectiveness research: does one size fit all? Stat Med 31:3062–3065
Acknowledgements
We are grateful to the Chinese Gastric Cancer Association, the Chinese Society of Laparo-Endoscopic Surgery, and the Chinese Society of Gastrointestinal Surgery for their scientific support. This study was supported by Scientific and technological innovation joint capital projects of Fujian Province (Grant No. 2016Y9031), Construction Project of Fujian Province Minimally Invasive Medical Center (Grant No. [2017]171), the second batch of special support funds for Fujian Province innovation and entrepreneurship talents (Grant No. 2016B013), general project of Miaopu scientific research fund of Fujian Medical University (Grant No. 2015MP021), Youth Project of Fujian Provincial Health and Family Planning Commission (Grant No. 2016-1-41), and Fujian science and technology innovation joint fund project (Grant No. 2017Y9004).
Ethics declarations
Disclosures
Jia-Bin Wang, Qing Zhong, Qi-Yue Chen, Guang-Tan Lin, Zhi-Yu Liu, Xiao-Bo Huang, Jian-Wei Xie, Jian-Xian Lin, Jun Lu, Long-Long Cao, Mi Lin, Ru-Hong Tu, Ze-Ning Huang, Ju-Li Lin, Hua-Long Zheng, Chao-Hui Zheng, Chang-Ming Huang, and Ping Li have no conflict of interest or financial ties to disclose.
Additional information
Publisher's Note
Springer Nature remains neutral with regard to jurisdictional claims in published maps and institutional affiliations.
Electronic supplementary material
Below is the link to the electronic supplementary material.
About this article
Cite this article
Wang, JB., Zhong, Q., Chen, QY. et al. Well-designed retrospective study versus small-sample prospective study in research based on laparoscopic and open radical distal gastrectomy for advanced gastric cancer. Surg Endosc 34, 4504–4515 (2020). https://doi.org/10.1007/s00464-019-07237-4
Received:

Accepted:

Published:

Issue Date:
Keywords
Retrospective study

Prospective study

Open surgery

Laparoscopic surgery

Gastric cancer

Oncologic efficacy