Abstract
Background
With advances in diagnostic endoscopy, the incidence of superficial colorectal tumors, including laterally spreading tumors (LSTs), has increased. However, little is known about the long-term results of LSTs with positive lateral margin after endoscopic treatment. This study aimed to evaluate the long-term clinical outcomes and risk factors for local recurrence of LSTs with positive lateral margin after initial endoscopic resection.
Methods
We performed a retrospective analysis of the medical records of 324 patients who had 363 LSTs with positive lateral margin after endoscopic resection at a tertiary academic medical center. The medical records from 2011 to 2015 were analyzed. Local recurrence was confirmed through endoscopic finding and subsequent biopsy analysis. We assessed the local recurrence rate and performed multivariate analyses to identify the factors associated with local recurrence.
Results
Follow-up colonoscopy was performed in 176 of 363 LSTs. The local recurrence rate was 6.3% (11/176), with a median (interquartile range [IQR]) follow-up period of 19.8 (12.4–46.5) months. In multivariate analysis, local recurrence was associated with piecemeal resection (odds ratio [OR] 6.62, 95% confidence interval [CI] 1.28–34.33; p = 0.024) and inversely associated with thermal ablation (OR 0.033, 95% CI 0.00–0.45; p = 0.011). At surveillance colonoscopy, histology of the recurrent tumor was adenoma in 10 (90.9%) of 11; these were treated endoscopically.
Conclusions
In this retrospective study, we found that endoscopically resected LSTs with positive lateral margin have a low recurrence rate. Piecemeal resection was associated with higher local recurrence, and thermal ablation was inversely associated with local recurrence. Endoscopic resection with positive lateral margin combined with thermal ablation leads to a low recurrence rate.
Access options
Buy single article
Instant access to the full article PDF.
US$ 39.95
Tax calculation will be finalised during checkout.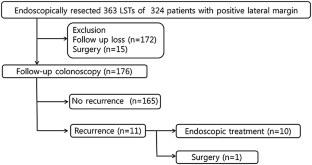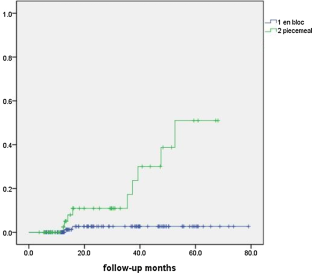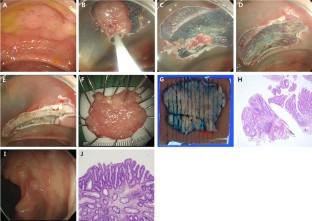 References
1.

Tsuda S, Veress B, Toth E, Fork FT (2002) Flat and depressed colorectal tumours in a southern Swedish population: a prospective chromoendoscopic and histopathological study. Gut 51:550–555

2.

Saitoh Y, Waxman I, West AB, Popnikolov NK, Gatalica Z, Watari J, Obara T, Kohgo Y, Pasricha PJ (2001) Prevalence and distinctive biologic features of flat colorectal adenomas in a North American population. Gastroenterology 120:1657–1665

3.

Kudo S, Lambert R, Allen JI, Fujii H, Fujii T, Kashida H, Matsuda T, Mori M, Saito H, Shimoda T, Tanaka S, Watanabe H, Sung JJ, Feld AD, Inadomi JM, O'Brien MJ, Lieberman DA, Ransohoff DF, Soetikno RM, Triadafilopoulos G, Zauber A, Teixeira CR, Rey JF, Jaramillo E, Rubio CA, Van Gossum A, Jung M, Vieth M, Jass JR, Hurlstone PD (2008) Nonpolypoid neoplastic lesions of the colorectal mucosa. Gastrointest Endosc 68:S3–47

4.

Robertson DJ, Greenberg ER, Beach M, Sandler RS, Ahnen D, Haile RW, Burke CA, Snover DC, Bresalier RS, McKeown-Eyssen G, Mandel JS, Bond JH, Van Stolk RU, Summers RW, Rothstein R, Church TR, Cole BF, Byers T, Mott L, Baron JA (2005) Colorectal cancer in patients under close colonoscopic surveillance. Gastroenterology 129:34–41

5.

Huang Y, Gong W, Su B, Zhi F, Liu S, Jiang B (2012) Risk and cause of interval colorectal cancer after colonoscopic polypectomy. Digestion 86:148–154

6.

Pabby A, Schoen RE, Weissfeld JL, Burt R, Kikendall JW, Lance P, Shike M, Lanza E, Schatzkin A (2005) Analysis of colorectal cancer occurrence during surveillance colonoscopy in the dietary Polyp Prevention Trial. Gastrointest Endosc 61:385–391

7.

Lieberman DA, Rex DK, Winawer SJ, Giardiello FM, Johnson DA, Levin TR (2012) Guidelines for colonoscopy surveillance after screening and polypectomy: a consensus update by the US Multi-Society Task Force on Colorectal Cancer. Gastroenterology 143:844–857

8.

Loeve F, van Ballegooijen M, Boer R, Kuipers EJ, Habbema JD (2004) Colorectal cancer risk in adenoma patients: a nation-wide study. Int J Cancer 111:147–151

9.

Ferlitsch M, Moss A, Hassan C, Bhandari P, Dumonceau JM, Paspatis G, Jover R, Langner C, Bronzwaer M, Nalankilli K, Fockens P, Hazzan R, Gralnek IM, Gschwantler M, Waldmann E, Jeschek P, Penz D, Heresbach D, Moons L, Lemmers A, Paraskeva K, Pohl J, Ponchon T, Regula J, Repici A, Rutter MD, Burgess NG, Bourke MJ (2017) Colorectal polypectomy and endoscopic mucosal resection (EMR): European Society of Gastrointestinal Endoscopy (ESGE) Clinical Guideline. Endoscopy 49:270–297

10.

Tanaka S, Saitoh Y, Matsuda T, Igarashi M, Matsumoto T, Iwao Y, Suzuki Y, Nishida H, Watanabe T, Sugai T, Sugihara K, Tsuruta O, Hirata I, Hiwatashi N, Saito H, Watanabe M, Sugano K, Shimosegawa T, Japanese Society of G (2015) Evidence-based clinical practice guidelines for management of colorectal polyps. J Gastroenterol 50:252–260

11.

Woodward TA, Heckman MG, Cleveland P, De Melo S, Raimondo M, Wallace M (2012) Predictors of complete endoscopic mucosal resection of flat and depressed gastrointestinal neoplasia of the colon. Am J Gastroenterol 107:650–654

12.

Saito Y, Fukuzawa M, Matsuda T, Fukunaga S, Sakamoto T, Uraoka T, Nakajima T, Ikehara H, Fu KI, Itoi T, Fujii T (2010) Clinical outcome of endoscopic submucosal dissection versus endoscopic mucosal resection of large colorectal tumors as determined by curative resection. Surg Endosc 24:343–352

13.

Moss A, Bourke MJ, Williams SJ, Hourigan LF, Brown G, Tam W, Singh R, Zanati S, Chen RY, Byth K (2011) Endoscopic mucosal resection outcomes and prediction of submucosal cancer from advanced colonic mucosal neoplasia. Gastroenterology 140:1909–1918

14.

Hurlstone DP, Sanders DS, Cross SS, Adam I, Shorthouse AJ, Brown S, Drew K, Lobo AJ (2004) Colonoscopic resection of lateral spreading tumours: a prospective analysis of endoscopic mucosal resection. Gut 53:1334–1339

15.

Moss A, Williams SJ, Hourigan LF, Brown G, Tam W, Singh R, Zanati S, Burgess NG, Sonson R, Byth K, Bourke MJ (2015) Long-term adenoma recurrence following wide-field endoscopic mucosal resection (WF-EMR) for advanced colonic mucosal neoplasia is infrequent: results and risk factors in 1000 cases from the Australian Colonic EMR (ACE) study. Gut 64:57–65

16.

Yang DH, Jeong GH, Song Y, Park SH, Park SK, Kim JW, Jung KW, Kim KJ, Ye BD, Myung SJ, Yang SK, Kim JH, Park YS, Byeon JS (2015) The feasibility of performing colorectal endoscopic submucosal dissection without previous experience in performing gastric endoscopic submucosal dissection. Dig Dis Sci 60:3431–3441

17.

Lee SP, Sung IK, Kim JH, Lee SY, Park HS, Shim CS (2015) Risk factors for incomplete polyp resection during colonoscopic polypectomy. Gut Liver 9:66–72

18.

Kakushima N, Fujishiro M (2008) Endoscopic submucosal dissection for gastrointestinal neoplasms. World J Gastroenterol 14:2962–2967

19.

Byeon JS, Yang DH, Kim KJ, Ye BD, Myung SJ, Yang SK, Kim JH (2011) Endoscopic submucosal dissection with or without snaring for colorectal neoplasms. Gastrointest Endosc 74:1075–1083

20.

Fujishiro M, Yahagi N, Kakushima N, Kodashima S, Muraki Y, Ono S, Yamamichi N, Tateishi A, Oka M, Ogura K, Kawabe T, Ichinose M, Omata M (2007) Outcomes of endoscopic submucosal dissection for colorectal epithelial neoplasms in 200 consecutive cases. Clin Gastroenterol Hepatol 5:678–683 (quiz 645)

21.

Schlemper RJ, Riddell RH, Kato Y, Borchard F, Cooper HS, Dawsey SM, Dixon MF, Fenoglio-Preiser CM, Flejou JF, Geboes K, Hattori T, Hirota T, Itabashi M, Iwafuchi M, Iwashita A, Kim YI, Kirchner T, Klimpfinger M, Koike M, Lauwers GY, Lewin KJ, Oberhuber G, Offner F, Price AB, Rubio CA, Shimizu M, Shimoda T, Sipponen P, Solcia E, Stolte M, Watanabe H, Yamabe H (2000) The Vienna classification of gastrointestinal epithelial neoplasia. Gut 47:251–255

22.

Dennosuke J (1983) General rules for clinical and pathological studies on cancer of the colon, rectum and anus. Part I. Clinical classification. Japanese research society for cancer of the colon and rectum. Jpn J Surg 13:557–573

23.

Isomoto H, Nishiyama H, Yamaguchi N, Fukuda E, Ishii H, Ikeda K, Ohnita K, Nakao K, Kohno S, Shikuwa S (2009) Clinicopathological factors associated with clinical outcomes of endoscopic submucosal dissection for colorectal epithelial neoplasms. Endoscopy 41:679–683

24.

Bogie RMM, Veldman MHJ, Snijders L, Winkens B, Kaltenbach T, Masclee AAM, Matsuda T, Rondagh EJA, Soetikno R, Tanaka S, Chiu HM, Sanduleanu-Dascalescu S (2018) Endoscopic subtypes of colorectal laterally spreading tumors (LSTs) and the risk of submucosal invasion: a meta-analysis. Endoscopy 50:263–282

25.

Lee S, Kim J, Soh JS, Bae J, Hwang SW, Park SH, Ye BD, Byeon JS, Myung SJ, Yang SK, Yang DH (2018) Recurrence rate of lateral margin-positive cases after en bloc endoscopic submucosal dissection of colorectal neoplasia. Int J Colorectal Dis 33:735–743

26.

Oka S, Tanaka S, Saito Y, Iishi H, Kudo SE, Ikematsu H, Igarashi M, Saitoh Y, Inoue Y, Kobayashi K, Hisabe T, Tsuruta O, Sano Y, Yamano H, Shimizu S, Yahagi N, Watanabe T, Nakamura H, Fujii T, Ishikawa H, Sugihara K, Colorectal Endoscopic Resection Standardization Implementation Working Group of the Japanese Society for Cancer of the C, Rectum TJ (2015) Local recurrence after endoscopic resection for large colorectal neoplasia: a multicenter prospective study in Japan. Am J Gastroenterol 110:697–707

27.

Kudo S (1993) Endoscopic mucosal resection of flat and depressed types of early colorectal cancer. Endoscopy 25:455–461

28.

Osera S, Ikematsu H, Fujii S, Hori K, Oono Y, Yano T, Kaneko K (2017) Endoscopic treatment outcomes of laterally spreading tumors with a skirt (with video). Gastrointest Endosc 86:533–541

29.

Paggi S, Mogavero G, Amato A, Rondonotti E, Andrealli A, Imperiali G, Lenoci N, Mandelli G, Terreni N, Conforti FS, Conte D, Spinzi G, Radaelli F (2018) Linked color imaging reduces the miss rate of neoplastic lesions in the right colon: a randomized tandem colonoscopy study. Endoscopy 50:396–402

30.

Tanaka S, Haruma K, Oka S, Takahashi R, Kunihiro M, Kitadai Y, Yoshihara M, Shimamoto F, Chayama K (2001) Clinicopathologic features and endoscopic treatment of superficially spreading colorectal neoplasms larger than 20 mm. Gastrointest Endosc 54:62–66

31.

Higaki S, Hashimoto S, Harada K, Nohara H, Saito Y, Gondo T, Okita K (2003) Long-term follow-up of large flat colorectal tumors resected endoscopically. Endoscopy 35:845–849

32.

Belderbos TD, Leenders M, Moons LM, Siersema PD (2014) Local recurrence after endoscopic mucosal resection of nonpedunculated colorectal lesions: systematic review and meta-analysis. Endoscopy 46:388–402

33.

Regula J, Wronska E, Polkowski M, Nasierowska-Guttmejer A, Pachlewski J, Rupinski M, Butruk E (2003) Argon plasma coagulation after piecemeal polypectomy of sessile colorectal adenomas: long-term follow-up study. Endoscopy 35:212–218

34.

Brooker JC, Saunders BP, Shah SG, Thapar CJ, Suzuki N, Williams CB (2002) Treatment with argon plasma coagulation reduces recurrence after piecemeal resection of large sessile colonic polyps: a randomized trial and recommendations. Gastrointest Endosc 55:371–375
Acknowledgements
We thank the Department of Biostatistics, Clinical Trial Center, Biomedical Research Institute, and Pusan National University Hospital for their excellent assistance in the statistical analysis.
Funding
This study was supported by a Biomedical Research Institute Grant (2016-A011) from Pusan National University Hospital.
Ethics declarations
Disclosures
Eun Young Park, Dong Hoon Baek, Geun Am Song, Gwang Ha Kim, Bong Eun Lee, and Do Youn Park have no conflict of interest.
Additional information
Publisher's Note
Springer Nature remains neutral with regard to jurisdictional claims in published maps and institutional affiliations.
About this article
Cite this article
Park, E.Y., Baek, D.H., Song, G.A. et al. Long-term outcomes of endoscopically resected laterally spreading tumors with a positive histological lateral margin. Surg Endosc 34, 3999–4010 (2020). https://doi.org/10.1007/s00464-019-07187-x
Received:

Accepted:

Published:

Issue Date:
Keywords
Laterally spreading tumor

Endoscopic resection

Outcomes

Recurrent factor