Abstract
Background
Speaking invitations are used by faculty promotion committees as evidence of external recognition. However, women are underrepresented as speakers at specialty society conferences despite the rise in women physicians. The purpose of this study was to estimate to what extent the gender of session conveners is associated with the gender distribution of invited speakers at SAGES meetings.
Methods
A retrospective audit of annual SAGES meeting programs during 2009–2018 was performed. All invited panel speakers, defined as faculty delivering a prepared oral presentation in a session under the organization of one or more chairs, were identified. The gender of speakers and chairs/co-chairs was determined. Hands-on courses, paper sessions, military symposia, mock trials, and jeopardy sessions were excluded. We compared the proportion of all-male panels in sessions with all-male conveners versus sessions with at least one woman convener. Statistical analysis was performed using Chi-square and t tests.
Results
There were 3405 speakers and 459 panels identified. After applying inclusion and exclusion criteria, 2836 invited speakers on 402 panels were analyzed. Women represented 15% of all speakers, increasing from 9 to 19% (2009 to 2018). This reflects the rise in the proportion of women overall members (11% in 2010 to 19% in 2018). The proportion of panels with at least one woman convener increased from 12 to 58%. All-male panels represented 40% of all panels (n = 163) and their proportion significantly decreased over time from 50 to 31% (p trend < 0.000). Sessions with all-male conveners had 52% all-male panels, while sessions with at least one woman convener had 19% all-male panels (p < 0.001).
Conclusion
The proportion of women invited speakers at the annual SAGES meeting has significantly increased over time. All-male convener sessions were more likely to convene all-male speaker panels. Including a woman chair/co-chair increased the number of women speakers and is a successful strategy to achieve gender balance in conference planning.
Graphic abstract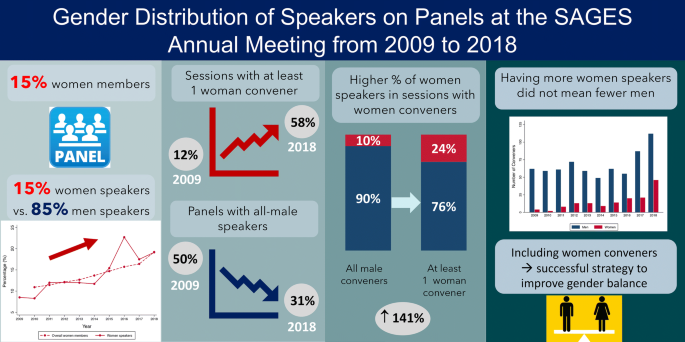 Access options
Buy single article
Instant access to the full article PDF.
US$ 39.95
Tax calculation will be finalised during checkout.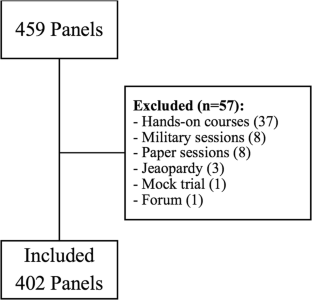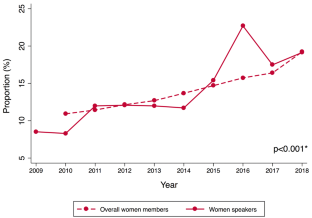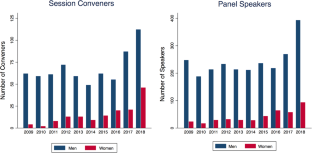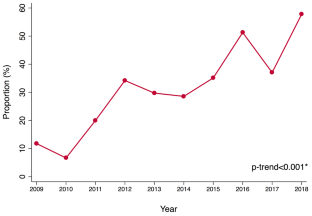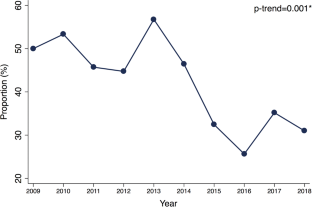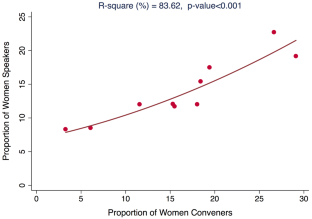 References
1.

Abelson JS, Chartrand G, Moo TA, Moore M, Yeo H (2016) The climb to break the glass ceiling in surgery: trends in women progressing from medical school to surgical training and academic leadership from 1994 to 2015. Am J Surg 212:566–572

2.

Lautenberger DM, Dandar VM, Raezer CL (2014) The state of women in academic medicine: the pipeline and pathways to leadership, 2013–2014. Association of American Medical Colleges, Washington, DC

3.

Maykel JA (2013) Leadership in surgery. Clin Colon Rectal Surg 26:254–258

4.

Johnson CS, Smith PK, Wang C (2017) Sage on the stage: women's representation at an academic conference. Pers Soc Psychol Bull 43:493–507

5.

Nittrouer CL, Hebl MR, Ashburn-Nardo L, Trump-Steele RCE, Lane DM, Valian V (2018) Gender disparities in colloquium speakers at top universities. Proc Natl Acad Sci USA 115:104–108

6.

Morton MJ, Sonnad SS (2007) Women on professional society and journal editorial boards. J Natl Med Assoc 99:764–771

7.

Casadevall A, Handelsman J (2014) The presence of female conveners correlates with a higher proportion of female speakers at scientific symposia. MBio 5:e00846-13

8.

Mehta S, Rose L, Cook D, Herridge M, Owais S, Metaxa V (2018) The speaker gender gap at critical care conferences. Crit Care Med 46:991–996

9.

Isbell LA, Young TP, Harcourt AH (2012) Stag parties linger: continued gender bias in a female-rich scientific discipline. PLoS ONE 7:e49682

10.

Carley S, Carden R, Riley R, May N, Hruska K, Beardsell I, Johnston M, Body R (2016) Are there too few women presenting at emergency medicine conferences? Emerg Med J 33:681–683

11.

Klein RS, Voskuhl R, Segal BM, Dittel BN, Lane TE, Bethea JR, Carson MJ, Colton C, Rosi S, Anderson A, Piccio L, Goverman JM, Benveniste EN, Brown MA, Tiwari-Woodruff SK, Harris TH, Cross AH (2017) Speaking out about gender imbalance in invited speakers improves diversity. Nat Immunol 18:475–478

12.

Martin JL (2014) Ten simple rules to achieve conference speaker gender balance. PLoS Comput Biol 10:e1003903

13.

Casadevall A (2015) Achieving speaker gender equity at the american society for microbiology general meeting. MBio 6:e01146

14.

Schroeder J, Dugdale HL, Radersma R, Hinsch M, Buehler DM, Saul J, Porter L, Liker A, De Cauwer I, Johnson PJ, Santure AW, Griffin AS, Bolund E, Ross L, Webb TJ, Feulner PG, Winney I, Szulkin M, Komdeur J, Versteegh MA, Hemelrijk CK, Svensson EI, Edwards H, Karlsson M, West SA, Barrett EL, Richardson DS, van den Brink V, Wimpenny JH, Ellwood SA, Rees M, Matson KD, Charmantier A, Dos Remedios N, Schneider NA, Teplitsky C, Laurance WF, Butlin RK, Horrocks NP (2013) Fewer invited talks by women in evolutionary biology symposia. J Evol Biol 26:2063–2069

15.

Sexton KW, Hocking KM, Wise E, Osgood MJ, Cheung-Flynn J, Komalavilas P, Campbell KE, Dattilo JB, Brophy CM (2012) Women in academic surgery: the pipeline is busted. J Surg Educ 69:84–90

16.

Drezner DW (2018) A few thoughts on "manels". The Washington Post. Retrieved from https://www.washingtonpost.com

17.

Telem DA, Qureshi A, Edwards M, Jones DB, Force WRST (2018) SAGES climate survey: results and strategic planning for our future. Surg Endosc 32:4105–4110

18.

Dumitra TC, Alam R, Fiore JF Jr, Mata J, Fried GM, Vassiliou MC, Mueller C, Lee L, Feldman LS (2019) Is there a gender bias in the advancement to SAGES leadership? Surg Endosc. https://doi.org/10.1007/s00464-019-06802-1

19.

Dossa F, Baxter NN (2018) Reducing gender bias in surgery. Br J Surg 105:1707–1709

20.

Sonnad SS, Colletti LM (2002) Issues in the recruitment and success of women in academic surgery. Surgery 132:415–419
Ethics declarations
Disclosures
Dr Liane S. Feldman has a Medtronic Educational grant and is on the Merck investigator-initiated research and advisory board outside of the submitted work and has no conflicts of interest. Dr. Daniel B. Jones is on the intragastric balloon advisory board of Allurion and is a consultant for Intuitive outside of the submitted work and has no conflicts of interest. Dr Lawrence Lee has an investigator-initiated research grant from Johnson & Johnson outside of the submitted work and has no conflicts of interest. Drs Teodora Dumitra, Maude Trepanier, Gerald M. Fried, and Carmen Mueller have no conflicts of interest or financial ties to disclose.
Additional information
Publisher's Note
Springer Nature remains neutral with regard to jurisdictional claims in published maps and institutional affiliations.
About this article
Cite this article
Dumitra, T.C., Trepanier, M., Lee, L. et al. Gender distribution of speakers on panels at the Society of American Gastrointestinal and Endoscopic Surgeons (SAGES) annual meeting. Surg Endosc 34, 4140–4147 (2020). https://doi.org/10.1007/s00464-019-07182-2
Received:

Accepted:

Published:

Issue Date:
Keywords
Surgery

Women

Speakers

Conferences

Gender