Abstract
Background
Per-oral endoscopic myotomy (POEM) is an endoscopic procedure whereby the esophageal muscle is incised in order to lower the lower esophageal sphincter (LES) pressure. Since the time it was first performed in 2008 and subsequently reported on in 2010 by Inoue et al., POEM has been shown to be safe and effective for straight type of achalasia. On the other hand, the efficacy of POEM had been controversial for patients with achalasia of the sigmoid type, in which a high LES pressure is accompanied by morphological changes, including dilation, acute angulation, and rotation. The aim of this study is to evaluate the safety and efficacy of POEM in patients with sigmoid type of achalasia.
Methods
Between May 2015 and December 2017, 16 patients with a sigmoid type of achalasia underwent POEM in our institute. The POEM procedure was the same as that for the straight type of achalasia. The double-scope technique was used to check the distal end of the submucosal tunnel from the gastric side. The primary endpoint was improvement of Eckardt score at 2 months after POEM. The secondary endpoints comprised operating time, change in the esophageal angulation, and adverse events.
Results
All patients underwent POEM without severe adverse events. The respective parameters before and after POEM significantly differed in terms of mean (SD) Eckardt score [4.9 (2.0) vs. 0.4 (0.6), p < 0.01], LES pressure [19.4 (10.2) vs. 9.2 (6.4), p < 0.01], and integrated relaxation pressure [17.6 (9.2) vs. 7.9 (5.5), p < 0.01]. The average operation time was 94.7 ± 31.4 min. The average esophageal angulation was 88.4° ± 23.1° before POEM and 109.5° ± 16.7° after POEM (p < 0.01). Four patients had postoperative complications that were treated conservatively.
Conclusions
POEM can improve both LES pressure and esophageal angulation in patients with sigmoid achalasia.
Graphic abstract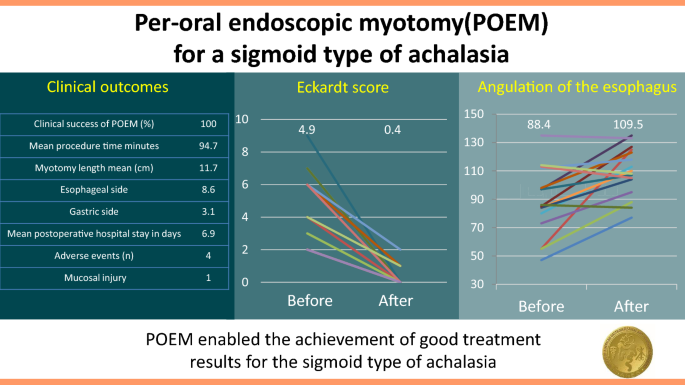 We're sorry, something doesn't seem to be working properly.
Please try refreshing the page. If that doesn't work, please contact support so we can address the problem.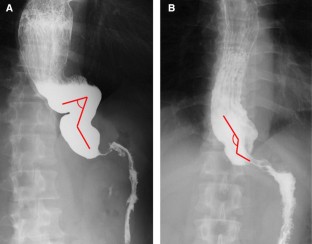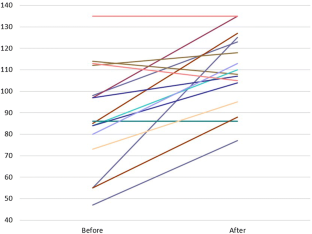 References
1.

Francis DL, Katzka DA (2010) Achalasia: update on the disease and its treatment. Gastroenterology 39:369–374

2.

Boeckxstaens GE, Zaninotto G, Richter JE (2014) Achalasia. Lancet 383:83–93

3.

Inoue H, Minami H, Kobayashi Y, Sato Y, Kaga M, Suzuki M, Satodate H, Odaka N, Itoh H, Kudo S (2010) Peroral endoscopic myotomy (POEM) for esophageal achalasia. Endoscopy 42:265–271

4.

Von Renteln D, Fuchs KH, Fockens P (2013) Peroral endoscopic myotomy for the treatment of achalasia: an international prospective multicenter study. Gastroenterology 145:309–311

5.

Patel K, Abbassi-Ghadi N, Markar S, Kumar S, Jethwa P, Zaninotto G (2016) Peroral endoscopic myotomy for the treatment of esophageal achalasia: systematic review and pooled analysis. Dis Esophagus 29:807–819

6.

Youn YH, Minami H, Chiu PW, Park H (2016) Peroral endoscopic myotomy for treating achalasia and esophageal motility disorders. J Neurogastroenterol Motil 22:14–24

7.

Li H, Peng W, Huang S, Ren Y, Peng Y, Li Q, Wu J, Fu X, Tang X (2019) The 2 years' long-term efficacy and safety of peroral endoscopic myotomy for the treatment of achalasia: a systematic review. J Cardiothorac Surg 14:1

8.

Shiino Y, Houghton SG, Filipi CJ, Awad ZT, Tomonaga T, Marsh RE (1999) Manometric and radiographic verification of esophageal body decompensation for patients with achalasia. J Am Coll Surg 189:158–163

9.

Japan Esophageal Society (2017) Descriptive rules for achalasia of the esophagus. June 2012 (The 4th edition). Esophagus 14:275–289

10.

Kahrilas PJ, Bredenoord AJ, Fox M, Gyawali CP, Roman S, Smout AJ, Pandolfino JE, International High Resolution Manometry Working Group (2015) The Chicago classification of esophageal motility disorders, v3.0. Neurogastroenterol Motil 27:160–174

11.

Grimes KL, Inoue H, Onimaru M, Ikeda H, Tansawet A, Bechara R, Tanaka S (2016) Double-scope per oral endoscopic myotomy (POEM): a prospective randomized controlled trial. Surgl Endosc 30:1344–1351

12.

Hong H, Song GW, Ko WB, Kim WH, Hahm KB, Hong SP, Cho JY (2016) Double-scope peroral endoscopic myotomy (POEM) for esophageal achalasia: the first trial of a new double scope POEM. Clin Endosc 49:383–386

13.

Inoue H, Shiwaku H, Iwakiri K, Onimaru M, Kobayashi Y, Minami H, Sato H, Kitano S, Iwakiri R, Omura N, Murakami K, Fukami N, Fujimoto K, Tajiri H (2018) Clinical practice guidelines for peroral endoscopic myotomy. Dig Endosc 30:563–579

14.

Katayama H, Kurosawa Y, Nakamura K, Ito H, Kanemitsu Y, Masuda N, Tsubosa Y, Satoh T, Yokomizo A, Fukuda H, Sasako M (2016) Extended Clavien–Dindo classification of surgical complications: Japan Clinical Oncology Group postoperative complications criteria. Surg Today 46:668–685

15.

Armstrong D, Bennett JR, Blum AL, Dent J, De Dombal FT, Galmiche JP, Lundell L, Margulies M, Richter JE, Spechler SJ, Tytgat GN, Wallin L (1996) The endoscopic assessment of esophagitis: a progress report on observer agreement. Gastroenterology 111:85–92

16.

Mattioli S, Di Simone MP, Bassi F, Pilotti V, Felice V, Pastina M, Lazzari A, Gozzetti G (1996) Surgery for esophageal achalasia: long-term results with three different techniques. Hepatogastroenterology 43:492–500

17.

Howerd JM, Ryan L, Lim KT, Reynolds JV (2011) Oesophagectomy in the management of end-stage achalasia: case reports and a review of the literature. Int J Surg 9:204–208

18.

Devaney EJ, Iannettoni MD, Orringer MB, Marshall B (2001) Esophagectomy for achalasia. Patient selection and clinical experience. Ann Thorac Surg 72:632–637

19.

Molena D, Yang SC (2012) Surgical management of endo-stage achalasia. Semin Thorac Cardiovasc Surg 24:19–26

20.

Hu JW, Li QL, Zhou PH, Yao LQ, Xu MD, Zhang YQ, Zhong YS, Chen WF, Ma LL, Qin WZ, Cai MY (2015) Peroral endoscopic myotomy for advanced achalasia with sigmoid-shaped esophagus: long term outcomes from a prospective, single-center study. Surg Endosc 29:2841–2850

21.

Tuboi K, Omura N, Yano F, Hoshino M, Yamamoto SR, Akimoto S, Masuda T, Kashiwagi H, Yanaga K (2017) Impact of esophageal flexion level on the surgical outcome in patients with sigmoid esophageal achalasia. Surg Today 47:1339–1346

22.

Bechara R, Onimaru M, Ikeda H, Inoue H (2016) Per-oral endoscopic myotomy, 1000 cases later: pearls, pitfalls, and practical considerations. Gastrointest Endosc 84:330–338

23.

Lv L, Liu J, Tan Y, Liu D (2016) Peroral endoscopic full-thickness myotomy for the treatment of sigmoid-type achalasia: outcomes with a minimum follow-up of 12 months. Eur J Gastroenterol Hepatol 23:30–36

24.

Eleftheriadis N, Inoue H, Ikeda H, Onimaru M, Maselli R, Santi G (2016) Submucosal tunnel endoscopy: peroral endoscopic myotomy and peroral endoscopic tumor resection. World J Gastrointest Endosc 8:86–103
Ethics declarations
Disclosures
Shota Maruyama, Yusuke Taniyama, Tadashi Sakurai, Makoto Hikage, Chiaki Sato, Kai Takaya, Takuro Konno, Takeshi Naitoh, Michiaki Unno, and Takashi Kamei have no conflicts of interest or financial ties to disclose.
Additional information
Publisher's Note
Springer Nature remains neutral with regard to jurisdictional claims in published maps and institutional affiliations.
About this article
Cite this article
Maruyama, S., Taniyama, Y., Sakurai, T. et al. Per-oral endoscopic myotomy (POEM) for a sigmoid type of achalasia: short-term outcomes and changes in the esophageal angle. Surg Endosc 34, 4124–4130 (2020). https://doi.org/10.1007/s00464-019-07180-4
Received:

Accepted:

Published:

Issue Date:
Keywords
Sigmoid type of achalasia

Endoscopy

Per-oral endoscopic myotomy