Abstract
Introduction
We hypothesized that practicing surgeons would successfully achieve a better and more frequent Critical View of Safety (CVS) during laparoscopic cholecystectomy (LC) after participation in a structured Safe CVS Curriculum.
Methods
All surgeons performing LC at a regional health system had four LC cases recorded: twice before and twice after a curriculum focused on the CVS, which was led by a member of the Society of American Gastrointestinal and Endoscopic Surgeons (SAGES) Safe LC Task Force. Videos were then de-identified and randomly ordered for grading on a 6-point CVS assessment tool by two expert surgeons, who were blinded to the operator and whether the surgeries were performed before or after the curriculum. Confidence surveys and performance on a CVS identification video quiz were also compared pre- and post-curriculum.
Results
Twelve surgeons (five general, four acute care, and three minimally invasive) with an average experience of 17.9 ± 6.3 years participated in the study. After the curriculum, surgeons achieved all three CVS criteria in more cases (1/24 (4%) versus 10/24 (42%), p < 0.004). There was also significant improvement in correctly identifying whether the CVS was achieved in 10 video clips from the Internet (7.9 ± 1.5 vs. 9.3 ± 0.8, p = 0.006) and increased confidence on a 5-point Likert scale in accurately identifying the CVS (4.5 ± 0.5 vs. 4.9 ± 0.3, p = 0.017).
Conclusion
A structured curriculum on achieving a quality CVS for practicing, experienced surgeons improved their confidence and frequency of obtaining the Critical View of Safety during LC. We recommend that the Safe CVS Curriculum be considered for widespread use in order to increase the quality and frequency of attaining the Critical View of Safety.
Graphic abstract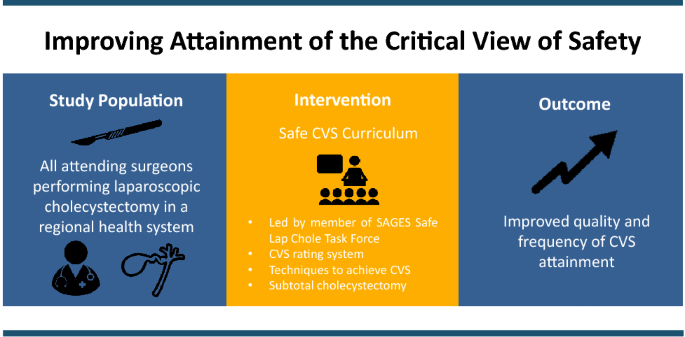 Access options
Buy single article
Instant access to the full article PDF.
US$ 39.95
Tax calculation will be finalised during checkout.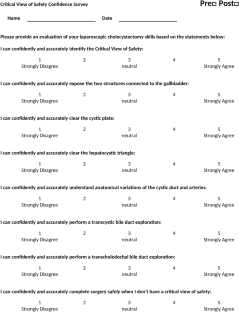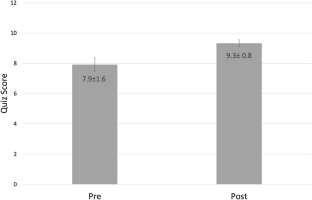 References
1.

Overby DW, Apelgren KN, Rechardson W, Fanelli R (2010) SAGES guidelines for the clinical application of laparoscopic biliary tract surgery. Surg Endosc 24:2368–2386

2.

Wakabayashi G, Iwashita Y, Hibi T, Takada T, Strasberg SM, Asbun HJ, Endo I, Umezawa A, Asai K, Suzuki K, Mori Y, Okamoto K, Pitt HA, Han H, Hwang T, Yoon Y, Yoon D, Choi I, Huang WS, Gimenez ME, Garden OJ, Gouma DJ, Belli G, Dervenis C, Jagannath P, Chan ACW, Lau WY, Liu K, Su C, Misawa T, Nakamura M, Horiuchi A, Tagawa N, Fujioka S, Higuchi R, Shikata S, Noguchi Y, Ukai T, Yokoe M, Cherqui D, Honda G, Sugoika A, Santibanes E, Supe AN, Tokumura H, KimuraT Yoshida M, Mayumi T, Kitano S, Inomata M, Hirata K, Sumiyama Y, Inui K, Yamamoto M (2018) Tokyo Guidelines 2018: surgical management of acute cholecystitis: safe steps in laparoscopic cholecystectomy for acute cholecystitis (with videos). J Hepatobiliary Pancreat Sci 25:73–86

3.

Sinha S, Hofman D, Stoker DL, Friend PJ, Poloniecki JD, Thompson MM, Holt PJE (2013) Epidemiological study of provision of cholecystectomy in England from 2000 to 2009: retrospective analysis of Hospital Episode Statistics. Surg Endosc 27:162–175

4.

Halbert C, Altieri M, Yang J, Meng Z, Chen H, Talamini M, Pryor A, Parikh P, DA Pryor Telem (2016) Long-term outcomes of patients with common bile duct injury following laparoscopic cholecystectomy. Surg Endosc 30:4294–4299

5.

Strasberg SM, Hertl M, Soper NJ (1995) An analysis of the problem of biliary injury during laparoscopic cholecystectomy. J Am Coll Surg 180:101–125

6.

Sanford DE, Strasberg SM (2014) A simple effective method for generation of a permanent record of the Critical View of Safety during laparoscopic cholecystectomy by intraoperative "doublet" photography. J Am Coll Surg 218:170–178

7.

Strasberg SM, Eagon CJ, Drebin JA (2000) The "hidden cystic duct" syndrome and the infundibular technique of laparoscopic cholecystectomy–the danger of the false infundibulum. J Am Coll Surg 191:661–667

8.

Avgerinos C, Kelgiorgi D, Touloumis Z, Baltatzi L, Dervenis C (2009) One thousand laparoscopic cholecystectomies in a single surgical unit using the "critical view of safety" technique. J Gastrointest Surg 13:498–503

9.

Stefanidis D, Chintalapudi N, Anderson-Montoya B, Oommen B, Tobben D, Pimentel M (2017) How often do surgeons obtain the critical view of safety during laparoscopic cholecystectomy? Surg Endosc 31:142–146

10.

Nijssen MAJ, Schreinemakers JMJ, Meyer Z, Van Der Schelling GP, Crolla RMPH, Rijken AM (2015) Complications after laparoscopic cholecystectomy: a video evaluation study of whether the critical view of safety was reached. World J Surg 39:1798–1803

11.

Nijssen MAJ, Schreinemakers JMJ, Van Der Schelling GP, Crolla RMPH, Rijken AM (2016) Improving critical view of safety in laparoscopic cholecystectomy by teaching interventions. J Surg Educ 73:442–447

12.

Carr BD, Matusko N, Sandhu G, Varban OA (2018) Cut or do not cut? assessing perceptions of safety during laparoscopic cholecystectomy using surgical videos. J Surg Educ 75:1583–1588

13.

Parsons HM (1974) What Happened at Hawthorne?: new evidence suggests the Hawthorne effect resulted from operant reinforcement contingencies. Science 183:922–932

14.

Chen CB, Palazzo F, Doane SM, Winter JM, Lavu H, Chojnacki KA, Rosato E, Yeo CJ, Pucci MJ (2017) Increasing resident utilization and recognition of the critical view of safety during laparoscopic cholecystectomy: a pilot study from an academic medical center. Surg Endosc 31:1627–1635

15.

Strasberg SM (2019) Commentary on: feasibility and value of the critical view of safety in difficult cholecystectomies. Ann Surg 269:e42
Ethics declarations
Disclosures
Michael Ujiki is a consultant for Olympus, on the Boston Scientific scientific advisory board, a consultant and speaker for Apollo Medical Devices, a speaker for Medtronic, and a speaker for Gore Medical. Tetsuya Nakazato, Bailey Su, Stephanie Novak, Shanley B. Deal, and Kristine Kuchta have no conflicts of interest or financial ties to disclose
Additional information
Publisher's Note
Springer Nature remains neutral with regard to jurisdictional claims in published maps and institutional affiliations.
Electronic supplementary material
Below is the link to the electronic supplementary material.
About this article
Cite this article
Nakazato, T., Su, B., Novak, S. et al. Improving attainment of the critical view of safety during laparoscopic cholecystectomy. Surg Endosc 34, 4115–4123 (2020). https://doi.org/10.1007/s00464-019-07178-y
Received:

Accepted:

Published:

Issue Date:
Keywords
Critical view of safety

Laparoscopic cholecystectomy

Surgical education

Structured curriculum

Bile duct injury