Abstract
Background
Growing teratoma syndrome is a rare condition defined by the presence of enlarging metastatic lesions on serial imaging that arise after or during systemic chemotherapy for nonseminomatous germ cell tumors. Lesions commonly occur in the retroperitoneum, mediastinum, or lung and are notoriously unresponsive to conventional chemoradiotherapy.
Methods
In this study, we present a dynamic case of a 26-year-old male, who had undergone surgical resection and systemic bleomycin treatment for a metastatic nonseminomatous germ cell tumor, and later developed recurrent masses in his posterior mediastinum seen on surveillance imaging. Tumor markers remained normal. These lesions were resected via a right robot-assisted thoracoscopic approach with the da Vinci Xi®.
Results
The operation was completed successfully with an unremarkable postoperative hospital course. The robotic-assisted right thoracoscopic approach allowed for a minimally invasive dissection with good visualization and minimal morbidity when compared to previous cases of surgically resected mediastinal teratomas. Final pathology demonstrated mature teratomatous elements within a setting of inflammation and necrosis.
Conclusions
Robot-assisted thoracoscopic management of metastatic mediastinal lesions in the setting of this rare condition is safe and feasible.
This is a preview of subscription content, log in to check access.
Access options
Buy single article
Instant access to the full article PDF.
US$ 39.95
Tax calculation will be finalised during checkout.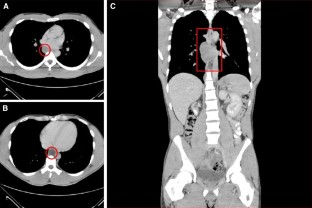 References
1.

Logothetis CJ, Samuels ML, Trindade A, Johnson DE (1982) The growing teratoma syndrome. Cancer 50:1629–1635

2.

Gorbatiy V, Spiess PE, Pisters LL (2009) The growing teratoma syndrome: current review of the literature. Indian J Urol 25:186–189. https://doi.org/10.4103/0970-1591.52910

3.

DiSaia PJ, Saltz A, Kagan AR, Morrow CP (1977) Chemotherapeutic retroconversion of immature teratoma of the ovary. Obstet Gynecol 49:346–350

4.

Carr B, Gilchrist KW, Carbone PP (1981) The variable transformation in metastases from testicular germ cell tumors: the need for selective biopsy. J Urol 126:52–54

5.

Smithers DW (1969) Maturation in human tumours. Lancet 294:949–952. https://doi.org/10.1016/S0140-6736(69)90603-5

6.

Tangjitgamol S, Manusirivithaya S, Leelahakorn S, Thawaramara T, Suekwatana P, Sheanakul C (2006) The growing teratoma syndrome: a case report and a review of the literature. Int J Gyn Cancer 16:384–390

7.

Spiess P, Kassouf W, Brown G, Kamat A, Liu P, Gomez J, Tu S, Tannir N, Pisters L (2007) Surgical management of growing teratoma syndrome. J Urol 177:1330–1334

8.

Maroto P, Tabernero JM, Villavicencio H, Mesía R, Marcuello E, Solé-Balcells FJ, Sola C, Mora J, Algaba F, Pérez C, León X, López JJ (1997) Growing teratoma syndrome: experience of a single institution. Eur Urol 32:305–309

9.

Hirai Y, Yoshimasu T, Oura S, Okamura Y (2011) Mediastinal germ cell tumor with acute myeloid leukemia and growing teratoma syndrome. Interact Cardiovasc Thorac Surg 12:96–97. https://doi.org/10.1510/icvts.2010.242867

10.

Matsuoka S, Koyama T, Takeda T, Yamada K, Hyogotani A, Hamanaka K, Sekiguchi N, Koizumi T (2019) Development of angiosarcoma in a mediastinal non-seminomatous germ cell tumor that exhibited growing teratoma syndrome during chemotherapy. Thorac Cancer 10:111–115. https://doi.org/10.1111/1759-7714.12901

11.

Iwata H, Mori Y, Takagi H, Shirahashi K, Shinoda J, Shimokawa K, Hirose H (2004) Mediastinal growing teratoma syndrome after cisplatin-based chemotherapy and radiotherapy for intracranial germinoma. J Thorac Cardiovasc Surg 127:291–293. https://doi.org/10.1016/S0022

12.

Aide N, Comoz F, Sevin E (2007) Enlarging residual mass after treatment of a nonseminomatous germ cell tumor: growing teratoma syndrome or cancer recurrence? J Clin Oncol 25:4494–4496. https://doi.org/10.1200/JCO.2007.12.7530

13.

Yoshioka M, Mori T, Okuma T, Kitamura N, Ito N, Nishi K (2000) Mediastinal growing teratoma syndrome. Jpn J Thorac Cardiovasc Surg 48:66–68

14.

Chen LT, Chen CL, Hwang WS (1990) The growing teratoma syndrome. A case of primary mediastinal nonseminomatous germ cell tumor treated with chemotherapy and radiotherapy. Chest 98:231–233

15.

Afifi HY, Bosl GJ, Burt ME (1997) Mediastinal growing teratoma syndrome. Ann Thorac Surg 64:359–362. https://doi.org/10.1016/S0003-4975(97)00581-X

16.

D'Aiuto M, Veronesi G, Peccatori FA, Pelosi G, Venturino M, Gasparri R, Presicci F, Galetta D, Spaggiari L (2005) Mediastinal-like growing teratoma syndrome. J Thorac Cardiovasc Surg 130:228–229. https://doi.org/10.1016/j.jtcvs.2004.11.050

17.

Agatsuma T, Koizumi T, Kubo K, Saito G, Kondo R, Yoshida K, Ito K, Endo M, Shimojo H (2011) Mediastinal growing teratoma syndrome successfully treated by multiple modality therapies. Intern Med 50:607–610

18.

Sachdeva AK, Penumadu P, Kohli P, Dubashi B, Munuswamy H (2019) Growing teratoma syndrome in primary mediastinal germ cell tumor: our experience. Asian Cardiovasc Thorac Ann 27:98–104. https://doi.org/10.1177/0218492318823345

19.

Kesler KA, Patel JB, Kruter LE, Birdas TJ, Rieger KM, Okereke IC, Einhorn LH (2012) The "growing teratoma syndrome" in primary mediastinal nonseminomatous germ cell tumors: criteria based on current practice. J Thorac Cardiovasc Surg 144:438–443. https://doi.org/10.1016/j.jtcvs.2012.05.053

20.

Motoyama S, Sato Y, Wakita A, Kawakita Y, Nagaki Y, Imai K et al (2019) Extensive lymph node dissection around the left laryngeal nerve achieved with robot-assisted thoracoscopic esophagectomy. Anticancer Res 39:1337–1342

21.

Naffouje S, Salloum R, Khalaf Z, Salti G (2019) Outcomes of open versus minimally invasive ivor-lewis esophagectomy for cancer: a propensity-score matched analysis of NSQIP database. Ann Surg Oncol 26:2001–2010

22.

Cerfolio RJ, Bryant AS, Minnich DJ (2012) Operative techniques in robotic thoracic surgery for inferior or posterior mediastinal pathology. J Thorac Cardiovasc Surg 143:1138–1143
Ethics declarations
Disclosures
Drs. Evans, Palazzo, O'Malley, Devin, and Zheng have no conflicts of interest or financial ties to disclose.
Additional information
Publisher's Note
Springer Nature remains neutral with regard to jurisdictional claims in published maps and institutional affiliations.
Electronic supplementary material
Below is the link to the electronic supplementary material.
Supplementary material 1 (MPG 70468 kb)
Supplementary material 2 (MPG 110796 kb)
Supplementary material 3 (MPG 96628 kb)
About this article
Cite this article
Zheng, R., Devin, C.L., O'Malley, T. et al. Surgical management of growing teratoma syndrome: robotic-assisted thoracoscopic resection of mediastinal teratoma. Surg Endosc 34, 1019–1023 (2020). https://doi.org/10.1007/s00464-019-07177-z
Received:

Accepted:

Published:

Issue Date:
Keywords
Growing teratoma syndrome

Xi robot

Germ cell tumor

Metastatic disease