Abstract
Background
In laparoscopic cholecystectomy (LC), achievement of the Critical View of Safety (CVS) is commonly advocated to prevent bile duct injuries (BDI). However, BDI rates remain stable, probably due to inconsistent application or a poor understanding of CVS as well as unreliable reporting. Objective video reporting could serve for quality auditing and help generate consistent datasets for deep learning models aimed at intraoperative assistance. In this study, we develop and test a method to report CVS using videos.
Method
LC videos performed at our institution were retrieved and the video segments starting 60 s prior to the division of cystic structures were edited. Two independent reviewers assessed CVS using an adaptation of the doublet view 6-point scale and a novel binary method in which each criterion is considered either achieved or not. Feasibility to assess CVS in the edited video clips and inter-rater agreements were evaluated.
Results
CVS was attempted in 78 out of the 100 LC videos retrieved. CVS was assessable in 100% of the 60-s video clips. After mediation, CVS was achieved in 32/78(41.03%). Kappa scores of inter-rater agreements using the doublet view versus the binary assessment were as follows: 0.54 versus 0.75 for CVS achievement, 0.45 versus 0.62 for the dissection of the hepatocystic triangle, 0.36 versus 0.77 for the exposure of the lower part of the cystic plate, and 0.48 versus 0.79 for the 2 structures connected to the gallbladder.
Conclusions
The present study is the first to formalize a reproducible method for objective video reporting of CVS in LC. Minute-long video clips provide information on CVS and binary assessment yields a higher inter-rater agreement than previously used methods. These results offer an easy-to-implement strategy for objective video reporting of CVS, which could be used for quality auditing, scientific communication, and development of deep learning models for intraoperative guidance.
Access options
Buy single article
Instant access to the full article PDF.
US$ 39.95
Tax calculation will be finalised during checkout.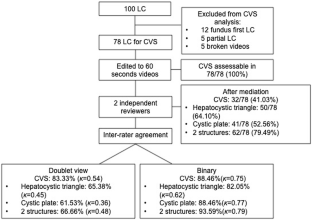 References
1.

Pucher PH, Brunt LM, Davies N, Linsk A, Munshi A, Rodriguez HA, Fingerhut A, Fanelli RD, Asbun H, Aggarwal R, Force SSCT (2018) Outcome trends and safety measures after 30 years of laparoscopic cholecystectomy: a systematic review and pooled data analysis. Surg Endosc 32:2175–2183

2.

Strasberg SM, Hertl M, Soper NJ (1995) An analysis of the problem of biliary injury during laparoscopic cholecystectomy. J Am Coll Surg 180:101–125

3.

Way LW, Stewart L, Gantert W, Liu K, Lee CM, Whang K, Hunter JG (2003) Causes and prevention of laparoscopic bile duct injuries: analysis of 252 cases from a human factors and cognitive psychology perspective. Ann Surg 237:460–469

4.

Pucher PH, Brunt LM, Fanelli RD, Asbun HJ, Aggarwal R (2015) SAGES expert Delphi consensus: critical factors for safe surgical practice in laparoscopic cholecystectomy. Surg Endosc 29:3074–3085

5.

Conrad C, Wakabayashi G, Asbun HJ, Dallemagne B, Demartines N, Diana M, Fuks D, Gimenez ME, Goumard C, Kaneko H, Memeo R, Resende A, Scatton O, Schneck AS, Soubrane O, Tanabe M, van den Bos J, Weiss H, Yamamoto M, Marescaux J, Pessaux P (2017) IRCAD recommendation on safe laparoscopic cholecystectomy. J Hepatobiliary Pancreat Sci 24:603–615

6.

Wakabayashi G, Iwashita Y, Hibi T, Takada T, Strasberg SM, Asbun HJ, Endo I, Umezawa A, Asai K, Suzuki K, Mori Y, Okamoto K, Pitt HA, Han HS, Hwang TL, Yoon YS, Yoon DS, Choi IS, Huang WS, Gimenez ME, Garden OJ, Gouma DJ, Belli G, Dervenis C, Jagannath P, Chan ACW, Lau WY, Liu KH, Su CH, Misawa T, Nakamura M, Horiguchi A, Tagaya N, Fujioka S, Higuchi R, Shikata S, Noguchi Y, Ukai T, Yokoe M, Cherqui D, Honda G, Sugioka A, de Santibanes E, Supe AN, Tokumura H, Kimura T, Yoshida M, Mayumi T, Kitano S, Inomata M, Hirata K, Sumiyama Y, Inui K, Yamamoto M (2018) Tokyo Guidelines 2018: surgical management of acute cholecystitis: safe steps in laparoscopic cholecystectomy for acute cholecystitis (with videos). J Hepatobiliary Pancreat Sci 25:73–86

7.

Nijssen MA, Schreinemakers JM, Meyer Z, van der Schelling GP, Crolla RM, Rijken AM (2015) Complications after laparoscopic cholecystectomy: a video evaluation study of whether the critical view of safety was reached. World J Surg 39:1798–1803

8.

Rawlings A, Hodgett SE, Matthews BD, Strasberg SM, Quasebarth M, Brunt LM (2010) Single-incision laparoscopic cholecystectomy: initial experience with critical view of safety dissection and routine intraoperative cholangiography. J Am Coll Surg 211:1–7

9.

Sanford DE, Strasberg SM (2014) A simple effective method for generation of a permanent record of the Critical View of Safety during laparoscopic cholecystectomy by intraoperative "doublet" photography. J Am Coll Surg 218:170–178

10.

Emous M, Westerterp M, Wind J, Eerenberg JP, van Geloven AA (2010) Registering the critical view of safety: photo or video? Surg Endosc 24:2527–2530

11.

van de Graaf FW, Lange MM, Spakman JI, van Grevenstein WMU, Lips D, de Graaf EJR, Menon AG, Lange JF (2019) Comparison of systematic video documentation with narrative operative report in colorectal cancer surgery. JAMA Surg 154(5):381–389

12.

Dimick JB, Scott JW (2019) A video is worth a thousand operative notes. JAMA Surg 154(3):389–390

13.

Twinanda AP, Shehata S, Mutter D, Marescaux J, de Mathelin M, Padoy N (2017) EndoNet: a deep architecture for recognition tasks on laparoscopic videos. IEEE Trans Med Imaging 36:86–97

14.

Vedula SS, Ishii M, Hager GD (2017) Objective assessment of surgical technical skill and competency in the operating room. Annu Rev Biomed Eng 19:301–325

15.

Deal SB, Stefanidis D, Telem D, Fanelli RD, McDonald M, Ujiki M, Michael Brunt L, Alseidi AA (2017) Evaluation of crowd-sourced assessment of the critical view of safety in laparoscopic cholecystectomy. Surg Endosc 31:5094–5100

16.

McHugh ML (2012) Interrater reliability: the kappa statistic. Biochem Med (Zagreb) 22:276–282

17.

Howell AM, Panesar SS, Burns EM, Donaldson LJ, Darzi A (2014) Reducing the burden of surgical harm: a systematic review of the interventions used to reduce adverse events in surgery. Ann Surg 259:630–641

18.

Maier-Hein L, Vedula SS, Speidel S, Navab N, Kikinis R, Park A, Eisenmann M, Feussner H, Forestier G, Giannarou S, Hashizume M, Katic D, Kenngott H, Kranzfelder M, Malpani A, Marz K, Neumuth T, Padoy N, Pugh C, Schoch N, Stoyanov D, Taylor R, Wagner M, Hager GD, Jannin P (2017) Surgical data science for next-generation interventions. Nat Biomed Eng 1:691–696

19.

Buddingh KT, Morks AN, ten Cate Hoedemaker HO, Blaauw CB, van Dam GM, Ploeg RJ, Hofker HS, Nieuwenhuijs VB (2012) Documenting correct assessment of biliary anatomy during laparoscopic cholecystectomy. Surg Endosc 26:79–85

20.

Chen CB, Palazzo F, Doane SM, Winter JM, Lavu H, Chojnacki KA, Rosato EL, Yeo CJ, Pucci MJ (2017) Increasing resident utilization and recognition of the critical view of safety during laparoscopic cholecystectomy: a pilot study from an academic medical center. Surg Endosc 31:1627–1635

21.

Nijssen MA, Schreinemakers JM, van der Schelling GP, Crolla RM, Rijken AM (2016) Improving critical view of safety in laparoscopic cholecystectomy by teaching interventions. J Surg Educ 73:442–447

22.

Niemann AC, Matusko N, Sandhu G, Varban OA (2019) Assessing the effect of the critical view of safety criteria on simulated operative decision-making: a pilot study. Surg Endosc 33:911–916
Acknowledgements
The authors would like to thank the whole surgical department for their continuous collaboration and Philippe De Rooy for the precious discussions. In addition, the authors are thankful to Lionel Grienenberger for video editing, to Camille Goustiaux for audio narration and proofreading, and to Christopher Burel and Guy Temporal for their professional medical English proofreading.
Funding
The present research was supported by an EAES Research Grant and an IHU Feasibility Grant.
Ethics declarations
Disclosures
Pietro Mascagni, Claudio Fiorillo, Takeshi Urade, Taha Emre, Tong Yu, Taiga Wakabayashi, Emanuele Felli, Silvana Perretta, Lee Swanstrom, Didier Mutter, Jacques Marescaux, Patrick Pessaux, Guido Costamagna, Nicolas Padoy, and Bernard Dallemagne have no conflicts of interest or financial ties to disclose.
Additional information
Publisher's Note
Springer Nature remains neutral with regard to jurisdictional claims in published maps and institutional affiliations.
Electronic supplementary material
Below is the link to the electronic supplementary material.
Supplementary material 1 (MP4 127764 kb)
About this article
Cite this article
Mascagni, P., Fiorillo, C., Urade, T. et al. Formalizing video documentation of the Critical View of Safety in laparoscopic cholecystectomy: a step towards artificial intelligence assistance to improve surgical safety. Surg Endosc 34, 2709–2714 (2020). https://doi.org/10.1007/s00464-019-07149-3
Received:

Accepted:

Published:

Issue Date:
Keywords
Laparoscopic cholecystectomy

Bile duct injury

Critical View of Safety

Objective video reporting

Surgical safety

Surgical data science