Abstract
Background
One of the major impediments to the proliferation of endoscopic submucosal dissection (ESD) training in Western countries is the lack of sufficient experts as instructors. One way to address this gap is to develop didactic systems, such as surgical simulators, to support the role of trainers. Cognitive task analysis (CTA) has been used in healthcare for the design and improvement of surgical training programs, and therefore can potentially be used for design of similar systems for ESD.
Objective
The aim of the study was to apply a CTA-based approach to identify the cognitive aspects of performing ESD, and to generate qualitative insights for training.
Materials and methods
Semi-structured interviews were designed based on the CTA framework to elicit knowledge of ESD practitioners relating to the various tasks involved in the procedure. Three observations were conducted of expert ESD trainers either while they performed actual ESD procedures or at a training workshop. Interviews were either conducted over the phone or in person. Interview participants included four experts and four novices. The observation notes and interviews were analyzed for emergent qualitative themes and relationships.
Results
The qualitative analysis yielded thematic insights related to four main cognition-related categories: learning goals/principles, challenges/concerns, strategies, and decision-making. The specific insights under each of these categories were systematically mapped to the various tasks inherent to the ESD procedure.
Conclusions
The CTA approach was applied to identify cognitive themes related to ESD procedural tasks. Insights developed based on the qualitative analysis of interviews and observations of ESD practitioners can be used to inform the design of ESD training systems, such as virtual reality-based simulators.
Access options
Buy single article
Instant access to the full article PDF.
USD 39.95
Price excludes VAT (USA)
Tax calculation will be finalised during checkout.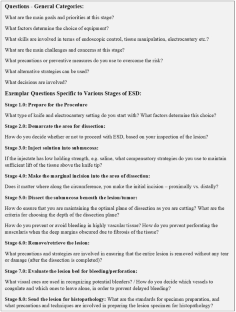 References
Saito Y, Uraoka T, Matsuda T, Emura F, Ikehara H, Mashimo Y, Kikuchi T, Fu K-I, Sano Y, Saito D (2007) Endoscopic treatment of large superficial colorectal tumors: a case series of 200 endoscopic submucosal dissections (with video). Gastrointest Endosc 66:966–973. https://doi.org/10.1016/j.gie.2007.02.053

Yamamoto H, Hirobumi K, Tomizo Y, Norio I, Yukihiro S, Yutaka S, Toshihiko H, Kenji U, Kenichi I, Kentaro S (1999) A successful single-step endoscopic resection of a 40 millimeter flat-elevated tumor in the rectum: endoscopic mucosal resection using sodium. Gastrointest Endosc 50:701–704

Hotta K, Oyama T, Shinohara T, Miyata Y, Takahashi A, Kitamura Y, Tomori A (2010) Learning curve for endoscopic submucosal dissection of large colorectal tumors. Dig Endosc 22:302–306

Saito Y, Fukuzawa M, Matsuda T, Fukunaga S, Sakamoto T, Uraoka T, Nakajima T, Ikehara H, Fu K-I, Itoi T, Fujii T (2010) Clinical outcome of endoscopic submucosal dissection versus endoscopic mucosal resection of large colorectal tumors as determined by curative resection. Surg Endosc 24:343–352. https://doi.org/10.1007/s00464-009-0562-8

Hon SSF, Ng SSM, Lee JFY, Li JCM, Lo AWI (2010) In vitro porcine training model for colonic endoscopic submucosal dissection: an inexpensive and safe way to acquire a complex endoscopic technique. Surg Endosc 24:2439–2443. https://doi.org/10.1007/s00464-010-0982-5

Oda I, Odagaki T, Suzuki H, Nonaka S, Yoshinaga S (2012) Learning curve for endoscopic submucosal dissection of early gastric cancer based on trainee experience. Dig Endosc 24:129–132. https://doi.org/10.1111/j.1443-1661.2012.01265.x

Iacopini F, Bella A, Costamagna G, Gotoda T, Saito Y, Elisei W, Grossi C, Rigato P, Scozzarro A (2012) Stepwise training in rectal and colonic endoscopic submucosal dissection with differentiated learning curves. Gastrointest Endosc 76:1188–1196. https://doi.org/10.1016/j.gie.2012.08.024

Draganov PV, Gotoda T, Chavalitdhamrong D, Wallace MB (2013) Techniques of endoscopic submucosal dissection: application for the Western endoscopist? Gastrointest Endosc 78:677–688. https://doi.org/10.1016/j.gie.2013.07.033

Herreros de Tejada A (2014) ESD training: a challenging path to excellence. World J Gastrointest Endosc 6:112–120. https://doi.org/10.4253/wjge.v6.i4.112

Emmanuel A, Gulati S, Burt M, Hayee B, Haji A (2018) Using endoscopic submucosal dissection as a routine component of the standard treatment strategy for large and complex colorectal lesions in a western tertiary referral unit. Dis Colon Rectum 61:743–750. https://doi.org/10.1097/DCR.0000000000001081

Gotoda T, Friedland S, Hamanaka H, Soetikno R (2005) A learning curve for advanced endoscopic resection. Gastrointest Endosc 62:866–867. https://doi.org/10.1016/j.gie.2005.07.055

Draganov PV, Coman RM, Gotoda T (2014) Training for complex endoscopic procedures: how to incorporate endoscopic submucosal dissection skills in the West? Expert Rev Gastroenterol Hepatol 8:119–121. https://doi.org/10.1586/17474124.2014.864552

Oyama T, Yahagi N, Ponchon T, Kiesslich T, Berr F (2015) How to establish endoscopic submucosal dissection in Western countries. World J Gastroenterol 21:11209–11220. https://doi.org/10.3748/wjg.v21.i40.11209

Fukami N (2015) Endoscopic submucosal dissection. Springer, New York

Kaltenbach T, Soetikno R, Kusano C, Gotoda T (2011) Development of expertise in endoscopic mucosal resection and endoscopic submucosal dissection. Tech Gastrointest Endosc 13:100–104. https://doi.org/10.1016/j.tgie.2011.01.013

Coman RM, Gotoda T, Draganov PV (2013) Training in endoscopic submucosal dissection. World J Gastrointest Endosc 5:369. https://doi.org/10.4253/wjge.v5.i8.369

Vázquez-Sequeiros E, de Miguel DB, Foruny Olcina JR, González Martín JA, García M, Juzgado Lucas D, Garrido E, González C, Parra Blanco A, Arnau MRBA (2009) Training model for teaching endoscopic submucosal dissection of gastric tumors. Rev Esp Enferm Dig 101:546–552. https://doi.org/10.4321/S1130-01082009000800005

Polanyi M (1966) The tacit dimension. The University of Chicago Press, Chicago

Clark R, Pugh C, Yates K, Inaba K, Green D, Sullivan M (2012) The use of cognitive task analysis to improve instructional descriptions of procedures. J Surg Res 173:e37–e42

Militello LG, Hutton RJB (1998) Applied cognitive task analysis (ACTA): a practitioner's toolkit for understanding cognitive task demands. Ergonomics 41:1618–1641. https://doi.org/10.1080/001401398186108

Grunwald T, Clark D, Fisher S, McLaughlin M, Narayanan S, Piepol D (2004) Using cognitive task analysis to facilitate collaboration in development of simulator to accelerate surgical training. Stud Health Technol Inform 98:114–120

Sullivan ME, Brown CVR, Peyre SE, Salim A, Martin M, Towfigh S, Grunwald T (2007) The use of cognitive task analysis to improve the learning of percutaneous tracheostomy placement. Am J Surg 1:193. https://doi.org/10.1016/J.AMJSURG.2006.09.005

Sullivan ME, Ortega A, Wasserberg N, Kaufman H, Nyquist J, Clark R (2008) Assessing the teaching of procedural skills: can cognitive task analysis add to our traditional teaching methods? Am J Surg 195:20–23. https://doi.org/10.1016/j.amjsurg.2007.08.051

Luker KR, Sullivan ME, Peyre SE, Sherman R, Grunwald T (2008) The use of a cognitive task analysis–based multimedia program to teach surgical decision making in flexor tendon repair. Am J Surg. https://doi.org/10.1016/j.amjsurg.2007.08.052

Velmahos GC, Toutouzas KG, Sillin LF, Chan L, Clark RE, Theodorou D, Maupin F (2004) Cognitive task analysis for teaching technical skills in an inanimate surgical skills laboratory. Am J Surg. https://doi.org/10.1016/j.amjsurg.2002.12.005

Yates K, Sullivan M, Clark R (2012) Integrated studies on the use of cognitive task analysis to capture surgical expertise for central venous catheter placement and open cricothyrotomy. Am J Surg 203:76–80. https://doi.org/10.1016/j.amjsurg.2011.07.011

Cetinsaya B, Gromski M, Lee S, Xia Z, Demirel D, Halic T, Bayrak C, Jackson C, De S, Hegde S, Cohen J, Sawhney M, Jones DB (2018) A task and performance analysis of endoscopic submucosal dissection (ESD) surgery. Surg Endosc. https://doi.org/10.1007/s00464-018-6119-y

Scientific Software Development, GmbH: Atlas.ti 7, Berlin, Germany

Ignatov V, Tonev A, Kolev N, Zlatarov A, Shterev S, Kirilova T, Ivanov K (2016) Endoscopic submucosal dissection for early colon cancer. In: Colorectal Cancer—From Pathogenesis to Treatment. InTech

Kirschner PA, Sweller J, Clark RE (2006) Why minimal guidance during instruction does not work: an analysis of the failure of constructivist, discovery, problem-based, experiential, and inquiry-based teaching. Educ Psychol 41:75–86. https://doi.org/10.1207/s15326985ep4102_1
Acknowledgements
The authors gratefully acknowledge the support of this study by NIH/NCI grant R01CA197491. The authors are grateful to Dr. Stavros N. Stavropoulos for providing his insights on the ESD procedure and utility of the CTA for training design, and for facilitating, in part, the data collection for this study.
Ethics declarations
Disclosures
Dr. Sudeep Hegde reports grants and personal fees from the National Cancer Institute, during the conduct of the study. Dr. Cullen Jackson reports grants from the NIH/National Cancer Institute, during the conduct of the study; personal fees from Aptima, Inc., outside the submitted work. Drs. Sudeep Hegde, Mark A. Gromski, Tansel Halic, Zhaohui Xia, Melih Turkseven, Mandeep S. Sawhney, Daniel B. Jones, Suvranu De, and Mr. Berk Cetinsaya have no conflicts of interest or financial ties to disclose.
Additional information
Publisher's Note
Springer Nature remains neutral with regard to jurisdictional claims in published maps and institutional affiliations.
Appendix
Appendix
Decision tables
Factors affecting knife choice

 
 
 

Lesion type

Organ wall

Fibrosity

Vascularity

Expertise

Mucosal

Thick wall

More

More

High

Submucosal

Thin wall

Less

Less

Low
Positioning the patient—gravity

Useful for

Not useful for

Small to mid-size lesions

Too small (weight does nothing), and too large and bulky
Direction of cut/dissection

Rectal

Colonic

If gravity can be used to pull lesion down

Start distal

Start proximal

Bottom first, then top and come down
Circumferential cutting or tunneling method

Adequate traction + good fluid retention

Inadequate traction/poor fluid retention

Circumferential

Tunneling
Currents: cut and coag

Vascular/bleeding

No-bleeding

Fibrotic

High coag (Force coag, Swift, etc.)

Blended cut (Endo-cut)—adjustable coag and cut

Dry cut
Knife-cut or coag

Artery or big vein

Small venules (narrower than knife tip)

Skeletonize using coag-graspers or forceps

Cut through—knife tip should coagulate the vessel
About this article
Cite this article
Hegde, S., Gromski, M.A., Halic, T. et al. Endoscopic submucosal dissection: a cognitive task analysis framework toward training design. Surg Endosc 34, 728–741 (2020). https://doi.org/10.1007/s00464-019-06822-x
Received:

Accepted:

Published:

Issue Date:

DOI: https://doi.org/10.1007/s00464-019-06822-x
Keywords
Endoscopic surgery training

Endoscopic submucosal dissection

Gastrointestinal cancer

ESD

Human factors

Cognitive task analysis